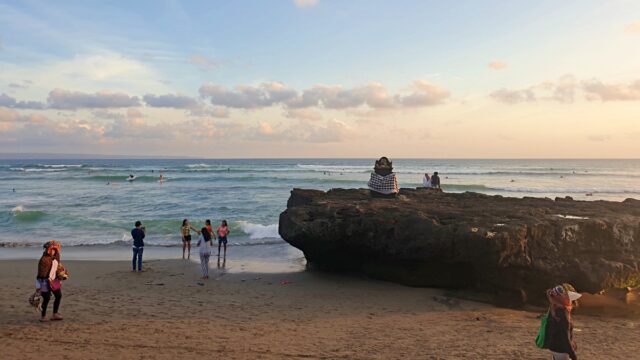 For some, Batu Bolong Beach is the Canggu version of Kuta. Once a little fishing village, now the beach is full of tourists. The beach has a high tide just enough for surfers. Heaps of local beach stalls are around. The greyish sandy area is perfect for taking a walk.
Get that fair-complexion body healthily tanned here. Also, put the sunset hunt as one of the itineraries. As the night comes, don't leave the spot yet. Prepare to get more fun, as the bar will begin to play music. With an open space, enjoy a night dance while gazing at the star.
Batu Bolong Beach Features
Some call the beach as Kuta II; well, these people have a point. Batu Bolong never gets short of visitors. If a serene beach is the main purpose, Batu Bolong isn't the right place. Also talking about the party – the beach has bars and clubs to go to. One big difference is: Batu Bolong doesn't have hawkers bothering.
Park the vehicle and walk towards the beach. Then, do whatever listed in the itinerary. Getting a suntan, swimming, or just chilling – the place is great for these. Stray dogs are sometimes passing – don't worry, the dogs don't bark and bite.
Tackling The Waves
Both newbie and pro surfers are welcome in Batu Bolong. The tide is strong enough so that'll be challenging for pro-surfers. Surfboards rental can be found here. The cost starts at Rp50.000/board.
Novice surfers don't have to worry as the beach has surfing schools. Only several steps from the parking lot, there are 2-3 spots offering the course. Walk a bit more, there are several more. Planning to follow the surfing course? Make sure that the day is perfect for surfing. To know that, just ask the instructors before making any deal.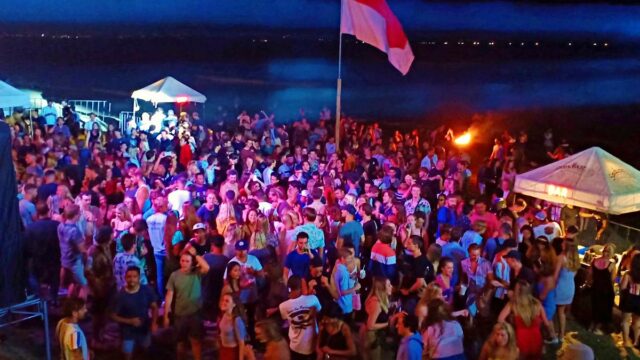 For the surf lessons, learners will have to pay around Rp350.000 to Rp400.000. It takes two hours to complete the basic training. First, learn the 'dry surfing' on the beach sand. After that, onto the real practice. The instructors are attentive and good at handling learners' queries.
Swimming & Rent Sun Lounge
Some people say that the beach is not swimmer-friendly. This is true because there are pebbles and in some days, trash. However, for a little splish-splash, there's nothing wrong with that. Be careful not to go too far because of the big waves. The best time for swimming is in the morning when the beach is not that crowded.
Expose the body to Canggu's sun. Don't forget to always smear the sunscreen. Rent a sun lounge and lay there for an hour (or more). Once done with that, open the umbrella and chill. The sun lounge costs around $7 (Rp100.000) with an umbrella. Get these from the beach guys.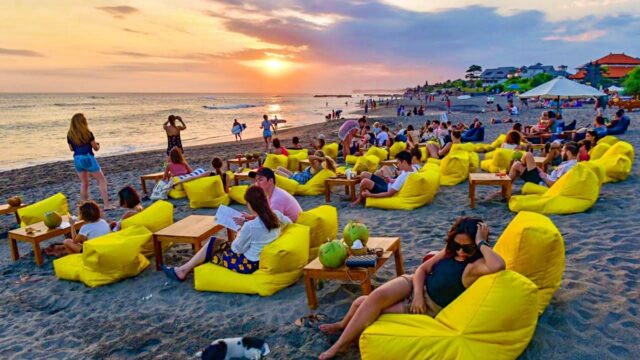 Sunset in Batu Bolong Beach
The beach faces west, so sunset can also be spotted here. Witness how nature creates cotton candy sky as the sun starts to set. The beach bars will put seating and bean bags outside. To use these, just buy something from the bar. Make sure to come here one hour before the sunset, which is around 5:15 PM. Grab the best sunset-watching spot by coming earlier.
Fun Up To Midnight
Sun gone, stars up, time for dinner comes. Grab a serving from the beach club, restaurants, or bars. Whichever is fine. Snacks or heavy meals are available. Warm or cold drinks are ready to order.
Sip the beer and hear multi-genre music is playing from the beach bar. Occasional live acoustic enlightens the night beach vibe. Some people sing along, some others go wild and dance the night out. Midnight may come, but the fun doesn't stop – even until the dawn comes.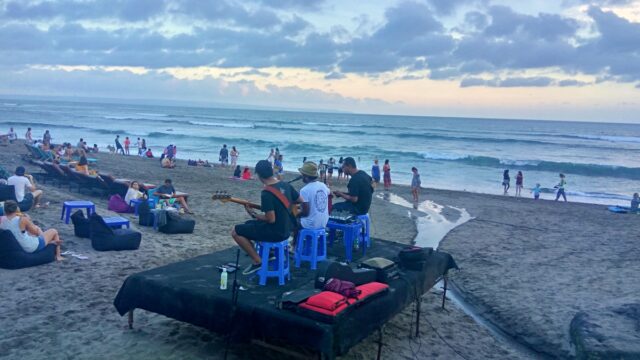 Eat and Drink
Roaring belly sounds no fun. Walk a bit and land on the lining beachfront eateries. Most places offer both Indonesian and 'International' menus. However, for Indonesian menus, the choices are few. Fried rice and noodles are available in many places.
Other options include gado-gado, ayam lalapan, capcay, and chicken skewers. The price starts from Rp35.000 to Rp75.000 for a portion. There are even pizza, spaghetti, quesadilla, burrito, and burgers served. Compared to the local delicacies, these dishes cost more.
But this depends on the restaurant itself. There is a place where the local and international menu cost relatively the same (around Rp50.000-Rp90.000). As for the drinks, one can go with the smoothies, soft drinks, cocktails, coffee, or tea. The price differs in different places.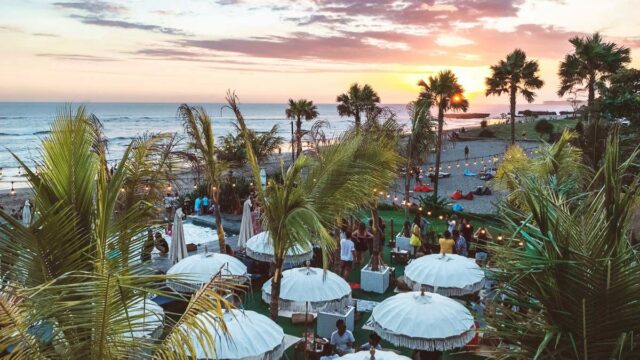 To give insight, smoothies, and fruit juices price is Rp40.000. Soft drinks are Rp20.000. Cocktails range from Rp80.000 to Rp100.000, beers are Rp30.000-Rp85.000 depends on its size. There's wine too but not in all places. The price depends on how the wine is served. Wine costs Rp95.000/glass and up to Rp450.000 for a bottle. The loved-by-many young coconut costs Rp25.000.
See: Indonesian SIM Card, Price & Coverage 
Batu Bolong Beach Opening Hours
Batu Bolong is open for 24 hours. Surfing board rental and school opening hours may vary but there's a surfing school open as early as 6 AM. The surfboard rental place starts to stop the business around sunset time.
For the beach bars and restaurants, the business hours also vary. There's one that opens at 7:30 AM and closes at 10 PM. Another one opens at 9 AM and closes at 5 AM the next day. The beach crowds last up to past midnight.
Batu Bolong Beach Opening Hours
Every day, close on Nyepi
Open 24 Hours
See: Berawa Beach Canggu, Attraction & Activities
Batu Bolong Beach Entrance Fee
There is no entrance fee to enter the beach. But, of course, there's a small fee for parking. Prepare for small notes, the parking fee for the motorcycle is Rp2.000 and Rp5.000 for a car.
Batu Bolong Beach Entrance Fee
Entrance Ticket
Free
Parking Fee
Rp2.000 (motorcycle) / Rp5.000 (car)
See: Tanah Lot Temple, Attraction & Show
Facilities
Ample space for parking is located on both left and right sides of the beach. Visitors with scooters can easily put the vehicles there for a small fee. However, coming near sunset time will be more difficult for a car to get a parking space. Since the car lot occupied with bikes.
Several surfing schools are lining as well as surfboard rentals. For foodies, good places for dining are everywhere. A few public showers are available. Also, on most days there is a photographer offering their service on the beach. Of course at a reasonable fee.
See: Bali Airport, Guide & Transportation
How To Get To Batu Bolong Beach
Located in Canggu, Batu Bolong beach is close to Canggu Beach. Only a walking distance. For tourists staying in the Kuta area, the distance to get here is 14 km. Ride hails and rental vehicles are two options worth using. Price-wise, the first option is better.
However, if one's very mobile, better to choose a rental car/scooter. From the Kuta beach area, head to the Raya Legian Street. Just go straight until there's a left-turn to Raya Taman street. Take the left-turn and follow the leading road to Raya Kerobokan Street.
From there, keep going straight until there's a sign for Canggu/Tabanan. Turn left as the sign advised.
After the left turn, one will arrive in Raya Semer street. Stay on this street then turn left to Raya Canggu Street after 2.5 km. Again, stay on this street. In around 900 m there's a small right-turn. Take it, then turn left to stay on Raya Canggu street.
Continue the journey for one more kilometer then turn left onto Pantai Batu Bolong street. From there, continue straight for three more kilometers to reach the beach. Visitors will see ample parking space on the left and right sides.
Address & Location
Batu Bolong Beach located in Jl. Pantai Batu Bolong, Canggu, Kec. Kuta Utara, Kabupaten Badung, Bali.