Bukit Moko Bandung
Entrance Fee: Rp15.000
Opening Hours: Open 24 Hours
Telp. Number: -
Address: Jl. Batu Lonceng Kulon, Cimenyan , Cimenyan , Bandung, West Java , Indonesia , 40197.
Who knows that Bandung has a hidden gem that offers a Switzerland-like scenery? Just go to Bukit Moko in Cimenyan Village to find it! Located about an hour away from Bandung's downtown. Bukit Moko offers a 180º view of Bandung up from the 1500 AMSL hill.
It is a bit tricky to get to Bukit Moko due to the access. The road uphill might be challenging with a steep, slippery road. Hence, make sure that the car is in prime condition during the trip back and forth. It is also best to drive during the day due to the lack of lights.
From Bukit Moko's peak, there lies a wide view of plantations on slopes. All surrounded by the wrap of a wild mountain forest. The hillside continues down to the landscape scene of Bandung. And together with the grandeur mountain backdrop, it makes everything almost surreal to see. Even the weather is cold and ranges approximately around 16° to 23° Celcius!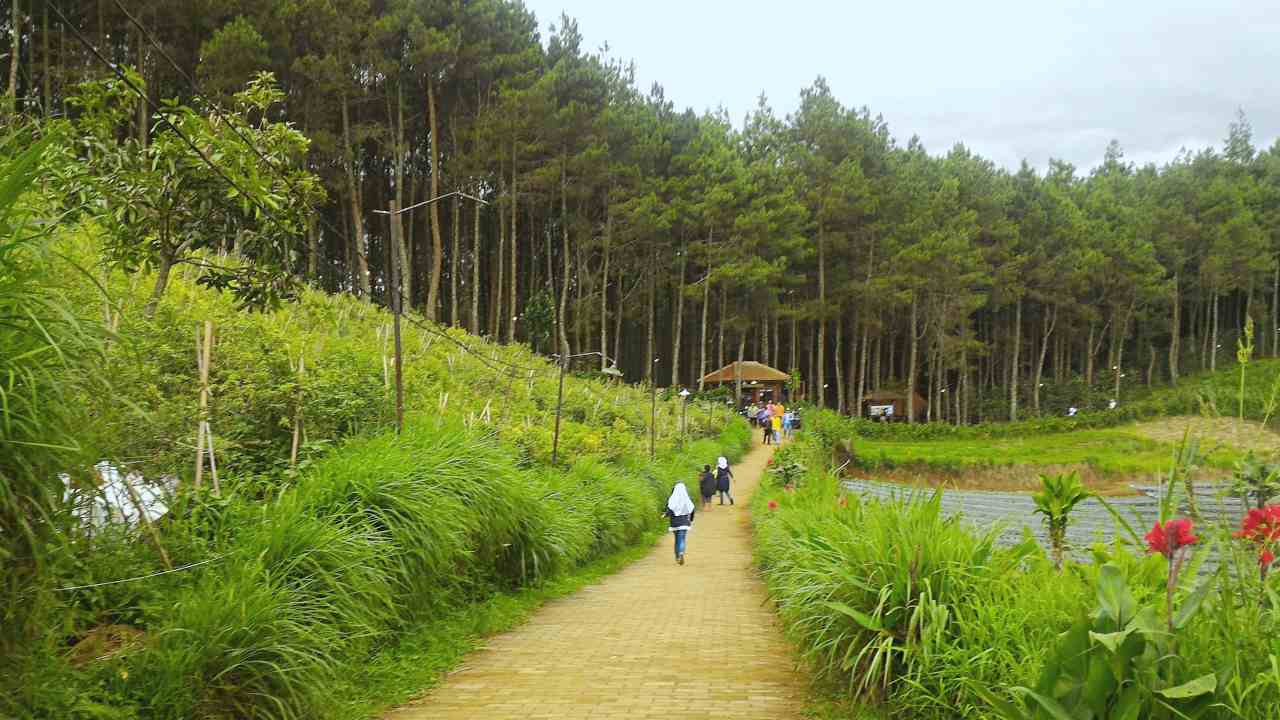 Bukit Moko Entrance Fee
Besides the regular entrance fee, tourists could choose the bundling package. The regular ticket doesn't include additional activities such as camping. The entrance fee cost Rp15.000 while the bundling one cost Rp30.000, and it includes a food voucher. Camping on the site will cost another Rp30,000.
Bukit Moko Entrance Fee
Regular Ticket
Rp15.000
Bundling with a Food voucher
Rp30.000
Camping
Rp30.000
Parking Fee Car
Rp10.000
Motorcycle
Rp5.000
See: Guide To The Lodge Maribaya & Things To Do.
Bukit Moko Opening Hours
Bukit Moko originally opens for 24 hours. However, due to the pandemic, the operation hours are only from 5 AM to 6 PM every day. It is always best to visit Bukit Moko early to catch the sunrise around 5:50 AM. Meanwhile, campers who intend to stay overnight, go early to watch the sunset which goes around 6:10 PM.
Bukit Moko Opening Hours
Every day
Open 24 Hours
See: Keraton Cliff Guide & Top Things To Do.
Magical Sightseeing & Skygazing
To enjoy a sightseeing experience comfortably, go up to the Dermaga Bintang. The good news is that there is no additional fee to enter the dock. From the high rail, visitors can see a better view of everything. Choose to stand or sit around on the facilitated benches on top. However, bear in mind that the capacity is only for 30 people at once. Kindly spend a short time upstairs to allow other visitors to get the experience.
Being at the hill's peak, this place is also famous as a sunrise and sunset spot. It creates the perfect gradation of purplish or orange cotton hue. Especially during sunset, when the day turns slowly into the night with shimmering city lights. Starry night sky and moonlight willingly become Bukit Moko's ceiling at that time. However, visitors should carefully choose the perfect time to experience all of those.
The scenery to enjoy from the highland heavily depends on the weather. Therefore, make sure to visit during clear weather without rain or cloudy chances. The easiest way is to check the weather forecast before departure. Or else, drive up to the Caringin Tilu area and predict the weather from there. The highland is located on the road to Bukit Moko. If it is nice and bright there, probably does the weather in Bukit Moko.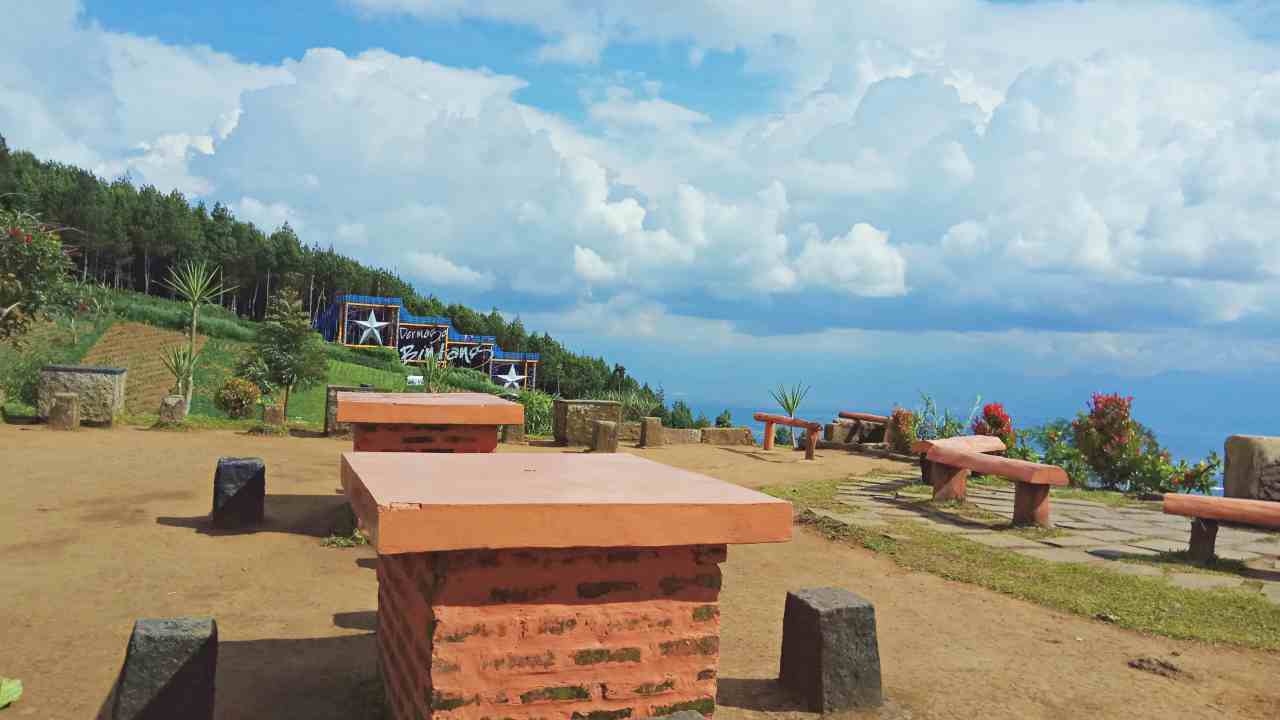 Camp Overnight
In Bukit Moko, Puncak Bintang tops the site area. Obviously, this spot offers the best view out of all zone. It effortlessly shows an enchanting view from west to east of Bandung. For that reason, a lot of people love to camp overnight here. That and the fact that campers could pick whichever spot to stay in the area.
Campers can rent the tent at the entrance for Rp300.000 with a 4-person capacity. To warm up the night, buy some firewood from the staff. It will definitely be perfect to make a campfire in the middle of a chilly night.
As another option, bring a mat, pack food, and have a day picnic at Puncak Bintang. At most, it's what the locals love to do too.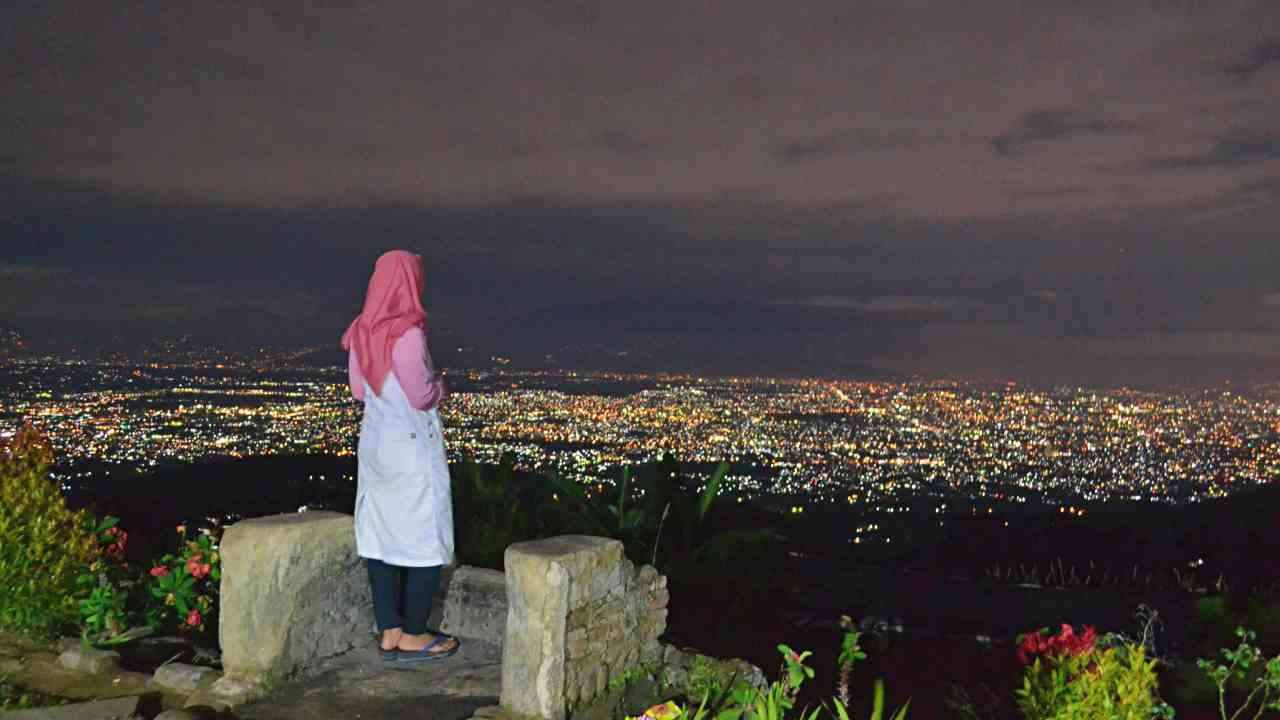 Lembang Fault Hike or Cycle
Bukit Moko's location is shielded by a pine forest. Hence, from the entrance, pine trees are the first thing to see. Starting there, hike about 3 kilometers through the track toward the Lembang fault. It might be a long way, but the serene surrounding will pay for it.
Along the trail, stop by the food stall simply to recharge. Order a hot beverage or try the famous instant noodle Indomie. Open huts are also available along the way for guests wanting to rest and stretch their legs.
Some people even go to Bukit Moko, especially for cycling. The advanced riders tend to seek the steep, dirt road of the hill. However, too bad that there is no bicycle rental yet at the place. Therefore, travelers who want to cycle should bring personal bikes.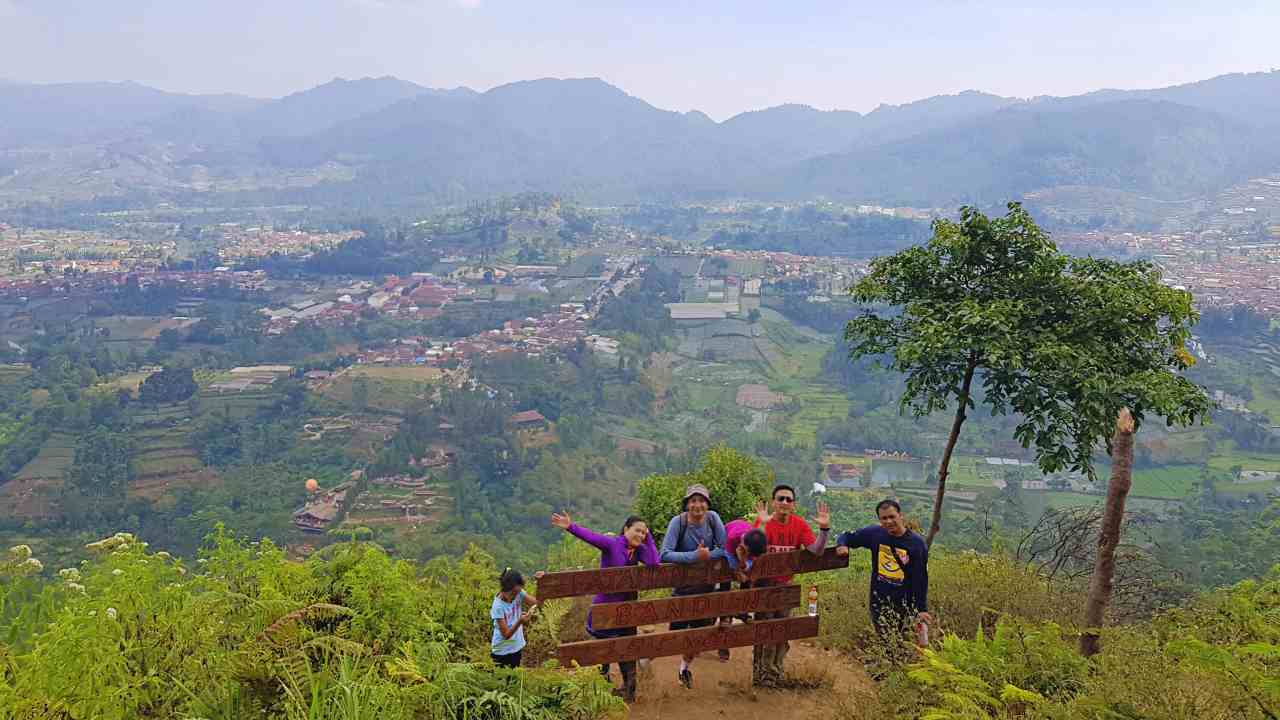 Photo Hunting
Wrapped closely in nature, Bukit Moko has too much exquisite splendor to capture. It is a must for travelers to snap pictures around the site. There are actually no certain recreational photo spots yet at the site. Despite the lack of it, every spot is no doubt photo-worthy. It is practically easy to get great pictures in Bukit Moko.
Visitors can start hunting pictures from the pine forest. The long-paved track fenced off by pine trees will create an autumn-vibe picture. Meanwhile, at the top, it is easier to catch a perfect snap. The scenery alone is enough to give soul to any picture. Although, there is a huge star standee to use as a great backdrop.
See: Guide To Explore Kawah Putih & How To Get To Crater Lake.
Lounge Around The Restaurant Or Warungs
The cold weather in Moko Hill makes it perfect for a quick stop for hot beverages. Down along the hill, restaurants, cafes even modest food stalls are scattered to satisfy guests' cravings. The offered view is pretty much similar. Although, is not as majestic as Bukit Moko sightseeing spots.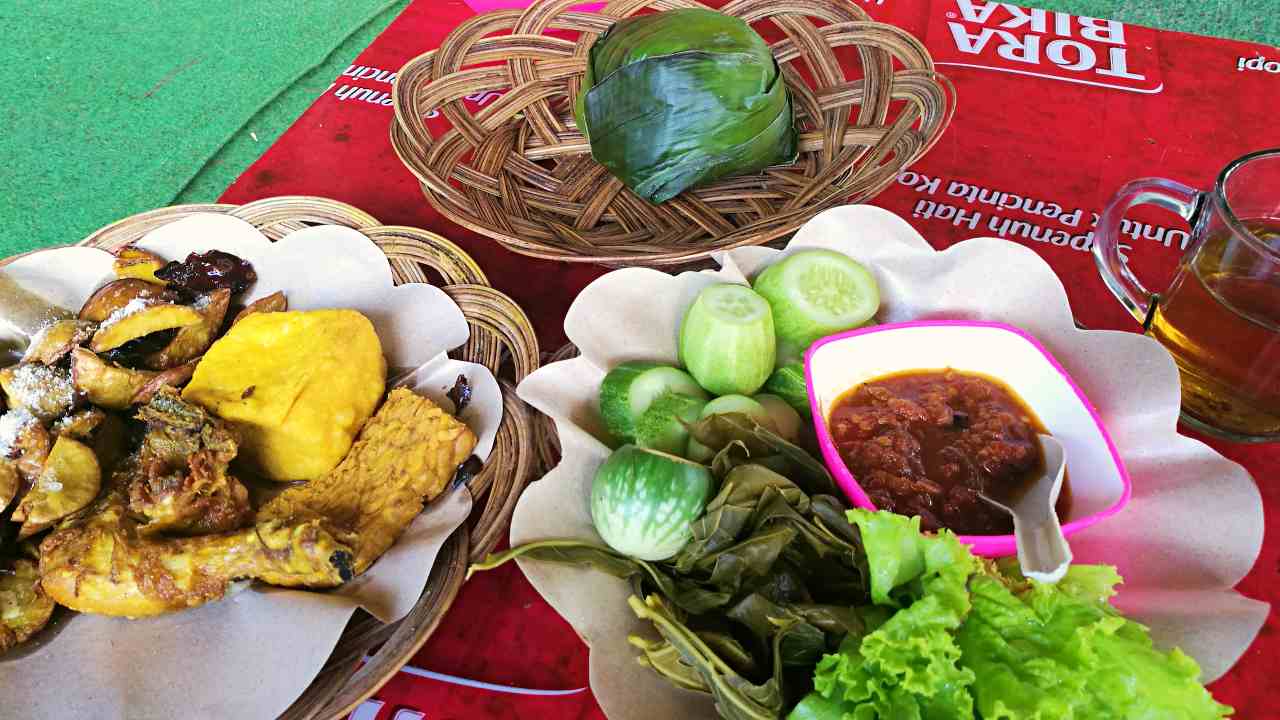 Some restaurant even provides free wifi and a charging station. For the food and beverage, the price is considerably reasonable. A hot beverage price ranges from Rp5.000 to Rp25.000. For food, the option is plenty, from a snack to a full traditional or western meal. A roasted corn drench with butter will cost around Rp15.000.
While for a full meal, prepare Rp30.000 – Rp70.000. Make sure to try the local delicacy, Nasi Timbel, and order the fritters, Tempe Mendoan, The snack is served hot and tastes even perfect with the sweet chili soy sauce.
See: Bandung Culinary Spot, Punclut Ciumbuleuit Highland.
Facilities
The facilities available at the site are quite simple, yet essential. That includes toilets, food stalls, and musholla for Muslims to pray. Outside the area, a parking lot is available for both cars and motorbikes. It costs Rp10.000 for the car and Rp5.000 for the motorbike.
It is a saddening fact that some people still ditch trash irresponsibly. But here, trash cans are easy to spot and scatter around the premises. Therefore, help preserve nature's gift by minding the trash. Throw it only into the bin and not the land.
See: Jakarta Airport To Bandung Guide & Public Transport.
How To Get To Bukit Moko
There are yet shuttle services or public transportation options to Bukit Moko. Therefore, the best option is to rent a private vehicle. Car rental prices in Bandung range from Rp250,000 for 6 hours. Kindly note that the price may vary depending on the car type and provider. Travelers can choose either to hire a driver or drive alone. Of course, with the requirement of having an international driving license.
The second option is to use the ride-hail app. However, before choosing a ride-hail app, there are a few considerations to make. Due to its location, Bukit Moko does not always have a stable mobile signal. Thus, the chance to book an online transport service is far-fetched.
If a ride-hail app is the only option, the price is actually way affordable. For example, departing from Dago area takes about 40 minutes to the site. It costs around Rp29.000 for a one-way trip by motorcycle. For travelers who prefer cars, the price ranges from around Rp50.000 for one way.
See: Choosing Tourist SIM Card, Provider & Price.
Address & Location
Bukit Moko Bandung is situated in Cimenyan district, Bandung, West Java 40197.