Canggu Beach
Entrance Fee: Free Entry
Opening Hours: Open 24 Hours
Telp. Number: -
Address: Jl. Nelayan, Canggu , Kuta utara , Badung, Bali, Indonesia , 80361.
Canggu Beach is becoming more popular and famous among tourists. It is dubbed to be the next Seminyak as it is also located in a small village. However, unlike Seminyak which is getting more crowded with resorts and stores, Canggu still holds its charm with warm local vibes and lots of open rice fields.
Tourists can also experience a completely different vibe from Canggu. If Seminyak or Kuta are usually pictured with dazzling nightlife, then Canggu has a more laid-back and hipster vibe.
Canggu village's main attraction is its grey sand beach. The beach is sharing the same coastline as other beaches such as Batu Bolong and Berawa. It is also much quieter than other popular destinations and making the place great for a peaceful gateway.
However, the best part about the beach is the rough waves that are perfectly made for surfers. Canggu Beach is a must-go-to destination for those who love to surf.
Canggu Beach Entrance Fee
The beach guests will not be charged an entrance fee to visit the beach. However, for guests coming with a private vehicle, there will be a parking fee. For a scooter, it will cost Rp2.000 and Rp5.000 for a car.
Canggu Beach Entrance Fee
Ticket
Free Entry
Parking fee
Rp2.000 (scooter) Rp5.000 car
See: Batu Belig Beach, Activities & Nightlife.
Canggu Beach Opening Hours
Canggu Beach is open all year round, except on Nyepi day. The high season is around summer July and August. The best time to take surfing lessons is in the morning and afternoon. But most people start flocking to the beach before 6 PM to watch the sunset and enjoy the nightlife.
Canggu Beach Opening Hours
Every day
Open 24 Hours
Nearby: Berawa Beach, Surfing Spot & Activities.
Canggu Beach Surfers Paradise
No wonder why the beach is always packed with hip surfers from time to time. Canggu Beach is one of the favorite destinations for surfers because of the waves. There are plenty of spots with different currents and reef breaks that are suitable for beginners until professional surfers.
Visitors who don't bring their surfboard can rent the board easily on the beach for Rp50.000 for one session. Some locals also provide surfing lessons for first-timers, with the fee starting from Rp250,000 for each person.
However, the waves are quite rough sometimes so Canggu Beach is mainly prohibited for swimming, especially for children.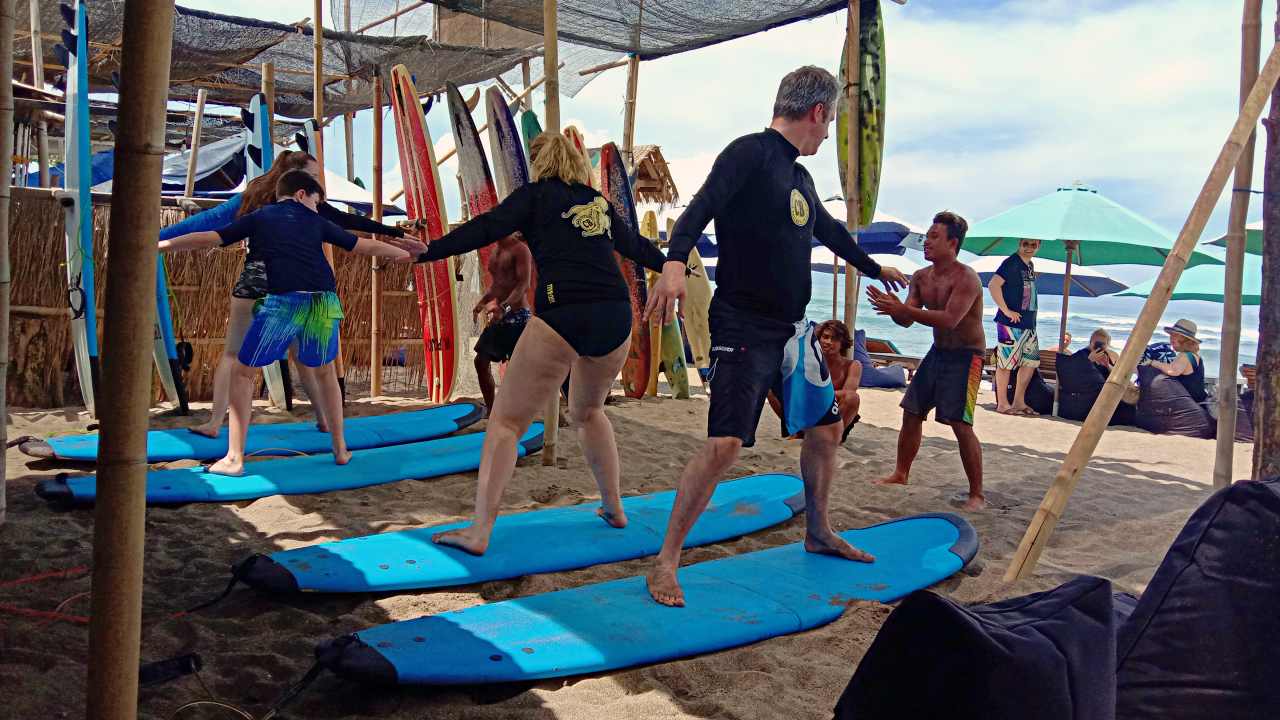 Yoga in Peace
For those who don't want to surf and prefer calmer activity, Canggu beach is also suitable for some yoga practice. Canggu neighborhood is pretty serene with not so many tourists around compared to Seminyak. When the beach is less packed, visitors can lay the mattress anywhere and have some yoga in peace.
Many resorts and studios also provide yoga classes with instructor guides. The rate for a drop-in yoga class range from Rp100.000 to Rp130.000 for one session. Some places also have various workout and mindful classes that are worth trying, like breathwork classes, aerobics, and even dance class.
Sunset Scenery
What's the point of visiting a beach without sunset, right? Canggu Beach has a very wide beachfront, it is effortless to take take a stunning shot of the sunset sky. During low tide, the scenery will even be better. Capturing a sunset between rocks and the glimmering sea definitely cannot be missed.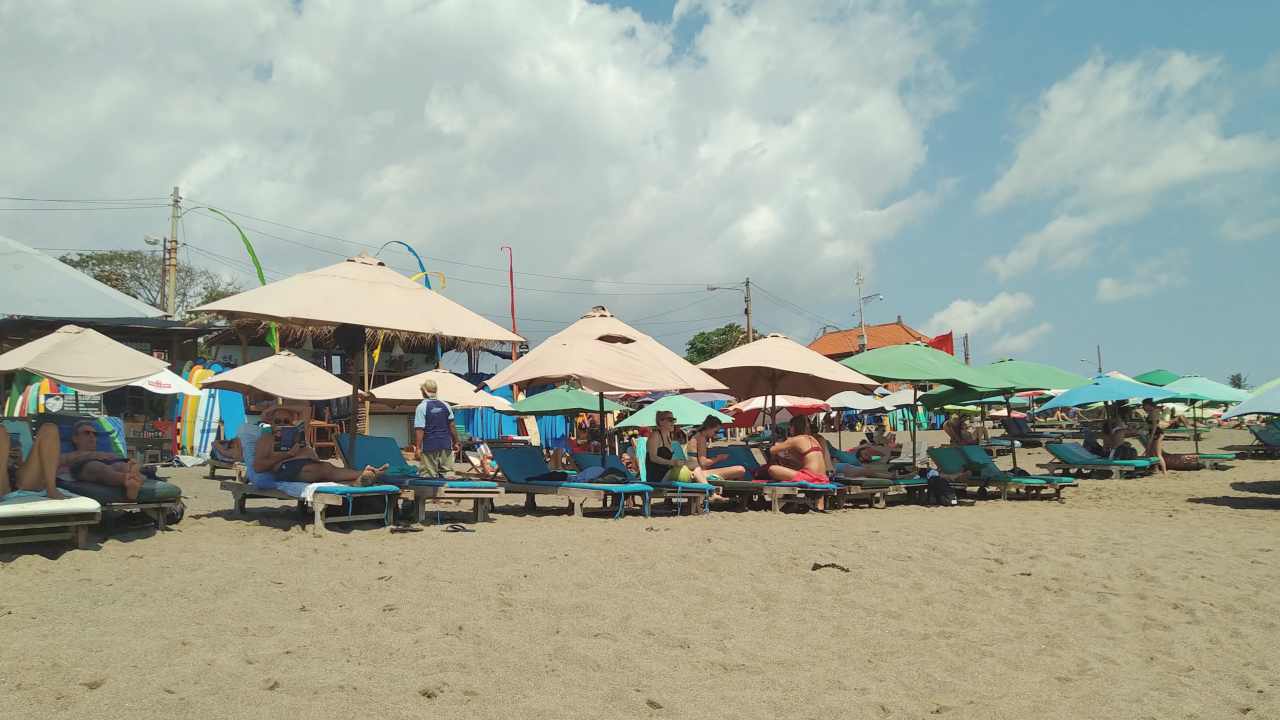 People usually come to the beach right before 6 PM. And have some time to gather with friends and family. Sunset in Canggu is a perfect mood to grab some beers, order snacks from a café nearby, and enjoy a moment to relax after surfing all day long.
Laid-back Nightlife
To complete the day, do not miss the charm of Canggu's nightlife. Canggu's nightlife is just as great as Seminyak or Kuta but without the party scenes. The nightlife in Canggu is more laid-back and less busy compared to other popular places in Bali.
After the sun goes down, tourists can enjoy a night walk on the beachfront, try some street food from local vendors, and visit various local cafés or bars to chill out.
See: Guide To Explore Jimbaran Fish & Seafood Restaurants.
Facilities
There are plenty of restaurants, beach clubs, and open bars near Canggu Beach. Visitors can find healthy food and vegan menus easily. The choice is varied from an Instagram-worthy smoothie bowl for breakfast and seafood to local food.
Canggu might not be as sophisticated as Kuta, but the local dining, indie cafés, and artisan market in Canggu surely bring a hipster and bohemian atmosphere to the table. The stories are lively and likely open all day long.
For accommodation, there is plenty of resort near the front gate that only takes 100 meters to the beach. Canggu also has a lot of mid-range homestays and villas for more affordable options.
See: Prepaid SIM Card for Tourist, Internet Package & Price.
How To Get To Canggu Beach
Canggu beach is located in north Kuta or 15 km from Denpasar. From Ngurah Rai International Airport, it takes around 1 hour to get to one of the nearest resorts from Canggu beach by taxi. From Seminyak, it takes 20 minutes of driving to the north.
Canggu village is a little bit isolated and the place is more spread out compared to Kuta or Seminyak. Thus, for easier access during the trip, visitors better rent vehicles like cars or scooters. The price for renting a scooter ranges from Rp50.000 to Rp150.000/day.
See: Bali Airport, Airport Transfer & Public Transportation.
Address & Location
Canggu beach location is in Jl. Nelayan, Canggu, North Kuta district, Badung regency, Bali 80361.