Chinatown Bandung Entrance Fee: Rp30.000 Opening Hours: 09:00 - 22:00 Telp. Number: 022 - 603 8114 Address: Jl. Kelenteng No.41, Ciroyom , Andir , Bandung, Jawa Barat , Indonesia , 40182.
Bandung is no stranger to cultural diversity, like any other place in Indonesia. The Chinese community has been an integral part of Bandung since the old times. And like in other big cities of the world, Bandung has its own Chinatown. Located in Kelenteng Street, Bandung, Chinatown Bandung offers cultural insight into the Chinese community in this city.
People from China first arrived in Indonesia through the Chinese famous admiral's Cheng Ho expedition. But it's only until the late 17th century when they started to dwell in Bandung. They settled and made a living around today's Kelenteng Street.
The construction of Satya Budhi Temple in 1896 marked by the foundation of this Chinatown. The part of Chinatown that opens as a tourist spot is only renovated recently. It has a museum, plenty of food vendors selling Chinese and Indonesian food, and souvenir stores.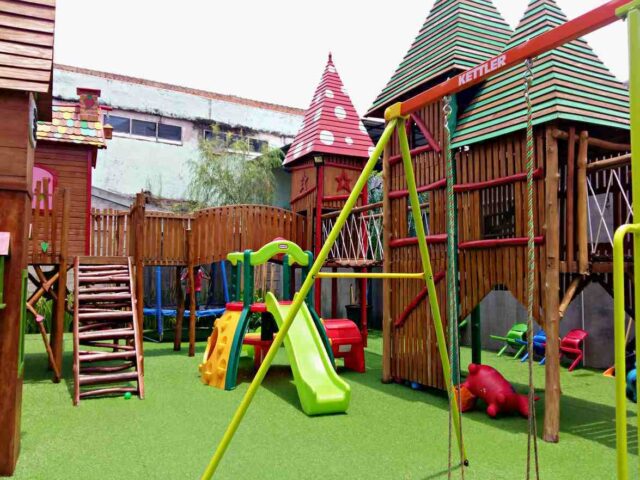 Apart from the educational experience, Chinatown Bandung offers a fun experience overall. Only opened in 2017, the site got popular quickly among youth, especially because of its instagrammable photo spots.
Chinatown Bandung Museum
The museum is located near the ticket counter. Learn the history of the Chinese community in Indonesia with simple and fun-designed infographics. Examine, but do not touch, an aisle full of Chinese antiquities: kitchenware, a bike, storage boxes, and a sewing machine.
The museum also recreates typical rooms in an old Chinese-Indonesian household, complete with antique electronics, age-old furniture, and vintage yet cozy mood.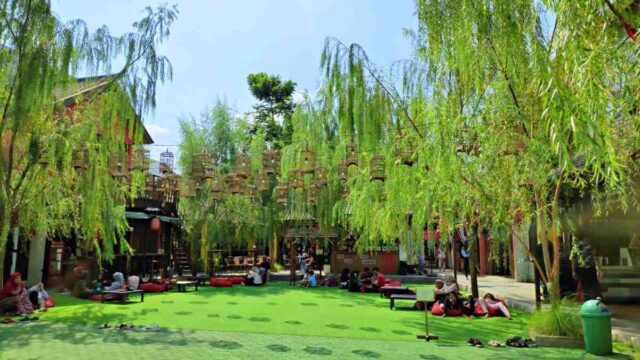 A Taste of China In Bandung
Stepping outside, the Chinatown Bandung reveals a large open area. With a landscaped garden, plenty of tables, and shops. Lanterns hang above and Chinese calligraphy adorns every storefront. Get lost among the rows of shops as if exploring a random street in Hong Kong.
Vacant walls are painted with artistic murals. One depicts a barber with a real chair where visitors can sit and take pictures. The stores are fun even to just browse around. Browse items such as the angpao envelopes, Chinese traditional clothes, prayer beads, ornaments, and chopsticks.
Some stores don't limit their goods to Chinese-related items only. Here visitors can also find various products from batik clothing, Bandung's traditional snacks, to even bags and purses.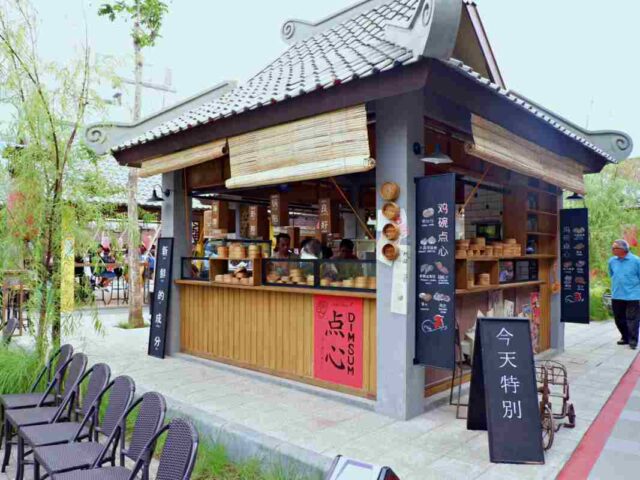 Traditional Clothes
Chinatown Bandung accommodates visitors who want to experience more of the Chinese culture. At IDR 150,000 per session, rent a Chinese traditional costume.
Visitors can wear it while walking around the area. Finding a perfect spot to pose like an ancient royal. There's also a photographer ready to take a professional-level photo at an affordable fee.
Chinese and Asian Delicacies
Feast over classic Chinese dishes such as dumplings, noodle dish kwe-tiau, and Hainan rice. Plenty of dishes here are more on the Chinese-Indonesian fusions category. One of them is Cuanki, give it a try. It's a  bowl of fried dumplings, meatballs, tofu, all then poured with warm and savory broth.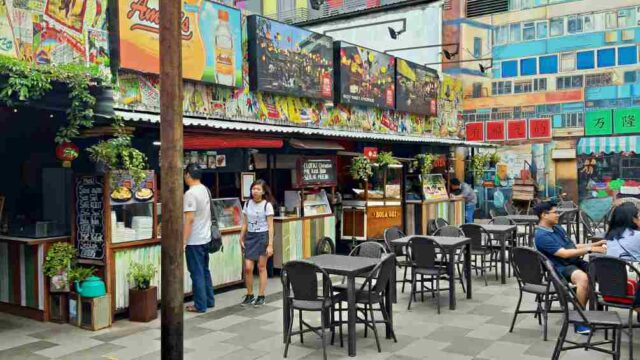 The food court at Chinatown Bandung doesn't discriminate the food based on its origin. Local delights also have a place here. Visitors can pick satay, Soto (chicken soup), and various rice dishes from the menu.
There are plenty of options too for snacks and desserts, with the most famous ones are Bakso Goreng (fried meatballs), Bola Ubi (sweet potato balls), and ice cream.
Chinese Festivals
Mark the calendar for the Chinese important holidays such as the lunar new year. During the festive times, Chinatown is vibrant with events and celebrations. The amount of gold and red decorations will be twice as usual. Expect a lion dance performance, which is believed to bring luck and good fortune.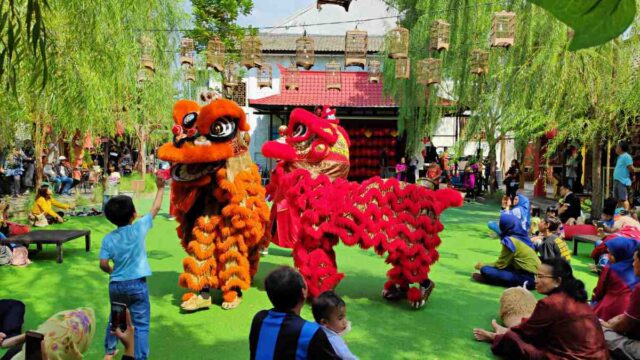 Satya Budhi Temple
After visiting Chinatown, spare several minutes to visit the oldest and most magnificent Chinese temple in Bandung, Satya Budhi Temple. The Vihara is just a stone away from Chinatown Bandung.
From the outside, the Chinese traditional design is already striking. Marvel over the temple wall's rich and detailed carvings, the glazed tiles, and the temple's dragon-adorn roof. Satya Budhi Temple is free of admission, but a donation is encouraged.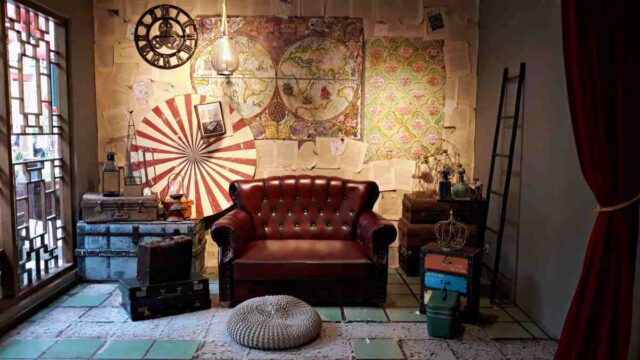 Chinatown Bandung Opening Hours
The place opens from 10 AM to 09 PM from Monday to Friday. Saturday 10 am to 10 pm and Sunday open early from 09 am to 9 pm. An important thing to note, all transaction inside the Chinatown is card-only. Visitors can use either a credit card or a debit card when buying food or souvenirs.
Chinatown Bandung Opening Hours
Monday – Friday
10:00 – 21.00
Saturday
10:00 – 22:00
Sunday & National Holiday
09:00 – 21:00
Nearby: Landmark of Bandung, Alun-Alun, City Park, and Museum In One Place.
Chinatown Bandung Entrance Fee
Visitors need to pay an admission fee of IDR 30,000 when visiting Chinatown. There will be no additional fee for each of the photo spots.
Chinatown Bandung Entrance Fee
Children & Adult
Rp30.000
See: Bandung Top Destination For Culinary Experience, Paskal Food Market. 
Facilities
There are toilets available for visitors. Unfortunately, there isn't a dedicated parking lot yet. So visitors will have to park their vehicles on the side of the street. Chairs and benches are abundant, to take a rest between the Chinatown exploration. Other facilities include a playground and a stage for performances.
How To Get To Chinatown Bandung
Chinatown Bandung is very close to Bandung Railway Station. It's around 1 km and reachable by a 15 minutes walk. Exit from the station's south gate toward Kebon Jati Street. Walk until finding a sign to Kelenteng Street. Then, turn right. Bandung Chinatown is on the right side of the street.
From other points in Bandung, Chinatown Bandung is accessible by taking the public van angkot. From Bandung City Square (Alun-Alun Bandung), visitors can take angkot line Cibeureum – Cicaheum and hop off before Kelenteng Street intersection. Visitors from the airport may take a taxi since using angkot is a bit tricky. The fare should be affordable, since Airport – Chinatown is only around 6 km.