Lahangan Sweet
Entrance Fee: Rp30.000
Opening Hours: 06:00 - 20:00
Telp. Number: -
Address: Gulinten village, Bunutan , Abang, Karangasem, Bali, Indonesia , 80852.
Bali seems to offer countless hidden gems that invite both local and international tourists to unveil. When it comes to new hidden gems, then Lahangan Sweet is undoubtedly one of the best recommendations. Located in Karangasem, this spot is just 15 minutes from the famous Lempuyang Temple and 30 minutes away from Tirta Gangga Water Palace.
Before the local government officially opened the location to the public, Lahangan Sweet was actually a barren land. The name Lahangan was originally taken from the word Laha, which means barren. But due to its huge potential, and the magnificent panoramic sceneries, in 2019 it turns into a tourist destination.
Now, Lahangan Sweet has become one of the hidden gem spots in Bali. It is also famous as the place that offers the best far-reaching views of the tall Mount Agung.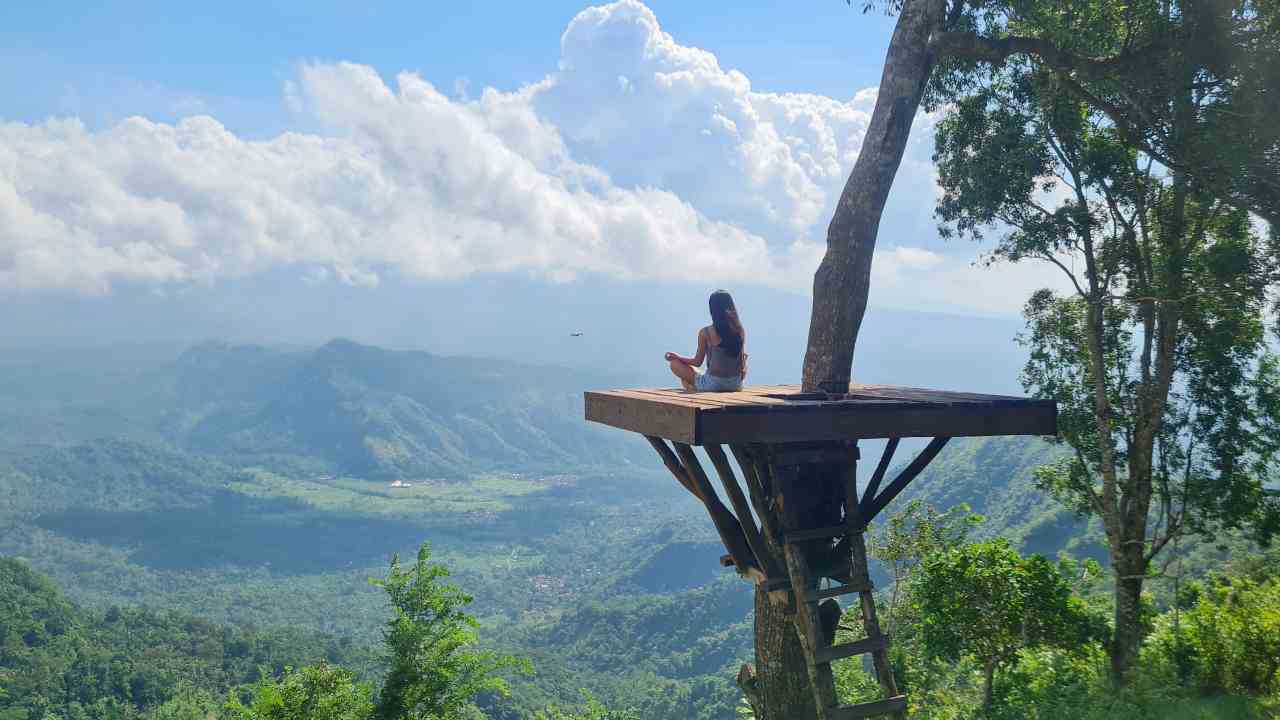 Lahangan Sweet Entrance Fee
As for the entrance fee, international tourists will have to pay Rp30.000 for the ticket. For campers, renting a tent for 2 person capacity will cost Rp185.000 and Rp20.000 for people bringing their own tent.
Lahangan Sweet Entrance Fee
Entrance Ticket
Rp30.000
Tent rental
Rp185.000
Nearby: Guide To Explore Lempuyang Temple, Gate of Heaven.
Lahangan Sweet Opening Hours
This tourist spot is open every day from 6 AM to 8 PM. And for visitors who wish to spend a night here without having to hassle. It's best to come before sunset, book a camping spot, and rent a tent on the spot before getting dark.
Lahangan Sweet Opening Hours
Every day except Nyepi
06:00 – 20:00
See: Tirtagangga Water Palace Guide & Top Things To Do.
Amazing View of Sunrise and Sunset
Lahangan Sweet offers breathtaking views of a panoramic landscape, which will surely spoil the eyes. Tourists can easily find many viewing decks to witness the beauty of nature from afar. Although this spot offers a magnificent landscape from morning 'till dawn. But still, the best time to visit Lahangan Sweet is either at sunrise or sunset.
In order to witness the beauty of the sunrise, tourists are advised to arrive before 5:30 AM. Meanwhile for people who prefer sunset over sunrise, then it is best to reach the viewing points at least at 5 PM.
Mountains Scenery
Due to the location, tourists can see the amazing views of what nature can offer. Mountains, beaches, sea, and rice fields are some of the best views Lahangan Sweet can offer. Furthermore, Lahangan Sweet is probably the only place where people can enjoy 2 mountains landscape, Mount Agung and Rinjani, and Amed Beach altogether.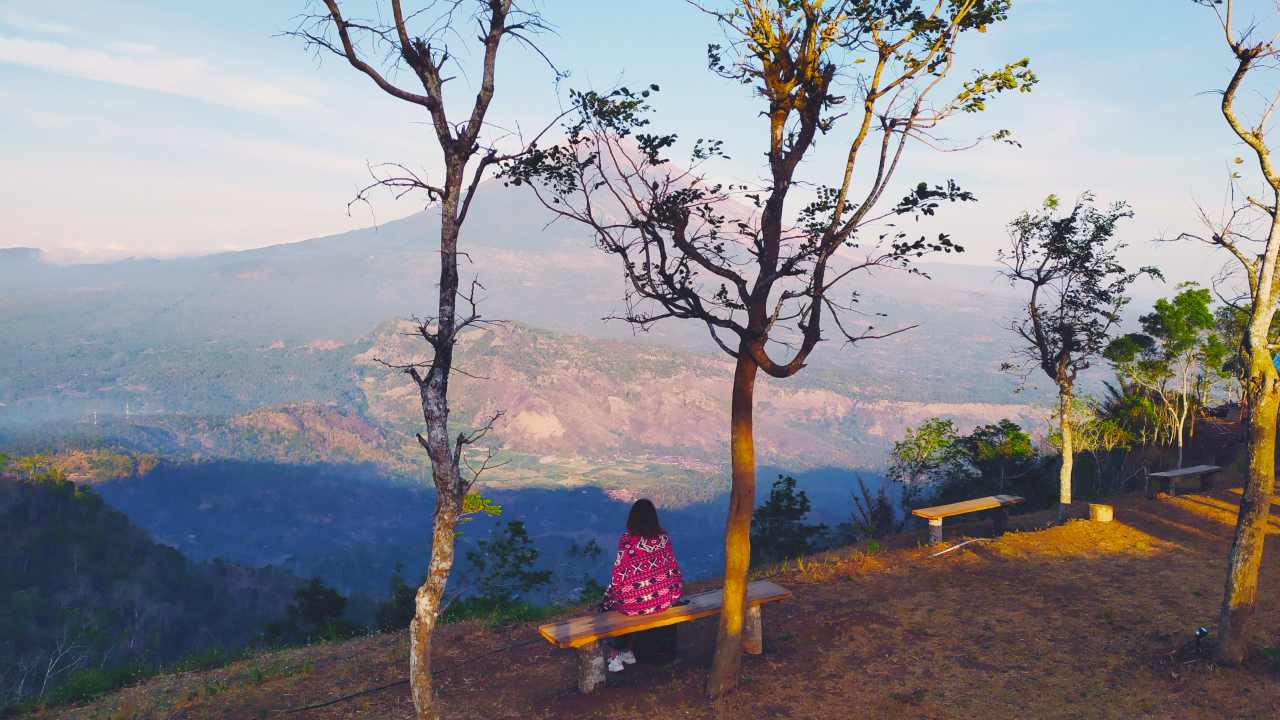 As the highest mountain in Bali, Mount Agung is considered sacred for locals and famous among local and international hikers. To get the best view of Mount Agung, it is best to come on a clear day. While Mount Rinjani, although it's located in Lombok, the mountain is popular among hikers too and the second biggest volcano in Indonesia.
Viewing Points
There are many photo spots and viewing decks on the premises. And it is all perfect to glimpse the beauty of the mountains, beaches, and landscapes of Bali. All spots are still free of charge, and some spots are located pretty high. And some even stand on high trees.
So, it may take extra effort and courage to reach those spots. They may not be friendly to kids and the elderly as well. Most viewing spots are made of bamboo or wood. And it is all scattered in different spots to enjoy various kinds of landscapes.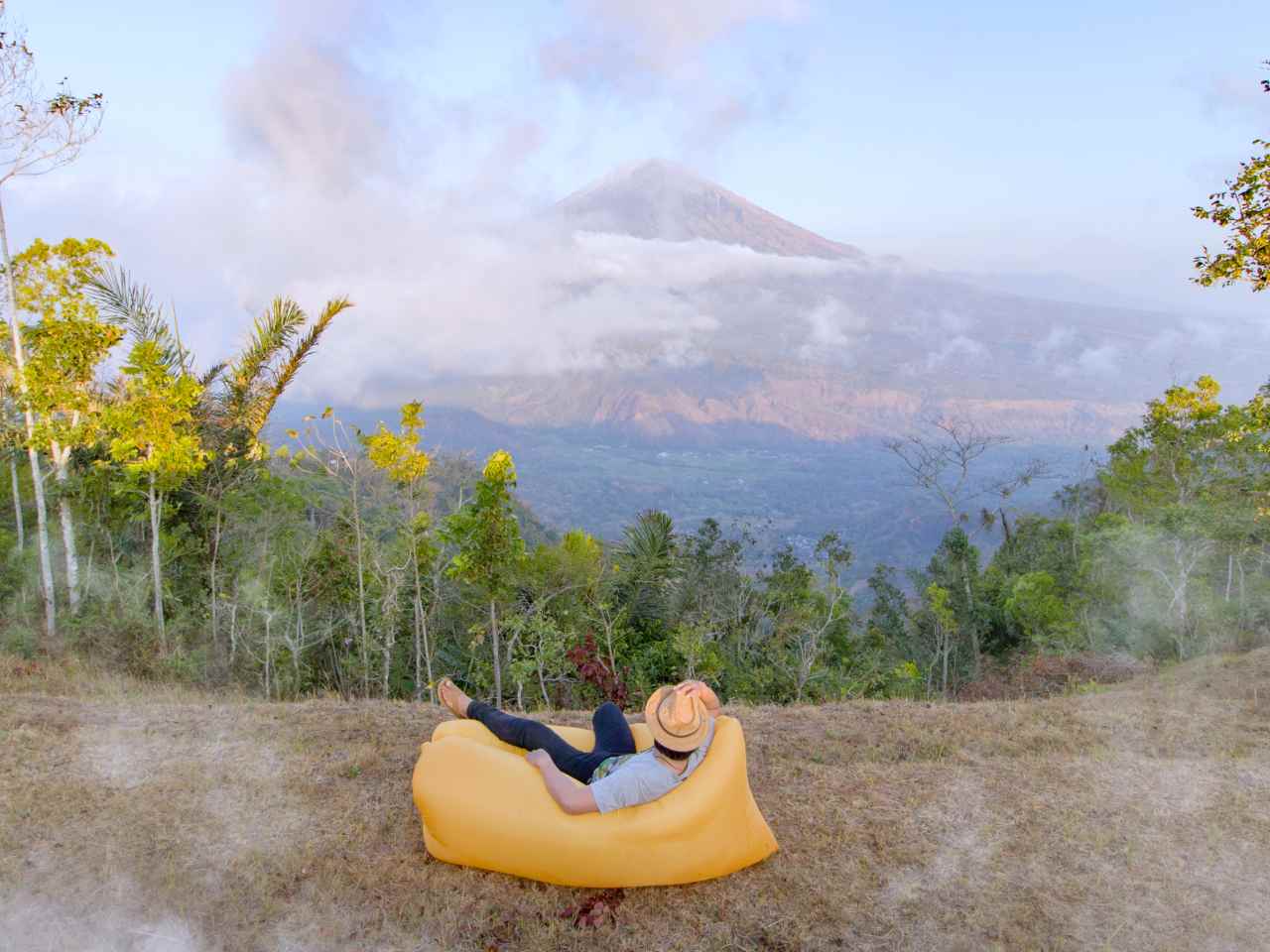 The most popular spot of all is the boat-shaped viewing deck and the tree house. There are no guides available at the Lahangan Sweet. So it's best to bring a tripod to get the best picture.
Camping Ground
People are welcome to spend the time from sunrise to sunset, or even to spend the night here. There is a camping ground, and it includes tents and camping equipment rental, too. Firewood is available for an extra fee of 20k.
Enjoying the night at the Lahangan Sweet is one thing. But to witness the sunrise on time is also another reason why people camp here. Imagine waking up in the morning with a dazzling sunrise view, right in front of the camping tent. Pretty awesome, right?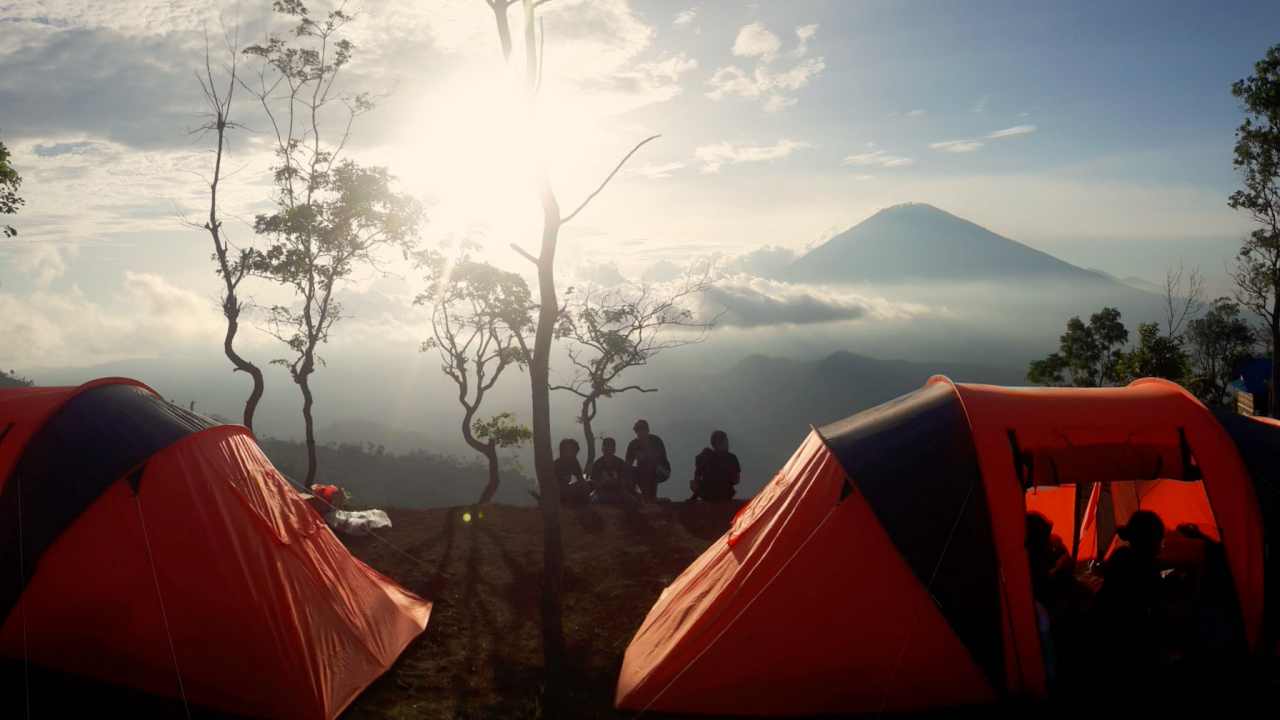 Challenging Track up the Hill
Since Lahangan Sweet is still a relatively new tourist spot, a decent road is still not available, at least for now. It might need extra efforts for visitors to get there, but it will pay off for sure. Although the location is actually quite strategic, tourists need to go through a steep and muddy track to get there.
It is a 10 to 15-minute walk up the hill. Vehicles like cars can only take tourists to the end of the paved road. For tourists who seek outdoor adventure, the steep and muddy track is actually a challenge. It can really be something fun to do outdoors. Therefore, it is better to wear proper walking shoes.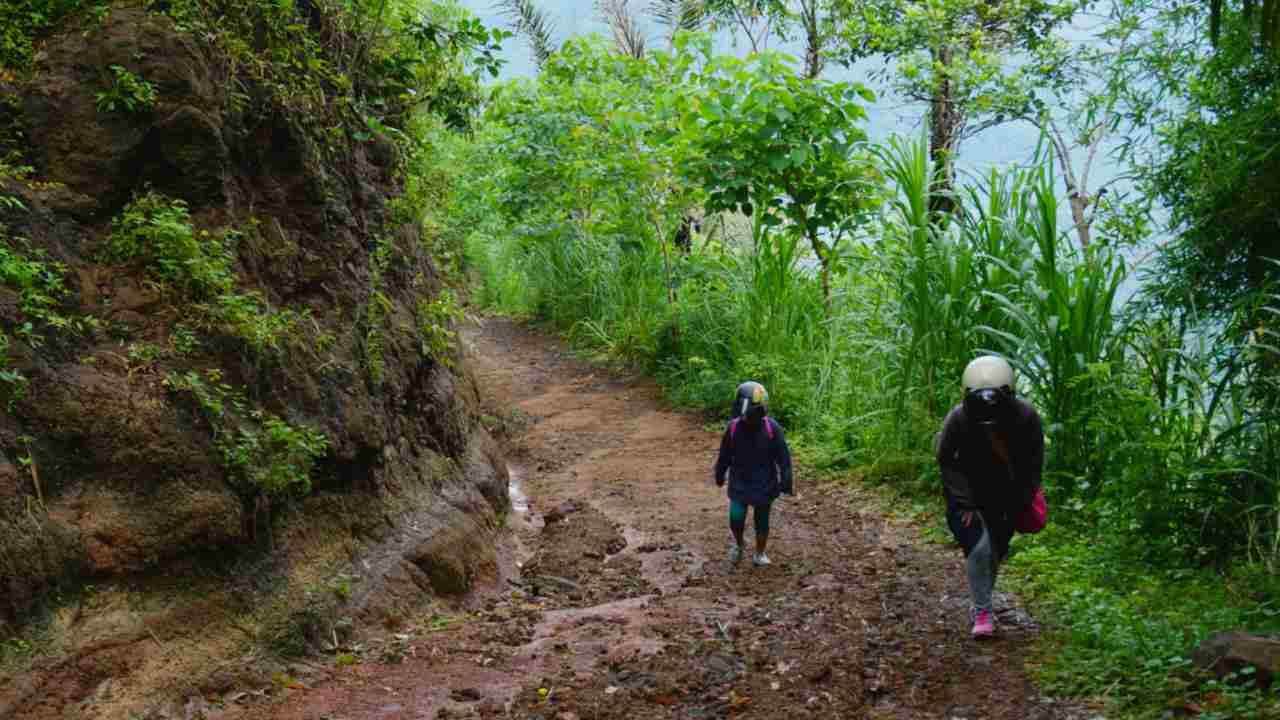 However, there is another solution to avoid 15 minutes of walking through the steep muddy track. Hire a scooter guy called ojek to get to the top. A return trip using ojek will cost Rp40.000 and half the price for a one-way trip. Make sure to agree on the price first to avoid any misunderstanding.
See: Guide To Explore Besakih Temple in Karangasem.
Facilities
Lahangan Sweet provides parking lots for tourists who drive motorcycles and scooters up to the area. However, for visitors coming with cars will have to park at the end of the paved road. Then continue to walk up for 15 minutes. Clean toilets and food vendors are available in the area.
However, since this spot is relatively new, there is not much option. It is better to prepare some snacks or water beforehand. The camping ground is available for people who intend to stay overnight here. Gensets are available so campers can feel more save and charge phones during nighttime.
Visitors are allowed to create a campfire or grill some meals to enjoy with friends and family.
See: Guide To Explore Amed Beach & Top Things To Do.
How To Get To Lahangan Sweet
The location is relatively easy to reach. It's a 2 hour 15 mins ride by car from Kuta, 3 hours from Uluwatu, and 2 hours from Ubud. The most convenient way to get to Lahangan Sweet is by using a scooter. The price for renting a scooter starts from Rp60.000/day. However, getting here is quite challenging.
The driver will have to face a narrow and steep road. And in some spots a muddy one, so it's best only for an experience one. Another option is to rent a car that includes the driver as well. With so many options for car rental in Bali, it is actually one of the best transport options for tourists to get to Lahangan Sweet.
The rate starts from Rp800.000 for 10 hours. However, a car can only get to the end of the paved road. Visitors will have to continue going up the hill on foot. It is only a 10-15 minute walk, but since the track is pretty steep and muddy. Prepare at least comfortable walking shoes.
See: Tourists SIM Card, Price & How To Top Up Credit.
Address & Location
Lahangan Sweet is located in Gulinten village, Bunutan, Abang, Karangasem, Bali 80852.