Legian Beach
Entrance Fee: Free Entrance
Opening Hours: Open 24 Hours
Telp. Number: -
Address: Jl. Pantai Legian, , Legian, , Kuta, , Badung , Bali , Indonesia , 80361.
Legian Beach may not be as prominent as Kuta or Seminyak Beach. Despite this opinion, Legian has no shortage of visitors. Whoever favors beautiful, less busy beaches, this beach is a must-go. Calming surrounding and serene views of the ocean made up the visit. No wonder, gulping Bintang beer while sitting on the beach chair is popular among tourists.
People may not know that Kuta, Legian, and Seminyak beaches are actually sharing the same shoreline. Kuta is the zero kilometers, Seminyak up to the north. Legian is tucked in the middle between Kuta and Seminyak Beach. People can just walk along the sandy shoreline and reach Legian from Kuta Beach.
Occasional high tide attracts surfers to come here. The wave is pretty high, but not too wild to tackle. Surfboard rents are available along the beach. Hourly surfing schools are lining up as well. A good beach to choose for novice surfers as Legian Beach is not as crowded as Kuta.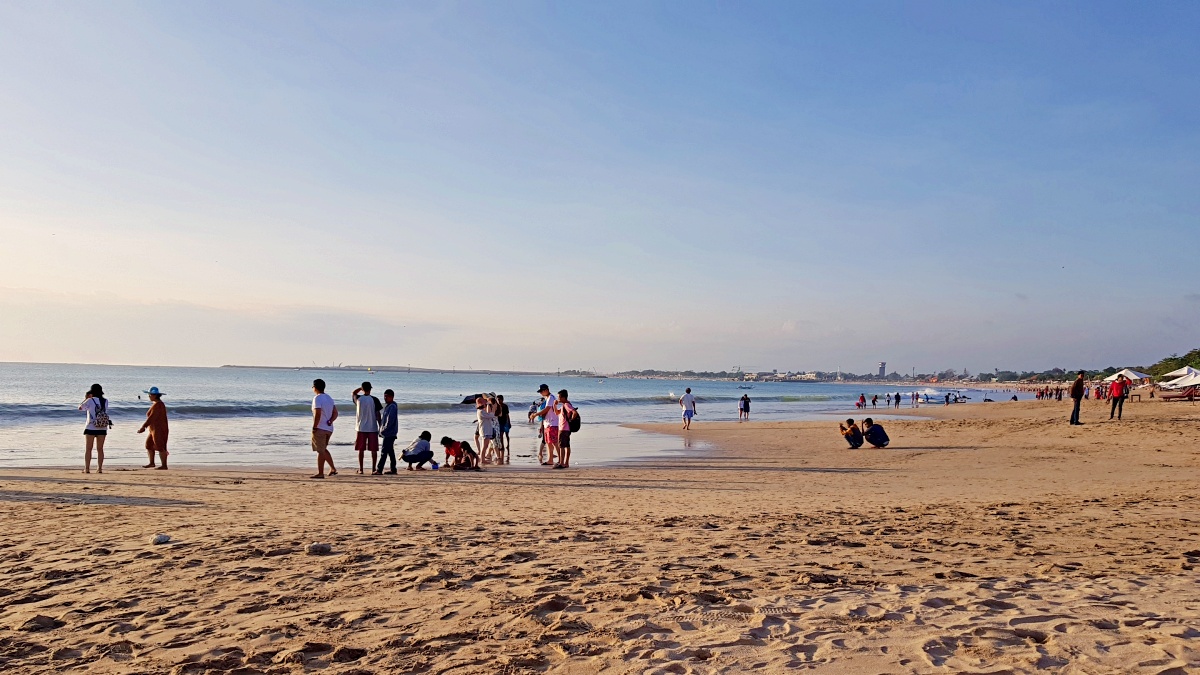 As the sun goes down, people start to witness the sunset. Bean bags are rented out by beach entrepreneurs to improve the sun-watching experience. As the night comes, the vibrant bars and food sellers running the business. Sit and order dinner with the beach as the cinema, to sum up, the day.
Legian Beach Opening Hours & Entrance Fee
Legian beach is available every day for 24 hours. Everyone is permitted to enter the site and no entrance fee is required. Upon arrival, visitors with vehicles are charged a standard parking fee. The fee is Rp2.000 per motorbike and Rp5.000 for a car.
Legian Beach Opening Hours & Entrance Fee
Every day except Nyepi
Open 24 Hours
Entrance Ticket
Free
Parking
Rp2.000 (motorbike) / Rp5.000 (Car)
See: Nakula Night Market, Local Dish & Grill Seafood Spot.
Legian Beach Surfing & Sunbathing
For surfing enthusiasts, the high yet not wild tide of Legian Beach offers a playground. Get a surfboard from the lining locals renting it for a cheap price. Surfing schools for virgin surfers are copious as well. A learner is charged around Rp250.000 for 2.5 hours. An all-in price that includes the surfboard renting fee as well.
Legian is a sunbathing ground just like other beaches in Bali. Lay the mat and have the body prettily tanned for an hour or more. Order a refreshing drink to enjoy, coconuts and cold beer are people's favorites here.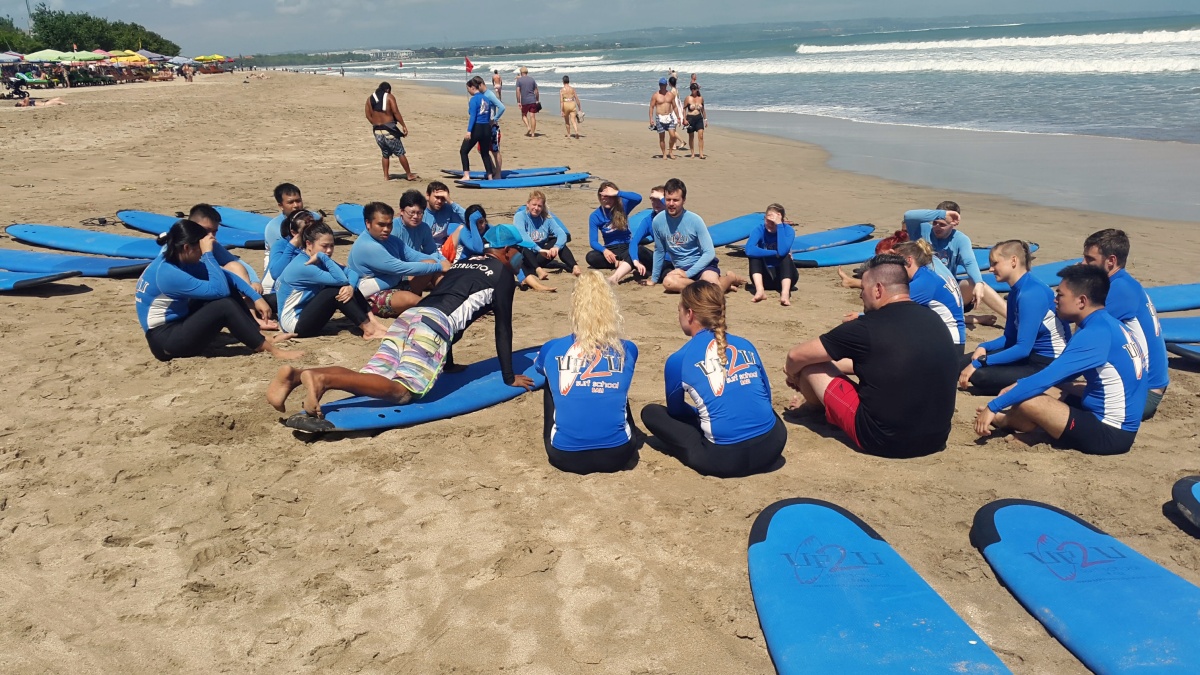 Beach chairs are available to sit on. The fee to occupy a chair is quite cheap, which is around Rp70.000 (US$5). Some vendors may charge Rp100.000 for two chairs with an umbrella. Different vendors charge different prices. Consider which option is worth the money.
Hawkers Marking the Entrance
Just a few steps from the beach. Native hawkers are coming to offer their products and services. Some may dodge them for their persistent attacks, but why not try one? Try getting a neck, feet, or hand massage. Most of the masseuses are middle-aged, but their massage is powerful. Small merchandise, such as traditional bracelets and keyrings are being sold, too.
The hawkers also offer transport services and surfing schools, too. For transport services, some tourists do a little bargain though not many are OK with that. Hawkers are also selling drinks and food, such as mineral water and roasted corn.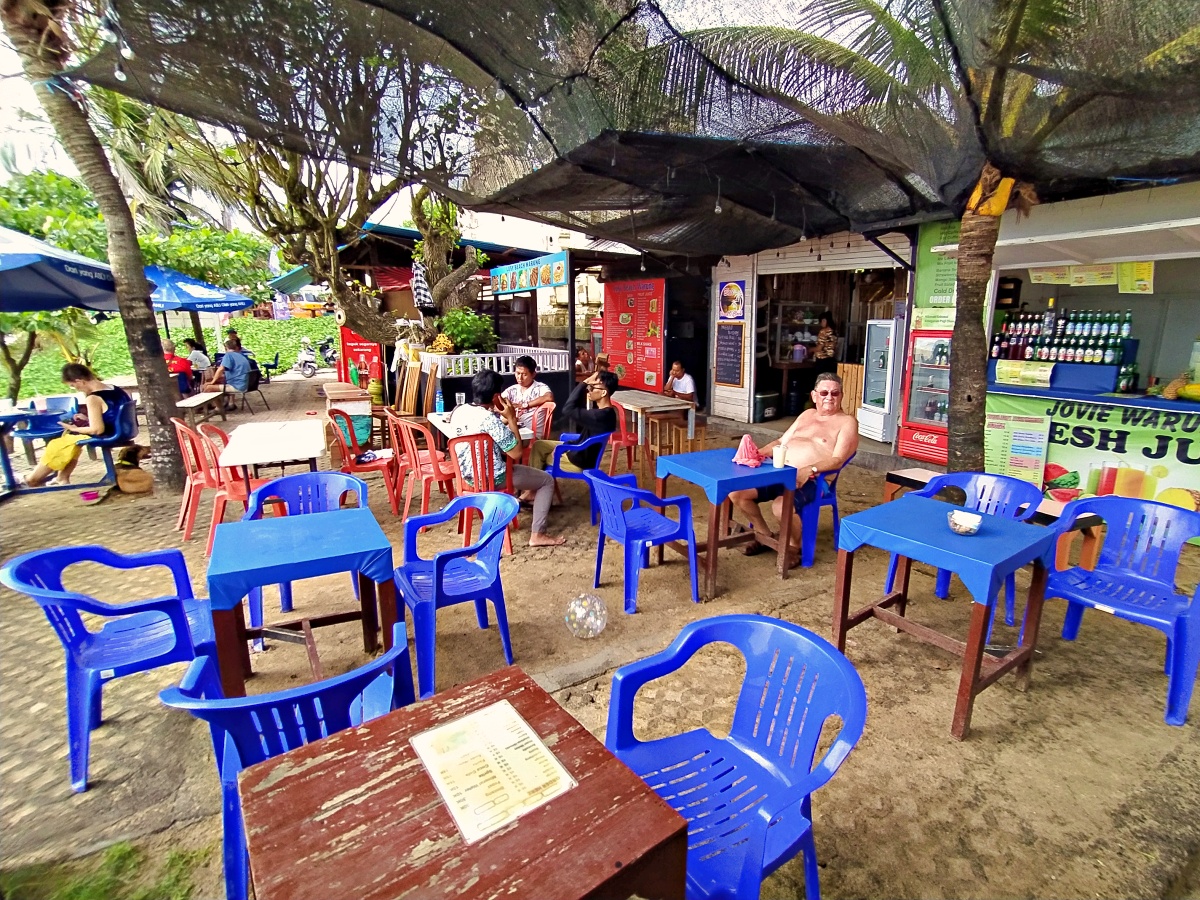 Swimming & Blissful Sunset
When the wave is not wild, swimming is allowed. Only in a not-too-far area. Take a dip in the water. Be careful and notice the red flags marking the maximum distance allowed for swimming. For children, there aren't any swimming rings being rented out. So, never leave children unattended as not many areas are guarded.
As the night comes, sunset is the main attraction here in Legian Beach. If the sky is clear, and the sun gets closer to the horizon, the crowd gets plenty. The blue sky color gets darker gradually with some combination of red, orange, and yellow.
Sitting on the bean bags makes the experience even greater. Rent one from the beach guys. Usually, the bean bags are ready and arranged neatly a few hours before sunset. Sometimes the vendors charge nothing for the bean bags. Following a certain purchase of beers.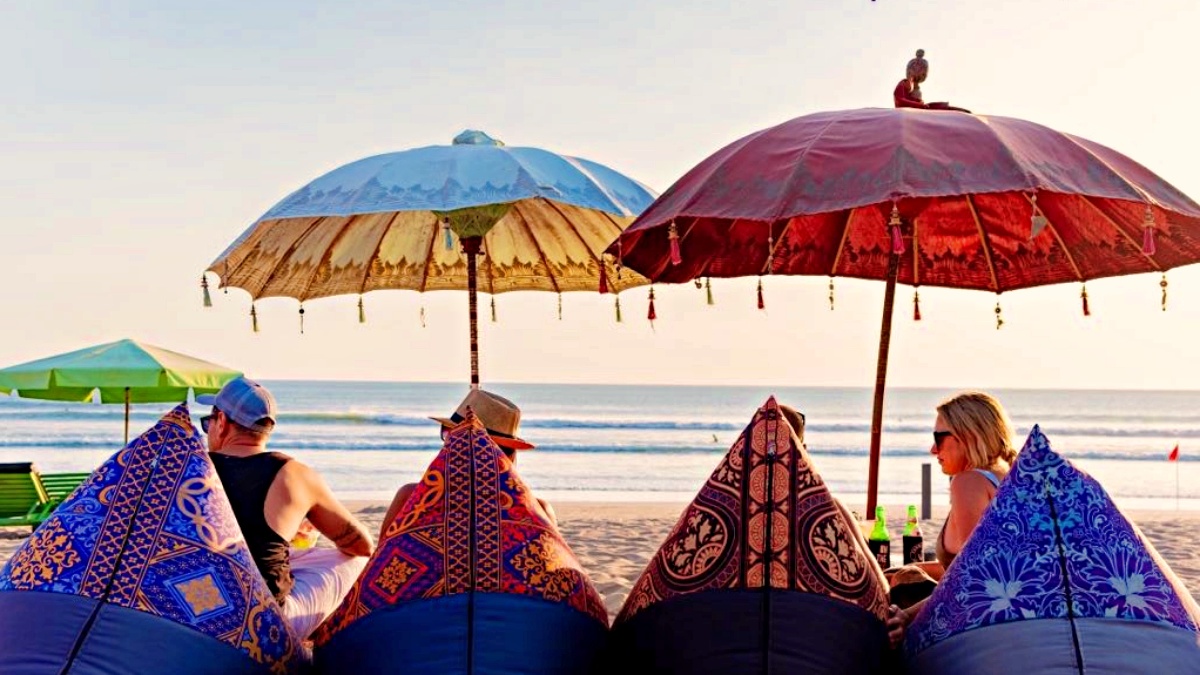 Food and Drinks
Go to local warungs when the belly is roaring. Most foods are local dishes, such as fried rice and chicken skewers. The price starts from Rp20.000 and usually does not exceed Rp50.000 for one single meal.
Some vendors sell bakso – a round-shaped season-grounded beef with broth. With additional condiments like noodles and green vegetables. And soto ayam a savory chicken soup-like dish. Both of the dishes are the locals' favorite.
To taste Balinese cuisine, try nasi Bali. The food is simply made up of rice and various side dishes. The most common side dish in Nasi Bali is chicken and boiled egg. It is served along with stir-fried veggies, tempeh or tofu, and fried shrimp crackers.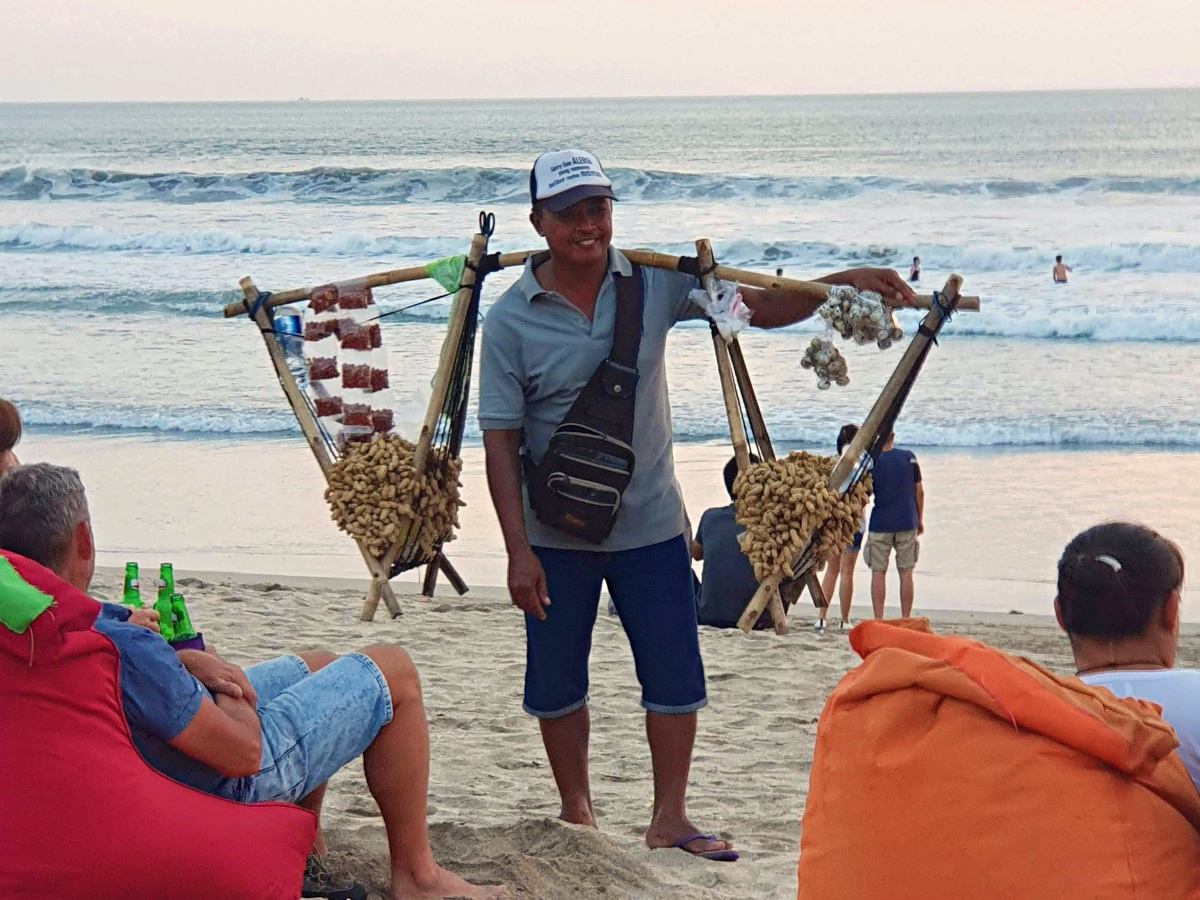 As for the drinks, there are many options to choose from. Most food stalls sell fruit juice on their menu. Some sell milkshakes and of course, the ultimate drink is coconut water. The price ranges for drinks cost Rp15.000-Rp20.000 per drink.
See: Kreneng Night Market, Locals Food & Tropical Fruit Market.
Facilities
As a popular tourist beach, the facilities here are quite standard. Toilets are available but not many. Prepare smaller notes before using one. Beachside bars are lined, and from some of them, music is playing. No big restaurants here, only local warungs are available. But, this does not mean the menu choices are few.
Accessing the internet from this beach is possible. Just go and buy some drinks from the beach bars. The beach bar guys will gladly allow you to use the Wi-Fi service. Wi-Fi service costs nothing.
Nearby: Kuta Beach, Activities & Attraction.
How To Get To Legian Beach
From Ngurah Rai International Airport, the Legian Beach location is 15-20 minutes away. There are several options to reach the beach. The first one is by renting a scooter and riding the way there. Second, catching a cab or jumping on a local scooter rider's back. Lastly, have a ride-hail vehicle to pick up.
The route goes north for around 8-10 km from the airport heading to Kuta – Legian. Opt to pass through the Ngurah Rai by-pass road for less traffic. Passing through a non-bypass road allows visitors to catch up with local stores. Where snacks and drinks are there to buy. Well, the snack price outside the beach is pretty much less expensive.
See: Choosing Tourists SIM Card, Price & Internet Package.
Address & Location
Legian Beach located in Jl. Pantai Legian, Legian, Kuta, Kabupaten Badung, Bali 80361, Indonesia.