Mushroom bay beach
Entrance Fee: Free Entry
Opening Hours: Open 24 Hours
Telp. Number: -
Address: Mushroom street , Jungutbatu, Nusa Penida , Klungkung, Bali , Indonesia , 80771.
Situated on the famous Nusa Lembongan Island, Mushroom Bay Beach is a barely unrecognizable beach destination. It is most likely the first landing place for a boat ride from Sanur port. This beach has pristine clear water and white powder sand to step on.
Along the beach side, there are several cafés, lounges, and a beach club that offer an immersive range of refreshments. And that includes comfortable lodging space to rest. These perfect combo amenities will be a great pair to unwind rough journey of a waves-crushing sea trip.
Mushroom Bay Beach is located in the southeast part of Bali. This offshore getaway is around 35 minutes away from the main island. Some of the best beach retreats to do are booking underwater activities, taking a spa, sunbathing, dining with ocean views, and swimming at the beachside pool.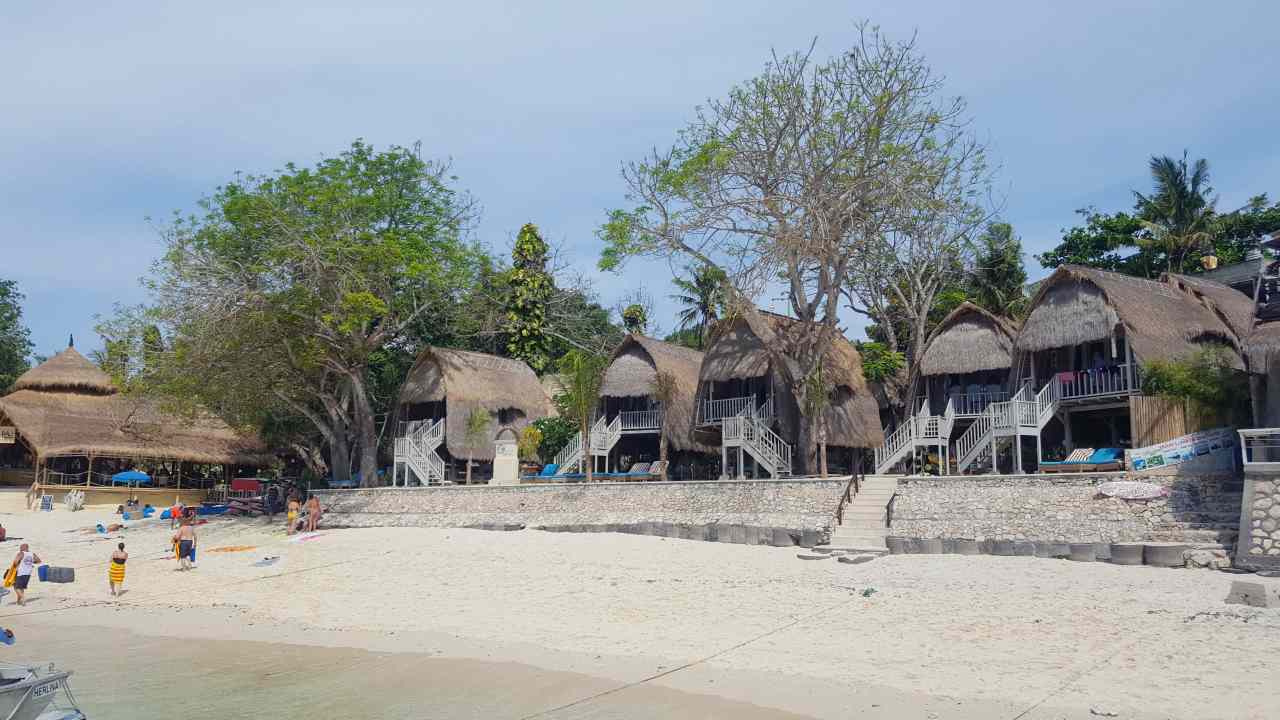 The Nusa Lembongan Island is best known as the coral triangle. It has great marine diversity which is why diving and snorkeling are the main attractions on the island. With that being said, Mushroom Bay Beach is one of the best spots to explore species of coral reef and fish.
Mushroom Bay Beach Entrance Fee
There is no entrance fee or parking fee to enter the beach. It's still a free beach. Even if the beach is practically a port, it's still worth visiting.
Mushroom Bay Beach Entrance Fee
Ticket
Free Entry
See: Guide To Explore Nusa Lembongan & Things To Do.
Mushroom Bay Beach Opening Hours
The beach is a public space that is open 24 hours every day. Most people start to flock to this place right before golden hours to catch the sunset and dine-in in nearby restaurants.
Mushroom Bay Beach Opening Hours
Every day
Open 24 Hours
See: Guide To Explore Tembeling Beach & Nature Pools.
The Port of Nusa Lembongan
First-time visitors certainly can't recognize that Mushroom Bay Beach is one of the main ports on Lembongan Island. There is no dock installation, terminal building, or what so ever. It's just a mid-range port with several boats anchored at the seashore. From a distance, it looks like a casual quiet white sand beach with some beachgoers lying on the beachside.
Considering the boat traffic departure and arrival from the main island, it's a bit hard to swim. However, despite the boats, the underwater is stunning, and the fishes are colorful. And the beachfront café and restaurant under some shade trees are worth trying.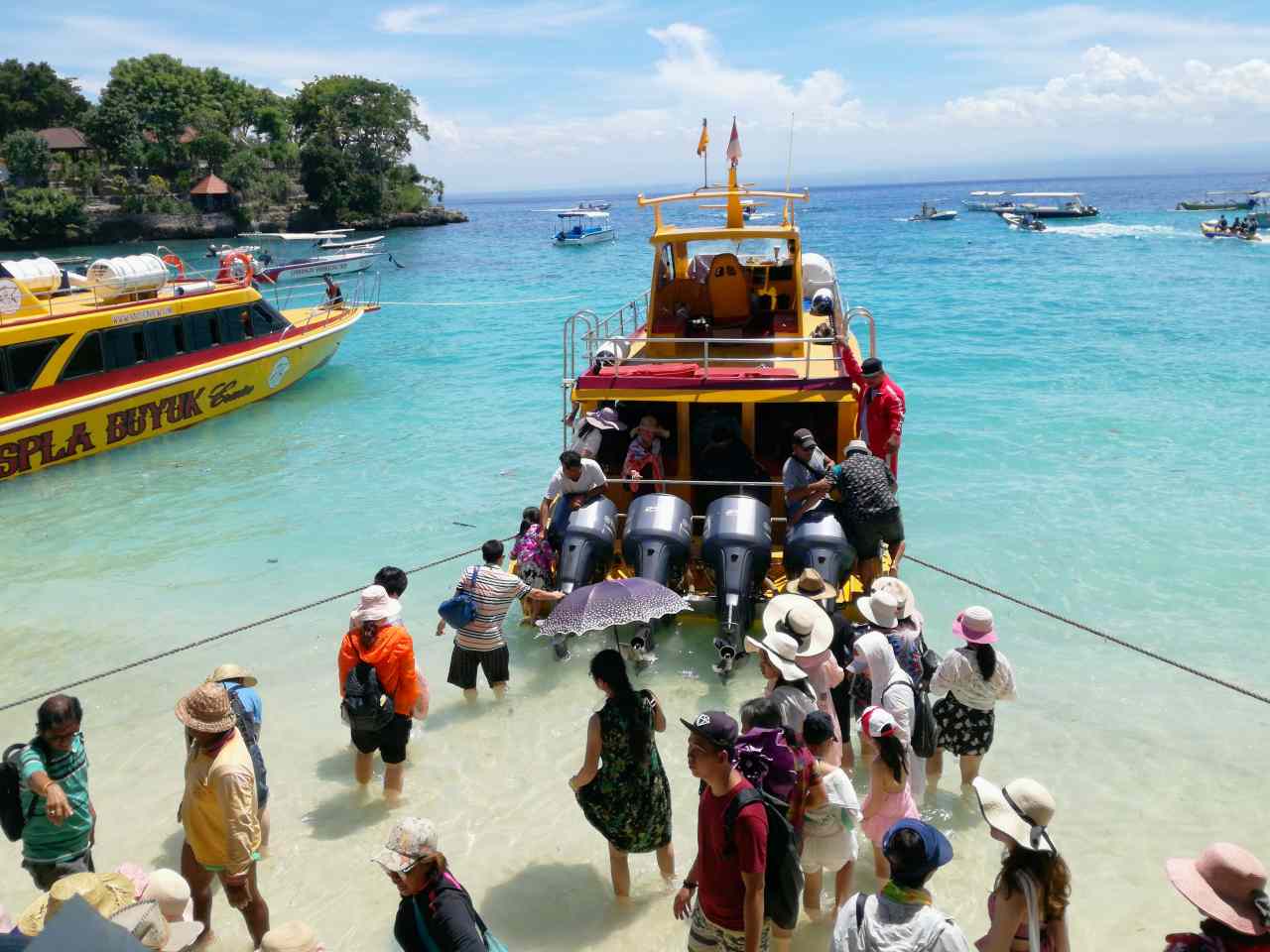 Explore Nusa Lembongan Underwater
The scenic view of Lembongan Island is not just on the surface but beneath the sea. The marine life underneath the beach is exceptionally beautiful. There are diving clubs near Mushroom Bay that offer diving courses, day trips, reef cruises, and sailing. The underwater tour includes lunch and a guide or diving instructor.
For travelers with no prior diving experience, there is a 3-day open water diving course. It covers theory, pool diving, and ocean diving with prices starting from Rp7.000.000 per person. At the end of the session, participants will get an international diving certificate.
The full-day dive trip is the perfect water adventure to meet oceanic fishes like manta rays, sunfish, dolphins, and turtles.  This tour will cost around Rp2.000.000 per person. Keep in mind, these water activities is all-includes superb facilities and top-notch services.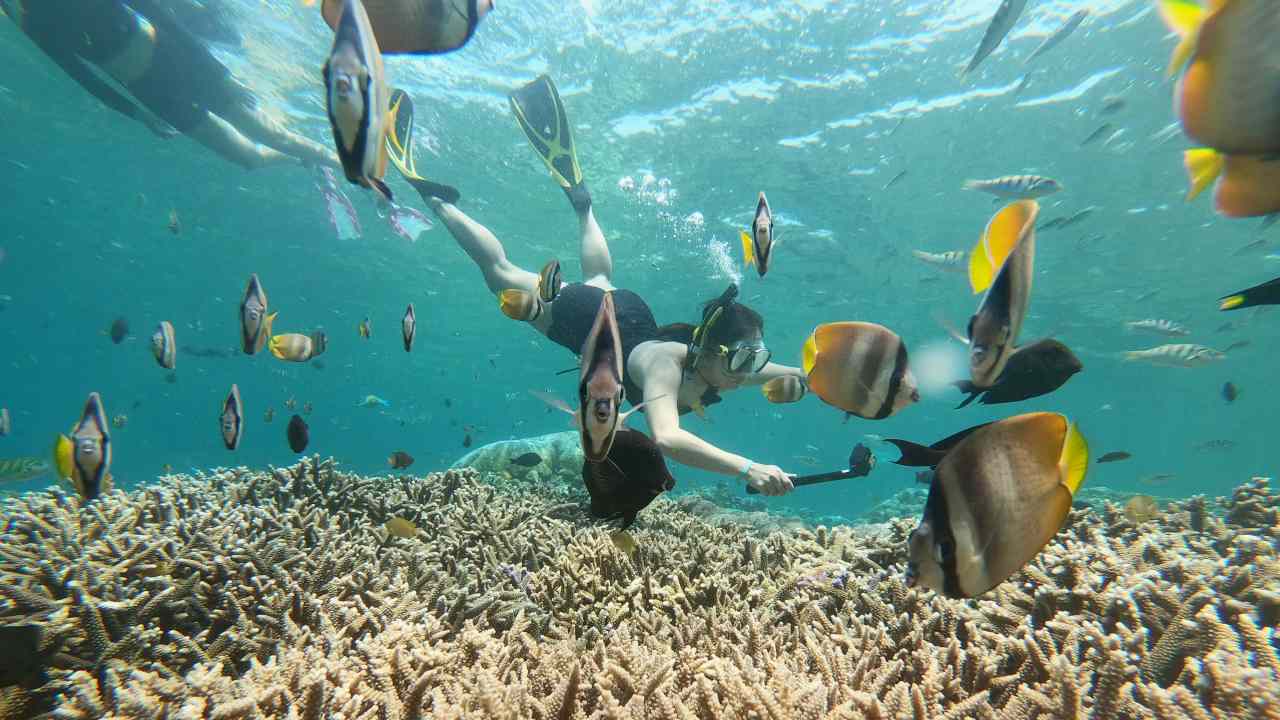 It covers hotel transfers, cruise trips from Bali, spa treatment, high-grade diving gear, lunch meals, and dive insurance. While for a snorkeling trip, the rates start from Rp300.000.
Bar, Café & Restaurant
Speaking of dining options, Mushroom Bay Beach is surrounded by plenty of upscale café and restaurants. From serving epic nutritionist veggies to a meaty indulgent feast. It offers a wide selection of western and Asian cuisine with a vegan menu as well.
The price is fairly more expensive compared to the mainland. The dining experience will roughly cost 250K per person. Meanwhile buying a meal from a mini food booth across the road will cost no more than 50K.
Generally dining space at cafes and restaurants in this neighborhood has a concept of al fresco. Lounges with open spaces, a sand floor, and a tropical garden. It sparks the coziness of island vibes.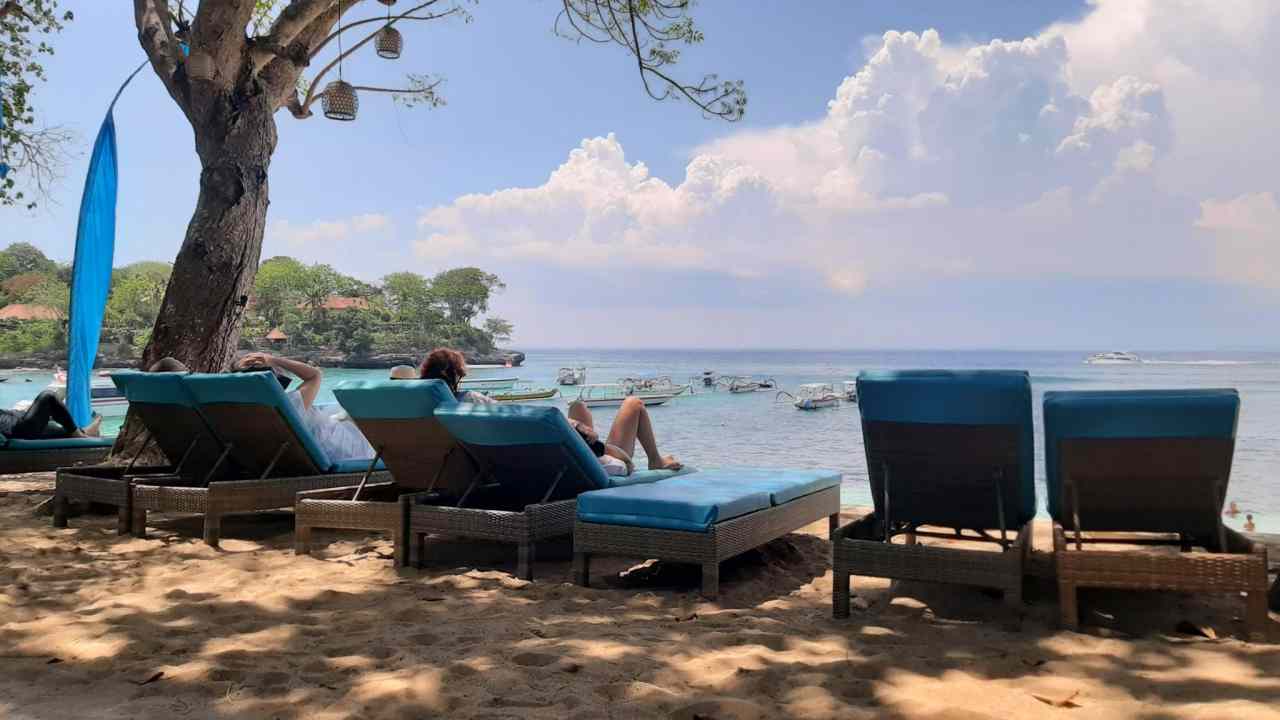 Wellness Retreat
There is nothing better than wrapping up the vacation by taking a spa or massage treatment. It has great benefits to relax and restore energy after exploring this island. There are many massage spots to go to. From affordable small locations to luxurious multi-step spas.
The general price for a one-hour body massage is 200K, and foot reflexology will cost no more than 150K. And the hair spa will cost around 150K. There is plenty of spa and massage service around the mushroom bay beach. Some accommodations near the beach even offer the same service too.
See: Sanur Night Market, Culinary Spot & Street Food Guide.
Facilities
Mushroom Bay Beach has quite enough facilities to support tourists staying in the nearby area. There are several dining options and accommodations, a modern mini market, and a scooter rental service.
Modern coffee shops, bars, and seafood restaurants are scattered in the area. There are also 2 ATM machines, a spa, and a massage service.
See: Guide To Explore Nusa Penida & Top Things To Do.
How To Get To Mushroom Bay Beach
The only access to Mushroom Bay Beach is via boat trip from Sanur Port. The boat ticket price is 150K per person. Before purchasing the ticket, better ask for Mushroom Bay Beach port arrival. Otherwise, travelers will end up dropped at the Jungutbatu and Tamarind seaports on the island.
To stroll around the beach area, a scooter rental will cost Rp70.000 per day. From the tourist-staying area near Jungutbatu beach, this spot is just 15 minutes away.
See: Tourists SIM Card, Price & How To Top Up Credit.
Address & Location
Mushroom Bay beach is located on Mushroom street Lembongan, Jungutbatu, Nusa Penida, Klungkung, Bali 80771.