Nuart Sculpture Park
Entrance Fee: Rp25.000 - Rp50.000
Opening Hours: Sun-Thur 09:00-17:00, Fri-Sat 09:00-21:00
Telp. Number: (022) 2017812
Address: Jl. Setraduta Raya Blok L 6, Ciwaruga , Parongpong , Bandung Barat , Jawa Barat , Indonesia , 40151.
Nuart Sculpture Park is an art gallery in Bandung, West Java. It exhibits the works of the Indonesian maestro, Nyoman Nuarta. A famous sculptor that is mostly known for his artworks on monuments throughout the country. Most notable of his work is the ambitious project of Garuda Wisnu Kencana in Bali.
Born in Tabanan, Bali, Nyoman Nuarta moved to Bandung in 1972 to study fine arts. Since then he's been residing in this city, where he also opened his first workshop. In 2000, he opened the Nuart Sculpture Park to introduce his art to the public. The gallery displays around 200 of his artworks, from the beginning of his career to his latest masterpiece.
Nuart Sculpture Park is a must-go for anyone who calls themselves an art enthusiast, especially for sculpture. The park occupies a 3-hectare area. There are two sections, the garden area, and the gallery 'Nuart Building'. Apart from art exhibits, visitors can also take a peek at Nyoman Nuarta's personal workshop at the far corner of the park.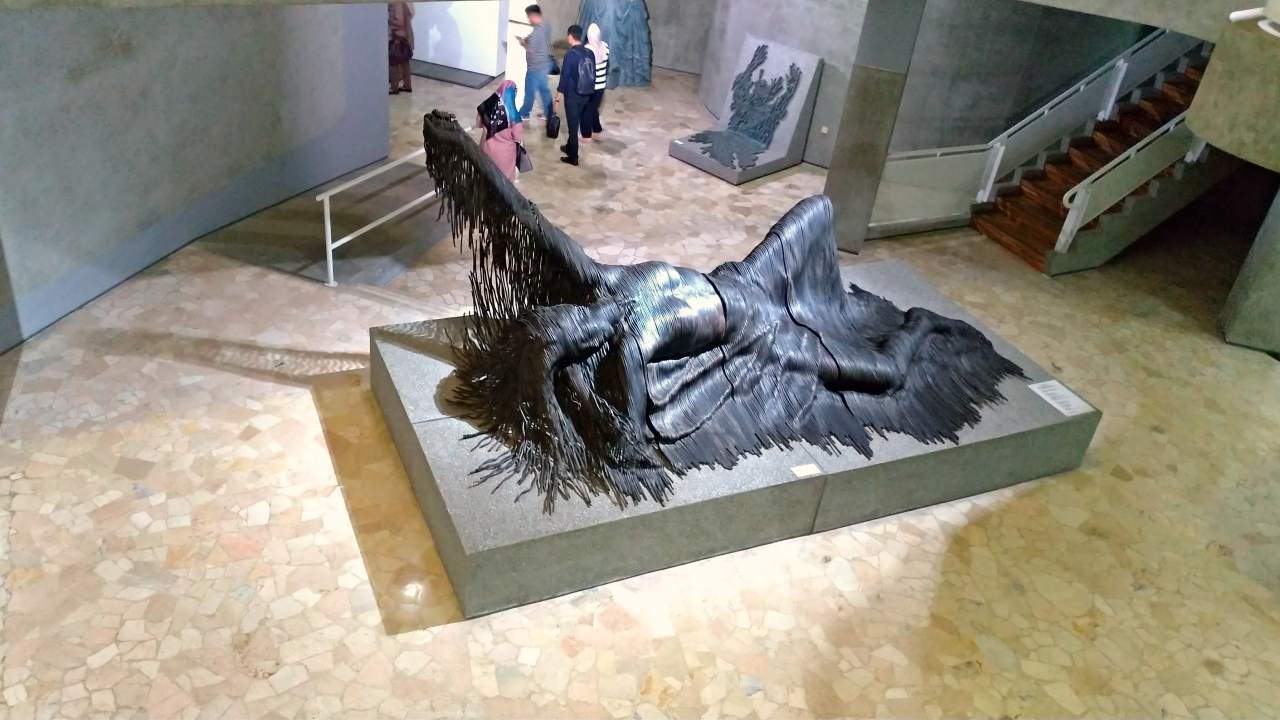 Arts Collaboration
The Nuart gallery building has a modern interior on par with a European art gallery. The dim lighting, the high ceiling, and the installation of every artwork. All are tastefully outlined to enhance visitors' art experience. On the first floor are all of Nyoman Nuarta's artworks. While the second-floor exhibit other local artist pieces.
Nyoman Nuarta's signature is mostly known for his brass and bronze works. His admiration for Salvador Dali resembles many of his works. In essence, some of his artwork is abstract and open to interpretation. While others are an artistic expressions of the local issues in Indonesia.
Observe the detailed texture of his pieces and the philosophy behind each creation. Among the masterpiece to see here is the sculpture of the Goddess of death, just near the entrance. Name as "Dewi Zolim". The sculpture portrays a hooded female figure, with a scythe and a scale in her hands.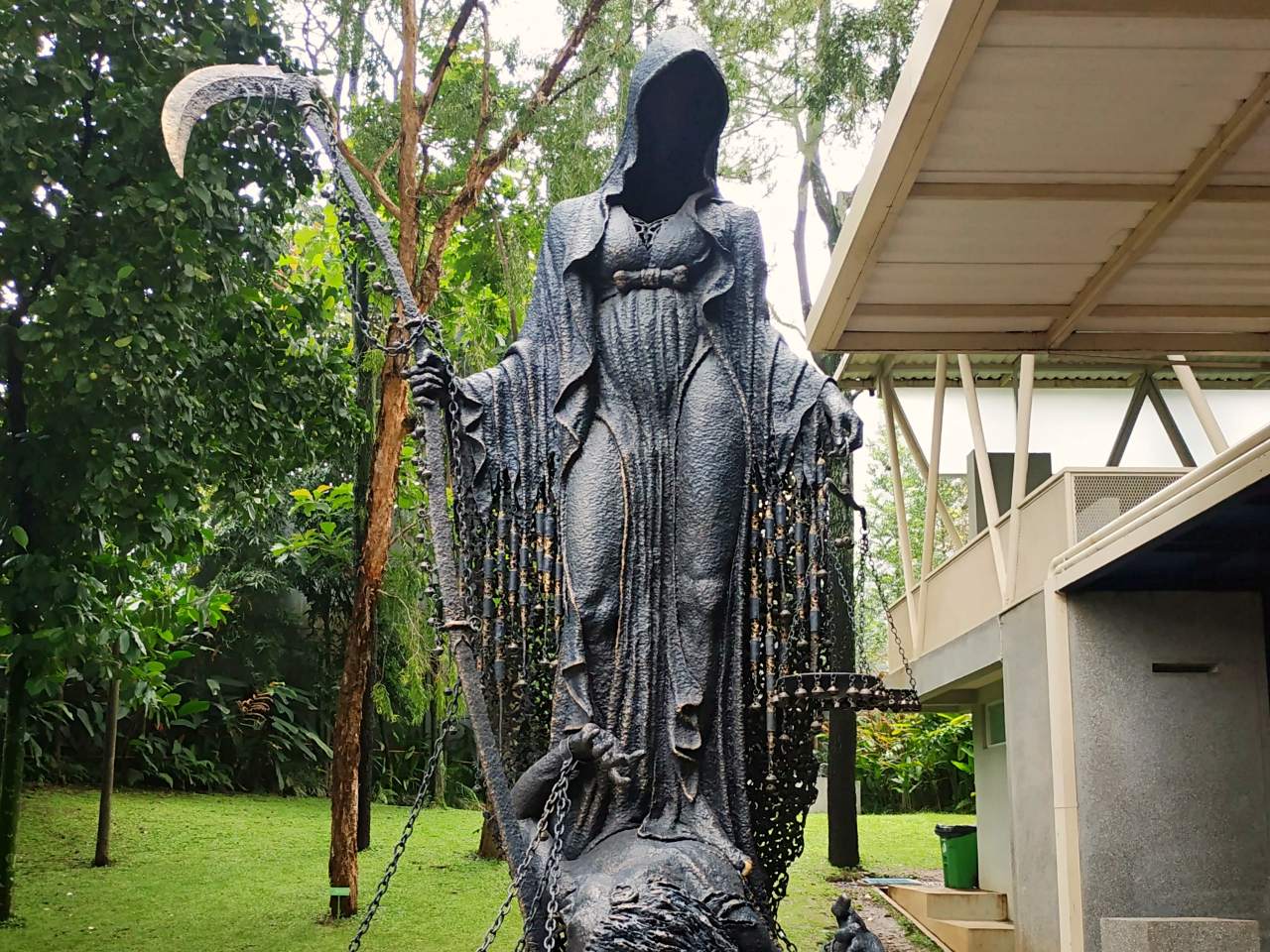 The scale on her hands means neutrality and justice. But in his art, Mr. Nuarta illustrates how the angel of death, oppresses the human below her. In other words, it violates the concept of justice she was meant to carry.
Outdoor Art Exhibition
A combination of art and nature. The garden of Nuart Sculpture Park hosts more of Mr. Nyoman's art. The artworks here are displayed in a way that blends beautifully with the garden layout. Notice a statue of a giant whale bursting out from the green grass below.
Then, the sculpture of Orang Utan, a mother with her baby. Without a doubt, the sculpture expresses the artist's concern for environmental degradation. In this case, the artworks depict how the animals suffer through a forest fire.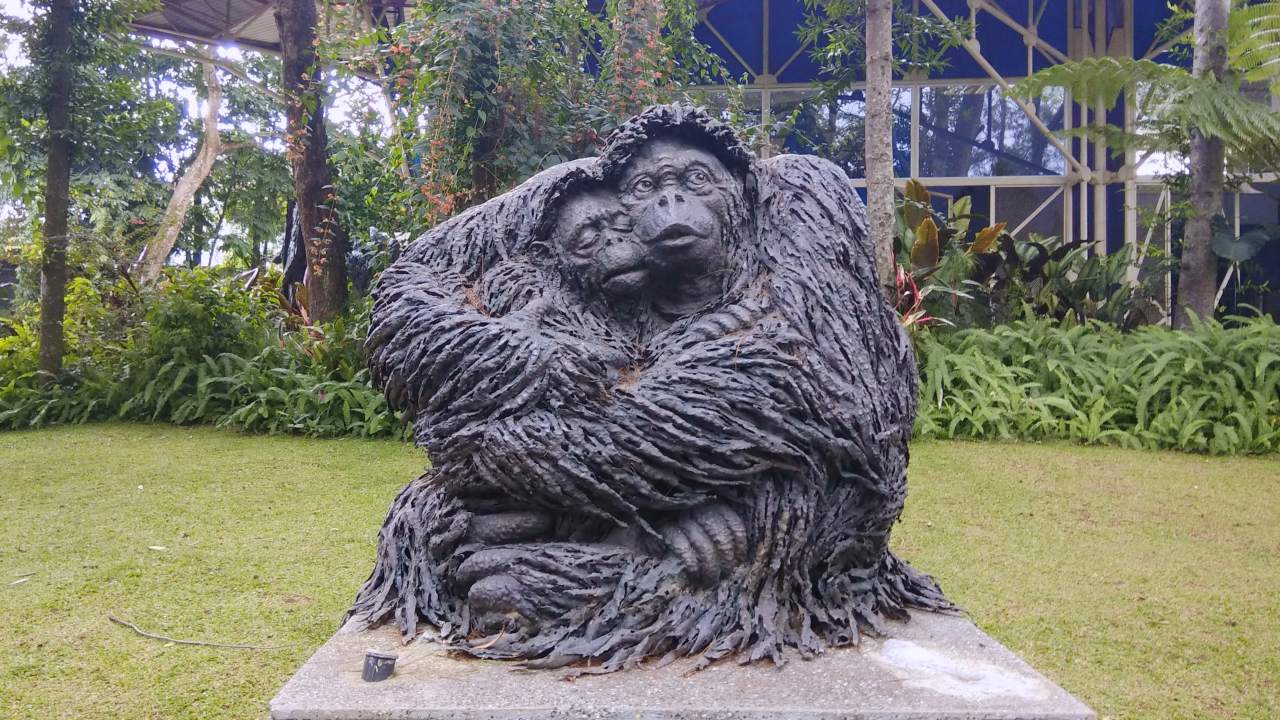 Behind The Scene Workshop
Mr. Nuarta opens his private studio to visitors on weekdays. To point out, the workshop is where he mostly carries his work daily. Here, observe, as visitors could see the sculptor and his assistants work on the latest masterpiece.
Visitors might also see parts of the Garuda Wisnu Kencana monument in the middle of development here. Take a closer look but also be careful, as the art-in-the-making process here involves a lot of dangerous equipment.
Meet The Man Behind The Masterpiece
Visiting an art gallery is one thing. But meeting the legendary artist himself would totally make an unforgettable memory. Mr. Nyoman Nuarta is a busy man. Most days, he would get immersed in his work at the workshop. But once in a while he greets and chats with visitors. When he does, listen as he shares his wisdom regarding his work – it's a rare occasion.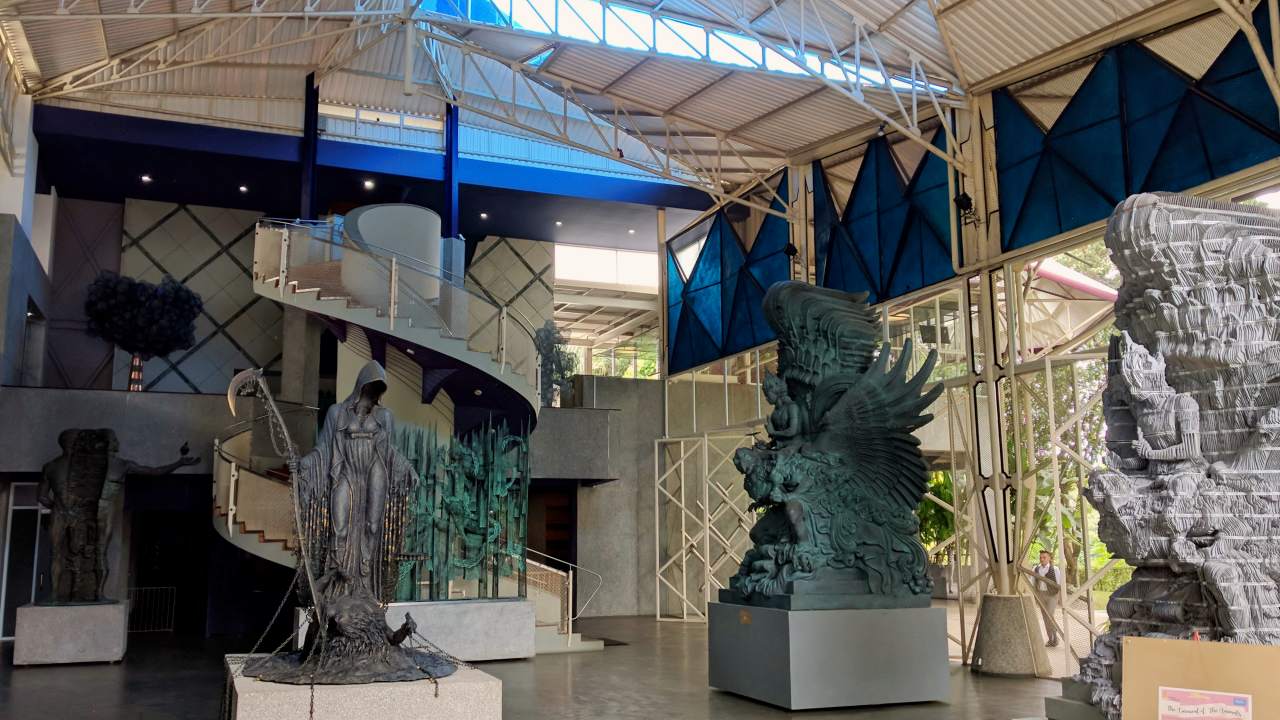 Art Course Class in Nuart Sculpture Park
With a small fee, visitors can join a short course at the workshop. Pick among these types of art: sculpting, painting, batik-painting, and graphic arts. It's an experience to be an artist for a day. Together learn and work alongside Mr. Nyoman Nuarta and his assistants. At the same time, an instructor will guide visitors during the art course.
See: Top Things To Do At Orchid Forest Cikole.
Craft Boutique
Complete the whole experience in Nuart Sculpture Park with art shopping. Here at the craft boutique visitors can buy a miniature of Nyoman Nuarta's masterpiece. Take a look at other artists' works too. Craft boutique also sells artworks from both local and international artists, designers, and craftsmen.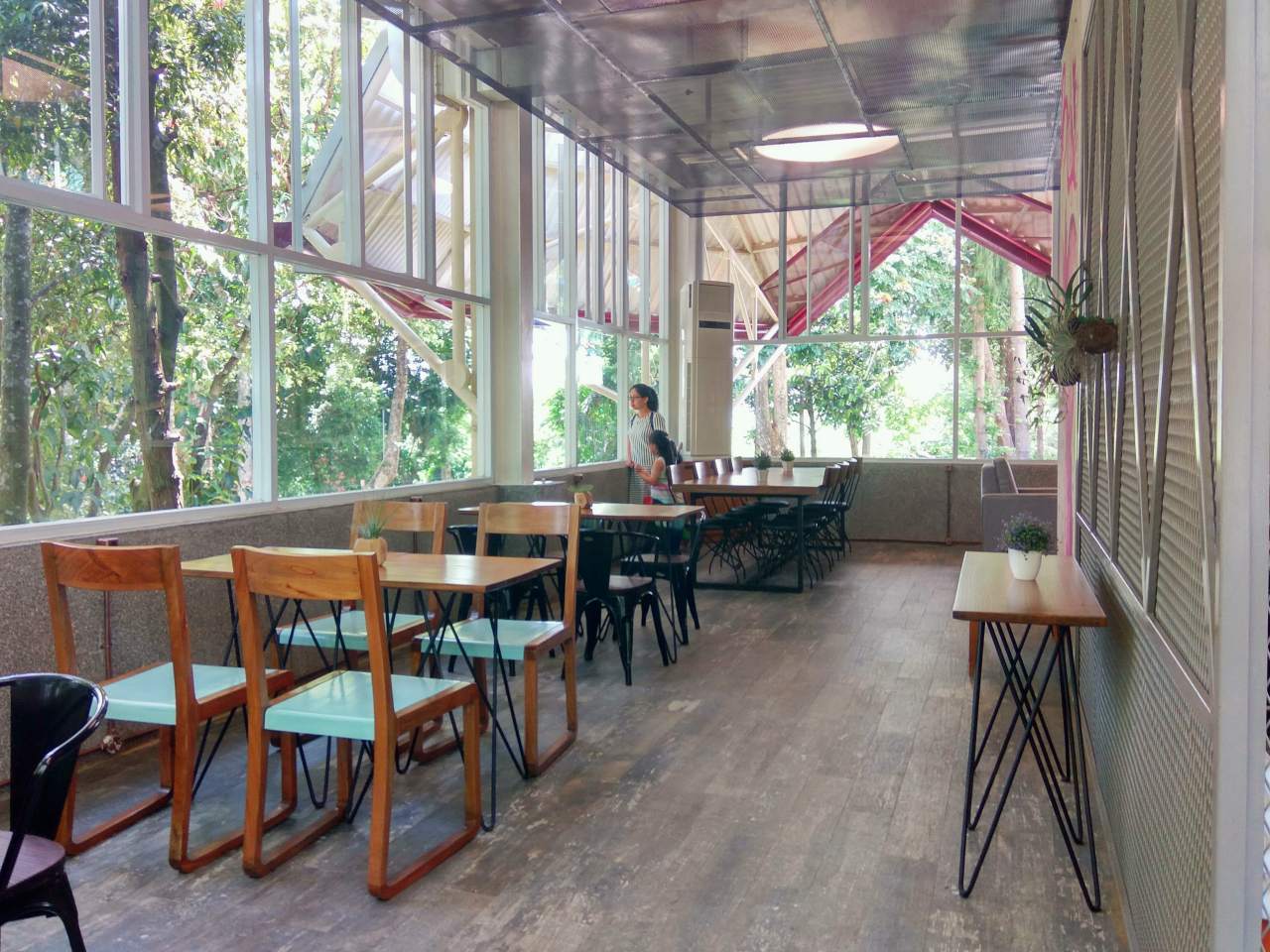 Nuart Sculpture Park Opening Hours
Nuart Sculpture Park opens every day from 9 AM to 5 PM. Except on Monday, the sculpture park is closed.
Nuart Sculpture Park Opening Hours
Sunday – Friday
09:00 – 17:00
See: What To See & Guide To Tangkuban Perahu Crater.
Nuart Sculpture Park Entrance Fee
Admission to the site costs Rp50,000 for an adult visitor. The admission ticket already includes a guided tour, a complimentary welcome drink, or a souvenir. However, the guide service is not available all the time.
Nuart Sculpture Park Entrance Fee
Children & Adult
Rp50.000
See: Maribaya Hot Springs Spa, Outdoor Activities & Tips.
Facilities
Nuart Sculpture Park's basic facilities include a spacious parking lot and clean toilets. The gallery has several restaurants inside the building. The signature café, N'Cafe, offers a Balinese delicacy. Obviously, the Balinese crispy duck is the star dish, the all-time people's favorite. Small food stands are scattered around the garden zone where visitors can buy mineral water or snacks.
See: How To Get To Bandung From Jakarta, Guide.
How To Get To Nuart Sculpture Park
Nuart Sculpture Park is conveniently located not far from the city center. On one hand, finding transportation is not going to be an issue. In fact, finding a taxi or booking a ride-hail app is the easiest way from any point in the city center. The trip itself will take 30 minutes from the city center or from the airport and railway station.
However, there's a public transport option available. Tourists can take a public van with route Sarijadi – Stasiun Hall and stop at the Sarijadi building. From there on it still require a 1 km walk. Nuart Sculpture Park's location is deep in a suburban residential area. In short, there's no public van that stops right in front of its entrance.
See: All About Bandung Airport & Transportation.
Address & Location
Nuart Sculpture Park's location is not far from the famous Rumah Mode Bandung. It's a 20-minute drive and is located in Jl. Setra Duta Raya No.L6, Parongpong, West Bandung, West Java 40514.