Taman Festival Bali
Entrance Fee: Rp20.000
Opening Hours: Open 24 Hours
Telp. Number: -
Address: Jl. Padang Galak No.3, Kesiman, Denpasar Tim, Denpasar, Bali , Indonesia , 80237.
Back in its glorious days, Taman Festival was once a huge theme park with lots of attractions for tourists. It used to have a 3D theatre, swimming pool, mini volcanos, laser performance at night, zoo, art performances, and many more.
It was officially opened to the public in 1997. But due to the Asian economic crisis in the late 90s, the place was forced to stop its operation in 1998, and it has been abandoned ever since. Today, Taman Festival is just an eight-hectare abandoned area in Pantai Padang Galak, about 4 kilometers north of Sanur. The place is full of overgrown trees, unused buildings, and walls full of graffiti.
According to the local residents, the area has become the home for the spirits of their ancestors and countless ghosts. Making it a place that offers different kinds of attractions for tourists. Although this place has been closed for more than two decades, it still attracts visitors to come just to witness the remaining of its ruins or to feel the mystical aura of the place.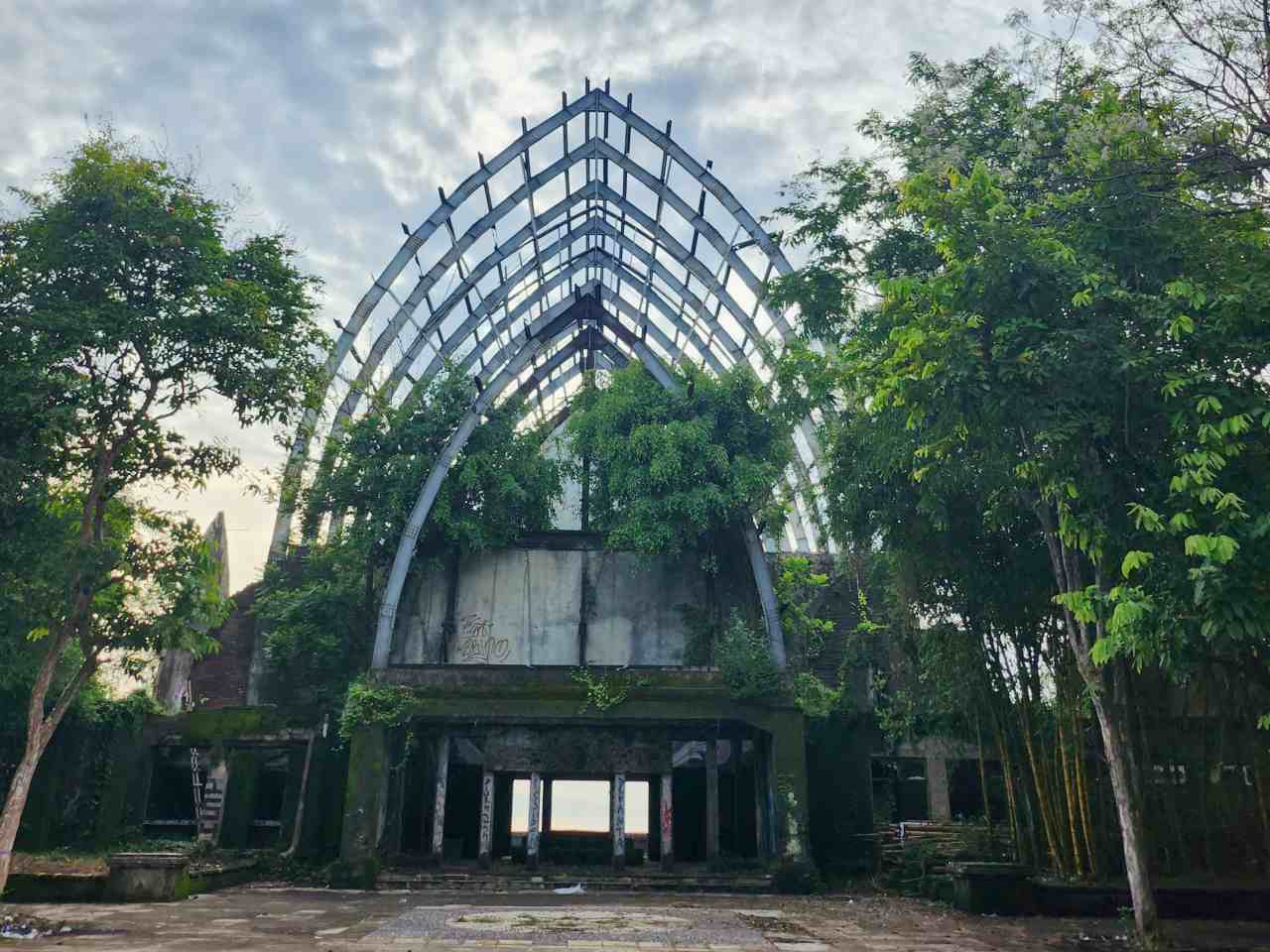 Taman Festival Entrance Fee
Even if this spot is abandoned, visitors will still be charged the entrance fee by the local security guards. The entrance fee for an international tourist is Rp20.000. Even better, tourists can also get help from local guides to travel around the park, too. The price for the guides is fairly negotiable.
Taman Festival Entrance Fee
International tourist
Rp20.000
See: Guide To Explore Sanur Beach & Street Food.
Taman Festival Opening Hours
There are no specific opening hours for visitors to come here. It is open 24 hours a day, 7 days a week. However, it is still best to visit this spot in daylight.
Taman Festival Bali Opening Hours
Every day
Open 24 Hours
See: Guide To Explore Sanur Night Market & Street Food.
Taman Festival Haunted Theme Park
Who would have guessed that an abandoned theme park can turn into one of the most popular haunted tourist destinations in Bali? Taman Festival is a place that attracts tourists who love to explore haunted places, which is why it is called The Haunted Theme Park. It offers countless mysteries that will give goosebumps right from the moment visitors arrive at the main gate.
Going inside, there is one main building that used to become the place where huge events were held back then. It is the most iconic building in the park, and it has a dome that no longer has any roof to cover it. It is located next to the ocean and visitors can hear the sound of the waves from inside the building.
Going further deep into the park, there are a lot of huge banyan trees and overgrown trees with roots taking over most buildings. Most buildings have traditional Balinese designs and sculptures of the famous Barong. Some are completely dark inside even in bright daylight. The walls are also full of colorful graffiti.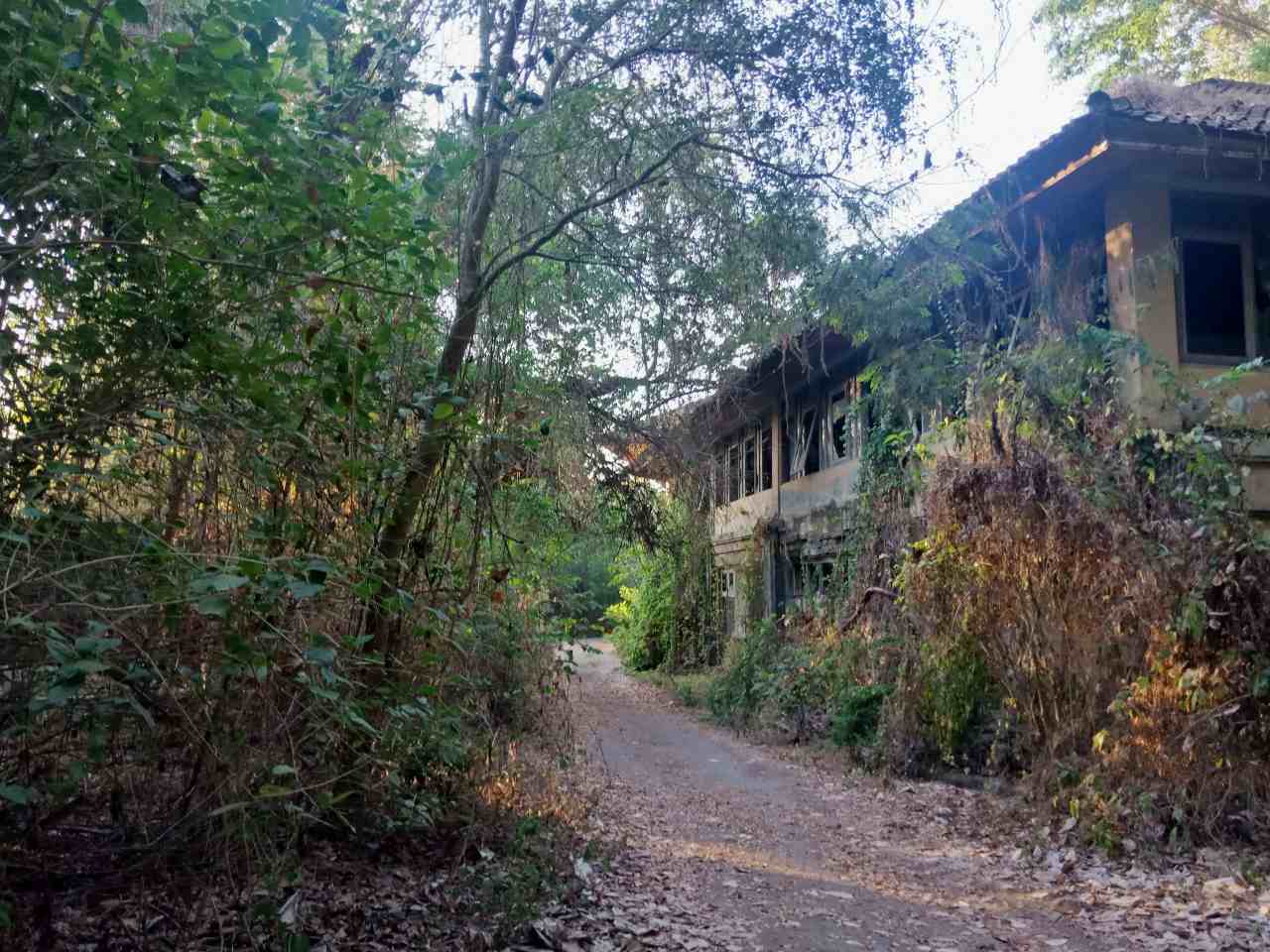 The best time to visit the park is during the daytime. But since the park is open 24 hours a day, visitors are free to visit at night time as well. But it might take a lot of nerves to go here at night. Also, it is better to prepare mosquito repellent, because mosquitos can be vicious sometimes.
Melanting Jambe Pole Temple
One place that still offers a 'human' touch inside Taman Festival is the Melanting Jambe Pole temple. Located inside the haunted park, this temple somehow is unique. Locals regularly come to the temple to pray and perform the Melukat ritual. In addition to that, they also clean and maintain the temple regularly.
This temple existed way before Taman Festival was built. To reach the temple, visitors must enter the theme park, walk and go through several abandoned buildings and trees. It will feel as if entering an unknown forest due to the huge trees surrounding the area. It feels quiet, peaceful, and also spooky at the same time.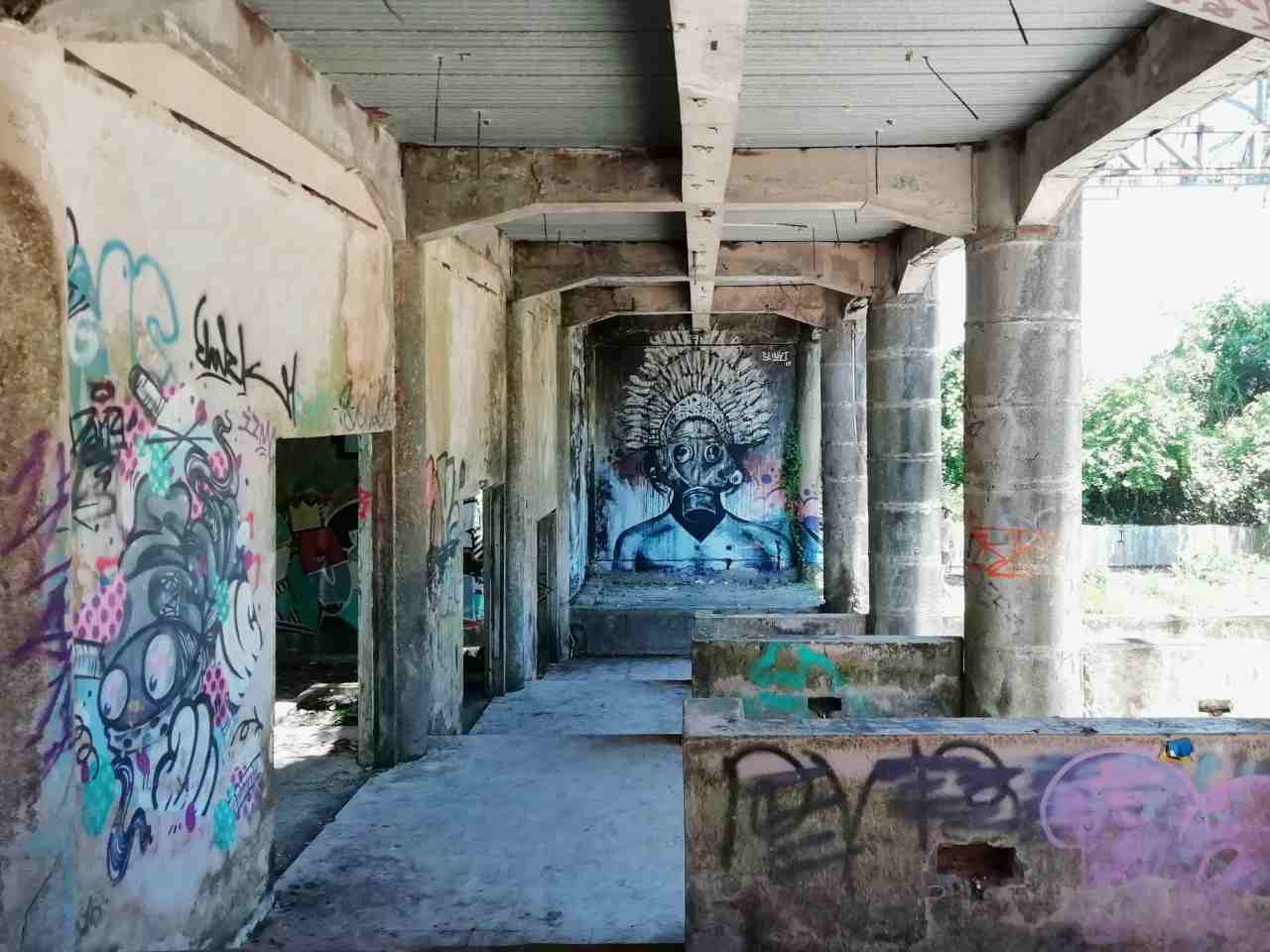 People say that mystical dragons guard the temple in the form of old trees surrounding it. They also say that thousands of mystical creatures also guard the temple, with Kundala and Kundili as the leaders of the guards. As a form of respect to both leaders, the locals then build a statue as the place of worship.
Home to Crocodiles and Spirits
Taman Festival used to have a crocodile pit. Since it was permanently closed back in 1998, the crocodiles are pretty abandoned. People say that some have escaped to the sea. While some say that there are some crocodiles that choose to inhabit the place. Although no one was able to catch any of them.
It is best for visitors to stay away from the bushes or swamps and always be aware of the surroundings. The place is also famous as the home to spirits who guard each and every part of the park, including every building. Every day, the locals living around the area will come to the park in shifts. And worship as a tribute to respect their Gods and the spirits of their ancestors.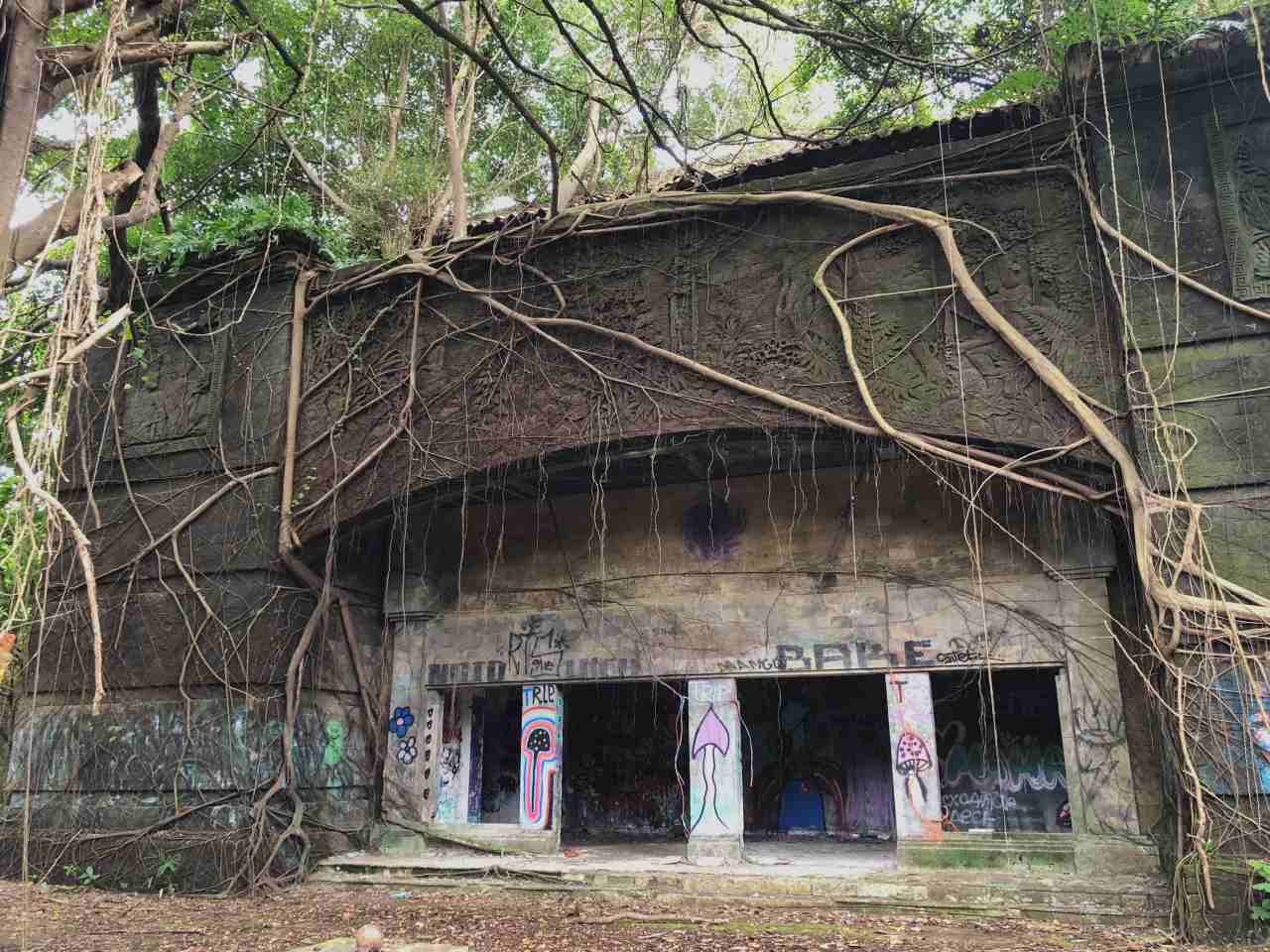 The Location for the Making of Horror Movies
Taman Festival is also one of the famous places to shoot horror movies. Some Indonesian horror movies were shot here. It doesn't need extra effort from the movie crew to create the horror and mystical ambiance on the set. Because the venue has passed all sorts of requirements for horror movies, that's for sure.
Creative Mural & Wall Graffiti
Taman Festival Bali is not just a place that attracts visitors who seek mystical experiences. It's the perfect place to see murals and graffiti on almost all of the building walls. It scatters from the main entrance up to the deeper areas of the park. There are various graphics made by talented local artists in vivid colors.
One of the most iconic murals is the owl mural in front of the main theatre building. Another famous one is the image of two Balinese dancers wearing gas masks. It might take at least 2 hours to explore the entire area. There are a lot of photo spots that will make great photos.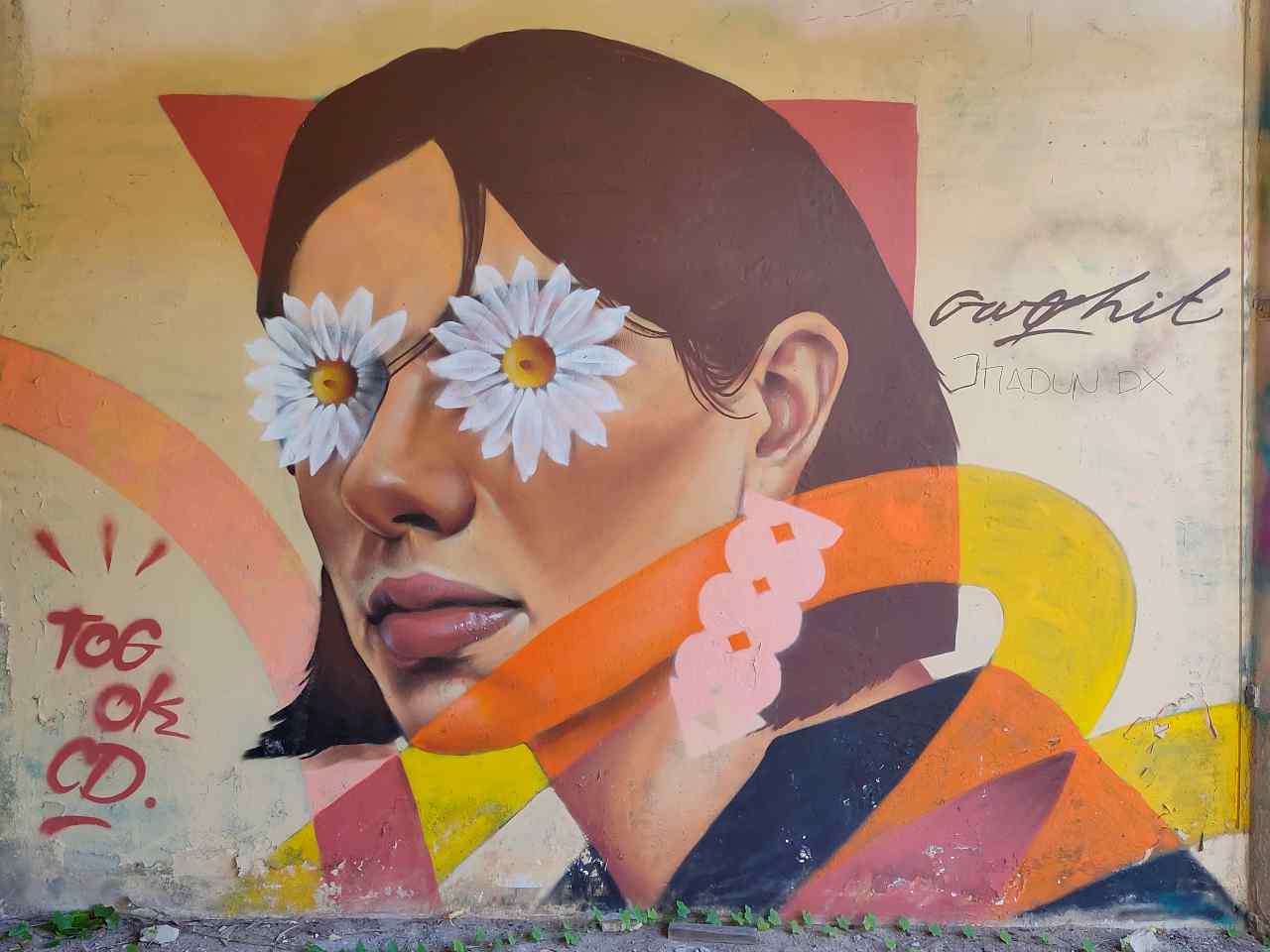 Also for convenience reasons, it's best to wear shoes than sandals. Due to the nature of the place, it is better to have the feet protected during exploring.
Event Venue
Taman Festival Bali offers unique charms that attract visitors to come. It also attracts communities to hold events there. Back in 2019, there was a motorcycle community that held a special 2-day event at the park.
It was quite successful and it also includes activities like music concerts, community booths, and a tattoo show. Another community in Bali recently held an event called the Rises Generation Festival at the Taman Festival Bali. Several famous bands in Indonesia also performed at the festival.
See: Guide To Explore Hidden Canyon Beji Guwang.
Facilities
There is no ATM machine near the premises. So it's best to prepare some cash. There is no minimarket around the area. However, there is a modest local warung next to the beach. It sells instant noodles, snacks, and bottled water.
See: Mertasari Beach Sanur & Top Things To Do.
How To Get To Taman Festival
Taman Festival Bali is very easy to access. It is located next to Padang Galak Beach in Sanur. From Sanur, it's just a 10 to 20 minutes drive. To get here, tourists could hop on Trans Sarbagita bus number 2 and stop at Padang Galak shelter. However, from there it's still 1,6 km to go.
From Padang Galak shelter, it will take a 20-minute walk to get here. Or to make the trip even shorter, book a motorcycle ride through Gojek or Grab apps. The fare will cost around Rp15.000 for a one-way trip.
See: Tourist SIM Card Guide, Price & Where To Buy.
Address & Location
Taman Festival is located in Jl. Padang Galak No.3, Kesiman, Denpasar Tim, Denpasar, Bali 80237. It's just 10 minute's drive from Matahari Terbit beach in Sanur.