Mertasari beach
Entrance Fee: Free Entry
Opening Hours: Open 24 Hours
Telp. Number: -
Address: Jl. Kusuma Sari, Sanur Kauh, Denpasar Selatan, Denpasar, Bali , Indonesia, 80228.
Situated in the capital of Denpasar, Mertasari Beach is a favorite pick amongst locals. The beach has scenic views of long stretches of white sand beach. It is located in the southernmost of Sanur Beach or just 20 minutes away from tourist areas like Kuta. This beach has turquoise blue waters and gentle waves which are predominantly low tides throughout the time.
That makes a safe place for kids to play and swim. With the great sea breeze and peaceful surroundings, this is the perfect destination to escape from the busy street of Kuta beach. Mertasari Beach is best known for its short gateway with affordable culinary supplies and a bunch of water activities to do.
Many families come to this beach to watch the sunrise, chill, relax and just walk. The beach is famous too since it's the venue for annual kite festivals. A local music concert event since it owns a large open space next to the beach.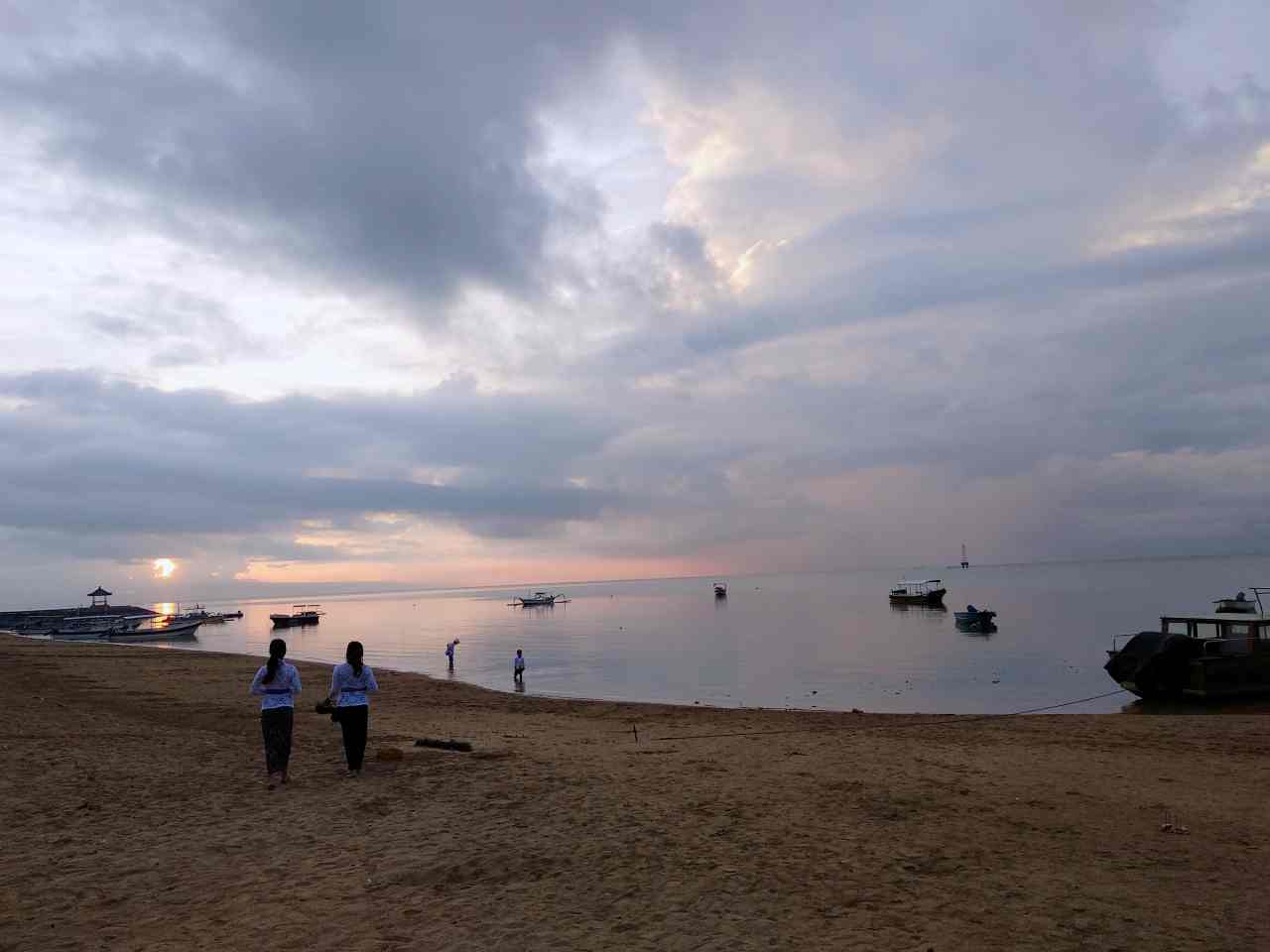 Mertasari Beach Entrance Fee
Visiting Mertasari Beach is reasonably cheap. There is actually no entrance fee to visit the beach. However, for tourists coming with a private vehicle prepare small notes to pay the parking fee. The parking ticket for a scooter is Rp2.000 and Rp5.000 for a car.
Mertasari Beach Entrance Fee
Ticket
Free Entry
Parking
Rp2.000 (scooter) / Rp5.000 (car)
Nearby: Sanur Beach Guide & Street Food Around The Beach.
Mertasari Beach Opening Hours
Just like other beaches in Bali, Mertasari Beach is open 24 hours every day. Practically, locals are flocking the beach every day before sunset. And it gets really crowded on weekends. The best time to visit the beach is during summer. It's when anticipated events like the kite festival are being held.
Mertasari Beach Opening Hours
Every day except on Nyepi
Open 24 Hours
See: Bali Wake Park, Tickets & Top Activities.
Catch Sunrise at Mertasari Beach
For a morning person, visiting Mertasari beach before dawn is worth to consider. Arriving around 6 AM, people will get to see a subtle orange sky alongside sunrise on the horizon. Mertasari is overlooking the east of the Bali Ocean. Boat anchors in the seashore make one of the best sunrise points in town.
The captivating morning view appeals to most visitors to take photos. Other than that, people come to Mertasari beach for jogging, play football or volleyball, and ride bicycles.
Kite Festival
Mertasari Beach is a famous site for Kite Festival that happens in summer, particularly from July and August. During that event, there are a great variety of kites flying with vibrant colors and unique designs blown in the sky.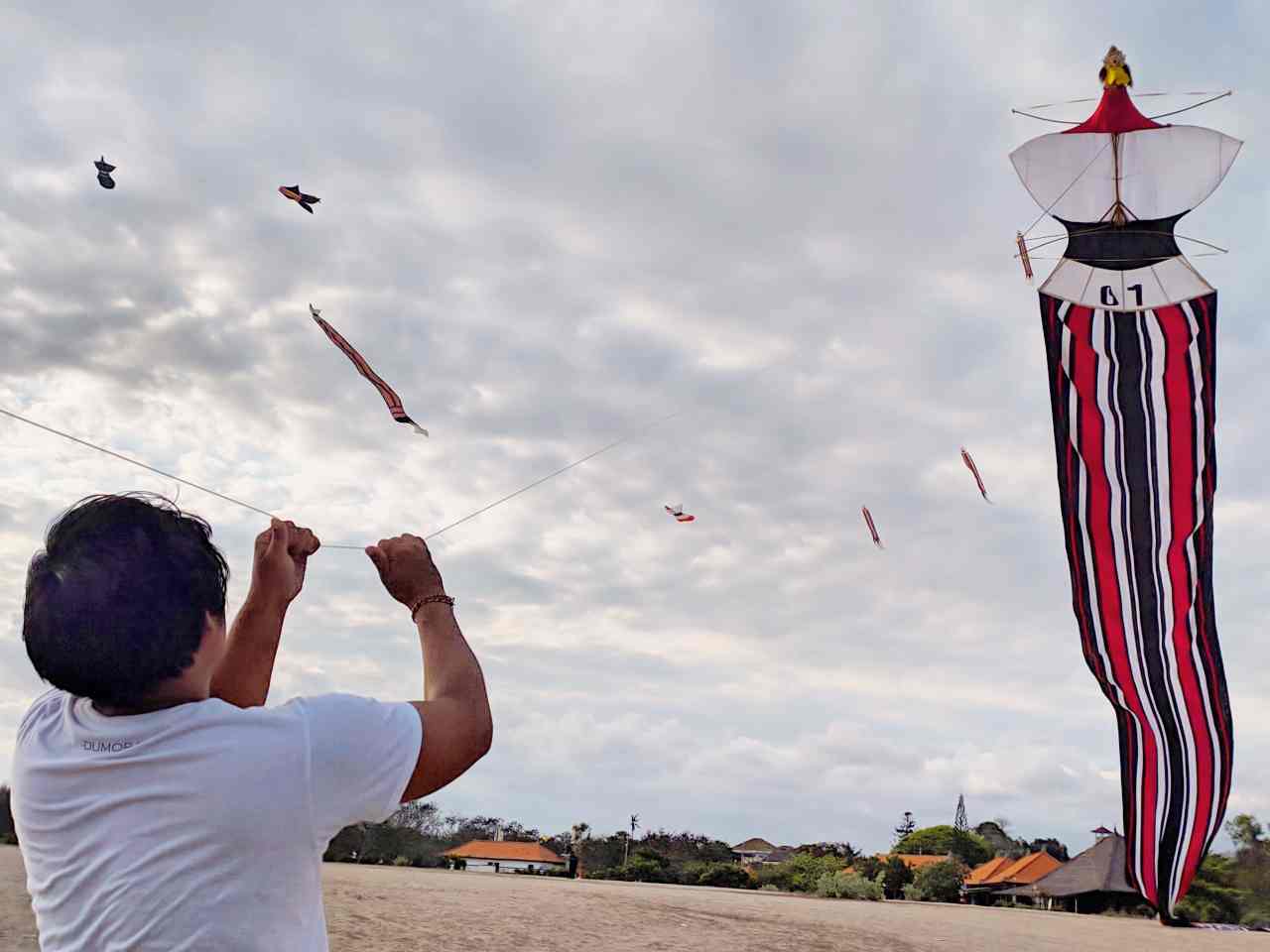 Beyond the regular size, the kite construction is rather enormous. And it takes months to finish the design. A single kite involves nearly fifty people to be able to fly this art piece. There are great cultural values behind this kite celebration as well.
Locals preserve mutual support that is known as "gotong royong" and express gratitude for the harvest season. It has become the annual festival with international participants taking part.
Culinary Experience
There is a wide selection of street food vendor options in Mertasari Beach. From a humble lady carrying snack boxes to beachfront restaurants, urban café, and hotel lounges.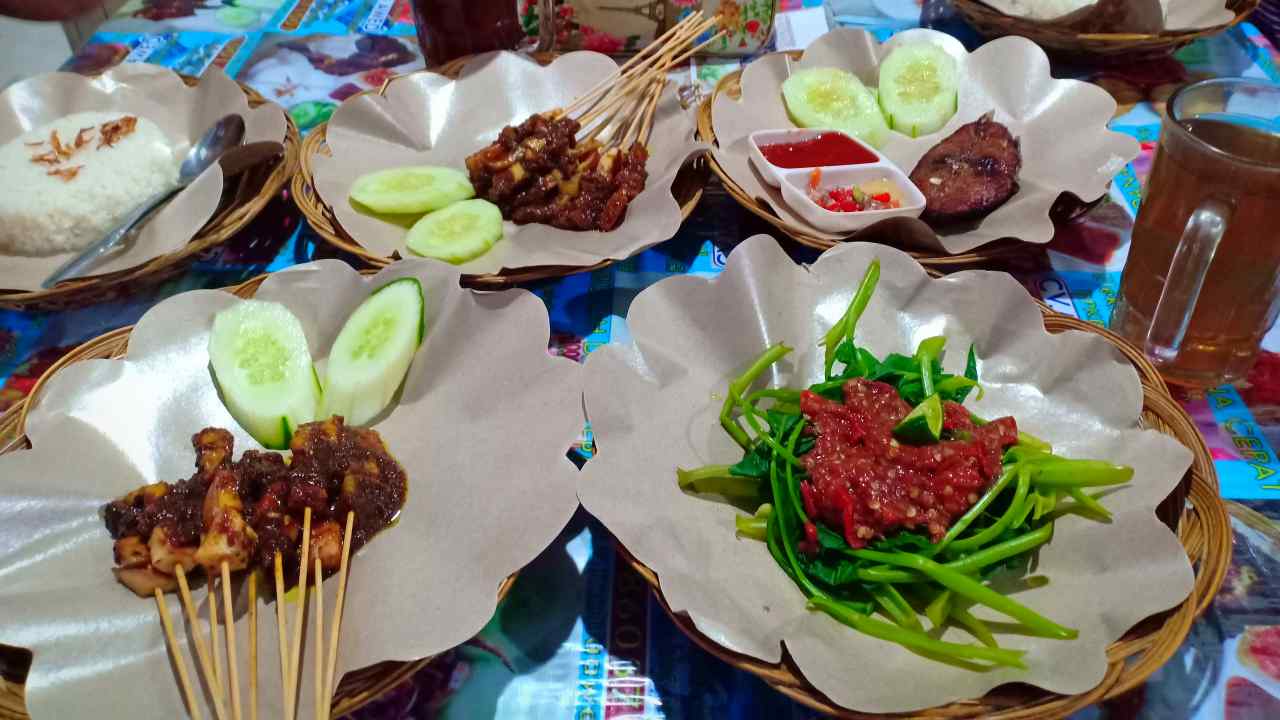 The best advice is to follow local recommendations and choose spring rolls, pork or fish satay, grilled corn, rujak (fruit with seaweed spicy salad), tipat cantok (steamed rice) that serve with veggies, and peanut sauces. All are served by order with relatively cheap prices between Rp15.000 to Rp20.000.
Water Activities
The light waves of Mertasari Beach are kids friendly spot to swim. Rent an inflatable to help kids swim, it cost around Rp20.000 and is enough for 2-3 kids. The bigger one that could hold up to 5 kids will cost Rp50.000.
Riding a canoe or stand-up paddle are also a worthy experience to try. Visitors will be charged Rp50.000 to Rp100.000 for the canoe rent. For an extra adventure, there are Jet Ski and jet surf water attractions that will cost roughly Rp400.000 that including a life jacket and guide.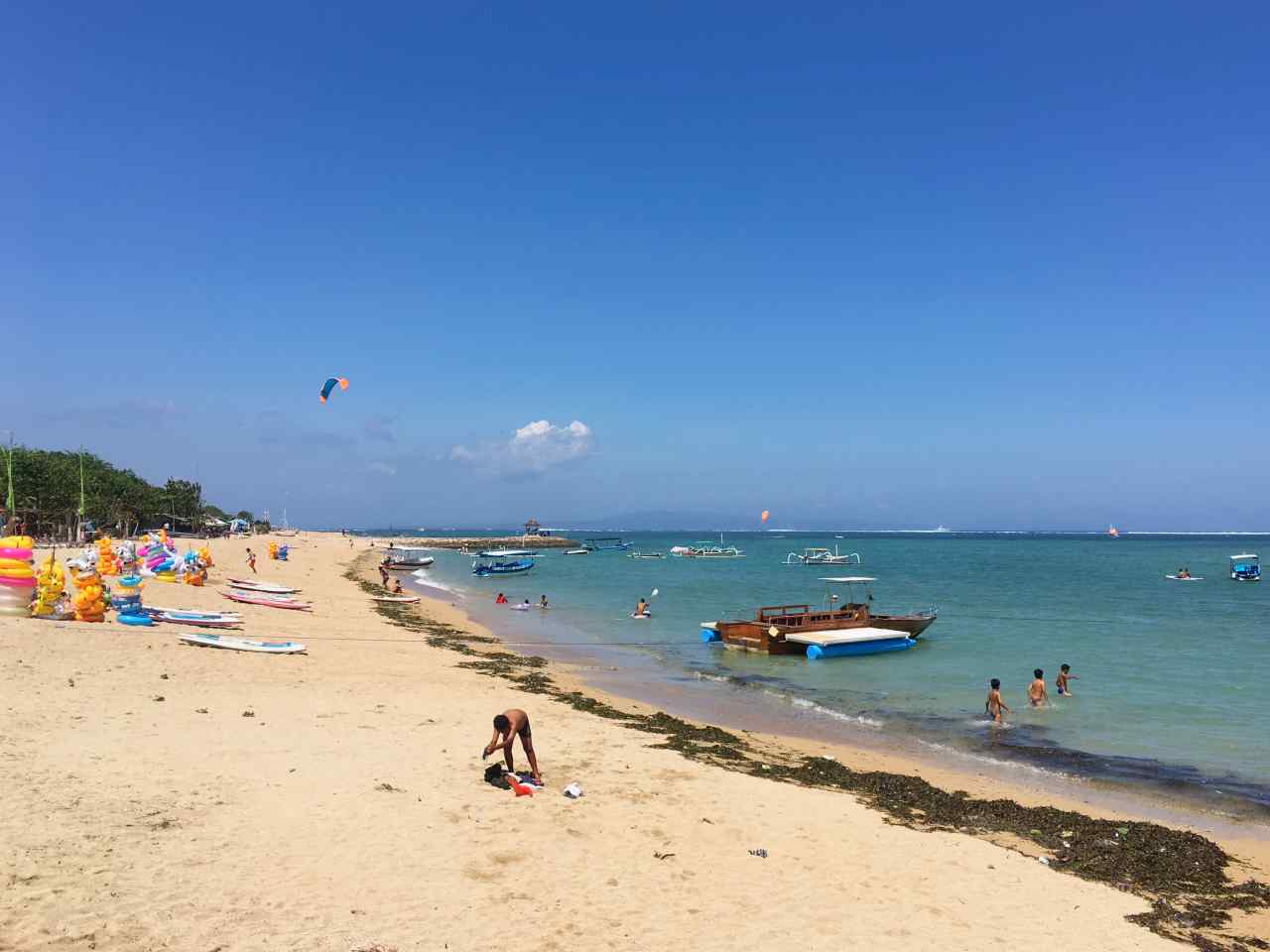 Taman Inspirasi Mertasari
Just crossing the wood bridge, there is a park "Taman Inspirasi Mertasari" that offers an extensive beach retreat. This place is covered with a lush pine, hammock installment, and paving block which makes a great spot for refreshing. The best highlight here is riding a camel with a price of Rp100.000 ($6.5). For tourists coming with children, the kids will definitely love the playground.
The entrance is quite cheap, Rp10.000 for adults and Rp5.000 for children. There is another charge of Rp5.000 for children to play on the playground. Overall this park has well-established amenities like two-floor cottages, a spa and massage service, a beachside sofa, and an iconic ocean swing like the one in Gili Trawangan.
And the last on the list is feeding sharks. This nerve-wracking activity will charge visitors Rp50.000 which includes a boat ride.
See: Jimbaran Fish Market Guide, Seafood Feast & Restaurants.
Facilities
Public toilets and changing rooms are available on the premises. However, it comes with an extra fee, prepare small notes of Rp2.000 to use the facility. A wide parking area and a variety of food and drink stalls are scattered around the beach. There also jogging tracks, a place to rent canoes and bikes, and a public bench to sit.
See: Guide To Explore Nusa Dua Beach & Top Activities.
How To Get To Mertasari Beach
Located in the heart of Denpasar, Mertasari Beach is an accessible family destination to visit. It is located in Jl. Kusuma Sari which is around five minutes from Jl. Bypass Ngurah Rai. Practically, to reach the beach is better with online booking transportation or taxis.
From Kuta and Seminyak areas, it takes 30 to 40 minutes drive to get here. Prices for scooter rides using ride-hail apps such as Grab and Gojek starts from Rp30.000 ($2). It depends on the traffic. And for car rides, it starts from Rp80.000 ($5) for a one-way trip.
See: Tourists SIM Card, Price & Where To Top Up Credit.
Address & Location
Mertasari beach is located in Jl. Kusuma Sari, Sanur Kauh, Denpasar Selatan, Bali 80228.