Bali Wake Park & Aqualand
Entrance Fee: Rp250.000 - Rp3.000.000
Opening Hours: 10:00 - 18:00
Telp. Number: -
Address: Jl. Raya Pelabuhan Benoa No.7X, Pedungan, Denpasar Selatan, Denpasar, Bali , Indonesia , 80222.
Bali Wake Park is one stop water attraction that offers a water sports experience with inflatable playgrounds. The water courses are built in a wide lake construction with approximately 5 hectares scale. This place is a kid and family-friendly destination located on Tanjung Benoa street. It's just 10 minutes from Ngurah Rai Airport.
The main activities to do in Bali Wake Park are wakeboarding and playing at Aqualand. It has spacious lounge areas with great amenities to relish. On the other side, there is an infinity pool integrated with a mini-bar that faces the lake recreation. Overall Bali Wake Park is one of the best places to spend weekends with immersive water courses.
Bali Wake Park Tickets
There is no admission ticket for tourists to enter the Bali Wake Park area. In fact, people can just order food or beverage and chill at the pool, and restaurants without having to pay an entrance fee. Tickets for Aqualand day pass is Rp500.000 and combo day pass is Rp950.000.
Bali Wake Park Tickets
Aqualand 1 hour
Rp250.000
Aqualand 2 hours
Rp400.000
Aqualand day pass
Rp500.000
Cable Park Ticket
Cable Park 1 hour
Rp400.000
Cable Park 2 hours
Rp600.000
Cable Park day pass
Rp850.000
Combo Packages (include both Aqualand + cable park)
Combo Packages 2 hours
Rp600.000
Combo Packages 4 hours
Rp850.000
Combo Packages day pass adults
Rp950.000
Combo Packages day pass adults + kids
Rp3.000.000
The combo packages include wakeboarding, knee boarding, water skiing, and surfing with an instructor. Equipment like a helmet, life jacket, and safety guide is included. The minimum age for Aqualand activities for children is above 5 years old. Children below 5 years old have to be supervised by their parents.
Nearby: Nusa Dua Beach Guide & Watersport Activities.
Bali Wake Park Opening Hours
Bali Wake Park and Aqualand are open from Monday to Sunday from 10 AM to 6 PM. Sometimes, there is a regular weekend promo on Sunday morning for kids to enjoy wakeboarding.
Bali Wake Park Opening Hours
Monday – Sunday
10:00 – 18:00
See: Jimbaran Fish Market & Seafood Restaurants Guide.
Wake Boarding
There are 4 types of water activities to enjoy here in Bali Wake Park. The wakeboarding, knee boarding, water skiing, and skurf.  Unlike other water sports that are pulled by boats, wakeboarding in this place is pulled with automatic cable mechanisms. Visitors with no prior experience can relax, there's an instructor here.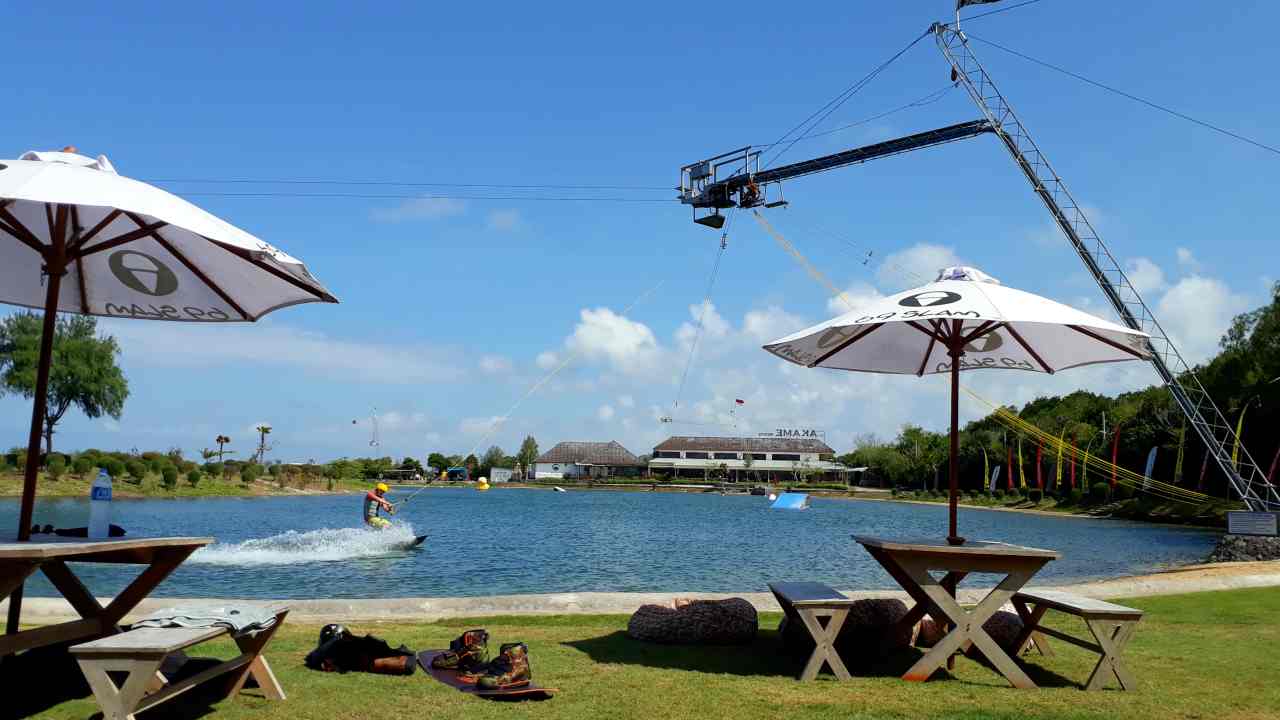 All activities here are considered as all level-friendly water attractions. There are 2 tower stations to help guests practice beforehand and train on how the wakeboard work. The full cable system is installed around the lake with few jumping points and obstacles. It has different speed times that change every hour from slow to normal back and forth.
Once visitors are ready to experience the wakeboard, the following equipment will be installed near the dock. While the lake is enormously wide, the power feature will possibly swipe riders to a range of distances. Therefore buggies shuttle will carry the riders back to the dock.
Inflatable Playground
For guests looking for an extra challenge, there is a huge inflatable playground or best known as Aqualand that offers outbound adventure. There are plenty of courses and obstacles that allow visitors to slide, jump, climb, and run.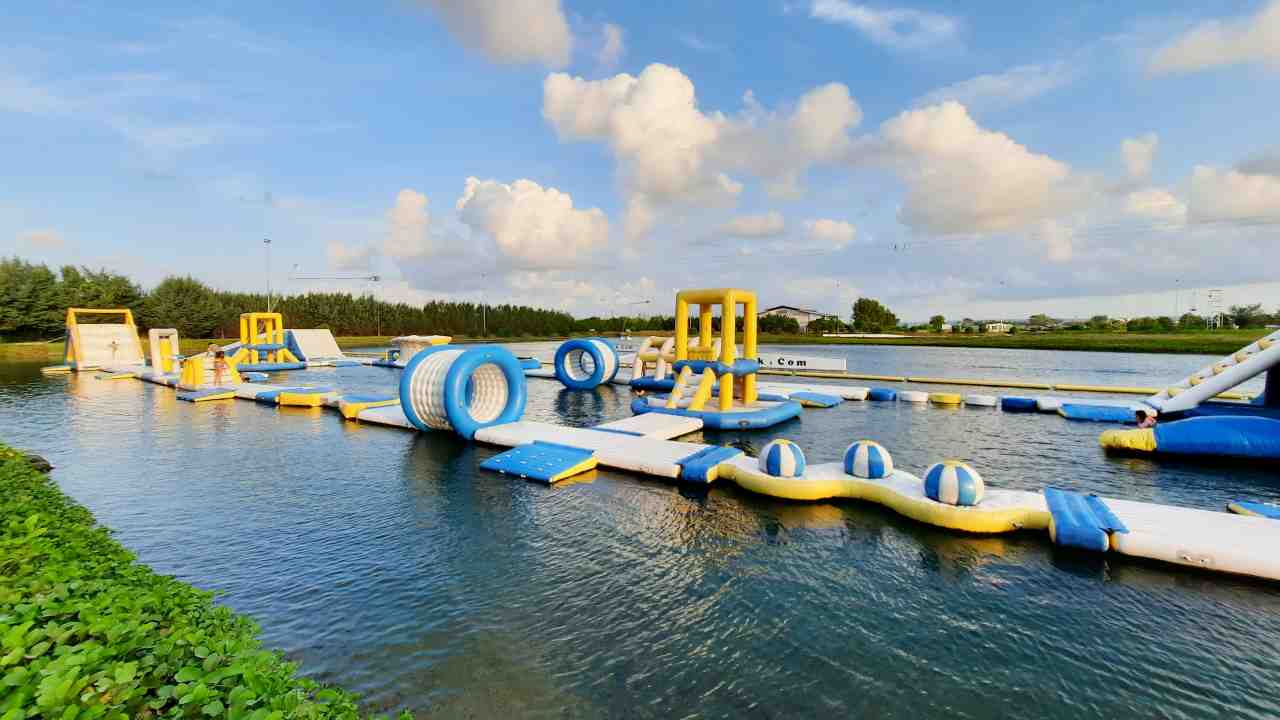 This particular water attraction is mostly appealing to kids due to similar experiences with ninja warrior games. Having said that parents should not be worried because this park applies great safety protocols with a life jacket as well as lifeguards on duty.
See: Guide To Explore Sanur Night Market & Street Food.
Dip in Infinity Pool
For visitors who prefer to hang out in the water without an adrenaline rush. Then dipping into the lakeside pool is a perfect choice. It has an in-build mini bar that overlooks water activities in the lake which is a great spot to monitor the kids.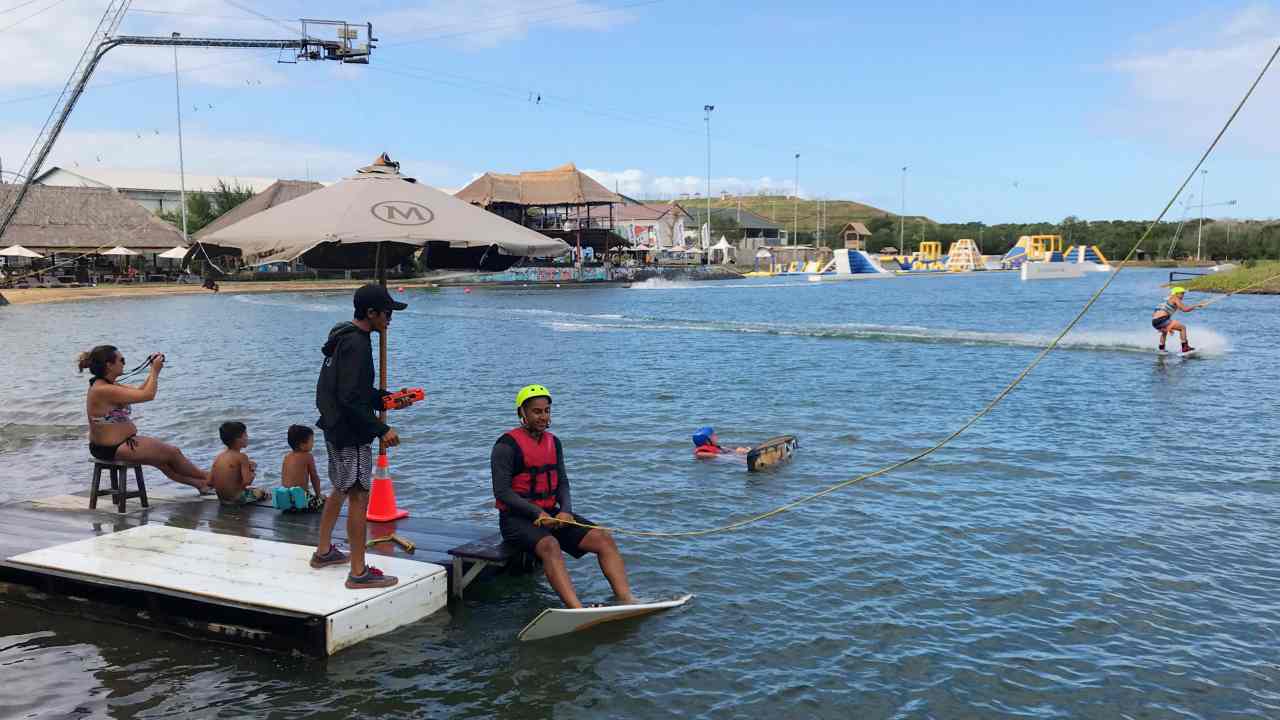 The bar has quite a list of beverages and cocktails. Just a few steps away from the infinity pool there is also a lounge and restaurant with various food menu selections. A spacious lawn is available to rest, sunbathe and chill out during the time visiting this place.
See: Sanur Beach Guide & Top Things To Do.
Facilities
Facilities at Bali Wake Park are sufficiently complete. There are toilets, changing rooms, shower rooms, and sitting areas. Restaurants and café are available at a reasonable price and even have a vegetarian menu. The parking area is ample, there's a bar, and clothing shops too.
Locker and towel are available at IDR 50K and IDR 30K each. However, visitors will have to pay a deposit of IDR 100K upfront. There are bunk rooms with two beds that cost IDR 250K per night. Bali Wake Park also offers activities for a group where people can gather and play water sports.
See: Tourists SIM Card, Price & Where To Buy.
How To Get To Bali Wake Park
Bali Wake Park is situated close to the toll gate in Pesanggaran, South Denpasar. To reach this place is quite accessible with online booking transportation and taxis. For tourists departing from Ubud, the closest route is through Jl.Prof. Dr. Ida Bagus Mantra.
And other leaves from Kuta, Seminyak, Legian, and Canggu the fastest route are crossing sunset road and Bypass Ngurah Rai street. Whereas tourists who stay in Nusa Dua will certainly pass through the Bali Mandara Toll road.
The ride-hail apps for a car will cost Rp60.000 to Rp70.000 from Kuta area. And for a scooter, for a one-way trip, it will cost around Rp18.000 ($1.16).
See: Bali Airport Guide, Airport Transfer To Ubud & Public Bus.
Address & Location
Bali Wake Park is located in Jl. Raya Pelabuhan Benoa No.7X, Pedungan, Denpasar Selatan, Bali 80222.