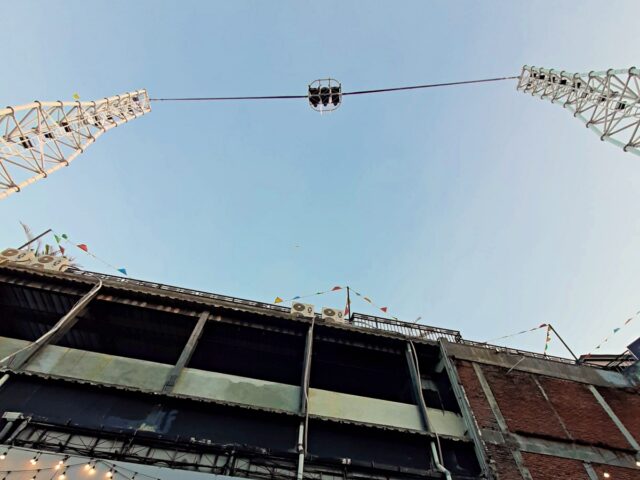 As bizarre as its name, 5GX Bali is a place where visitors can get 'catapulted'. Get that adrenaline rush from the reverse bungee. While bungee jumping is often done from a remote place, 5GX Bali thinks differently. Located not far from Kuta Beach, 5GX is just a walking distance only.
The place isn't that broad. But visitors continuously come even after midnight. Trespassers who don't intend to come here get attracted sometimes. Hysterical shouting from the machine's triers creates the scene. In a fun way of course – spectators even giggle over them.
5GX Bali Bungy
Ticket counter awaits the visitors as a frontier there. Ask the staff and get a proper explanation about the price. One can also get informed about the queue. Don't worry, 5GX Bali staffs are friendly. Once the payment is set, now time to wait for the turn.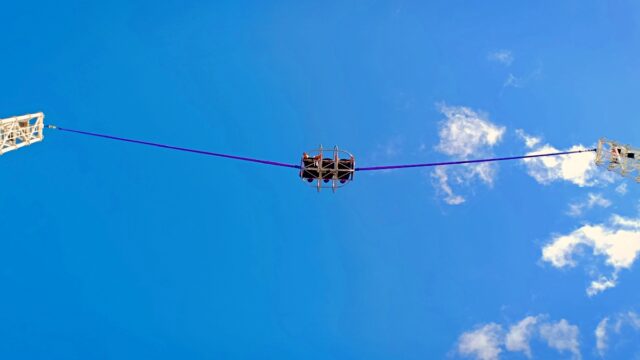 Don't get panic if people are shouting. Getting catapulted up and down surely is 'strangely' stress-relieving. The duration for each turn is around 2-3 minutes. Get ready, and be brave!
5GX: What's Inside?
5GX isn't that huge attraction park. But still, the place offers enough fun. Scan the surrounding and find cool, colorful murals on the right sidewall. Even there's a step-on available there. Often people pose for some photos to simply mark and capture the moment.
On a high season, usually, the owner will exhibit a car on 1 spot. Red refurbished VW Beetle for example is amongst it. While people flock their way to pose with this car and/or murals. On the background, there are people hysterically scream their lungs out. A good marketing strategy for sure and people usually fall for it.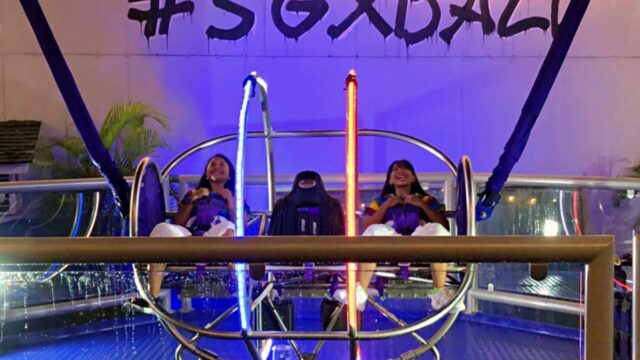 Tables and chairs are lined up neatly. Sit while queueing or head to the bar to get some cold drinks. The bar offers booze to sell. For non-alcoholic drinkers, get soft drinks or bottled fruity beverages for a reasonable price. Too bad there isn't any snack to munch sold on the bar.
The Downtown Reverse Bungee Spot
There are several reasons why 5GX Bali has lots of visitors. First, its location. The mainstream bungee jumping is usually from a high cliff. 5GX has it on the downtown and near from Kuta beach. Indeed an out of the box idea.
Second, the direction. The top-to-bottom direction of bungee is reversed. Third, aside from its vertical movement, people will get swung a little back and forth as well. Despite its short duration, the fun is intense.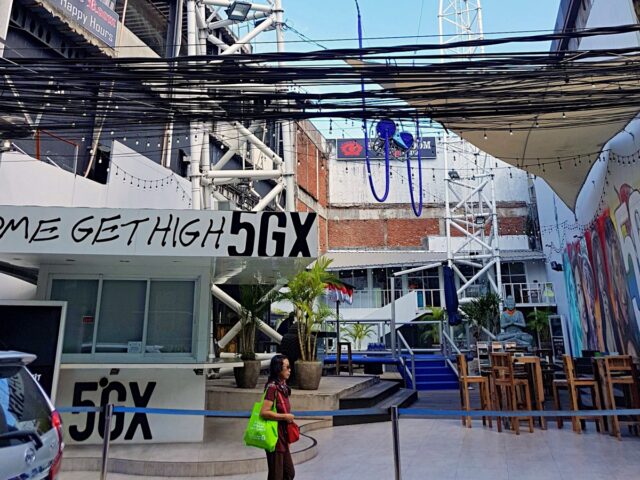 The reason behind the swing is the seat construction itself. The seating is put on the axis of the metallic barrel-frame. Elastic suspenders are connected with each end. Seatbelts are provided to ensure the seaters don't get flung by the force. Don't worry, routine maintenance and checking are the staff's main work.
Who's Good to Go?
Children below 10 and also elderly people aren't advised to enjoy the bungee. People with heart problems (hypertension or any other case) should not try this bungee either. Let alone the acrophobic fellows. One thing for sure, knowing one's health condition is important before deciding to go up.
Extras
5GX sells its official t-shirt for Rp180.000. Keep the memories of getting catapulted by asking the staff to record. Action cam will be installed beforehand. The footage of one's shouting or scared face can be laughed over after the ride. But of course, this requires bucks to spend.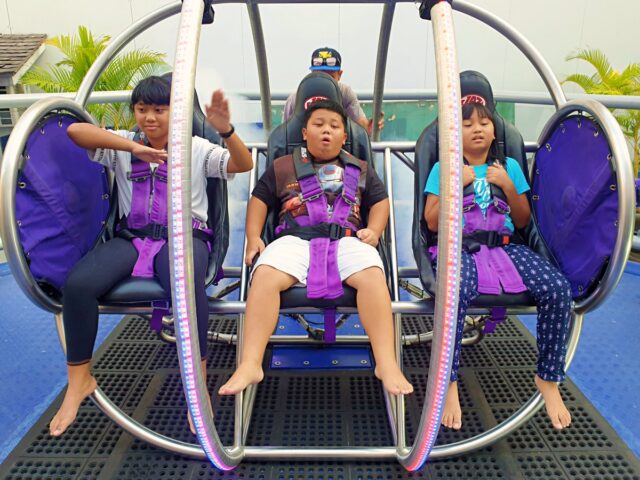 For photo or video files only, one has to pay Rp100.000. Rp150.000 to keep both photos and videos in an SD card. And Rp200.000 to both photo and video in an SD card. To save it in USB, photo or video only will cost Rp200.000. For saving both photos and videos but using wristband USB it'll cost Rp250.000.
Dining
Too bad 5GX itself doesn't serve food. Even if it's just some light snacks. Luckily, bringing snacks to the spot is allowed. Along the way, minimarts and small food stall are many. So, consider eating first before coming here. Moreover, the price in warungs or food stall is way, way cheaper than in big restaurants.
Let's not forget about Sky Garden nightclub located across the road. The price may be quite mad – for example, its three-times minimart's price for beers after 9 PM. However, the best thing is 'All You Can Eat' during its BBQ Session. Unlimited choice of food and drinks for Rp99.000+21% tax. However, this is limited at 7-9 PM. After that hour, the price hugely shifts.
Another nearby dining place is Vi Ai Pi. Located on the left side by Sky Garden from 5GX spot. Pamper the palate with a broad variety of Indonesian and International meals. Even pizza and risotto can be ordered here. The dining place often offers lunch promo with cheaper prices and free soft drinks.
See: Bali Airport, Guide & Transportation
5GX Bali Opening Hours
5 GX opens every day from 11 AM until 3 AM. Except for Nyepi day of course where every tourist spot is close. No break time to 'get high' here. The entrance fee for spectators is free.
5GX Bali Opening Hours
Every day except Nyepi day
11:00 – 03:00 AM
Nearby: Kuta Beach Attraction & Surfing Spot.
5GX Bali Entrance Fee
For those who keen on trying, the ticket is pretty expensive. Rp350.000 if the seat is occupied with 2 persons only. Rp300.000/person for 3 seat capacity.
5GX Bali Entrance Fee
2 occupied seat
Rp350.000/per person
3 occupied seat
Rp300.000/per person
See: Jimbaran Beach Bali, Activities & Seafood Culinary Spot
Facilities
There's nothing much in the place aside from the bungee machine. Even a dedicated parking spot doesn't exist. However, the small bar selling cold drinks offers a cheaper price compared to other tourism spots. The staff will provide tables and chairs to chill while queueing.
One thing to appreciate here is the insurance-included ticket fee. And to avoid any danger, the machine itself has a double seatbelt. Staff will help to fasten the seatbelt and make sure everything works fine. Once the checking is clear, the countdown starts.
See: Indonesian SIM Card, Data Package & Price
How To Get To 5GX Bali
5GX Bali is around 1 km from Kuta Beach. Many choices to opt to go to Legian street, where 5 GX is located. One recommendation for walking tourists is to go through Poppies II street. To get to this street, find Sheraton Bali Kuta Resort first. On the right side of the hotel is a small money changer, and Poppies II Street is its adjacent.
Pass through the street. Be careful not to go to Benesari Street as the map often says so. Just stick with Poppies II Street. If not sure about the route, ask the locals how to go to Sky Garden. That restaurant is kind of big and famous, moreover, the place is across 5GX Bali.
After passing Poppies II street for after 800 m, turn right. Walk a bit more around 20 m. 5GX Bali is on the right side. To avoid exhaustion, ride-hail vehicles are good options. Order one for Rp9.000 for a bike-ride, and Rp11.000 for a car-ride.
Address & Location
5GX Bali tourist attraction location is in Jalan Legian No.99, Legian, Kuta, Kabupaten Badung, Bali 80361.