Bali Bird Park
Entrance Fee: Rp385.000
Opening Hours: 09:00 - 17:30 WITA
Telp. Number: +62 361-299352
Address: Jl. Serma Cok Ngurah Gambir, Singapadu, Batubulan, Gianyar , Bali , Indonesia , 80582.
Bali Bird Park, in Batubulan, Gianyar, Bali is an exceptional bird park. It claims to have more than a thousand tropical birds, categorized into 250 species. The impressive number of bird species makes it one of the most diverse bird parks in Asia.
Not limited to Indonesian tropical birds only, the park's collection also extends into foreign species from South Africa and South America. Aside from being a recreational place, the park also takes a crucial role as a conservatory. The endangered Bali Starling is one of the birds on a breeding program here.
Breeding Bali starling has always been difficult, but the park manages to successfully do it. The park is also distinguished for having the largest collection of Papuan Paradise birds in the world. Bali bird park is both an educational and fun destination to visit, especially for families.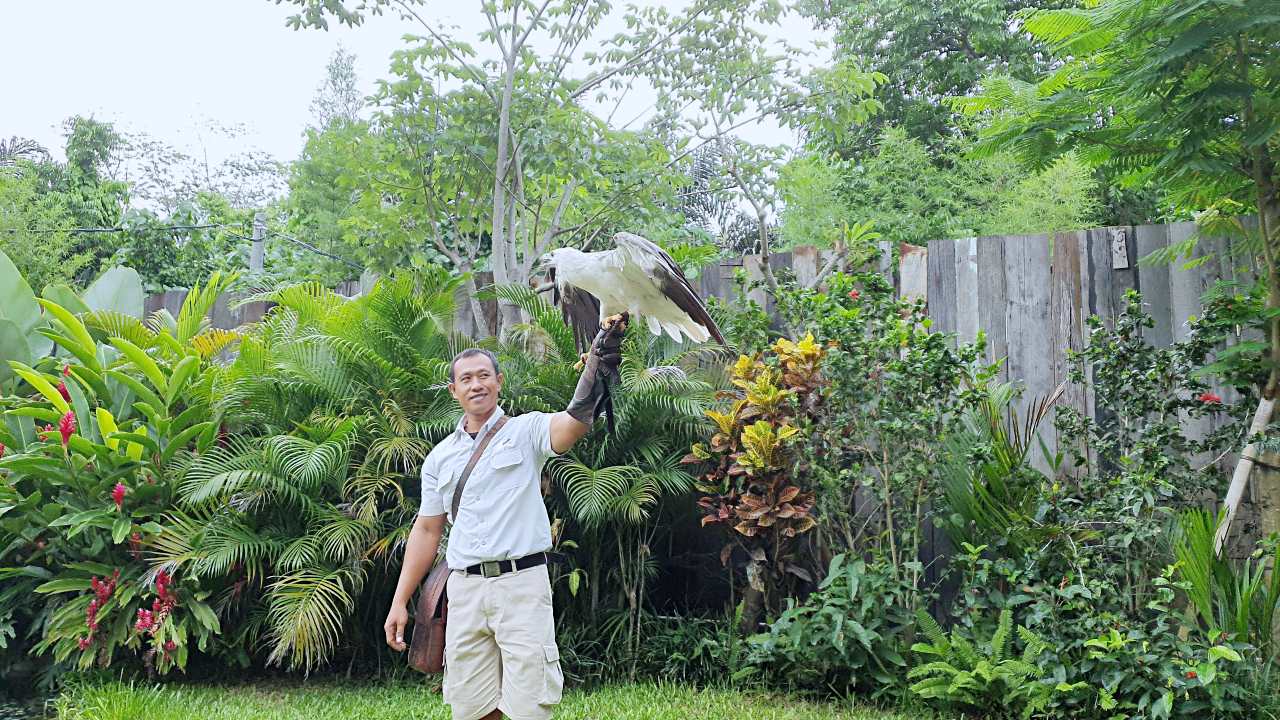 There are seven zones to explore, according to the birds' natural habitat: Java, Borneo, Sumatra, Bali, Papua, South Africa, and South America. Apart from observing, visitors can participate in several activities with the animal here. Since twenty years ago, Bali bird park has been living up to its motto: 1000 birds, 250 species, 1 great day out.
Bali Bird Park Entrance Fee
There are many package options to choose from. For instance the early access or lunch package. The price is varied, customers could book online and then show the e-voucher on the spot or simply purchase it on the spot. The regular entrance fee for an international tourist is Rp350.000 and Rp 175.000 for children aged 2-12 years old. While for the Kitas holder, the ticket is Rp120.000 and half the price for children. Currently, due to covid situation, the lunch package and the entire bundle are not available.
but the standard one costs Rp385.000 per pax. There is also a family package that costs Rp1.970.000 for 2 adults and 2 children. Visitors can book online through the Bali Bird Park website and get an e-voucher or simply just walk in.
Bali Bird Park Entrance Fee & Package
Package
Adult
Children
Buy Online Bali Bird Park Ticket for International Tourists
Rp385.000
Rp192.500
Entrance Ticket 10% off + Free Beer
$24.75
$12.38
Discover Bali Bird Park + Lunch
$46.80
$23.40
Parrot Family Package (2 adults + 2 children), 8 hours duration including hotel transfer round trip, lunch, feeding show.
$140.71
Early Bird Entrance (2 adults), bird show, free breakfast & merchandise.
$60.71
See: Hidden Canyon Beji Guwang, Activities & Ticket.
Bali Bird Park Opening Hours
Bali Bird Park opens every day including on the national holiday from 9 AM to 5:30 PM. Except in Nyepi, where people are not allowed to go out. Spare at least 2 hours to explore the area.
Bali Bird Park Opening Hours
Every day except Nyepi
09:00 – 17:30
Nearby: Guide To Explore Sukawati Art Market & Handicrafts.
Meet Thousands of Birds
Spare two hours to explore every zone's nooks and crannies—or more because two hours won't be enough. Enjoy the performance of Bali starlings as their choir fills the Bali Zone. A flying show is taking place in the Java zone. In short, it's where magnificent Javan eagles swoop down from the sky to catch the prey.
No need to venture far into the Papuan jungle, because birds of paradise are perching happily on branches in the Papua zone. South Africa and the South America zone give a chance for visitors to travel out of Indonesia. Meet Hyacinth Macaw, the giant of all parrots in the world—his home here is in the South America zone.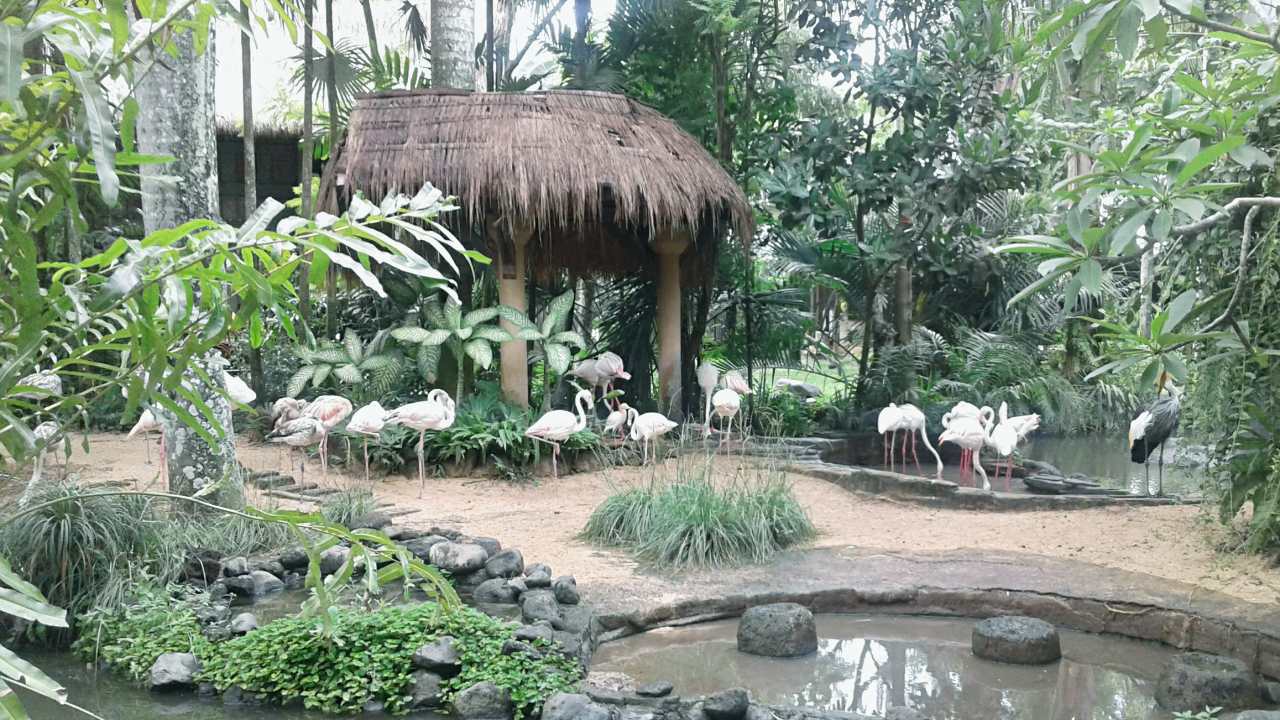 Birds from African Savannah such as flamingos can be seen circling a small pool, standing gracefully with one leg. The African zone also has a species of talented parrots, African Grey Parrots. They are famous for their talent of mimicking the human voice well.
To conclude the exploration, go inside the owl house. The owl house is built with an architecture of a traditional Torajan house. It serves as a quiet habitat for nocturnal birds. The barred eagle owl (Bubo sumatranus), an endemic owl from Sumatra, will astonish visitors with its unique ears as well as its mysterious appearance.
Feeding Experience in Bali Bird Park
Get even closer to the bird by feeding them. The lorry is a smaller kind of parrot, an Australasian bird that mainly lives on the eastern side of Indonesia. Not only lorries are beautiful with their colorful feathers, but they are also super friendly.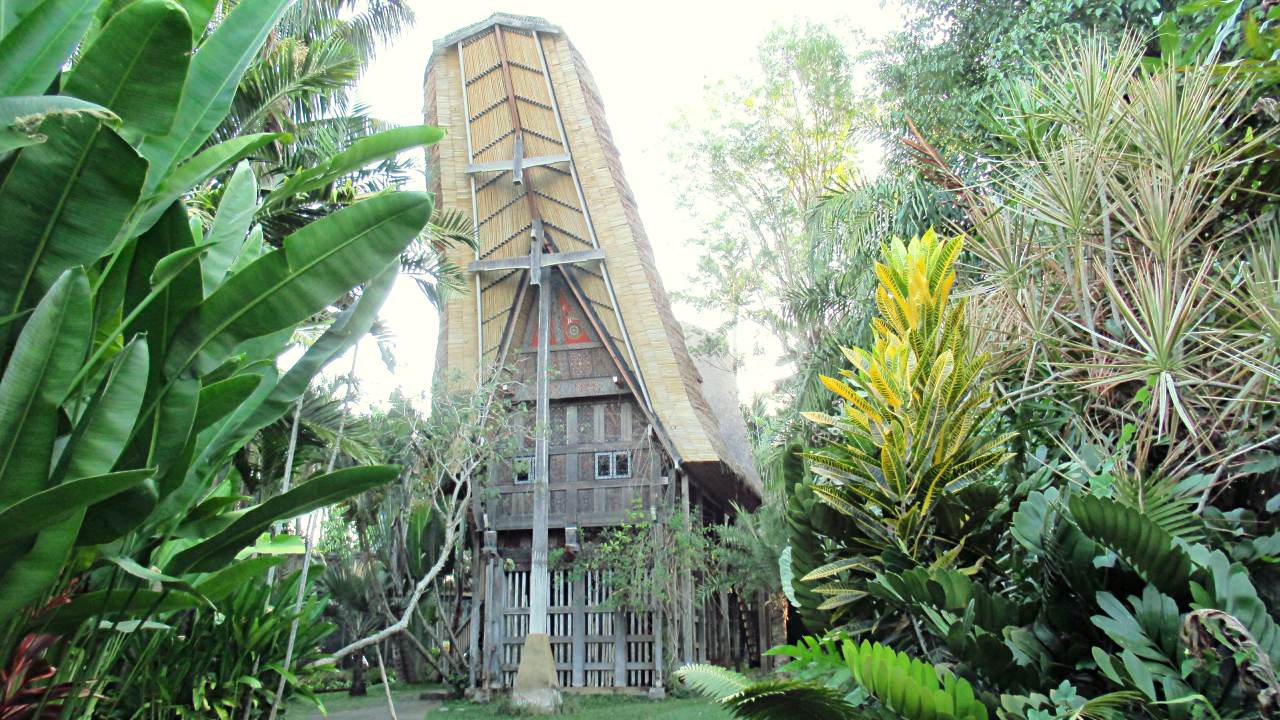 Lorries will enthusiastically swarm around visitors and land on the hand if there's food on it. The pelicans will want some feeding too. The large bird will flap their imposing beak, anticipating some fish. Throw a fish at them, and they will pick it up in a precise manner with its large pointy beak.
They then raise their head facing the sky, gobble up and down as they balance the fish inside their beak, struggling to swallow. A peculiar way to eat, but beautiful and amusing to watch.
The Star Of All Bird
Some birds are born a star. They are beautiful, smart, and friendly.  Meet Anna-Maria, the park's famous Black Palm Cockatoo. She has her own show, where she meets her "fans". The star birds are carefully raised to be at ease interacting with the human. Therefore they can easily make a quick friend to play with.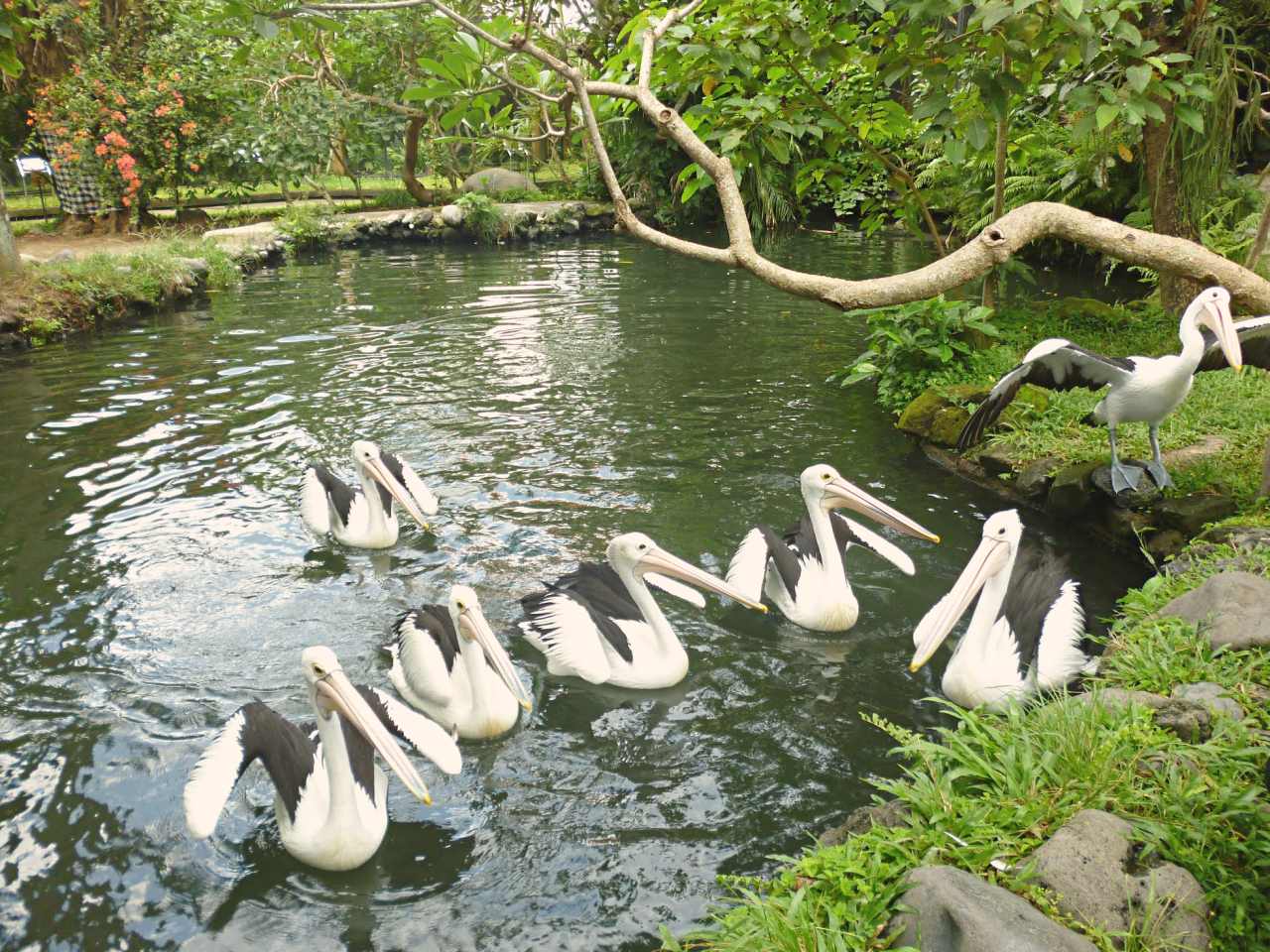 Bali Bird Park 4D Theater
Watch the story about Rilly, a young little bird. For the first time in his life. Rilly was about to join on a migration flight to the south. He would not be alone because he would go with his parents and other birds in his colony. But others said that the journey will be dangerous. Of course, it's making him scared and nervous.
How will his fate end? Will he get through the journey successfully? Well, head for Bali bird park's theater to find out. Visitors especially the little ones, will be delighted to enjoy the 4D experience here. Follow Rilly's adventure, as he embarks upon the perilous journey. It's a heartwarming story that inspires bravery.
Komodo Dragon in The Reptile Park
The fun does not end with just the feathery friends. Situated adjoining the bird section is the reptile park, with Komodo dragons as the star of the place. The dragons even have their own show, a feeding session by the caretakers. Besides Komodo, other reptiles to explore here include pythons, turtles, frogs, lizards, and crocodiles.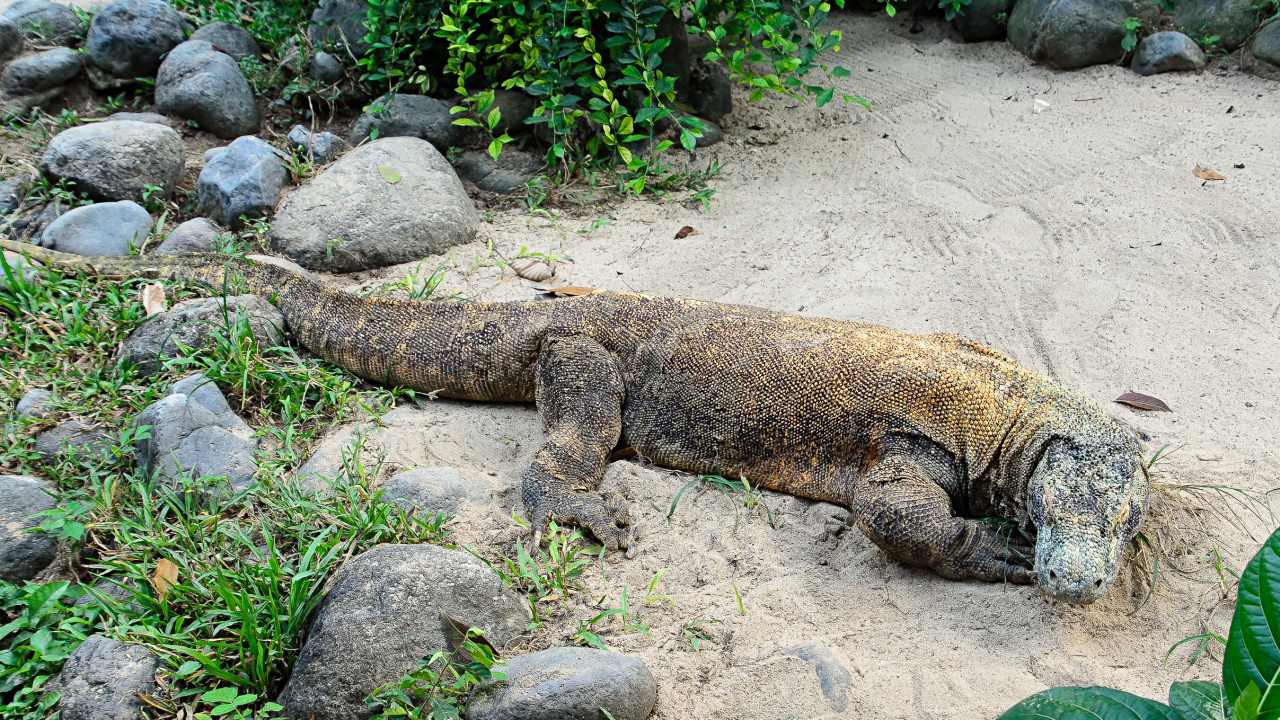 Bali Bird Park Show & Feeding Schedule
To explore and experience the entire bird park area. Including watching the animal's feeding. Be there at least at 9 am. Since some of the show starts an hour after the bird park opens.
Bali Bird Park Show & Feeding Schedule
Papua Rainforest Feeding
09:30 – 17:30
Lory
09:45 & 12:45
Pelican
10:00 & 13:15
The Komodo
Tues 11:00, Fri 14:30
Basic Instinct Bird of Prey Show
11:30 & 15:00
Bali Rainforest Flight Show
10:30 & 16:00
The Bird Stars (Bali Starling Restaurant)
12:00, 13:30 & 16:30
Guyu Corner Hands on Birds
09:00 & 17:30
4D Cinema Show Times
10:00, 11:00, 12:00, 12:30, 13:00, 13:30, 14:00, 14:30, 15:30, 16:30, 17:00
See: Bali Safari Marine Park Attraction, Guide & Entrance Ticket Package.
Facilities
Restaurants are available inside the premises, the Bali Starling restaurant, named after the famous Bali bird. In a word, the restaurant is an open-air dining experience with a tropical garden setting. A rainforest-theme café in the middle of the park, where diners could sip coffee or snack surrounded by pelicans birds.
Likewise, the food in the bird park cafe and restaurant is quite varied. As a matter of fact, not just local Indonesian food, but the Western menu is available here. Such as pasta, burger, and pizza. For vegans, a plant-based burger is available on the menu. As the price range for dine-in starts from $1,5 to $9. For souvenir shopping, there is a gift shop selling bird-theme merchandise on the spot.
See: Guide To Explore Gianyar Night Market & Street Food.
How To Get To Bali Bird Park
Bali Bird Park is easy to reach. From the famous Kuta area, visitors only need to follow the route: Bypass Ngurah Rai Street – WR. Supratman – Batubulan street – Bali Bird Park. To point out, there is no public transportation that stops at the bird park. The most convenient way is by renting a car or scooter.
On the other hand, tourist shuttle bus services like 'The Kura-Kura bus could be options too. The shuttle bus lines that head to the bird park are 3B, 3C, 4B & C. And the bus fare is Rp80.000 for a one-way trip. A day pass is cheaper at Rp100.000 than buying twice a 1-way trip.
See: Bali Airport, Public Transportation & Airport Transfer.
Address & Location
The bird park is located in Jl. Serma Cok Ngurah Gambir Singapadu, Batubulan, Sukawati, Gianyar, Bali 80582.