Bali Safari Marine Park
Entrance Fee: Rp640.000 - Rp1.100.000
Opening Hours: 09:00 AM - 09:00 PM
Telp. Number: +62361950000
Address: Jalan Bypass Prof. Dr. Ida Bagus Mantra Km. 19,8, Serongga, Gianyar, Gianyar, Bali , Indonesia , 80551.
There are more than 100 species of animal in Bali Safari Marine Park including rare and endangered species. Here, visitors will get to see Komodo Dragon without having to fly to Komodo Island. The largest lizard, orangutan, and Bali Mynah bird only can be found in Indonesia.
Bali Safari Marine Park is not merely a tourist attraction. The zoo is involved in and contributes to several projects of wildlife conservation in Indonesia. Bali Mynah birds, for example, the program has succeeded to breed more than 1.000 birds. These Bali birds are nearly extinct in 2001, with only 6 birds left.
There are also an elephant hospital in Way Kambas, Sumatran tiger rehabilitation, and baby Orangutan rescue and release program that is still ongoing. Bali Safari Marine Park is determined to educate zoo guests on their animal tour. For tourists traveling with children, Bali Safari might be the right alternative to introduce kids to animals in a fun way.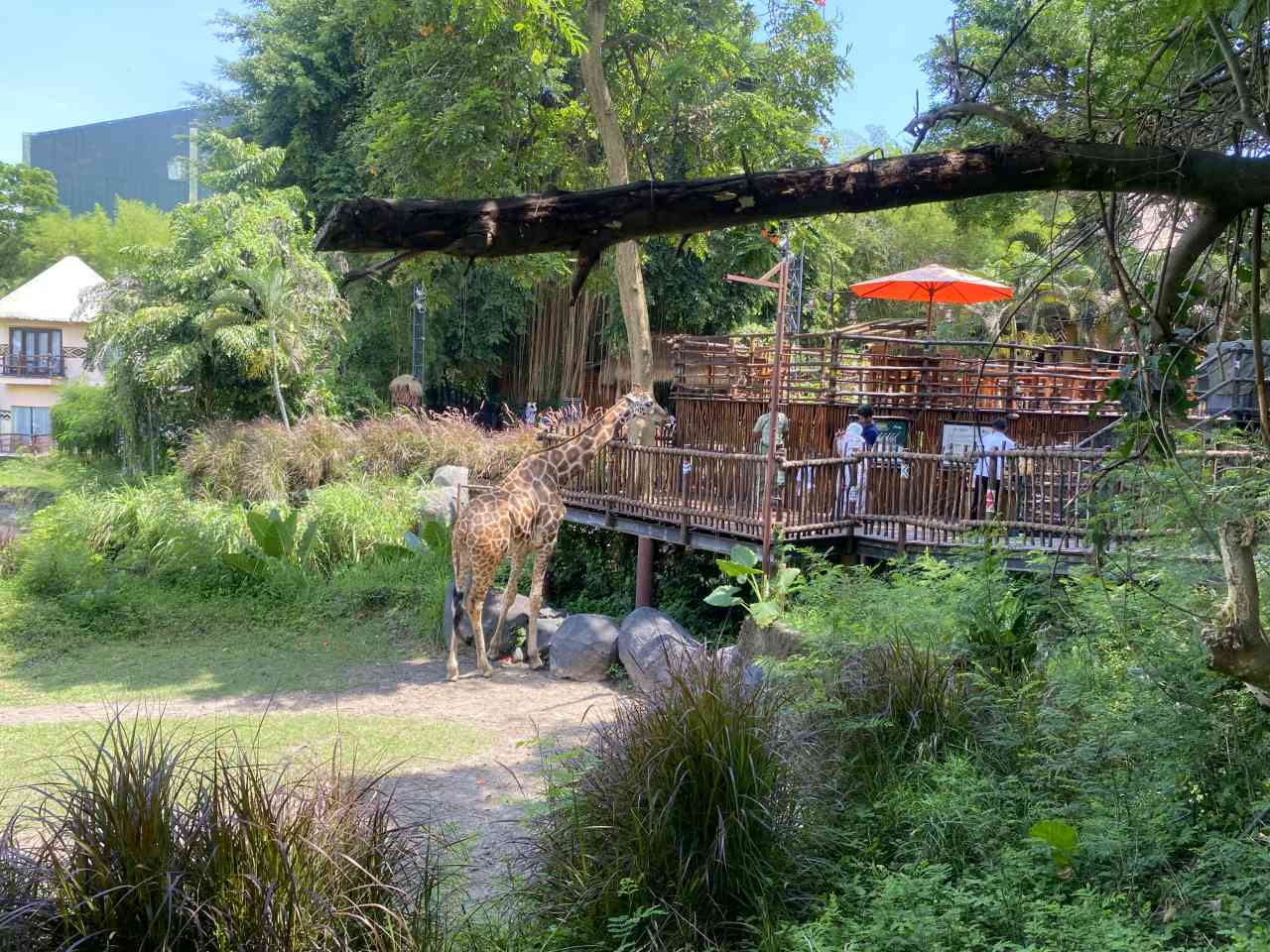 Bali Safari Marine Park Entrance Fee
The entrance tickets can be purchased on the spot. Visitors could purchase and pay either with cash or a credit card. Bali Safari Marine Park zone is wheelchair and stroller friendly. So guests traveling with seniors or kids can stroll the zone comfortably. And last, children under 3 years old get free entry to the zoo.
See: Jimbaran Fish Market Guide & Seafood Feast Restaurant.
Bali Safari Marine Park Opening Hours
The zoo is open every day including on national holidays except on Nyepi Day. When all activities including the airport are closed on the island once a year. Bali Safari is open from 9 AM to 17:30 PM. While the night safari begins from 6 PM to 9 PM.
Bali Safari Marine Park Opening Hours
Every day
09:00 – 17:30
Night Safari
18:00 – 21:00
See: Guide To Explore Nusa Penida Island & Top Things To Do.
Bali Safari Marine Park Attractions
Bali Safari Park offers many fun attractions that suit young ages to adults. On the safari journey trip, guests will get to see closely the beautiful and exotic animals. On the other hand, the bus journey will take turns to the predator animals. The fun part is the guide will explain the animal's behavior and habitat during the safari trip.
The first important thing is to make sure to arrive here at least before 10 AM. Second, visitors are only allowed to bring a small bottle of water. So bring enough cash, food stall, and restaurants are available on the premises. In the meantime, to make sure visitors get all experience and the show. Here is a list of Bali Safari Marine Park attractions for visitor guides.
The Animal Shows
Animal shows from small to predator animals are scheduled every day on a different stage. For young visitors, the animal shows on the Hanuman stage will be a fun and entertaining show. The show is a collaboration of the zoo keepers and a bunch of animals on the stage.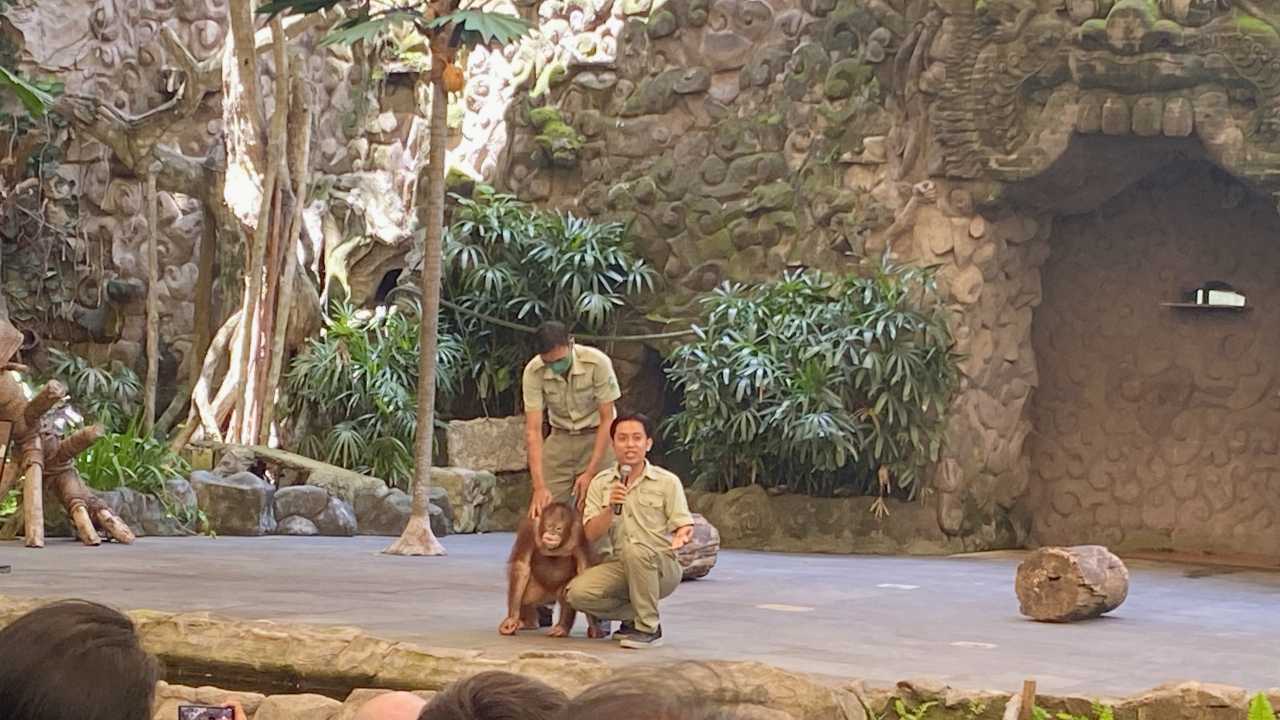 The first animal show begins at 10:30 AM at the Hanuman stage. On this occasion, the animals will demonstrate their skills on stage. Among the performers, there are exotic birds as the opening stars.
The smart baby Orangutans perform their skill by taking coconuts from the trees, opening and drinking them. Parents and children could participate and interact with some animals on the stage. For example, feeding exotic birds or touching a giant python snake.
Tiger Show
Be ready to be stunned by the predator species Sumatran Tiger on Harimau Stage. The big cat is known for their reputation as a killer animal. In fact, a tiger is a good swimmer and could kill prey while swimming. Besides fast runner and a very cautious animal, a tiger could also climb a tree.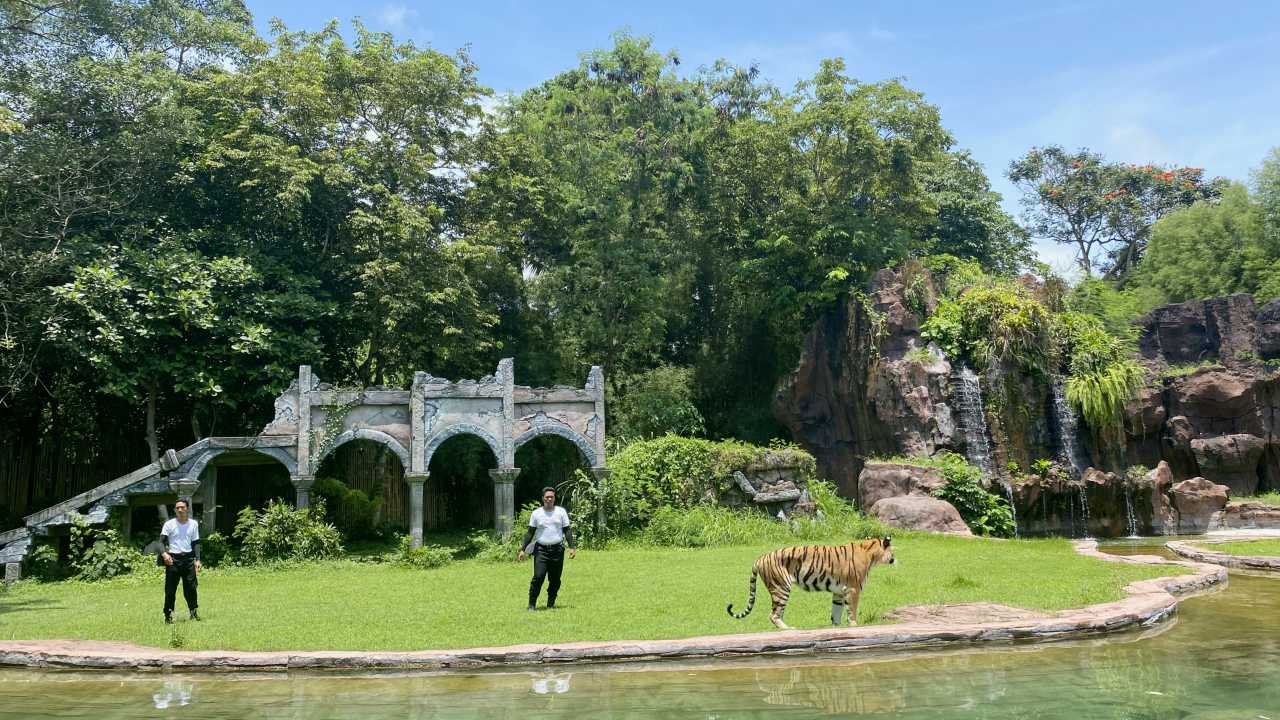 The big cat show begins at 11:15 for 20 minutes. The show is not just a stage for the tigers to perform their skill. In a storytelling technique, the zoo keeper will tell the audience how the tiger population is decreasing because of poaching.
Between the animal show that begins at 10:30 and ends at 11:00 AM. Zoo guests will only have 15 minutes to get to the Harimau Amphitheater zone. That is to say, guests should arrive before the show begin. And the center is the best seat to see the show.
Elephants Show
Time will fly so fast in Bali Safari Marine Park. There are tons to see and the time before the next show is between a 30 to 1-hour break. The big cat show on the Harimau stage is 20 minutes duration. And there is only a 10-minute break before the elephant show begins. From here, guests could take a quick stroll to the petting zoo area.
However, be sure to arrive in time to watch the Elephant show. The show begins at 11:45 AM in the Kampung Gajah zone. Early birds will get a chance to reserve the best seat to see the elephant. And if lucky probably get to be on stage during the show.
The story about the elephant and its conflict with a human is a heartbreaking show. But it sure does give more understanding of elephants' welfare. Guests could see other elephants encounter during bathing and feeding time too. However, the show will take place in different stages.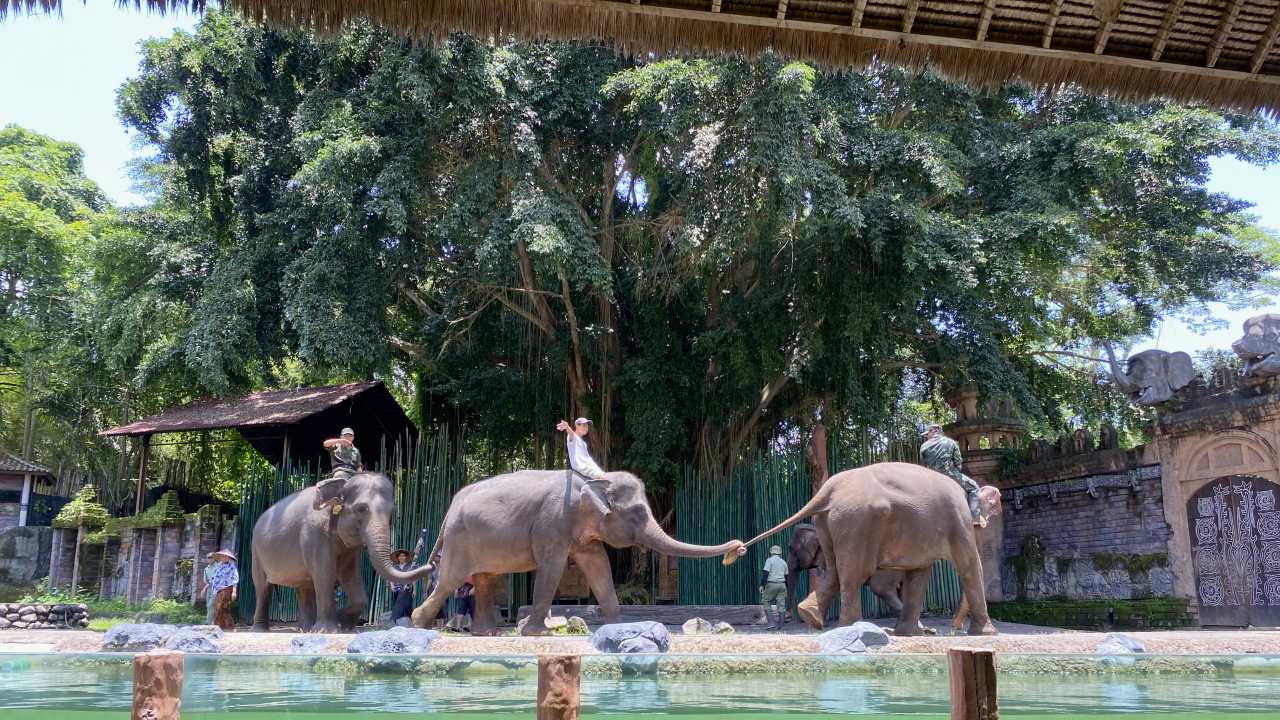 Safari Journey & Night Safari
On the safari journey, get ready to hop into the minibus. The safari journey in Bali Safari Marine Park will allow guests to see animals at close range. Watching animal activities in daylight.
The safari trip will not be complete without the presence of the fun guide. Not only will tell which direction to look. Guest will get information about animals, their behavior, and of course the fun fact.
And of course, not all animals are active in daylight. Experience a different safari. A night cage tram will take adventurers on an exciting journey to Bali Safari Marine Park. Be the witness to see and hand-feed the animals at a very close range.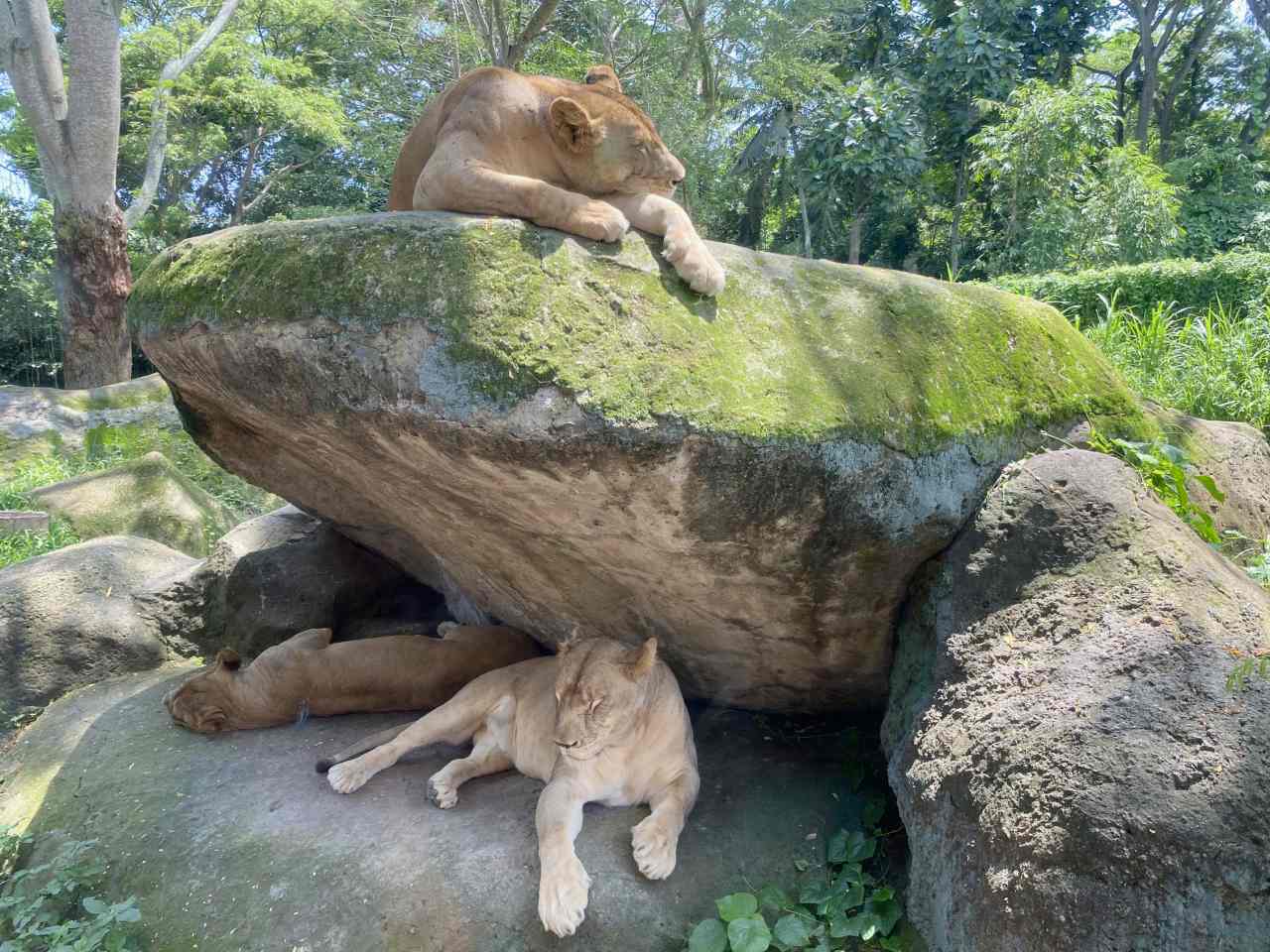 Agung Show Bali Safari Marine Park
A marvelous performance of mixed-up culture and animals. The show is definitely not an ordinary one. Taking place in a huge air-conditioning indoor theater. Audiences will get to see a theatrical story of ancient Bali legend, King Sri Jaya Pangus and his beloved Chinese wife Kang Chingwie.
A traditional and modern art that features Balinese dancers and musicians. The additional performer of the safari animals is making the show more fun to watch. However, the Bali Agung Show is scheduled for Saturday and Sunday only. The show begins at 14:30 for an hour. So it's best to take lunch and be 30 minutes before the show begins.
Waterpark & Lion Theme Restaurant
For the young traveler and adventurer don't forget to try all the rides at Bali Safari Waterpark. Young kids will love the Bungee trampoline, merry-go-round, and spinning coaster at Bali Safari Waterpark.
Or try different dining experiences with the king of the jungle in Tsavo Lion Restaurant. Tsavo Lion is also the first African-themed restaurant in Asia. Here, visitors could enjoy savory cuisine while the Lions watch. Don't worry the restaurant is safely separated by full-length viewing glass panels. And the fun twist is there's a glass viewing panel too in the toilets.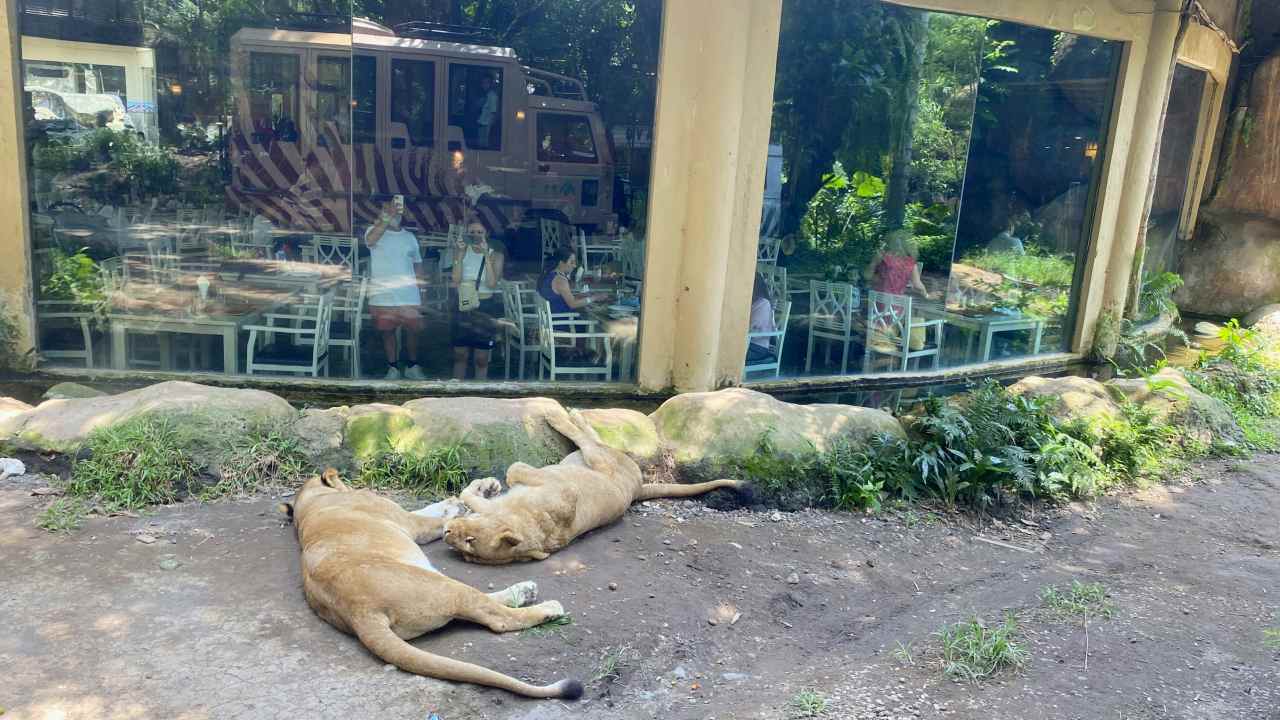 Bali Safari Marine Park Show Schedules
Be prepared to spend a whole day in Bali Safari Marine Park. The series of the animal show, animal safari, and Bali Agung Show will take half a day to explore. However, the schedule of the feeding show in Bali Safari Marine Park is subject to change due to weather circumstances and the condition of the animals.
Bali Safari Marine Park Daily Schedule
The Animal Show: Hanuman stage
10:30 & 16:00
The big cat show (tiger): Harimau amphitheater
11:15
Elephant show: Kampung Gajah zone
11:45 & 16:30
Safari Journey with bus
09:00 – 17:15
Bali Agung show (Saturday & Sunday)
14:30
Night Safari
18:00 – 21:00
See: Guide To Explore Hidden Canyon Beji Guwang.
Animal Feeding Time Schedule
The earliest feeding schedule is the Piranha in the aquarium zone at 10 AM. The petting zoo, a kids-friendly zone feeding time is from 10 AM to 4 PM. While the giraffe feeding is located in the Nkuchiro zone which starts at 11 AM.
Animal Feeding Time Schedule
Piranha
10:00 AM
Giraffe & Meerkat
11:00 – 16:00
White Tiger
12:00 – 15:00
See: Guide To Explore Gianyar Night Market & Street Food.
Facilities
Bali Safari has huge parking spaces and a lot of ticketing counters. ATMs are available in the zoo as well as souvenir shops near the entrance gate. Clean toilets are scattered in the zone. And free shuttle bus will drop tourists from the entrance gate to the animal zones.
Since guests could not bring food and drink the zoo has food stalls and restaurants in the area to choose from. Stroller rentals are available in some areas such as in the Harimau stage.
See: Tourists SIM Card, Price & Where To Buy.
How To Get To Bali Safari Marine Park
The most convenient way to get to Bali Safari Marine Park is with a private vehicle. However, a shuttle service is available at the scheduled time and pickup point below.
Shuttle Service To Bali Safari Marine Park
Departure Time
Location
Pickup Point
08:30, 08:45
Nusa Dua
Royal Santrian, Novotel Hotel
08:30
Kuta
Blue Zea Resort
08:30, 08:45
Seminyak
The Breezes Hotel, The Trans Resort Hotel
08:30
Legian
Sol House Bali
08:30, 08:40, 08:50
Sanur
Prime Plaza Suites, McDonald's, Prime Plaza Hotel
08:30, 08:45
Ubud
Coco Supermarket, Plataran Hotel & Resort
See: Bali Airport Guide & Airport Transfer & Public Transportation.
Address & Location
Bali Safari location is just 20 km from Ubud center and the Sanur area. It's located in Jl. Bypass Prof. Dr. Ida Bagus Mantra Km. 19,8 Gianyar, Bali 80551.