Bandung Zoo
Entrance Fee: Rp50.000
Opening Hours: 10:00 - 16:00
Telp. Number: -
Address: Jl. Kebun Binatang No.6, Lb. Siliwangi, Coblong , Bandung, West Java , Indonesia , 40132.
Going under huge renovation since 2018, Bandung Zoo is now becoming Bandung's top-visit destination. The 14-hectare land may stand in the middle of hustling Bandung city. Yet, the natural surrounding feels as if being in a tranquil forest. Within the flora, live hundreds of animals from different species occupying this little forest. From little to huge mammals, tiny colorful ave, reptiles, to fishes.
The zoo nurtures not only common species but also rare and nearly extinct ones. Among the critically endangered ones, meet Ozon, the orangutan in Bandung Zoo. He once flooded the national news headline when one visitor caught and record him smoking cigarettes. Of course, later on, the management caught the people responsible for giving him a cigarette in the first place.
Bandung Zoo Ticket
Compared to other zoos such as one in Bali. Bandung zoo entrance fee is way cheaper, Rp50.000 per person. The fee includes a one-time free boat ride and the animal edutainment show.
Bandung Zoo Ticket
Entrance Fee
Rp50.000
Mat Rent
Rp20.000
Paddling boat
Rp15.000
Nearby: Babakan Forest Sky Bridge, Workshop Class & Gallery.
Bandung Zoo Opening Hours
Bandung Zoological Garden opens to visitors every day from 10 AM to 4 PM. Considering that the park is very wide, it is best to come early and enjoy the time thoroughly. That way, guests can have a lunch picnic when the noon clock ticks.
Bandung Zoo Opening Hours
Monday – Sunday, National Holiday
10:00 – 16:00
See: Guide To Explore Tangkuban Perahu Volcano.
Bandung Zoo Endangered Animals
Ozon like any other orangutan is an extremely intelligent animal. In wild nature, the species know how to adapt fast and how to use tools to survive. Other than orangutans, the rare ones include binturong, linsang, Macaw bird, Sumatran elephant, and Asian glossy starling.
With varied species and flora filling the zone, Bandung Zoo even established an education and research center as well. It has a rehabilitation center too for rescued animals. Despite the vast area, don't worry, there are huge signs and a directions board at the main entrance.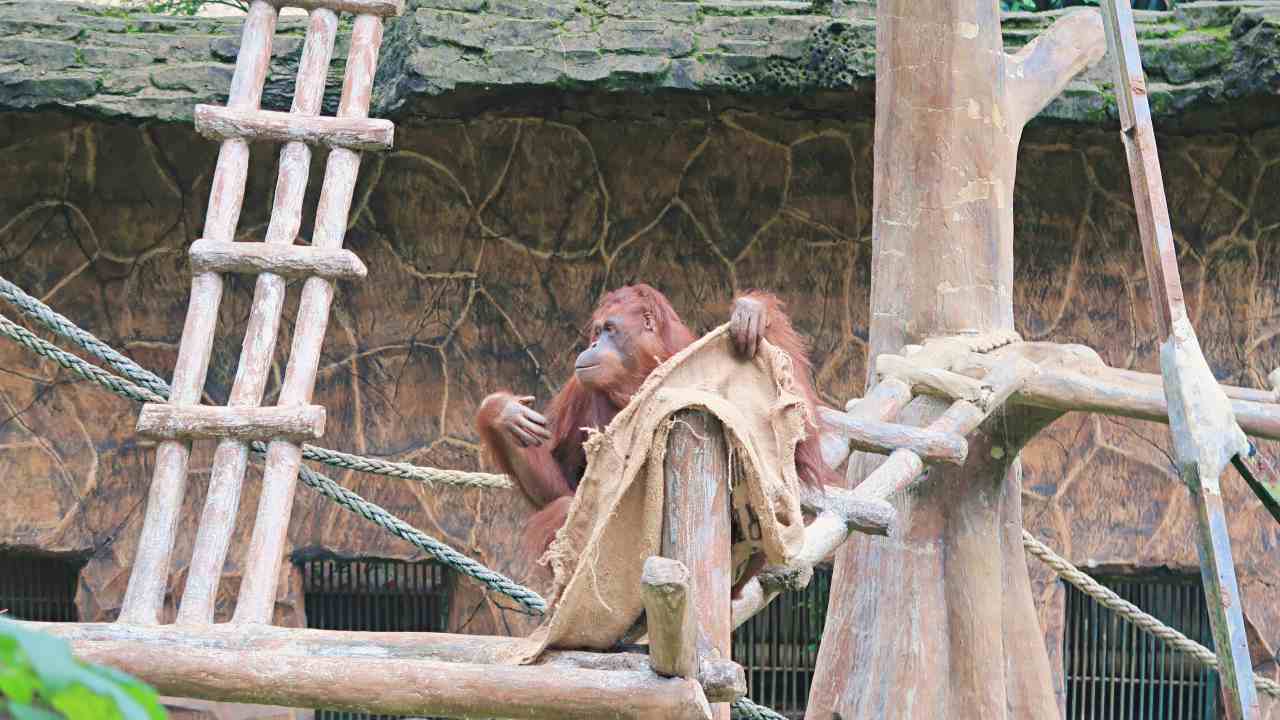 Exploring the wide area can take probably more than two hours unless travelers want to laze around. For how green and peaceful the place is, it is indeed relaxing to stay longer and breathe the fresh air. The chilly breeze of Bandung even makes the ambiance better, especially in the late evening. To spend the best time possible in Bandung Zoo, here are some recommendations to do!
Animal Feeding
The place does not only offer sightseeing but interaction with the creatures. Feed and see the animals up close. All interactions will cost additional fees, for example, feeding giraffes will cost Rp20.000.
Spare some extra cash to buy the food that costs separately around Rp5.000-Rp15.000. A quick tip for visitors, buy the food outside the zoo area. Because it is cheaper and the animal food for sale inside has limited stock.
For tourists coming with children, luckily the site has a riding spot. Young ones could go around the zoo-designated track slowly with a pony. There are some spots to get close and take pictures with animals too, like the snake booth.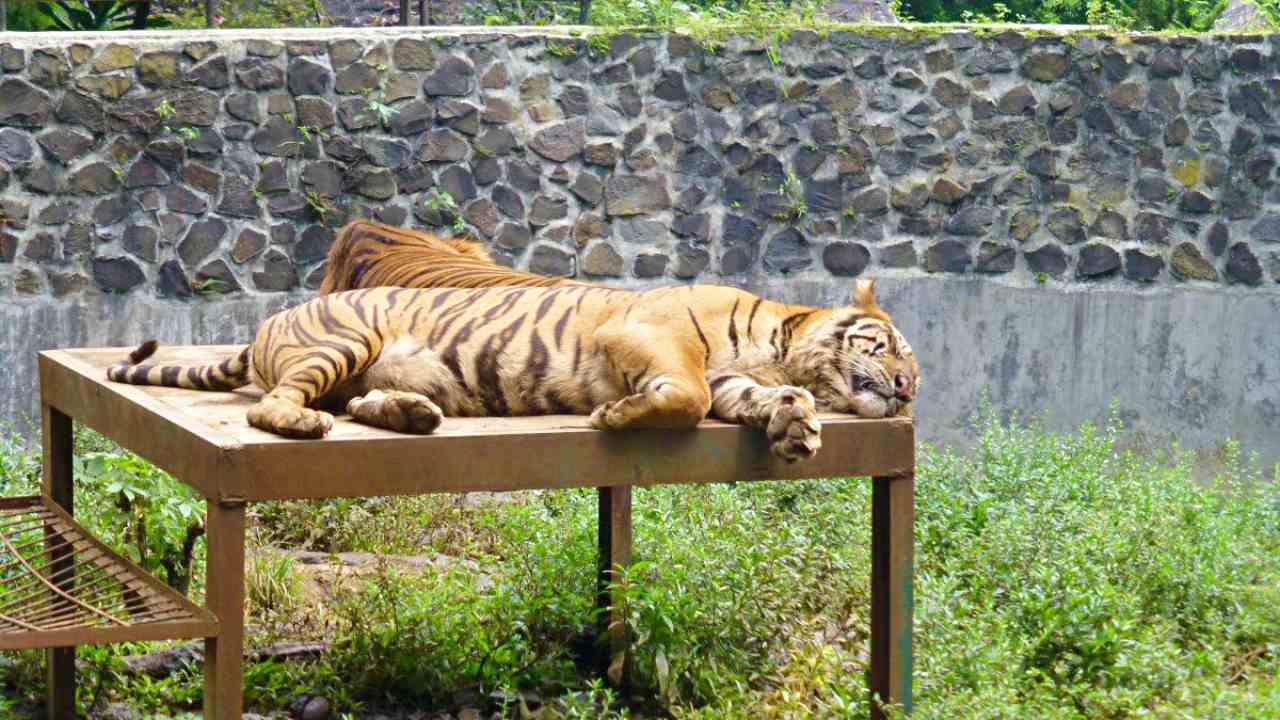 Fun Fauna Education
As an educational recreation site, Bandung Zoo provides an abundant amount of information across the area. Quick overviews of the animal's identity are available in every cage. That includes knowledge about food, habitat, and the conservation status of the species.
The management also provides zoo educators or guides on-site. However, the availability is limited and requires prior booking. Not only limited to basic information but there are also fact boards and an interactive sign around.
The bear cage even has a signboard with each bear's name. That allows visitors to know the bear's name and which one is them, which definitely exciting. This way, strolling around the zoo will be fun instead of tiring.
See: Guide & How To Get To Kawah Putih Crater, Ciwidey.
Boat Ride
As the ticket includes a free boat ride, visitors should make good use of this. First off, head to the lake north of the zoo's entrance. This is where the recreational water attraction is situated with its wooden boats and duck paddling boats.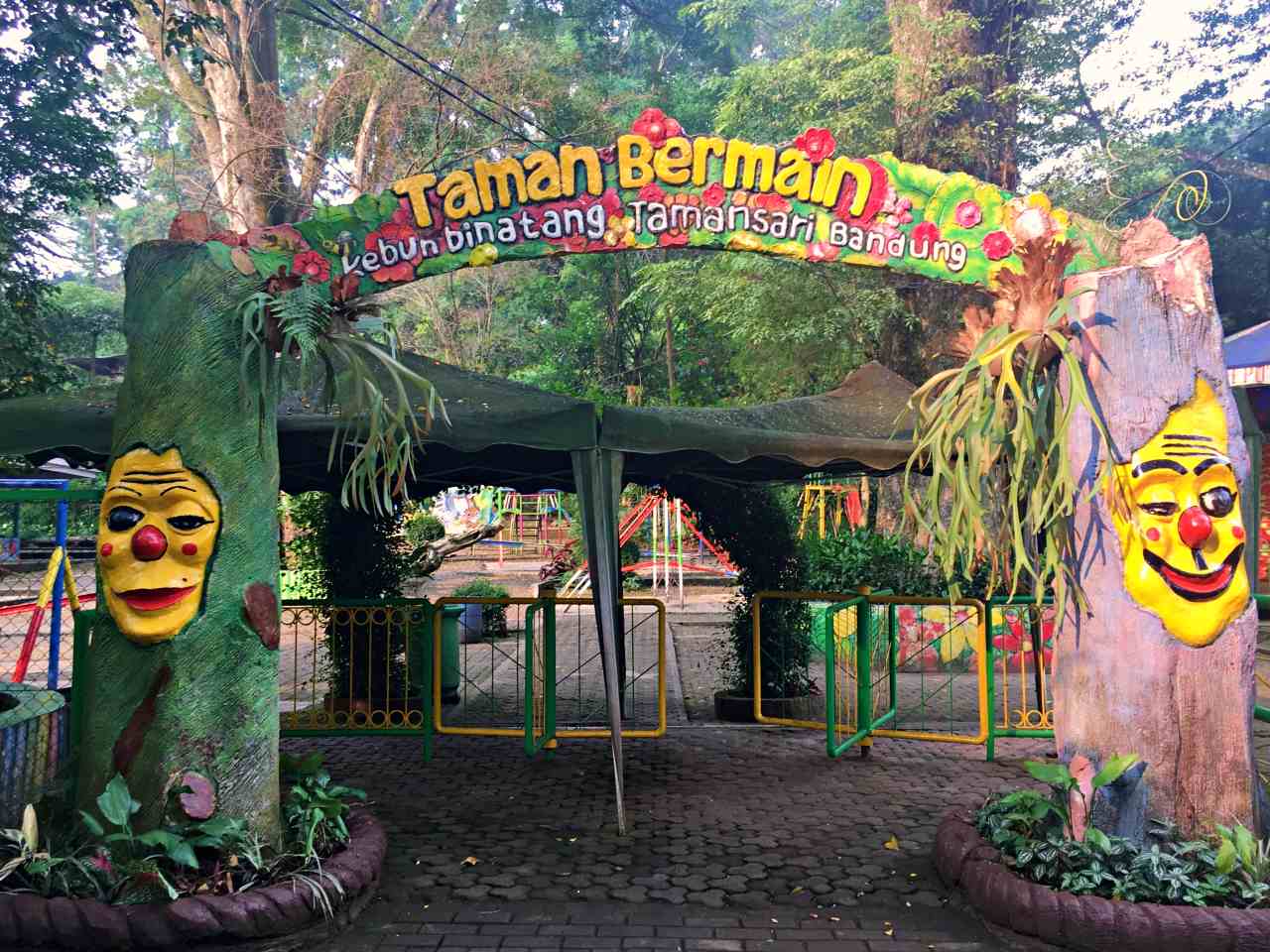 Do remember that the free entrance only applies to the wooden boat. Meanwhile, the paddling ones require an additional fee of Rp15.000.
For travelers who bring along kids, there is a mini playground with a bouncy balloon in it. Kids train also operates to entertain. However, up to this day, some areas in the playground are still under renovation. Later when it opens, the area should provide more options for kids to play. Definitely with more safety and convenience.
Watch Animal Theater
In the open theater, trained animals put on a show to educate the audience in a very entertaining way. Kids and even adults will love this storytelling performance. The star of the show includes clever parrots, poodles, and binturong. The show opens its stage at 10:30 every day. However, on weekend, there's an additional show at 2:30 PM.
During the show, prepare to be amazed by the wonders of what animals can do. Instructors will introduce the stars and showcase their abilities through various tricks. One of the fascinating moments is when the birds doing math.
Aside from watching, the MC will let the audience get close and play some tricks with the animal. Don't miss the performance, young ones will definitely love it.
Animals Show Schedule
Weekday
10:30 AM
Weekend
14:30 PM
See: Local Culinary Spot, Guide To Punclut Ciumbuleuit Highland.
Stroll Around & Picnic In The Garden
The pathway around Bandung Zoo is surrounded by tropical trees and flower gardens. It makes a perfect ambiance to enjoy nature's presence while watching the animals. Along the way, do not forget to stop by a new skywalk built in 2018. From up there, visitors will be able to see several wild species closely, such as leopards and bears.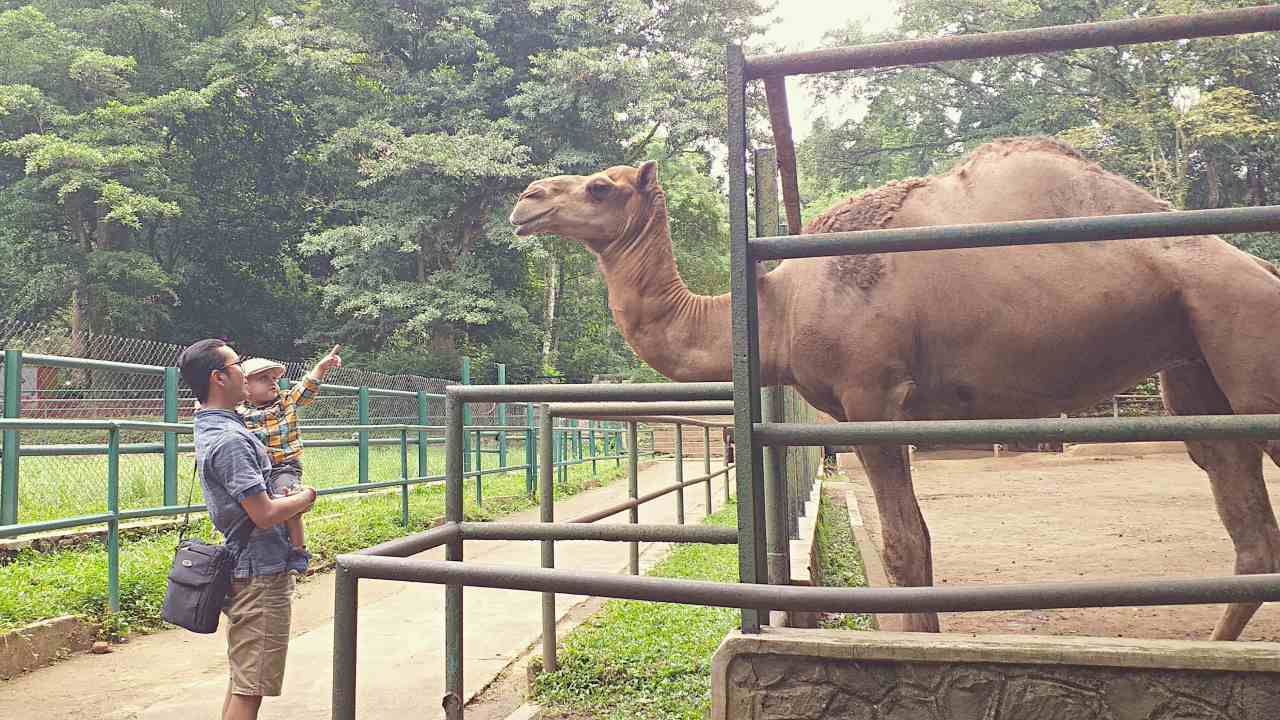 In between the exploration, make time to picnic around the open garden area. Visitors who do not prepare the mat beforehand can rent it for Rp20,000. It is best to enjoy lunch or a late afternoon snack below the trees' shadows. To buy food, food stalls are there to the rescue.
See: Guide To Bandung Culinary Spot, Sudirman Street Food.
Facilities
Established in 1933, the public recreation site currently still going through improvement renovation. Hence, the facilities in the area are mostly new compared to the years before. It now has a food court, mosque, hall, and souvenir shops. Meanwhile, toilets are available with an additional maintenance fee for every use.
See: Internet Package, Price & SIM Card for Tourists.
How To Get To Bandung Zoo
From the city center Alun-Alun Bandung, the zoo distance is only 5 km away. It is right on the side of Institut Teknologi Bandung and the Cikapundung River. It should take no time to go to the zoo from whichever point in Bandung. Therefore, transportation options are pretty much flexible for travelers.
The most common public transportation to use is angkutan umum or angkot. The price ranges depending on the distance between Rp2.000 to Rp7.000. From downtown, the option is to catch a van heading to Sadang Serdang or Dipati Ukur. Tell the driver to stop at the zoo's nearest shelter Tamansari. The ride-hail app fare is also cheap. From the city center, it will cost around Rp20.000 to the zoo.
See: Public Transportation Guide from Jakarta to Bandung.
Address & Location
Bandung zoo situated in  Jl. Kebun Binatang No.6, Lb. Siliwangi, Coblong district, Bandung, West Java 40132.