Crystal bay beach
Entrance Fee: Rp5.000 - Rp10.000
Opening Hours: Open 24 Hours
Telp. Number: -
Address: Ds. Sakti , Sakti, Nusa Penida, Klungkung, Bali , Indonesia, 80771.
Crystal Bay Beach at Nusa Penida Island is one of the most popular snorkeling sites on the island. It has abundant sea animals that live in stunning coral reefs. Right in the middle of the beach is a massive rock standing with a temple on top of it. It's not exaggerating, the beach really has crystal clear water.
On top of that, the beach is popular for its sunset. Crystal Bay Beach is located on the west side of Nusa Penida Island. Facing the Nusa Ceningan island. Access to the beach now is quite good, a paved road compared to years ago.
The distance of this secluded beach from Toya Pakeh's main harbor is roughly 8 km followed by 20 minutes rides. And from the parking lot, the walk is short.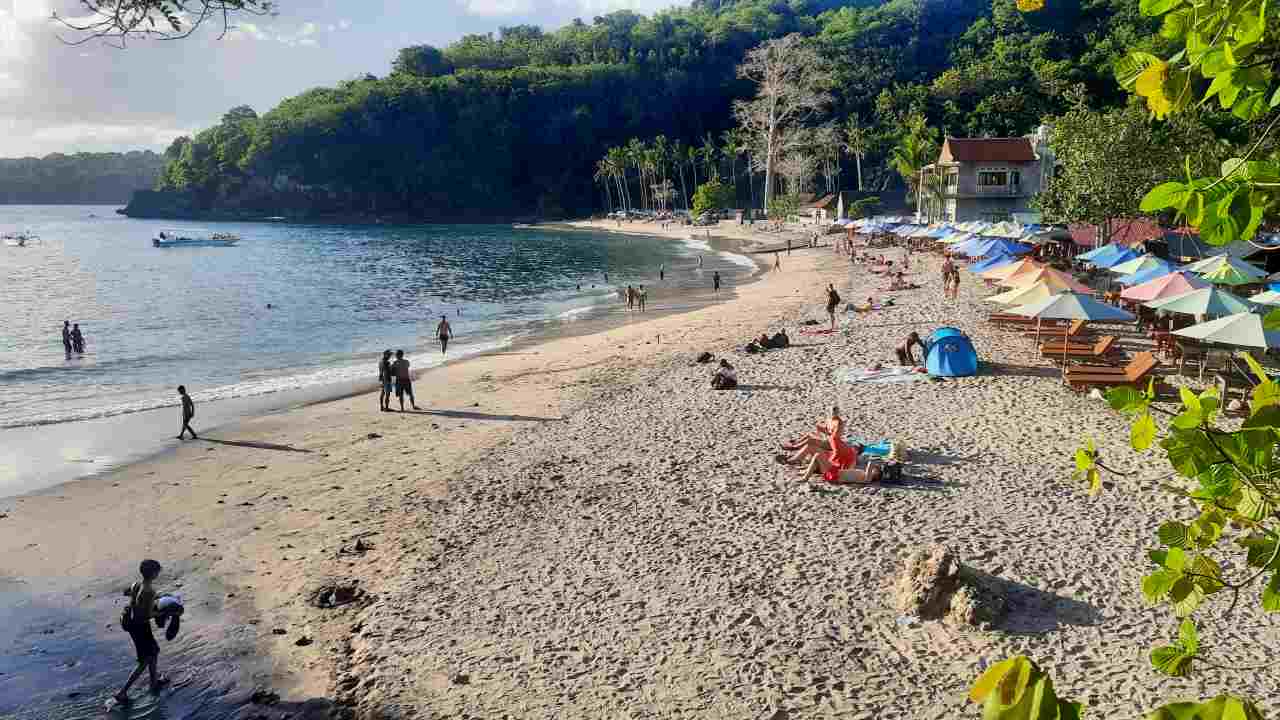 Crystal Bay Beach Entrance Fee
Just like any famous beach in Bali, there is no entrance fee to explore Crystal Bay Beach. Beach guests will only have to pay a parking fee of Rp5.000 for a scooter and Rp10.000 for a car.
Crystal Bay Beach Entrance Free
Ticket
Free Entry
Parking Fee
Rp5.000 (scooter) / Rp10.000 (car)
See: Guide To Explore Angel's Billabong, Nusa Penida.
Crystal Bay Beach Opening Hours
Just like other beaches in Nusa Penida, Crystal Bay Beach is open 24 hours every day. But, the best time to visit is right in the afternoon for better visibility for snorkeling or diving. The beach is also famous for its sunset. That is why tourists will be flocking to this beach right before sunset.
Crystal Bay Beach Opening Hours
Every day except on Nyepi
Open 24 Hours
See: Top Things To Do in Atuh Beach, Nusa Penida.
Explore Marine Diversity
The coral reefs at Crystal Bay Beach are home to millions of sea creatures. There are dive trips to see Manta Ray, dolphins, and turtles that mostly operate in the morning. The service will cost around Rp350.000 per person for a boat ride to the dive point with the assistance of a licensed diver.
The best dive highlight of Crystal Bay Beach is the chance to see the rare Sunfish or popularly known as Mola Fish. From July to October when the ocean water gets colder, this sea animal usually appears near the coast. For tourists with no experience in diving, then snorkeling is another way to see numerous coral reef fishes.
Crystal Bay Beach has great visibility, around 3 meters. There are some places to rent snorkel gear like fins and glasses for Rp100.000. Keep in mind with a sudden strong current might haunt snorkelers at any time. Therefore inexperienced snorkelers are far better to hire an instructor. Or else, don't go too far.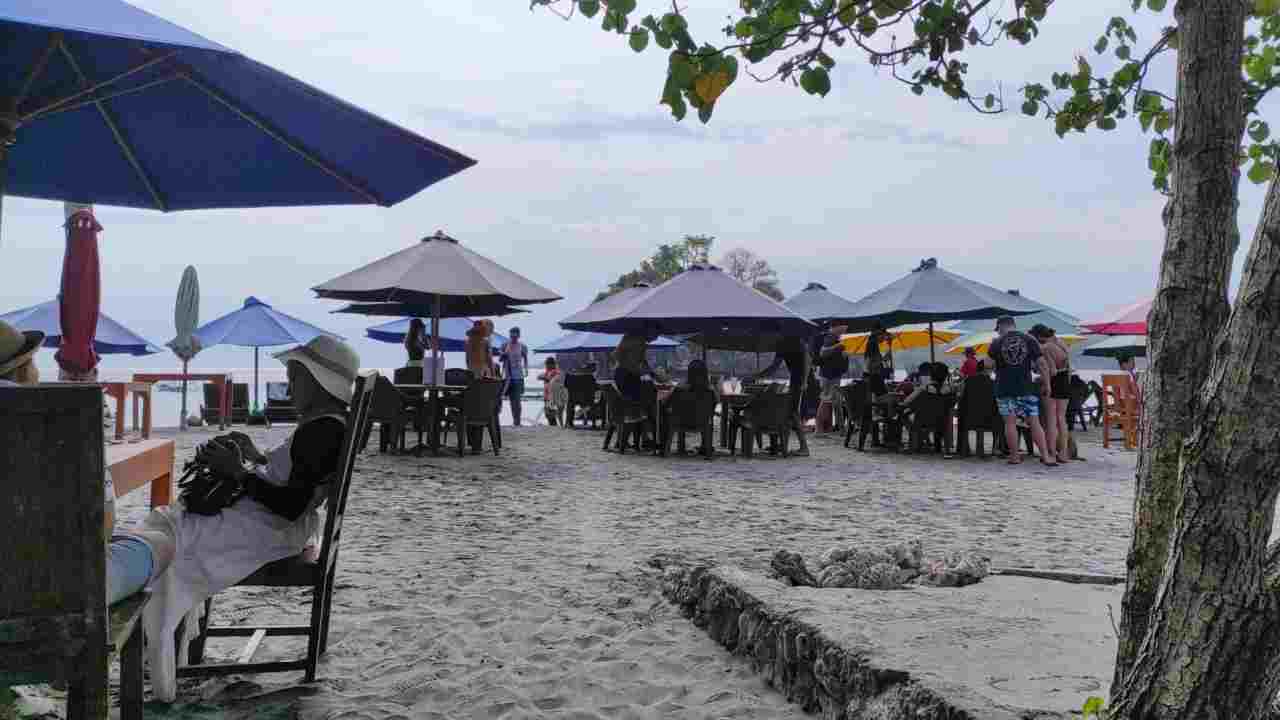 Chilling Out & Watch Sunset
The beach is also best known as the final destination spot before going back to the main island. Besides, crystal bay also has the prettiest panoramic sunset in Nusa Penida with a subtle pink and orange sky.
That is why many people like to chill out at golden hours by the beach-side stalls. Rent lounge chairs and sofas to catch the perfect light of the sun dropping. The beach chair rent will cost around Rp100.000.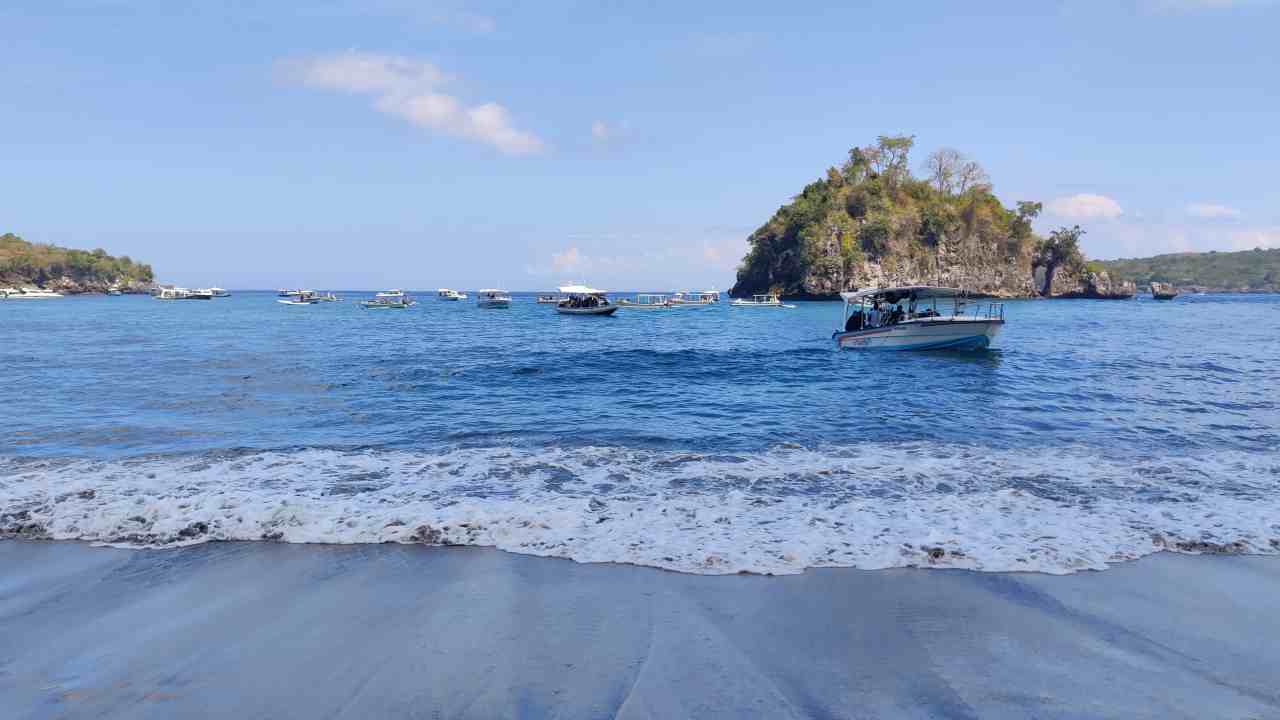 See: Guide To Diamond Beach & Swing Spot.
Seafood Restaurants Overlooking the Beach
Visiting Crystal Bay Beach is the best pair with having a local culinary experience. There are several warung, restaurants that serve Indonesian dishes like noodles, fried rice, satay, and vegetable soup. Some seafood menus are available as well, such as grilled fish, calamari tempura, and seafood curries.
The food price is reasonably cheap ranging between Rp40.000 to Rp75.000 ($2 to $ 5). The variety of drinks menu is also affordable. For instance, fresh juice, smoothies, cold drinks, and coconut water will cost just under a dollar.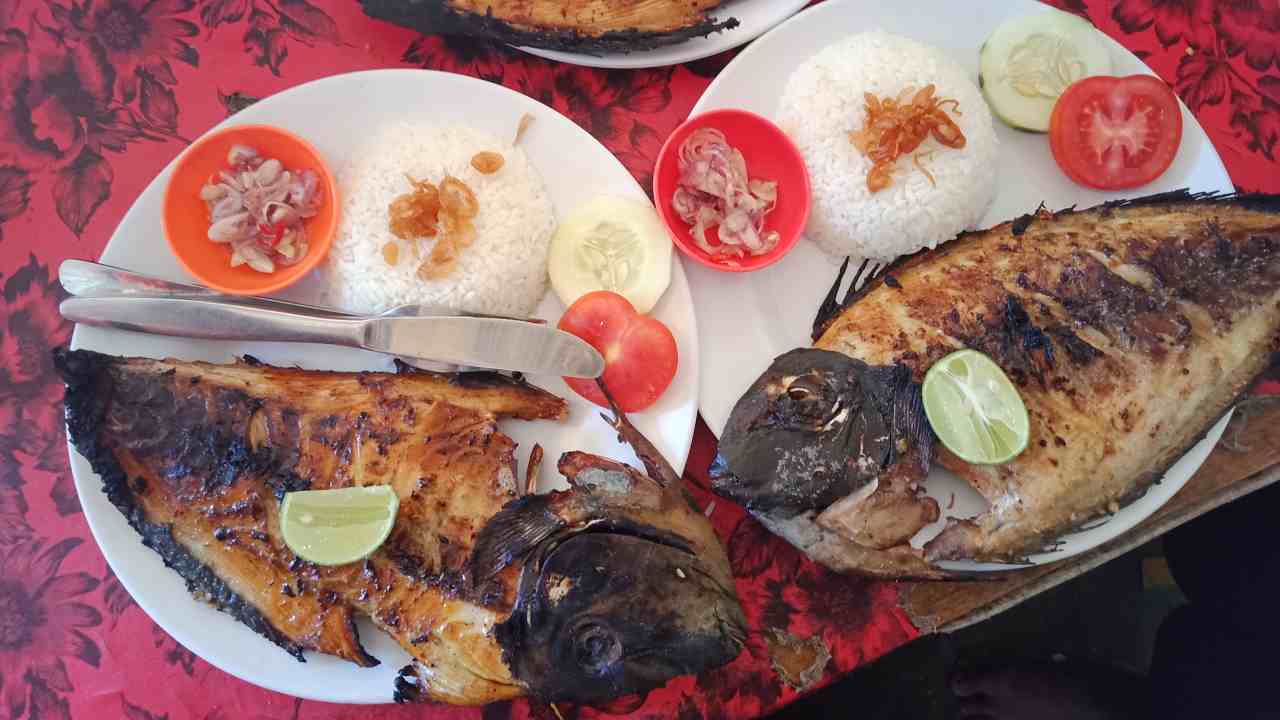 The snack range is worth trying as well, namely tuna sandwich, pineapple pancake, fried banana, and grilled corn. To enjoy the snack dishes, will cost less than $2.
See: Guide To Explore Tembeling Beach, Natural Pools & Forest.
Facilities
Crystal Bay Beach is one of the most popular beaches that have well-maintained facilities. The locals have built many stalls of refreshments like warung that sell food, snacks, and drink. Public toilets and beach chairs rent are also available on the premises.
There are lots of water sports operators like boat trip services to see Manta Ray. Places to rent snorkeling and dive gear. And last, services to hire licensed divers and professional snorkelers.
For tourists who wish to stay close to Crystal Bay Beach, there are several accommodations nearby. Cottages and bungalows with a price range of $35 to $80 per night.
See: Tourist SIM Card, Price, Internet Package & Where To Buy.
How To Get To Crystal Bay Beach
From the main island, travelers have to take a boat ride from a nearby port in Sanur. The speedboat fare starts from Rp120.000 for a one-way trip. And it takes around 40 minutes depending on the weather.
Upon arriving at Nusa Penida island, tourists have 2 options, rent scooters or cars. Both choices have slightly higher prices than in Bali. For example, it cost around Rp80.000 for a scooter. While renting a car with a driver will cost Rp800.000 with 6 passengers capacity.
There is a signpost along the way pointing to the beach. From downtown Toya Pakeh, just straight go to the west. The trip will take approximately 20 minutes.
See: Bali Airport Guide, Airport Transfer & Public Transportation.
Address & Location
The beach is located in a village called Sakti, Nusa Penida, Klungkung, Bali 80771.