Leke Leke waterfall
Entrance Fee: Rp50.000
Opening Hours: 07.00 - 17.00
Telp. Number: -
Address: Jl. Swadaya, Antapan, Baturiti, Tabanan, Bali , Indonesia, 82191.
Chasing Waterfalls is among the best adventurous activities to do in the northern part of Bali. Although there might be a dozen destinations on the list, this brand-new Leke-Leke Waterfall has stunned many tourists and quickly become popular.
Leke Leke comes from a Balinese word that translated to a rough, challenging yet meander pathway. However, despite the meaning, the path getting to the waterfall is not that rough. In fact, it's quite established, a bit hard but not impossible. And unlike other hidden waterfalls, Leke-Leke has enough facilities too.
Leke Leke Waterfall is located at Tabanan. It takes nearly 1,5 hours to ride from tourist-staying areas like Kuta, Seminyak, and Canggu. This waterfall is also near other prominent tourist spots like Ulun Danu Beratan Temple, Bedugul Botanical Garden, and Wanagiri Hidden hills.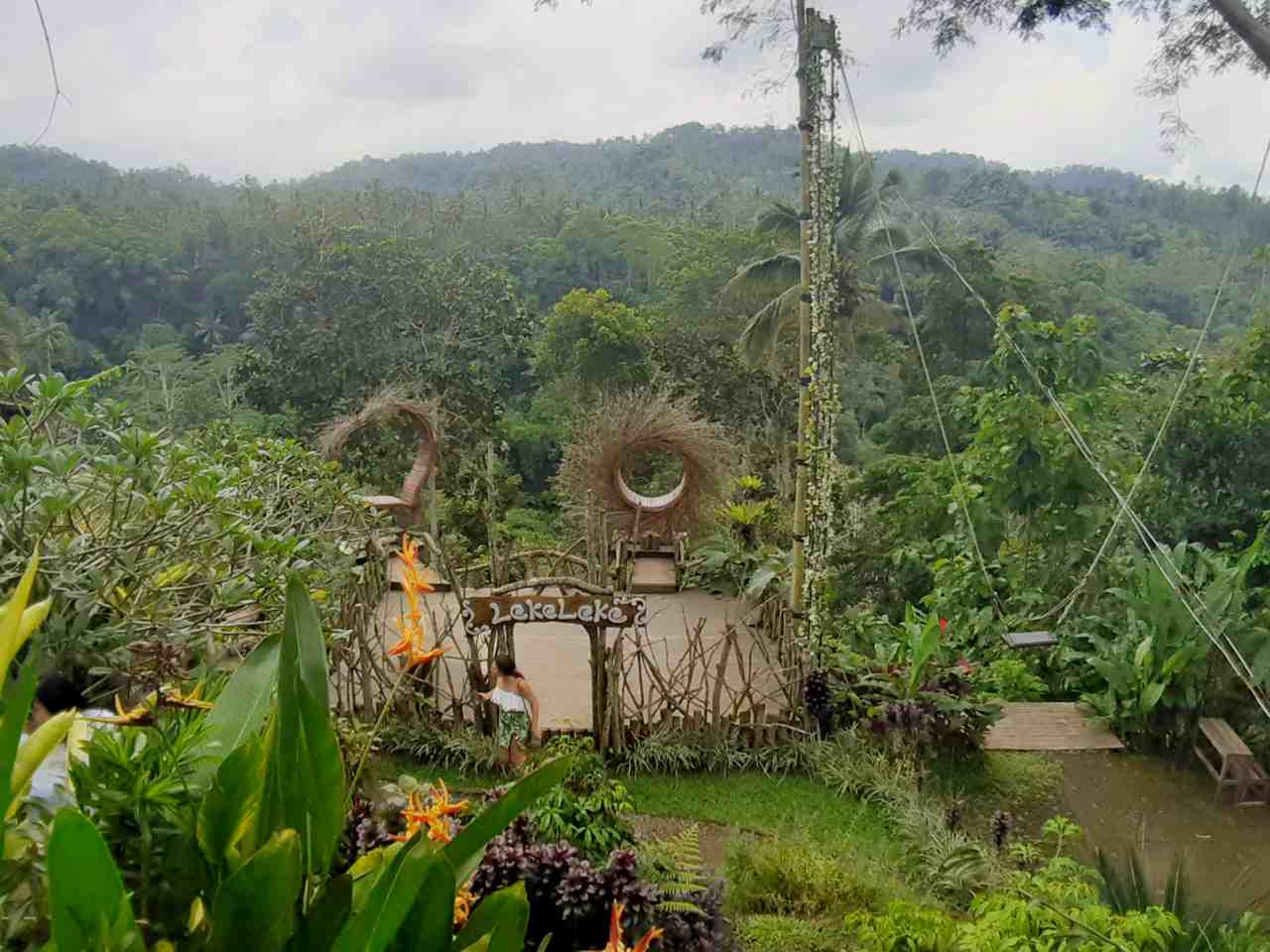 Leke Leke Waterfall Entrance Fee
Bear in mind, that there's an entrance fee and parking ticket to Leke Leke waterfall. The entrance ticket for international tourists is Rp50.000. 
Leke Leke Waterfall Entrance Fee
International tourists 
Rp50.000
Swing attraction 
Rp250.000
See: Ulun Danu Beratan Temple & Entrance Ticket.
Leke Leke Waterfall Opening Hours
Leke-Leke Waterfall is open every day from 7 AM to 5 PM. Just ensure to double-check the Balinese calendar before visiting and avoid local celebrations like Galungan, Kuningan, and Nyepi. Otherwise, this place is going to be very crowded or closed for a whole day.
Leke Leke Waterfall Opening Hours 
Every day 
07:00 – 17:00 
Nearby: Bali Botanical Garden, Top Spots & Entrance Ticket. 
A Magnificent of Singular Falls
Leke-Leke Waterfall has marked unique yet gorgeous views where two edges of cliffs meet a fairy secret cave. The downfall of water is a crystal clear narrow pool where visitors can easily swim without worrying about being drowned and wash away.
The surrounding waterfall is a breathtaking green yet peaceful forest, which is apparently good for taking photos from any angle. The best time to visit Leke-Leke Waterfall is early in the morning between 7 to 8 AM for no other reason than to give the opportunity to enjoy complete access before other tourists show up.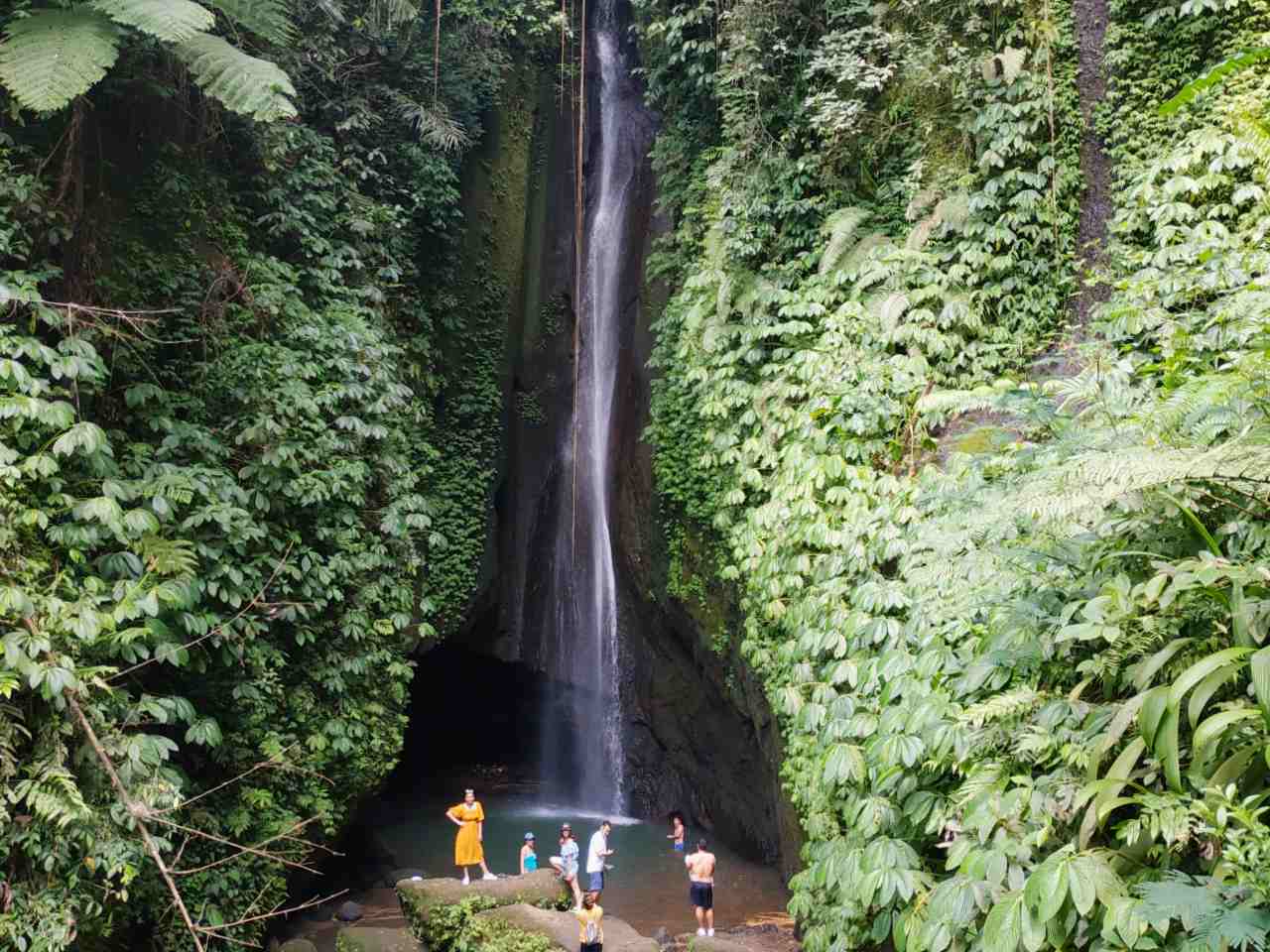 Track To Leke Leke Waterfall
To reach this gem is require a 20-minute walk through a lush tropical forest that is easy to navigate. The staff has pinpointed many signs so it is nearly impossible to get lost. From the ticket booth, follow the small path all the way down for around 10 to 15 minutes until the bamboo bridge.
Then walk for another five minutes to finally reach the waterfall. The track down to the waterfall will be quite challenging in the rainy season. First, there is no concrete path in a few spots, and when it's raining the so-called natural path turns into a muddy slippery path.
There are locals that would offer a walking stick at the entrance for a fee of Rp20.000. However, the slippery path is not the only downside. The water discharge from the falls will be brown and not pretty at all. To get the best landscape and experience, avoid visiting during the rainy season.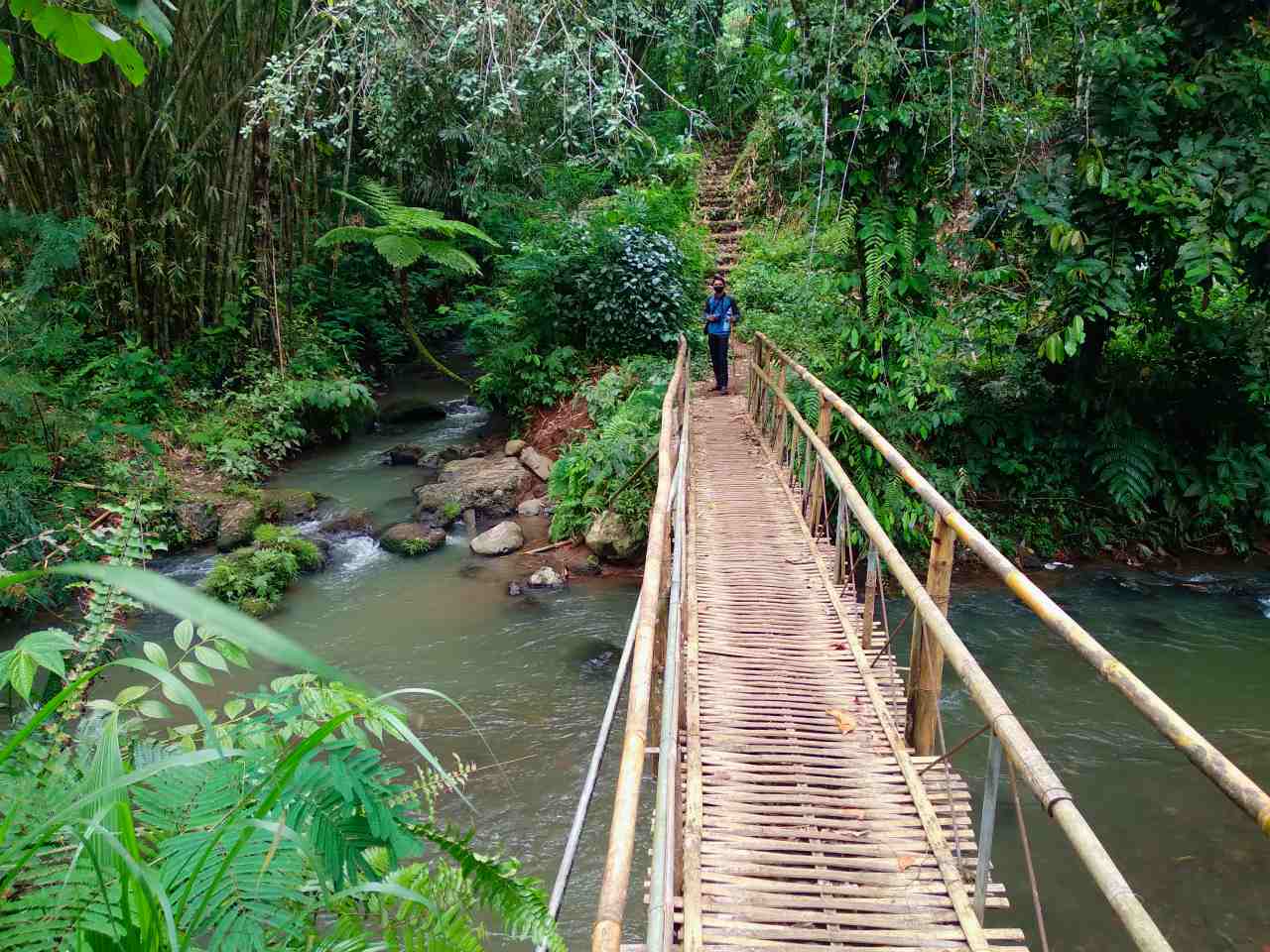 Heavenly Forest Scenery & Sipping Coconut
One worthy experience besides the waterfall is the break at a local stall for a coconut stop. There are also plenty of other shops that offer other variants of tropical fruits like orange, watermelon, passion fruits, durian, mango, and the list goes on.
The price for refreshing coconut water is Rp25.000 (under $2). Enjoying the quick stop in a heavenly, calming forest while shipping coconut is a great way to restore energy for stepping further to reach the waterfall.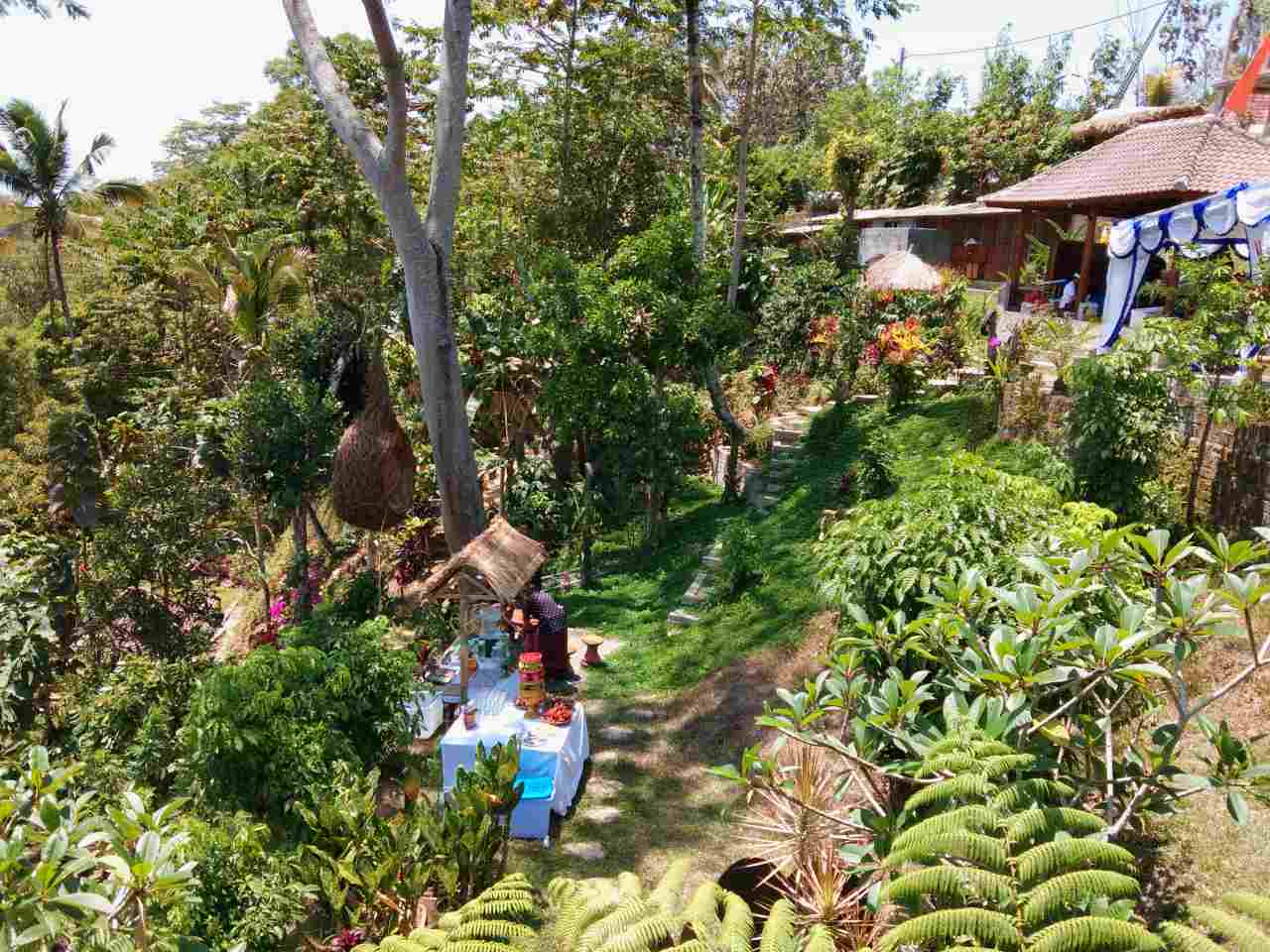 Holy Spring For Locals
Melukat is a cleansing ritual that the Balinese do on several occasions. The ritual begins with praying and delivering the offering and ends with cleansing. The cleansing could be bathing in the sea, in the temple with a holy water spring, or bathing in the waterfall.
Leke Leke Waterfall is no exception, there is a spot for locals to do the Melukat ritual here. Just like in other Melukat places, women on period are not allowed to do the ritual and swim in the waterfall pool.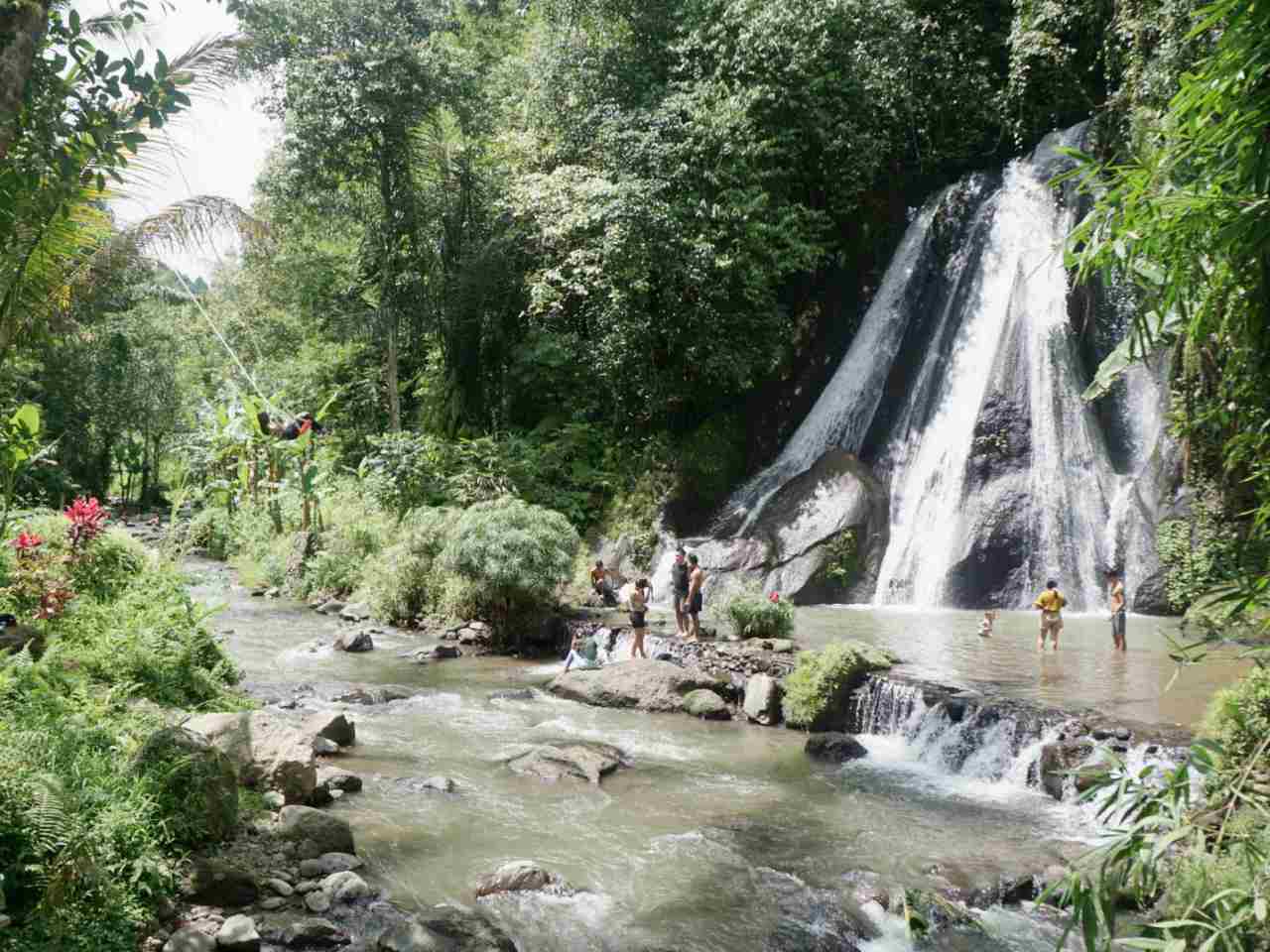 Facilities 
Compare to other hidden waterfalls, Leke-Leke waterfall is well-equip as a tourist destination. From the first step, visitors are welcomed with beautiful bamboo decorations, flowers, and plants. Facilities at Leke-Leke Waterfall include a restaurant, toilet, fruit shop, and photo spots like a swing or nest even accommodation like a guest house is also available around the premises. 
See: SIM Card for Tourists, Price & Internet Package.
How To Get To Leke-Leke Waterfall
Unfortunately, there is no public transportation that heads to the waterfall areas. It's primarily due to the rural location, but here is the foremost suggestion to reach the place. The first option is to rent a scooter. For tourists who want to avoid traffic renting a scooter is the best choice.
The average price to rent a scooter is Rp60.000 to Rp120.000 for a day's rent including the helmet. By far it is the most affordable option to reach the destination. The second option is to rent a car with a driver. This option is perfect for a first-time visitor, who doesn't have any idea where the location is.
A 10 hours car rental with English speaking driver ranges from Rp600.000 to Rp800.000. The fee includes gasoline and driver. However, it doesn't include the entrance fee to tourist destinations and driver tips.
See: Bali Airport Guide, Airport Transfer & Public Transportation.
Address & Location 
The waterfall is located in Jl. Swadaya, Antapan, Baturiti, Tabanan, Bali 82191.