Bias Tugel Beach
Entrance Fee: Rp10.000
Opening Hours: 07:00 - 18:00
Telp. Number: -
Address: Jl. Pantai Bias Tugel , Padangbai, , Manggis, , Karangasem , Bali, Indonesia , 80871.
With a few visitors, Bias Tugel Beach offers a peaceful beach one can't get on other Bali beaches. Quite far from Bali's capital Denpasar, the beach is located on the eastern coastline of Bali. The location isn't far from Padangbai Harbor. So, at times, from the beach, people get to see the small ships to large ferries departing and passing by.
Since the beach faces east, this isn't the right place to watch the sunset.  And it's not a sunrise-watching spot too. There are no hotels near the beachside. Plus, the beach doesn't open for 24 hours. To get to the beach, people will have to pass an 'adventurous' walking track.
Sun tanning or just chilling, are 2 things guests can do here. After all, compared to any other beach, Bias Tugel Beach is pretty laidback. Beach beds are available to rent at a more 'discount' price. Food and beverage choices aren't five stars, but the price is. With only Rp100.000, the beach visitors will get to taste several fulfilling foods and refreshing beverages.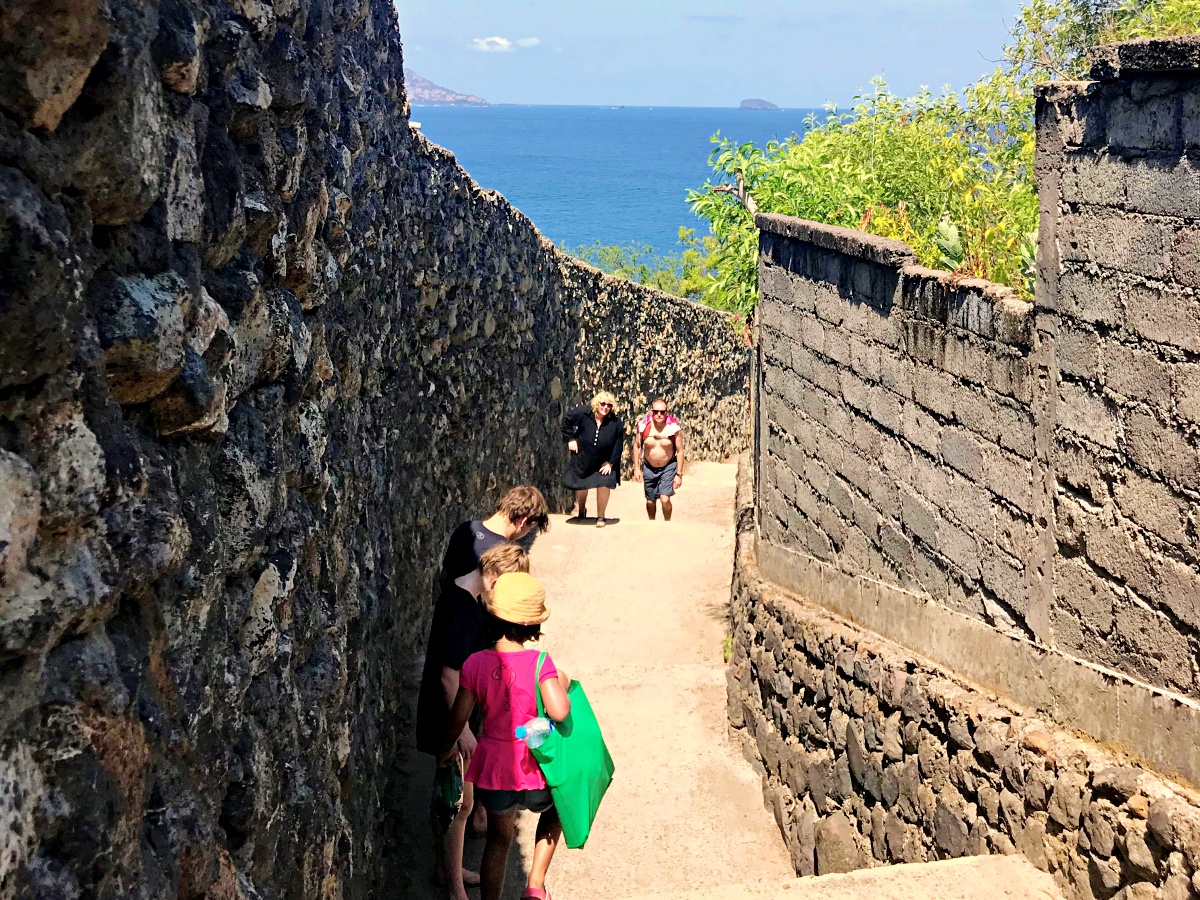 Bias Tugel Beach Entrance Fee
The entrance fee is Rp10.000/person. It's cheap and just like a small donation to the community. And the entrance fee covers the parking fee as well.
Bias Tugel Beach Entrance Fee
Children & Adult
Rp10.000
See: Penataran Agung Lempuyang Temple, Heaven Gate & Guide.
Bias Tugel Beach Opening Hours
Too bad this beautiful Bias Tugel doesn't open 24 hours. Before the sun sets, the food vendors are closing down their businesses. The stalls are only open from 9 AM-6 PM. The official beach opening hours are also within those hours. But everyone is welcome to come early and leave later.
Bias Tugel Beach Opening Hours
Every day close on Nyepi
07:00 – 18:00
See: Guide To Explore Besakih Temple.
Bias Tugel Beach After the Entrance
From the ticket counter, walk a bit more through a quite rough trail. It might be quite hard for seniors and children. The trail is passing through arising shrubs and some sort of steep paths. Don't worry it's just a short bumpy 10-minute walk to the beach.
The beach might be quite secluded, but the services are not. Tired after the last day's adventure, go get a massage here. Simply go to the local shop and ask them for it. The masseur will be glad to give a powerful, deep-tissue massage. It's not as fancy as a spa treatment of course. Instead of using aromatic oil massage, it's just a regular home coconut oil. But it sure is not less relaxing than the fancy one.
Luckily, there are no hawkers on the beach to dodge. So, guests will get to relax and play on the beach uninterrupted. Greet the local vendors and buy some drinks, snacks, or food. Rent the sunbeds or simply lie on the sandy beach and soak up the vibe.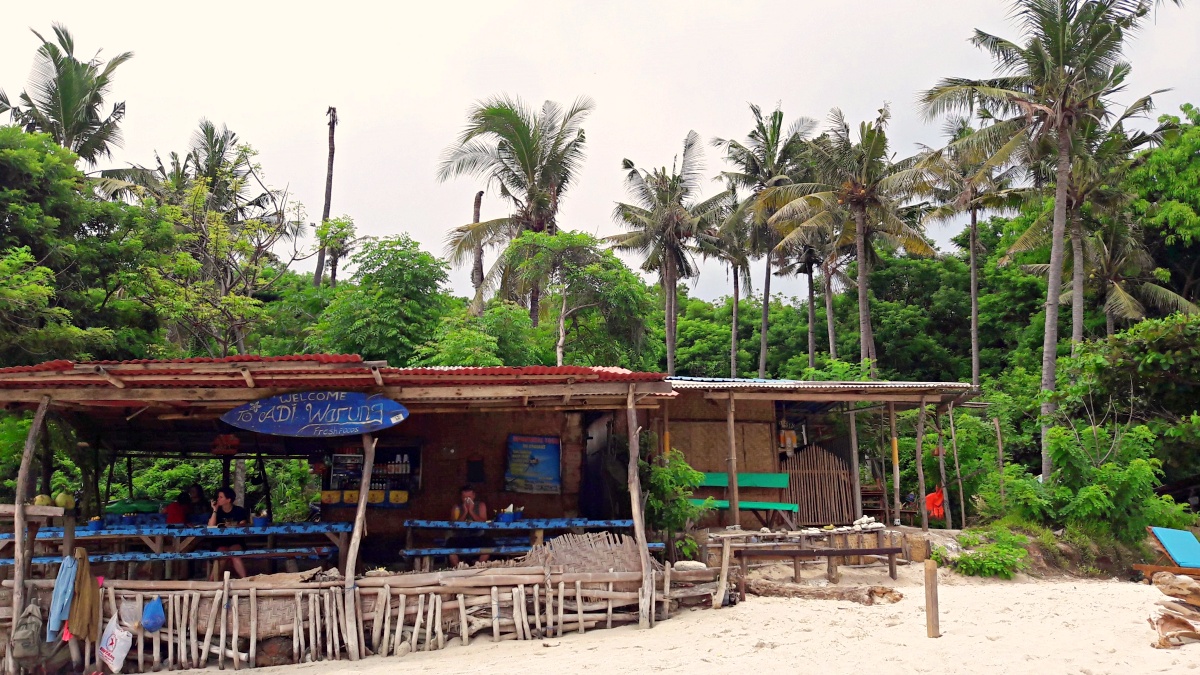 Secluded, Clean Beach, a Hidden Paradise
Located in Karangasem Regency, Bias Tugel Beach isn't that famous as a natural tourist spot. Only a few know the beach compared to Kuta, Seminyak, and other west Bali beaches. However, that doesn't mean the beach is not stunning. Locals that run the beach has done so well to keep the beach clean.
The white sand accentuates the beach's beauty. Have a look at the water, so pristine and blue. The black corals attract curious explorers to see beneath them. Surrounding greeneries sum up the tropical beach vibe. With a clear sky, in addition, the view is just cinematic.
Unwind Under The Tropical Ambience
Friendly locals never mind having a chit-chat with tourists. Have some laughs over a cold beer. Compliment the food, locals will love that. For peace-seekers, rent a sunbed to lounge on the beach. The sunbed costs half the price of infamous beaches. Which is Rp50.000  for the sunbed and beach umbrella.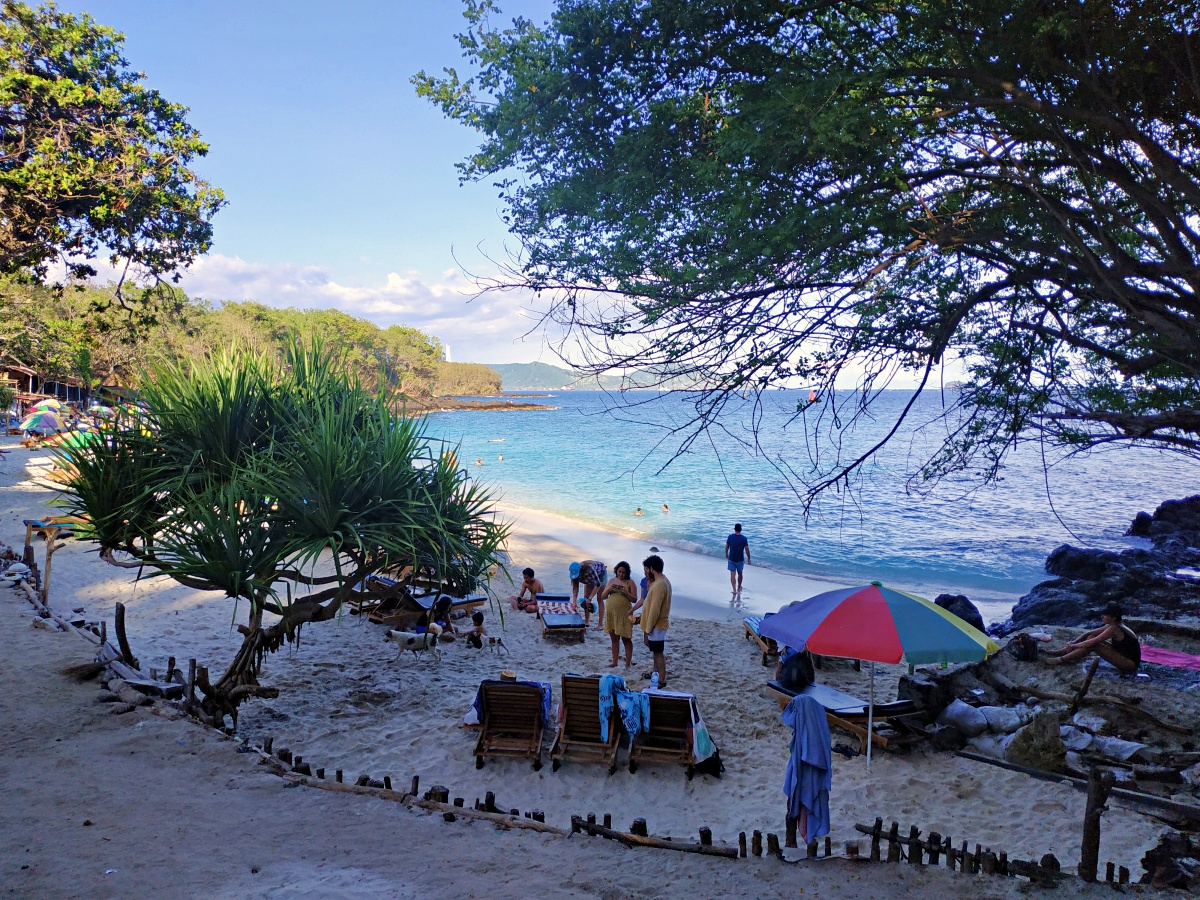 Expose the body for at least an hour for a perfect sun tan. Don't forget to apply sunblock to avoid getting sunburned. While getting soaked up in the sun, take some cool selfies. Drink coconut water and forget those hard days.
Surfing and Swimming in Bias Tugel Beach
Swim in the blue, clear water. The tide is quite high, so swimming is only safe if it's just by the beachside. Snorkeling is another fun thing to do on Bias Tugel Beach. See underwater life through the goggles. The corals and small sea creatures are hidden under that azure blue sea.
The 'natural pool' is a must-see attraction while visiting Bias Tugel Beach. Although the corals do not completely encircle a 'pool'. Dipping in the spot there is another sensation worth trying. The blue hue is what makes the pool more outstanding. Remember, always be careful while trying to reach the coral. Not only a sudden wave may hit, but the risk includes slipping and injured.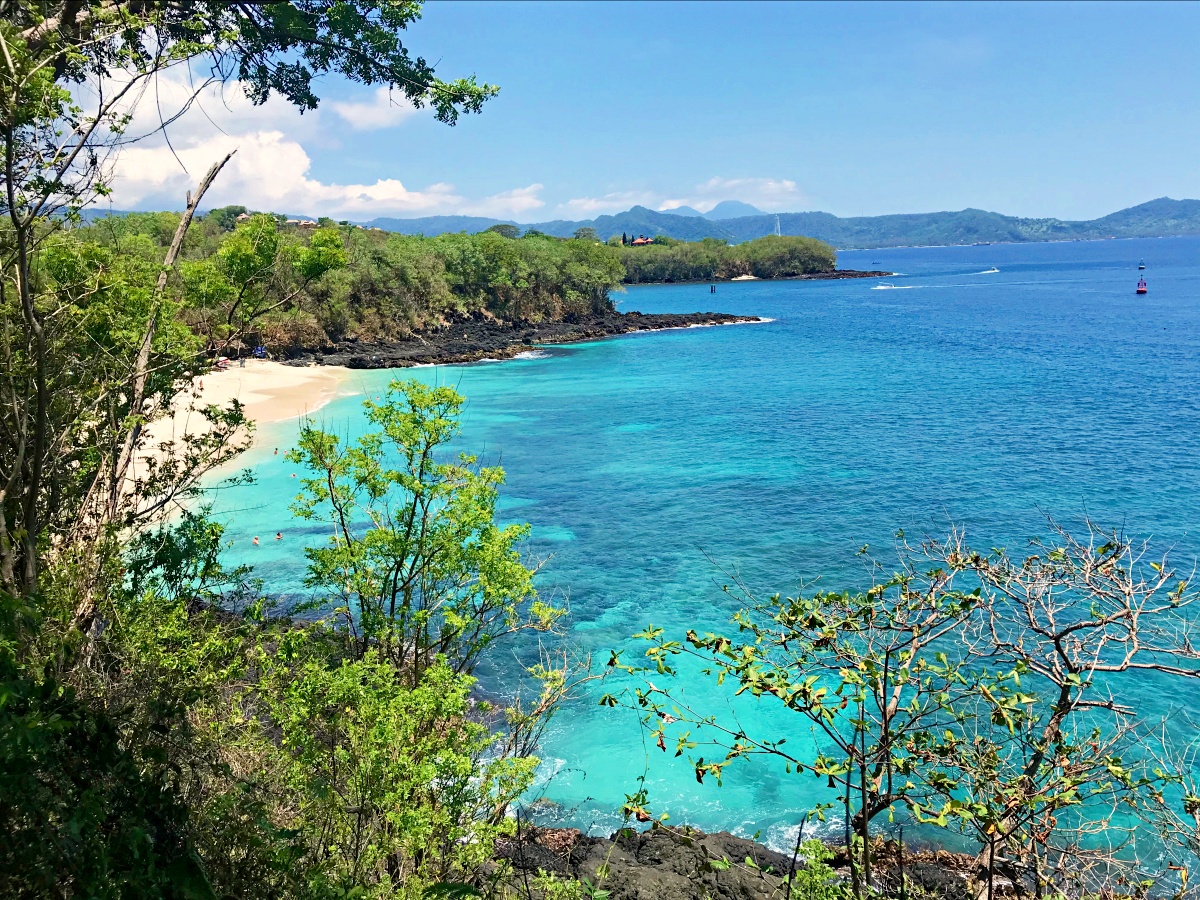 Although the beach is not popular as a surfing spot, the beach is a regular surfing field for some pros. There isn't any surfboard rental place on the spot. No surfing schools or lifeguards too. So, amateur surfers are just supposed to lay back and watch.
See: Guide To Explore Virgin Beach in Candidasa.
Tasty Local Food
On the beach, there are several warungs that are 100% run by locals. It all has an array of mostly local delicacies. Take nasi campur and Gado-Gado as examples. While nasi campur is a dish featuring rice and various side dishes. Gado-Gado is more like a salad meal. It has boiled egg and tofu along with a green veggie – drenched with sweet peanut sauce. The price of this food is Rp35.000 and Rp20.000, respectively. Quite cheap, right?
For more fancy and full-filling dish food, try to order the grilled fish. The meal costs Rp80.000 per portion. And it comes with these options: rice or deep-fried potato. There are three different types of sauces to choose from: Balinese sambal, tomato sauce, and garlic sauce. All of them taste delicious, but of course, the one with the indigenous taste (Balinese sambal) is the most ordered and favorite one.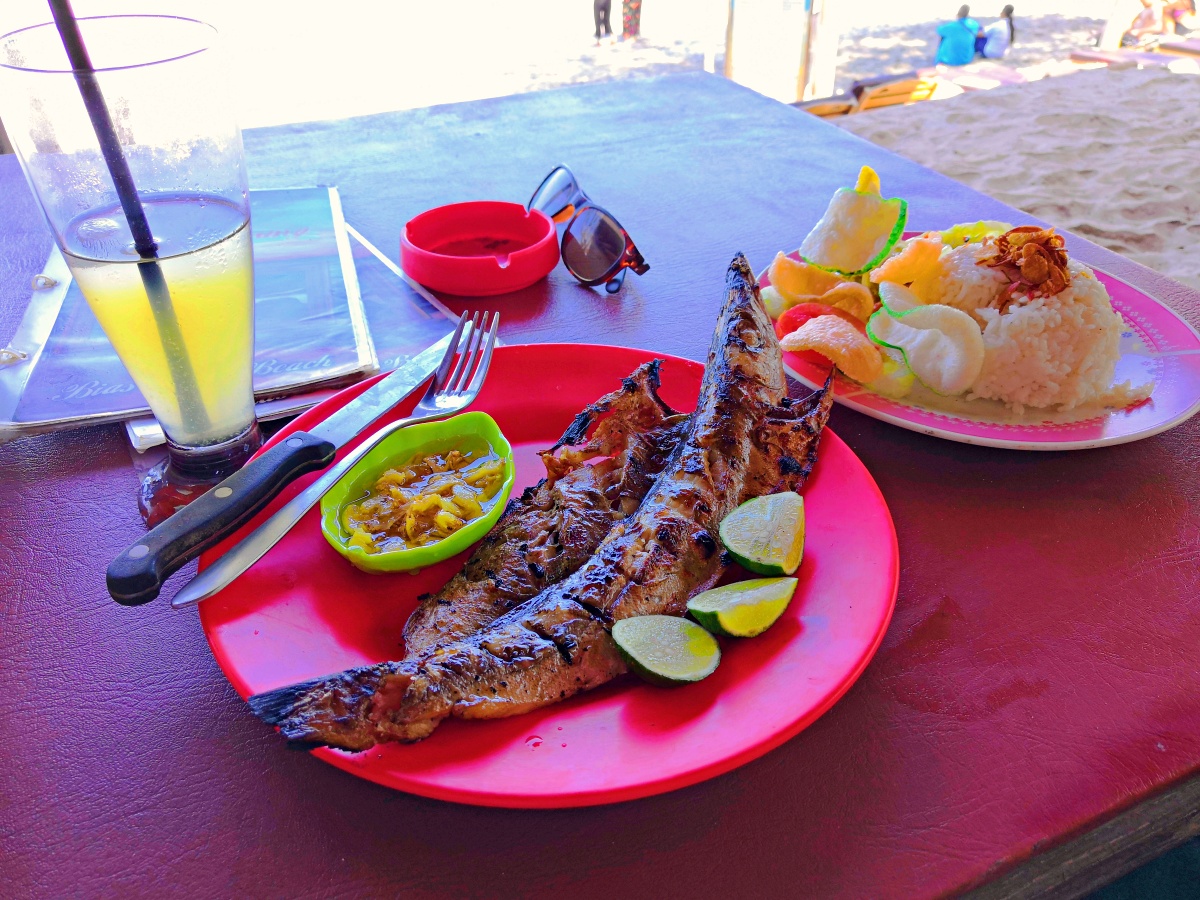 Don't expect to have wine in a secluded place like Bias Tugel Beach. Because there aren't any vendors selling the drink. As a replacement, beers are abundant. For beers, pay Rp25.000-Rp40.000 per bottle. It all depends on the beer size. As for a bottled cold drinks option and fruit juices, the price doesn't surpass Rp20.000.
See: Guide To Explore Taman Ujung Water Palace & Entrance Ticket.
Facilities
As a secluded spot as it is, no wonder the facilities aren't top-notch. The toilets aren't good ones but are still functional. The water used is seawater, with no tap water available. Several food sellers have a nice price. Not even cost Rp100.000 for a complete meal with a drink. The downside is the parking lot. There isn't any specific lot for vehicles. So, locals let the vehicle line on the road.
Fortunately, this doesn't get the road blocked. Since there aren't many visitors coming. Beach beds and umbrellas are quite many. The ones renting these are the food sellers. Simply ask them for it, pay, and use the bed. Lastly, Mushola for Muslims isn't available here.
See: Indonesia SIM Card Guide, Price & Provider.
How To Get To Bias Tugel Beach
From Denpasar, the distance is around 45 km to the northeast. By far, the most convenient vehicle to use is a car. So, comfort-wise, renting a car or hailing one through an application is recommended. But, the latter choice is not worth the price (Rp170.000-Rp190.000 one-way, while renting a car can cost Rp400.000 or more per day). Highlight that finding a ride-hail car from the beach is quite hard.
Tourists coming from Denpasar only reach Padangbai to take a ferry to Lombok or Nusa Penida. The trip takes around 75-90 minutes without any traffic jams. As for tourists staying in Candidasa, the beach is located only 14 km. It's just 30 minutes ride.
And there isn't public transportation to get here. The beach isn't too far from the Padangbai harbor – around 2 km. Once reaching the ticket counter, visitors have to do a short trek to reach the beach.
See: Bali Airport Guide, Airport Transfer & Public Transport.
Address & Location
Bias Tugel Beach located in Jl. Pantai Bias Tugel Padangbai, Kec. Manggis, Karangasem, Bali 80871.