Gembira Loka Zoo
Entrance Fee: Rp60.000 - Rp75.000
Opening Hours: 07:30 - 17:30 WIB
Telp. Number: 0274-373861
Address: Jl. Kebun Raya No.2, Rejowinangun , Kotagede , Yogyakarta , Daerah Istimewa Yogyakarta , Indonesia , 55171.
Amidst the plethora of beaches and various cultural sites in Yogyakarta. Tourists should not opt out of a classic visit to the local zoo Gembira Loka zoo. The one and only zoo in the province is nothing but a treat to see Indonesian fauna. Gembira Loka zoo traces back its history since 1933. Making it one of the oldest zoos in Indonesia.
The zoo occupies a 20-hectare area in Rejowinangun, Yogyakarta. Foundation was initiated by Yogyakarta's Sri Sultan VIII, with the help of Dutch architect Karsten. Among the first collection were tigers. They were captured by villagers from Mount Merapi forest.
Now the zoo has a collection of 470 species of animals. Many of which are the most popular and protected Indonesian species. These animals include Komodo Dragons, Gibbons, Orang Utan, and Indonesian tropical birds.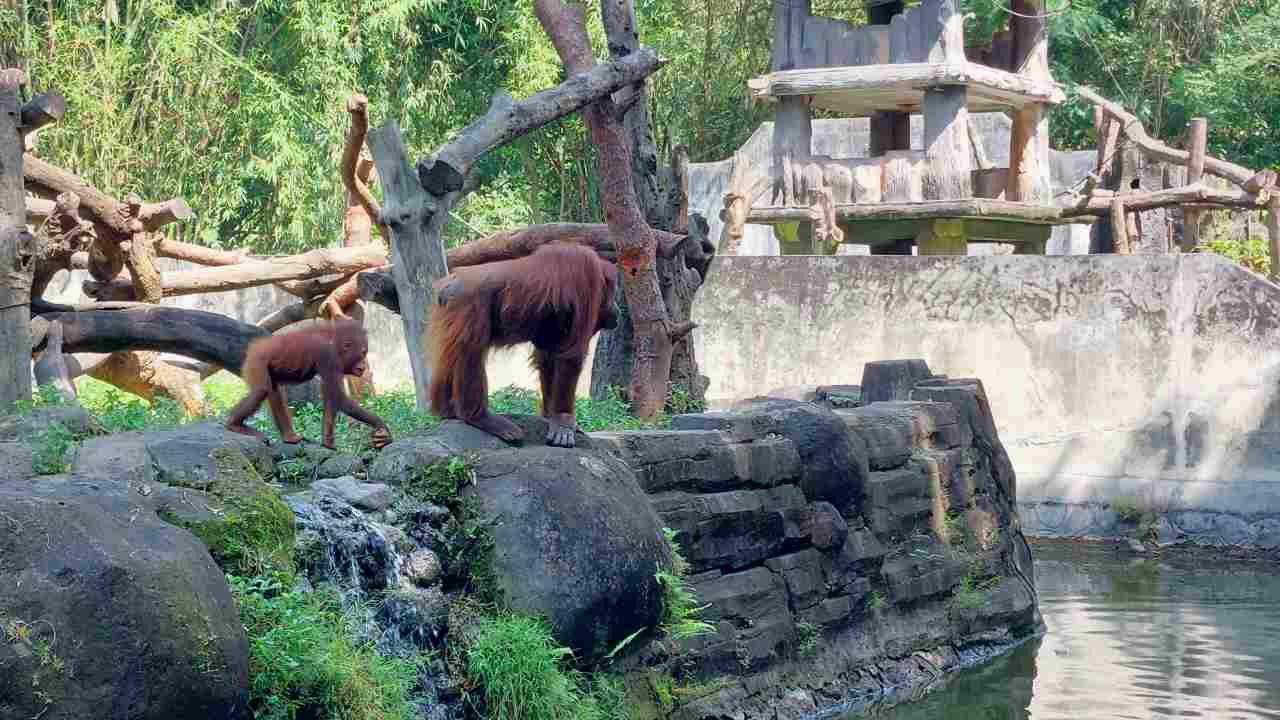 And there was a time when the zoo is severely devastated due to the earthquake in 2006. Since then a total renovation has been made to improve visitors' experience. The management adds several new attractions including a Bird Park and Reptile Park. In addition to that, the hippo and flamingos from other countries are becoming part of the zoo too.
Uncage Animals in Gembira Loka Zoo
It's past time for a zoo to only put the animals behind cages. Tourists crave interactions with animals and Gembira Loka zoo gets it. At this zoo, get close to various animals, from fluffy rabbits to an intimidating python. There is a petting area for pet animals, like sheep, goats, and rabbits.
In the reptile park, visitors can hold iguanas, turtles, and some species of non-poisonous snakes. Tourists can ride animals such as camels and elephants. The camel enclosure is built in a middle eastern style complete with a pyramid.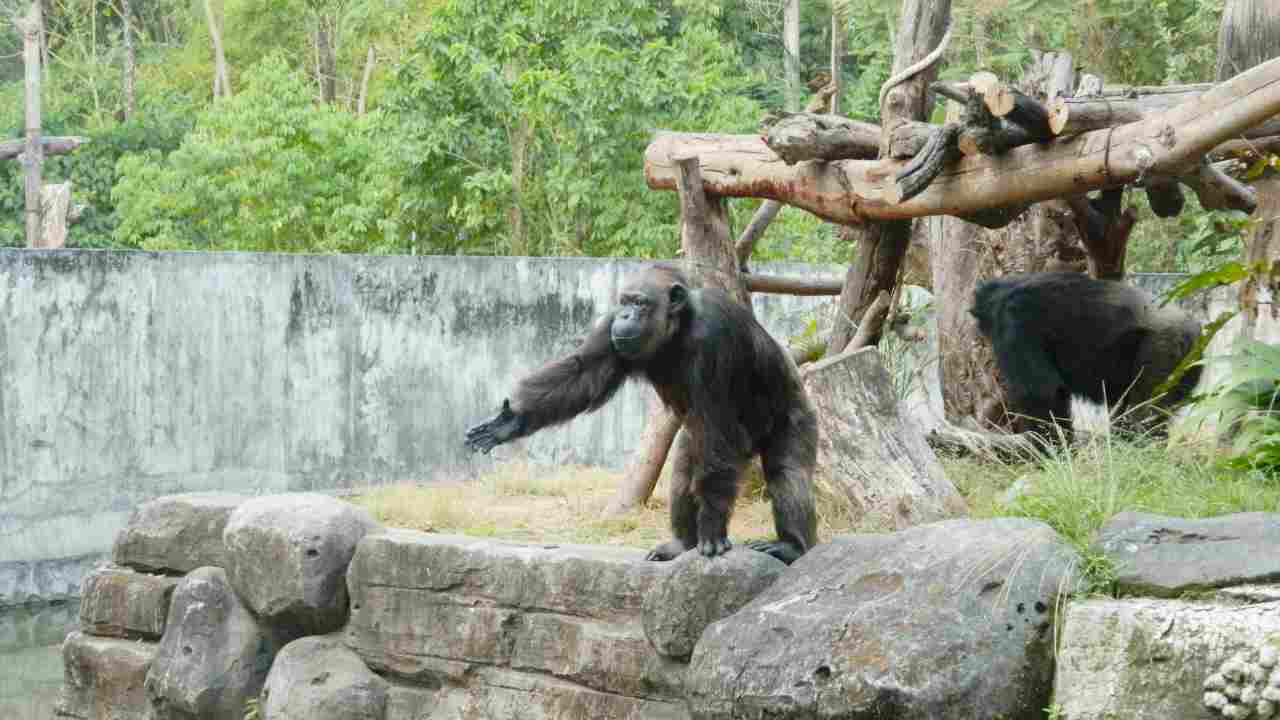 This is very convenient for everyone planning to trick friends and family at home. Drive them into thinking it's Egypt instead of Indonesia. When riding these animals, please be gentle with them.
Gembira Loka Zoo Feeding Time
Take note of the feeding schedule. Because several animals don't mind having some audience while they eat. Get to know what's the diet of snakes, giant arapaima, and black cormorant birds for their lunch.
Watch chimpanzees as the mammals munch a stack of delicious sweet fruits. Tigers and elephants prefer no audience while they're eating. But on Sundays, they make an exception.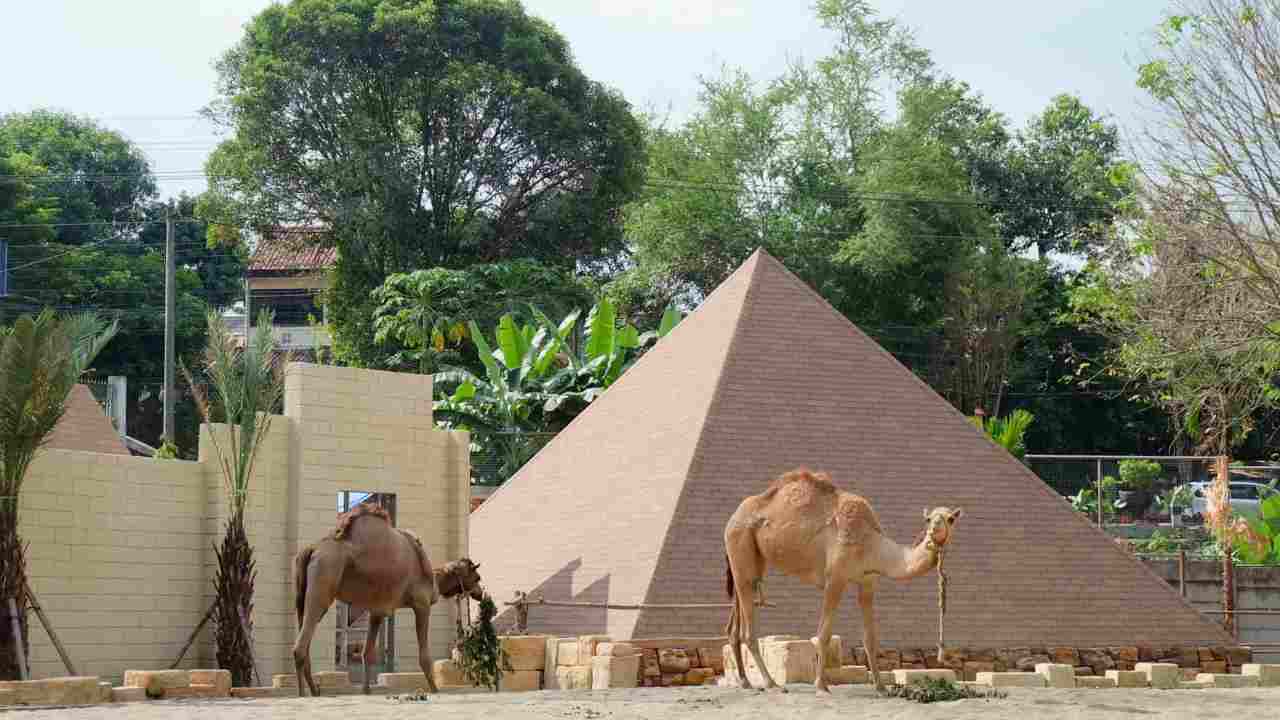 Bird Show
Javan eagle sightings are getting rare. Unless someone ventures deep into whatever is left of the forest on Java Island. At Gembira Loka Zoo, the caretaker will put prey on one hand for the eagle to catch. Watch as the magnificent bird swoops down, eyes straight on the prey.
This is the closest someone could get to observing the bird's behavior just like in its natural habitat. Other birds on the show include the sea eagle, owl, and the yellow-crested cockatoo.
Rides and Entertainment
After animals, it's time to have a theme-park style of fun. Gembira Loka zoo has more than enough rides promising hours of excitement. For starters, take a ride on Katamaran Boat. The 40-seater watercraft will take visitors to enjoy the scenery around Gembira Loka's artificial Lake.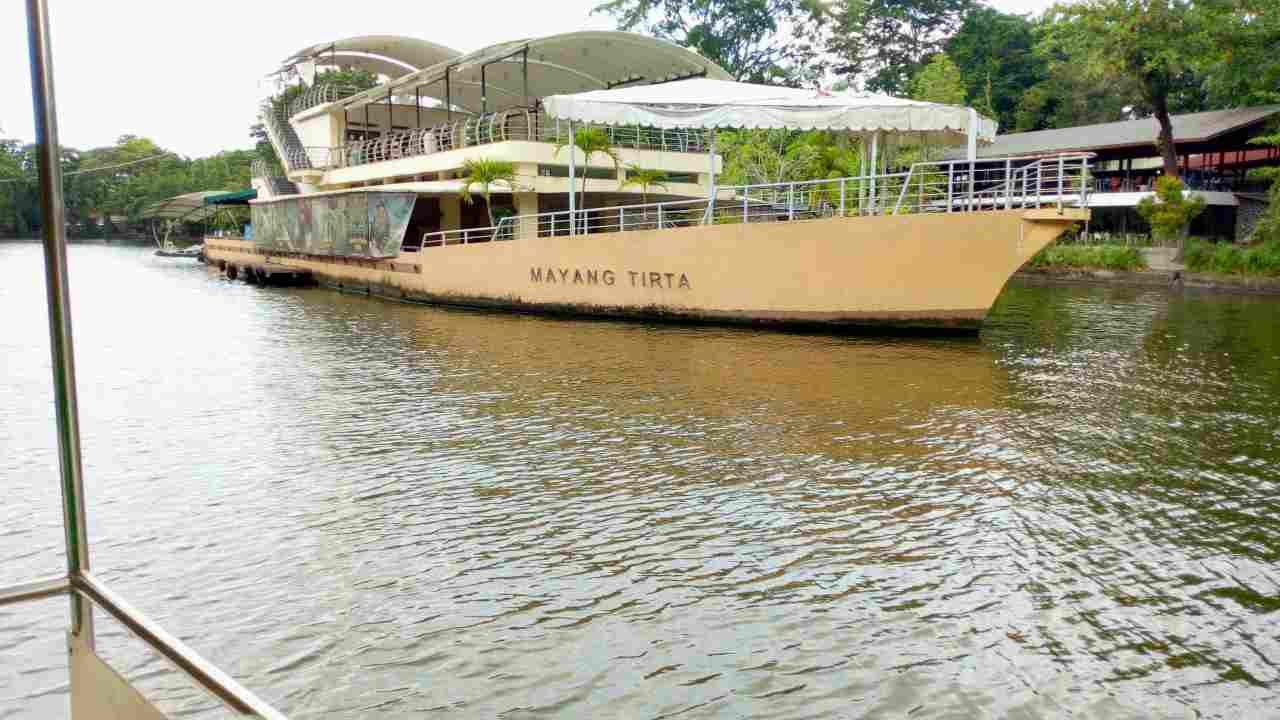 After that, have wild fun crashing into each other with bumper boats. Bumper boats are like bumper cars, only on water. Visitors can rent a jet ski at this zoo. The only place to do so without having to drive hours to Yogyakarta's southern sea.
And last, for something relaxing and calm, rent a water bike and pedal idly around the lake. There's a large ship-like structure in the middle, called Tirta Mayang. Occasionally, there are music performances here.
See: Jogjakarta Top Beaches List To Visit & Entrance Ticket.
Arboretum Gembira Loka Zoo Mini Jungle
Gembira Loka's Arboretum is like an oasis among the man-made structures at the zoo. The preservation area is planted purposely. However, the lushness of it will make anyone believe it's a real tropical forest. Trees are high and imposing, with vines creeping on their trunks and branches. Go up to the viewing tower to enjoy a 360-degree view of this mini jungle.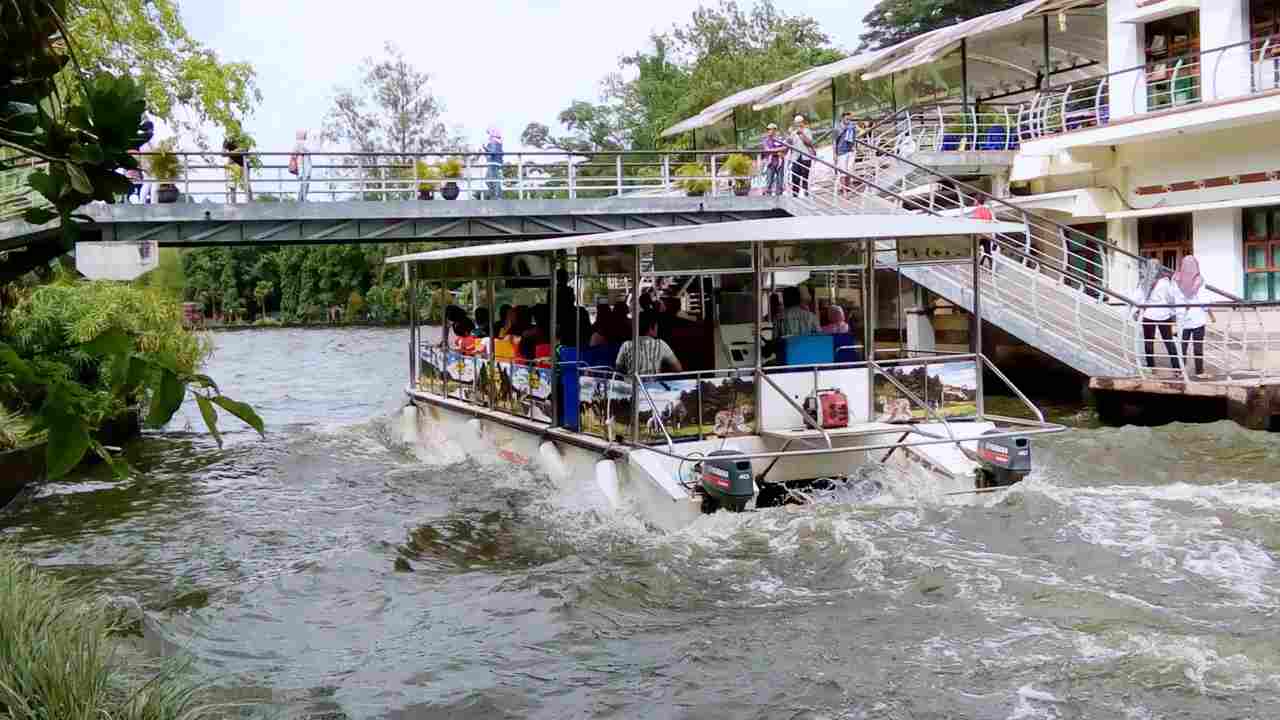 Gembira Loka Zoo Opening Hours
Gembira Loka Zoo opens from 9 AM to 3 PM on weekdays. While on weekends, it opens early from 8:30 AM to 4 PM. The zoo also opens on a national holiday. Avoid weekend or summer school holidays from June to July. It's the peak month with children and family flooding the site. The best time to visit the zoo is early in the morning.
Gembira Loka Zoo Opening Hours
Monday – Friday
09:00 – 15:00
Saturday – Sunday
08:30 – 16:00
Nearby: Yogyakarta Palace (Kraton Jogja) & Performance Schedule.
Gembira Loka Zoo Entrance Fee
The entrance ticket to explore Gembira Loka Zoo is Rp60.000 on weekdays. On weekends and national holidays costs Rp75.000. Some rides require visitors to buy a separate additional ticket and it starts cost from Rp8.000/ride.
Gembira Loka Zoo Entrance Fee
Weekday
Rp60.000
Weekend
Rp75.000
Rides
Zoo Express
Rp10.000
Ninebot
Rp20.000
ATV
Rp20.000
Taring rides
Rp8.000
Fish therapy
Rp20.000
Bumper boat
Paddleboat
Catching Pool
Katamaran boat
Boat
Nearby: Taman Sari Water Castle, Activities & Entrance Ticket.
Feeding & Show Schedule
Check out the schedule of feeding time and other shows. The feeding & show starts as early as 10 AM and every day. Except for the tiger and elephant show.
Gembira Loka Zoo Feeding & Show Schedule
Presentation & Animal Education (bird, bear, orangutan)
Mon-Fri : 11:00 & 13.00 Saturday : 11:00, 12:00, 13:00 & 14:00 / Sunday & national holiday : 10:00,  11:00, 12:00, 13:00, 14:00, & 15:00
Bird show
10:30 & 12:30
Feeding Time
Simpanse : 10:30, Arapaima 11:00, Snake 11:30, Cormorant Bird : 10:30 & 13:00,
Harimau Feeding Time
Sunday & Holiday 12:00
Elephant Show
Sunday & Holiday 10:00
Nearby: Guide To Explore Jogja Beringharjo Market & Street Food.
Facilities
The central service is where all the facilities are. This is where the toilets, bathrooms, and nursery room is located. Free internet access is provided at some spots throughout the zoo. Visitors can get the Wi-Fi password at the ticket counter.
There are also facilities for visitors with disabilities (toilets, wheelchairs, disability-friendly roads). As for food, there are plenty of food vendors and restaurants inside and just outside the premises.
See: Public Transportation Guide New Yogyakarta International Airport.
How To Get To Gembira Loka Zoo
Gembira Loka Zoo is very easy to access from any point in Yogyakarta. With the public bus service TransJogja. Visitors coming from Adisucipto Airport can take Bus Route 2A and get off at Kusumanegara (Gembira Loka) bus stop.
Visitors coming from Tugu Train Station can take Bus Route 1B to the location, stopping at the same bus stop. A TransJogja bus ticket is very cheap at Rp3.500 for every trip.
See: Prepaid SIM Card Price, Provider & Internet Package.
Address & Location
The zoo is located in Jl. Kebun Raya No 2. Rejowinangun, Kotagede, Yogyakarta 55171.