Krakal beach
Entrance Fee: Rp10.000
Opening Hours: Open 24 Hours
Telp. Number: -
Address: Jl. Pantai Krakal, Ngestirejo, Tanjungsari, Gunung Kidul, Yogyakarta , Indonesia , 55881.
Yogyakarta is the second most visited city in Indonesia after Bali. And like Bali, Yogya also boasts exotic beaches that line up along the south coast in the Gunungkidul region. Many people frequent Krakal Beach in the dry season, the white sandy beach with giant rocks adorning the coast.
Sitting about 3 km away at the east of Baron cove and Kukup beach, the beach adds to the recommended destination in the beachgoers' bucket list. The beach stretches 5 kilometers in length making it the longest beach in Ngestirejo Village, Tanjungsari regency, Yogyakarta.
And besides those extraordinary allures, Krakal Beach is also home to colorful fishes and heaven that provides abundant marine products for its population.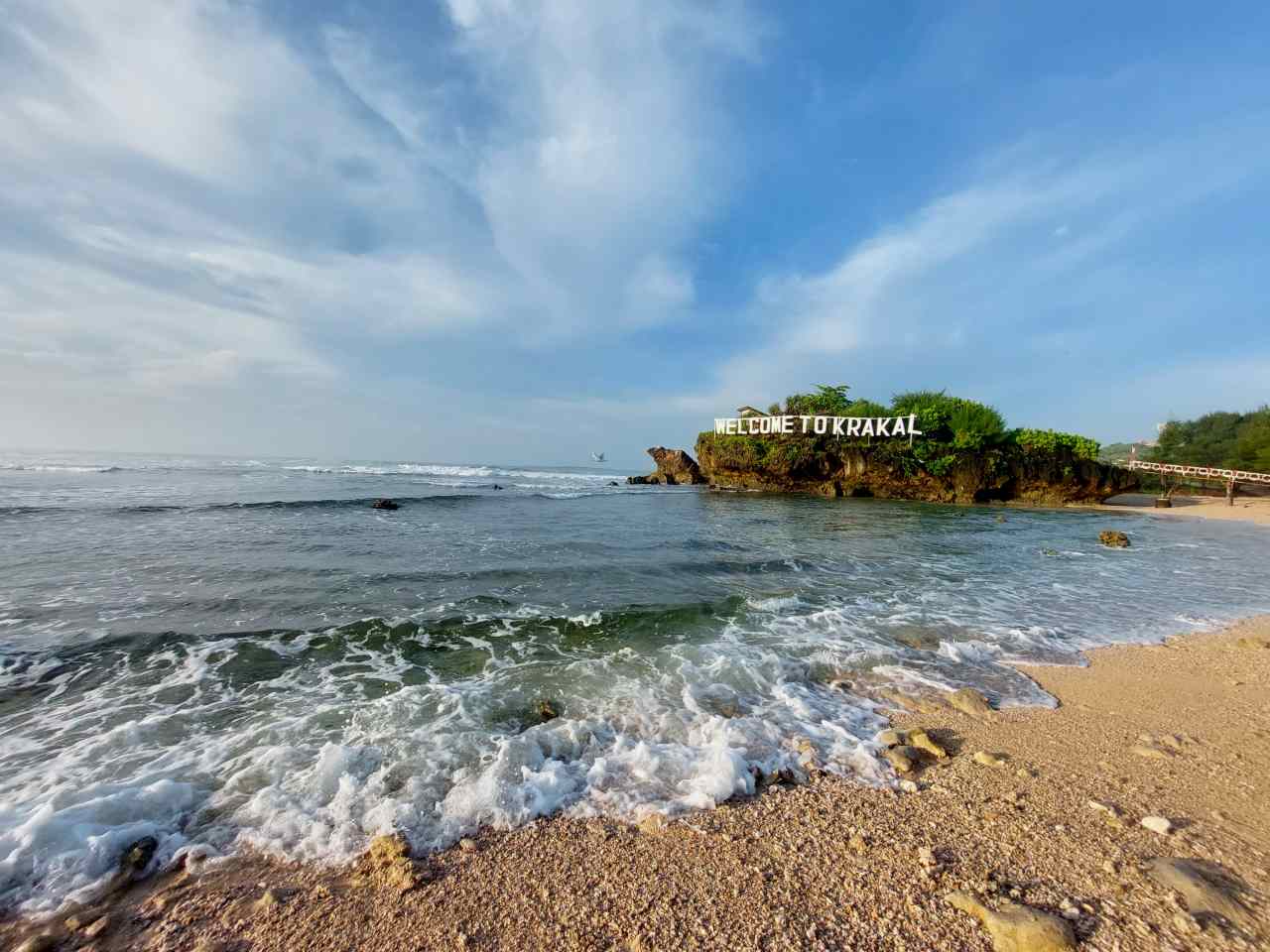 Krakal Beach the Evolved Seabed
Krakal is a karst beach that came into existence due to a long natural process. A very slow geological uplifting of the earth's crust caused the seabed to emerge and formed the beach. The process resulted in not only an enchanting seashore but also a mixture of other astonishing landscapes.
Some of the corals popped high enough to form a pathway from the beach to offshore. Most visitors like to go further to the sea on it and have a different point of view of the beach. But don't forget to put on footwear and sunscreen on exposed body parts.
Krakal Beach Icons
Krakal means gravel in Javanese, which gives a perfect description of the beach. Most of the shoreline is full of small coral that spread some meters to the sea. The coral reefs are home to colorful fishes. With slope topography, children are safe to play on the sand and explore the corals.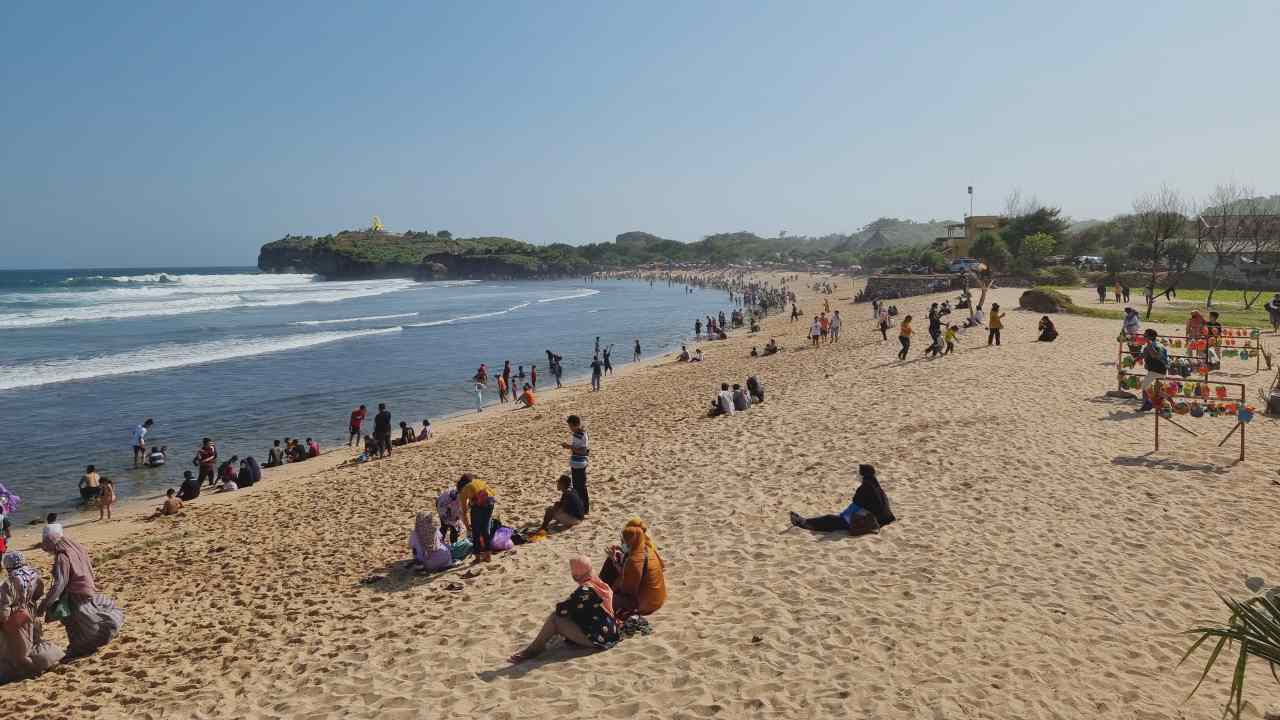 Some fishermen sit on the rocks with the fishing rod in hand. Some go diving to find umbal that stick on the rock. The animal is the main ingredient for a local delicacy, rempeyek umbal. Those are some of the local's activities tourists will find on Krakal Beach.
Two enormous karst rocks stand on the west and east sides forming the hills that face the sea. The black color protrudes from the white sand, giving a contrasting mixture. And a green layer of various plants on top of the rocks.
People coming here even like to hike the hill to get the perfect vantage point of the overall beach scenery. This spot is also perfect to view sunset and sunrise as both give beautiful colors to the sky. There is a fish monument on one of the hills people love to pose there for photographs.
Watersports
Krakal beach has extensive and diverse marine biota in shallow water. It is a perfect and safe snorkeling spot for everyone. Damselfish, butterfly fish, and other schools of ornamental fishes are among other species here.
Snorkeling gears rent cost Rp50,000 available at the stalls along the beach. Guards will watch all activities but everyone should beware of jellyfish, sea urchins, and of course the corals on the seabed.
Many surfers go to Krakal Beach for having quite challenging reef break waves. The surfing spot is on the line of rocks offshore and barrels occur in the dry season from March to September. Surfers should bring the gear since there is no rental providing surfboards.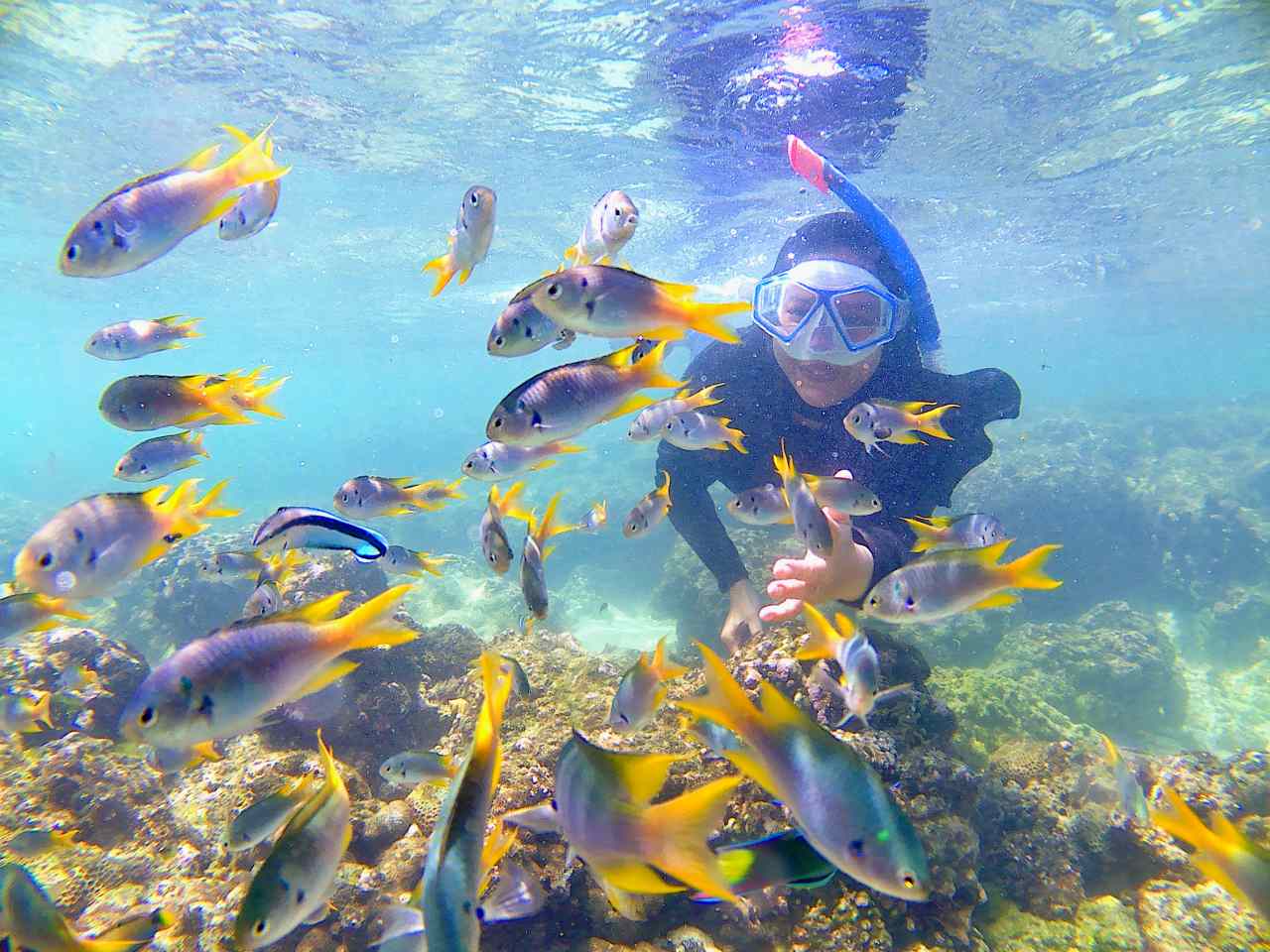 Stalls, Restaurants, and Lodgings
Krakal Beach has local delicacies such as crunchy cracklings rempeyek umbal and fried seaweed. The two snacks are sold as souvenirs at Rp15,000 per 500 grams. Other souvenirs such as T-shirts and various crafts are sold at the stalls at inexpensive prices.
When meal time comes, warungs and stalls are ready to serve tourists' needs. Customers can choose many kinds of fish, prawn, squid, lobster, or crab, roasted, fried, or cooked as a soup or with sauces. The price starts at Rp70,000 per kilogram.
Available drinks are iced tea, orange, milk, coffee, soft drinks, and coconut which are sold from Rp5,000 to Rp15,000. Family packages range from Rp120,000 to Rp175,000 depends on how many portions of seafood. The prices earn customers 1 bowl of rice, sambal, fresh vegetables (lalapan), sautéed watercress, and 1-4 kinds of seafood for 4-5 people.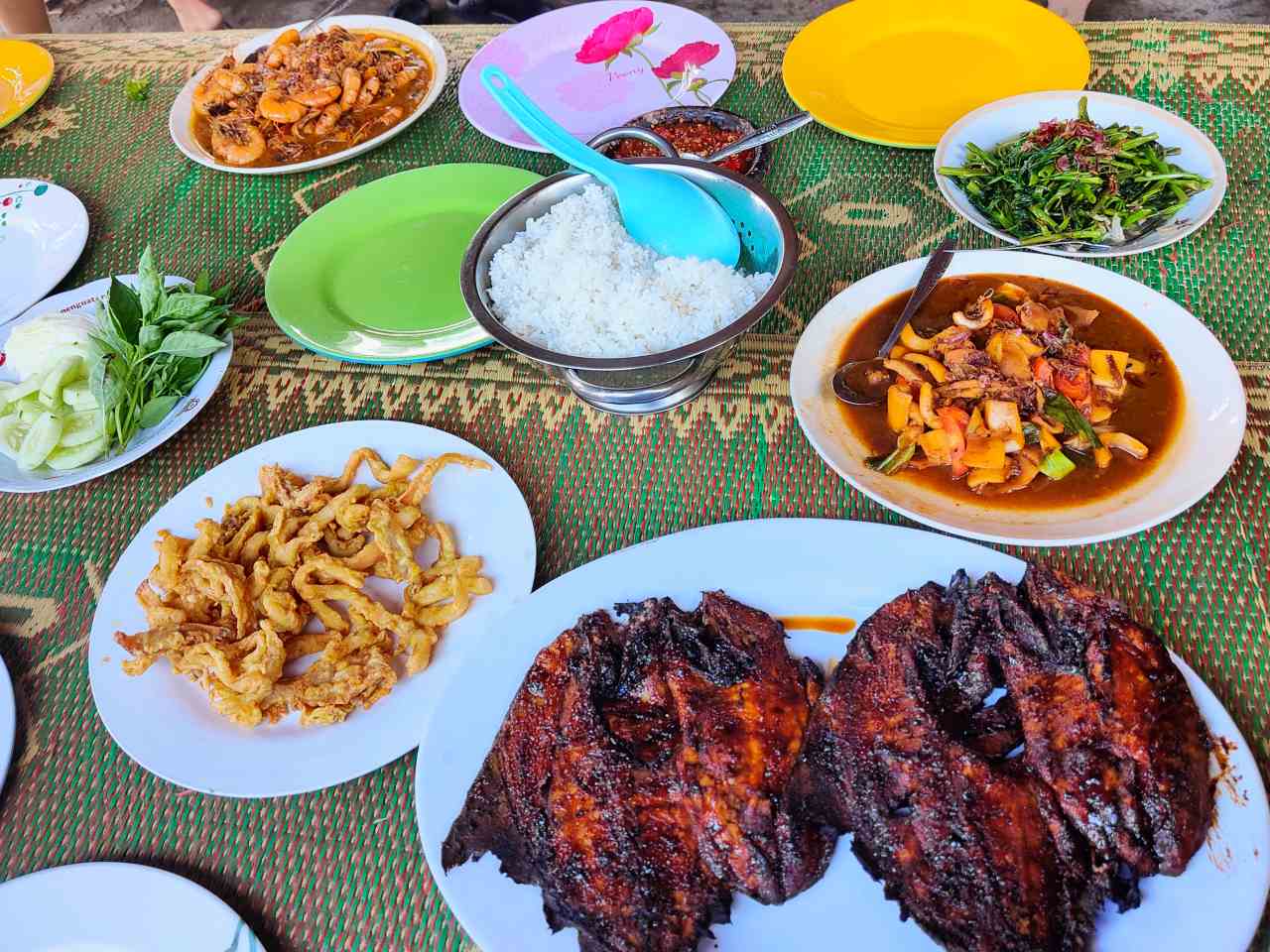 There are also many lodgings with beach views. The price starts from Rp250,000 for 2 people, air conditioner, TV, toilet, and wi-fi, excluding breakfast.
See: Guide To Explore Timang Beach, Gondola & Bridge Tickets.
Krakal Beach Opening Hours
The beach has no closing hours, however, it's best to leave after sunset. Unlike other nearby beaches, it could get really dark on the beach after sunset. Some of the restaurant's last order is at 5 PM, while some are open until 9 PM. The best time to visit Krakal beach is on weekdays. It will be less crowded for visitors who like a quiet atmosphere at the beach. On holidays such as year-end, school holidays, and Eid al-Fithr, there will be more crowded as families will have a vacation here.
Krakal Beach Opening Hours
Every day
Open 24 Hours
See: Guide To Explore Sundak Beach & Top Things To Do. 
Krakal Beach Entrance Fee
The entrance fee to this beautiful and some other adjacent beaches is Rp10,000. In addition to entrance tickets, visitors will also have to pay between Rp3,000 to Rp5,000 for the parking fee.
Krakal Beach Entrance Fee
Ticket
Rp10,000
Nearby: Indrayanti Beach Attraction & Seafood Restaurant Guide.
Facilities
Krakal beach has complete facilities such as a parking lot, toilet, warungs and stalls, lodging, gazebo, mat and tent rentals, snorkeling gear rentals, and photographers. Parking costs Rp3,000 for the scooter and Rp5,000 for cars. Gazebo and mat rent cost Rp30,000. Tourists can ask the photographer's help to take photograph and print it for Rp10,000/pcs.
See: Tourists SIM Card, Internet Package Price & Where To Buy.
How To Get To Krakal Beach
Krakal Beach is 65 km from the center of Yogyakarta. Take Jl. Imogiri Barat, Jl. Imogiri Siluk, Jl. Siluk Panggang, Jln Panggang Wonosari, and Jl. Pantai Selatan Jawa to Jl. Pantai Krakal. Turn right onto Jl. Pantai Krakal.
There is Damri Bus that serves the passengers from Yogya to Baron Beach. The fare is Rp. 20,000 but Krakal is about 8 km away to the east with no further public transportation. So renting a vehicle is the best option. A car with a driver cost tourists Rp500,000 for 4 passengers/day. A scooter costs Rp65,000 for a day's rent, including 2 helmets for 2 passengers.
See: Yogyakarta International Airport Guide & Public Transportations.
Address & Location
Krakal beach is located in Jl. Pantai Krakal, Ngestirejo, Tanjungsari, Gunung Kidul, Yogyakarta 55881.