Nungnung Waterfall
Entrance Fee: Rp20.000
Opening Hours: 08:00 - 16:00
Telp. Number: -
Address: Desa Plaga , Belok, Petang, Badung, Bali , Indonesia , 80353.
There is more to Bali than trendy cafés, beach clubs, and diving sites. Among many other must-visit places in Bali. Nungnung Waterfall offers a peaceful getaway for travelers who are willing to explore. The waterfall sits 900 meters above sea level and is 1 hour away from central Ubud.
The local gives the waterfall name after its own tranquil village Nungnung. And dubbed it as one of the most beautiful waterfalls on the island. Standing 50 meters high, Nungnung Waterfall is claimed as the highest waterfall on the island.
The local government started promoting the waterfall in 1996. And it has not stopped ever since. It is continuously improved to welcome more visitors to the site. Surprisingly, the waterfall is well known for its beauty among international tourists first. Compare to other waterfalls on the island, Nungnung Waterfall is not too crowded. As they don't get too much credit on social media.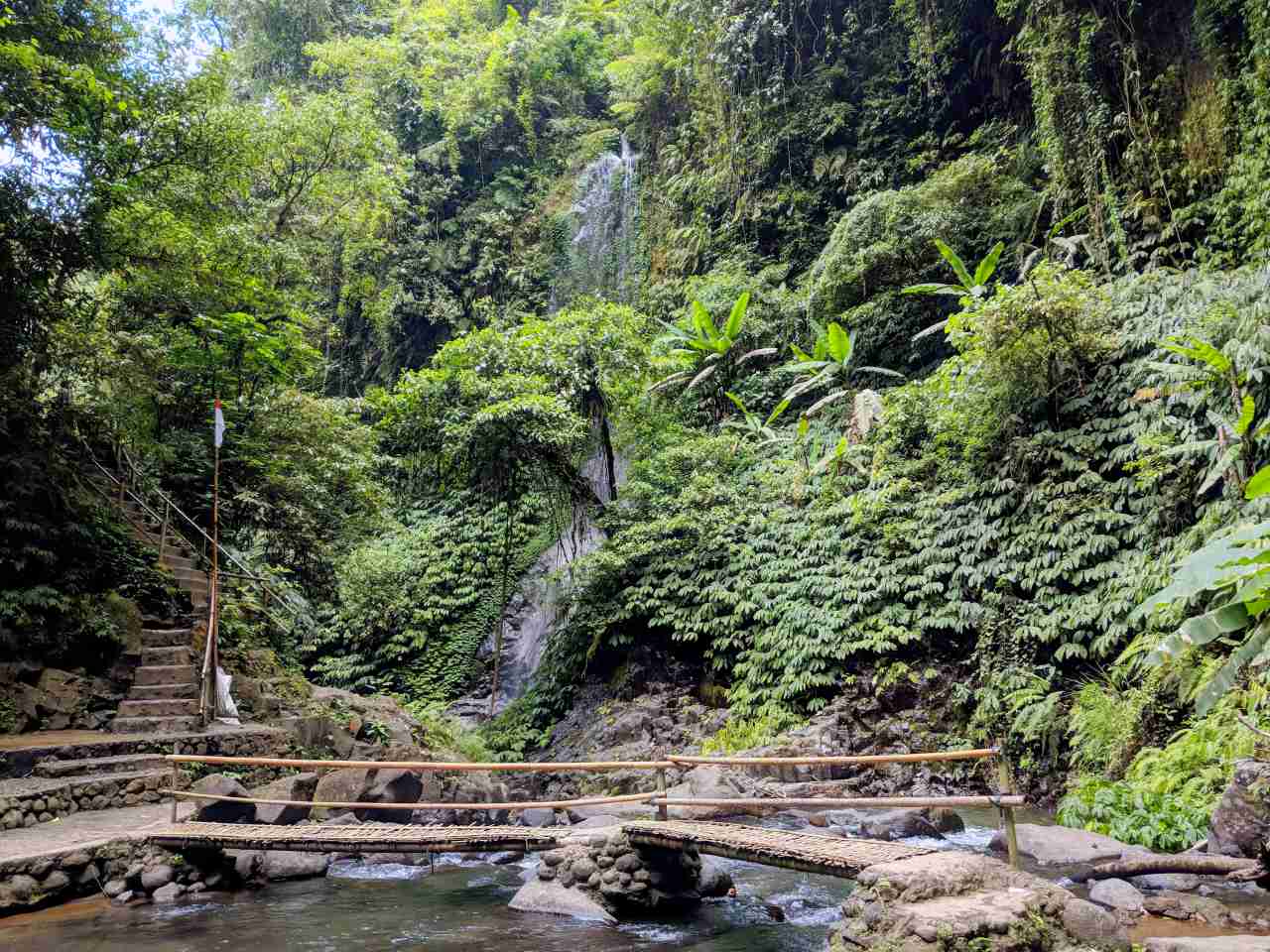 Nungnung Waterfall Entrance Fee
The entrance fee to explore the waterfall for international tourists is Rp 20.000. A small price to pay in return for the magnificent beauty of nature. The entrance ticket however doesn't include the parking fee both for motorcycles and cars.
Nungnung Waterfall Entrance Fee
International visitor
Rp20.000
Parking Fee motorcycle
Rp2.000
See: Sangeh Monkey Forest, Activities & Entrance Fee.
Nungnung Waterfall Opening Hours
This waterfall is open from 8 AM to 4 PM. The best time to visit Nungnung waterfall is early morning for an enjoyable day trip. Spend 3 hours or more in the waterfall to thoroughly appreciate the captivating nature.
Nungnung Waterfall Opening Hours
Every day
08:00 – 16:00
See: Bali Botanic Garden, Top Things To Do & Entrance Ticket.
Nungnung Waterfall Trek
Indulge the eyes with amazing views as tourists drive into the Nungnung waterfall. Rice paddy fields of Tegalalang and beautiful green valleys are waving on the side of the road. This waterfall is hiding beyond the infamous Jembatan Tukad Bangkung. One hour and a half drive to the waterfall will feel like a breeze to travelers.
Be prepared for the challenge visitors have to conquer. Nungnung waterfall is 400 meters away from the entrance gate. In fact, to reach the fall, there are 500 concrete steps down through the lush green vegetation. The sound of water crashing into the refreshing pool can be heard from afar.
It is truly a rejuvenating trip for adventurous explorers. Fall from 50 meters high, Nungnung waterfall offers a cool pool water sensation. It sends a strong shocking vibe to a body after walking down hundreds of stairs. The bamboo bridge near the fall just adds up to a little forest landscape.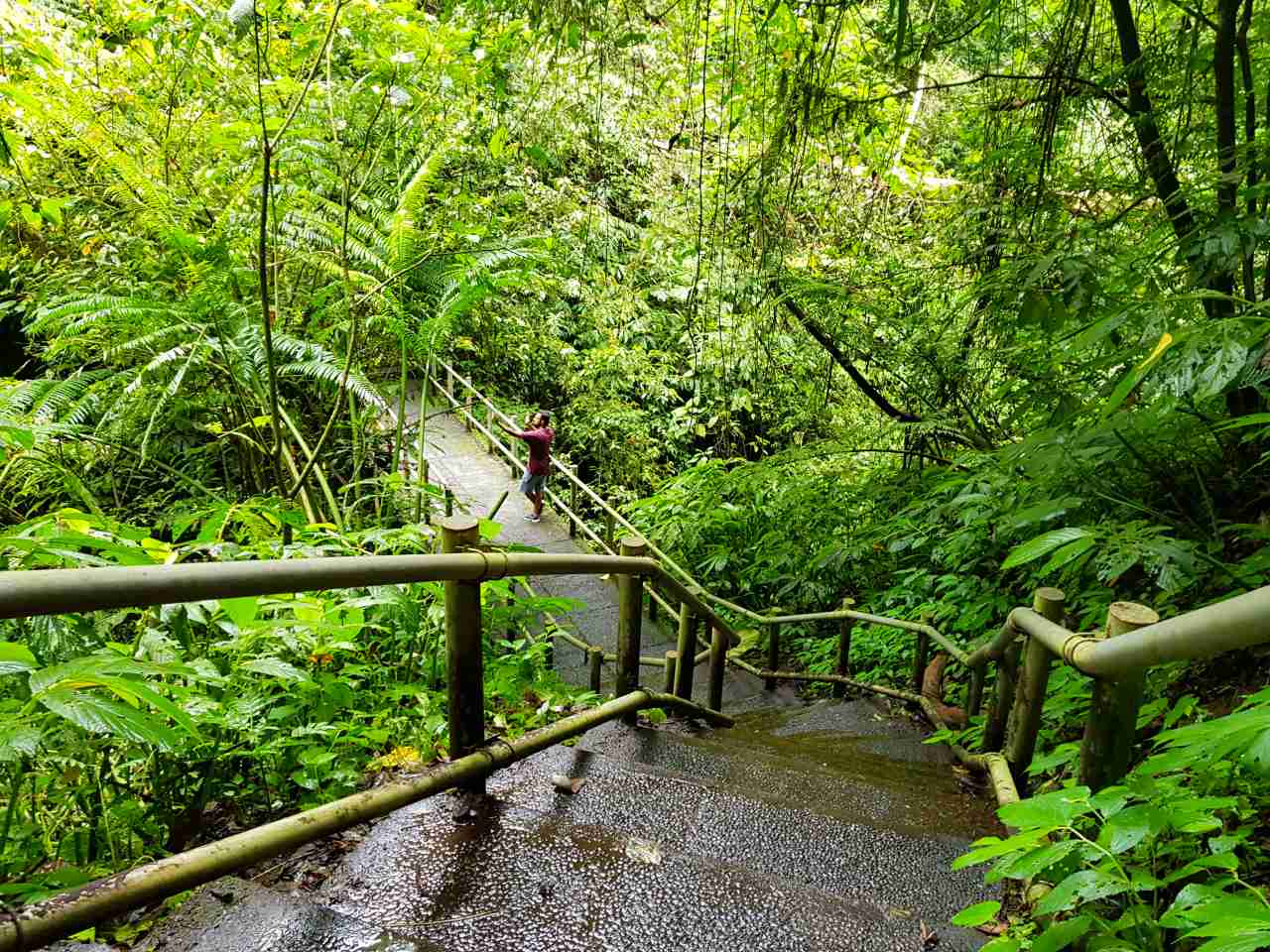 Magnificent Landscape
Amidst the stunning and diverse floras. The mystical charm of the Nungnung waterfall is something not to be missed. Need a souvenir to bring home and to show to the family? A picture of a crystal-clear cascade and charming greenery is the best kind of souvenir.
Whilst it's hard to be early during vacation. Nungnung waterfall is best captured early in the morning. At least before the sun climbs up the rock. Don't forget to bring a dry bag and a towel. There is no locker or changing room near the waterfall.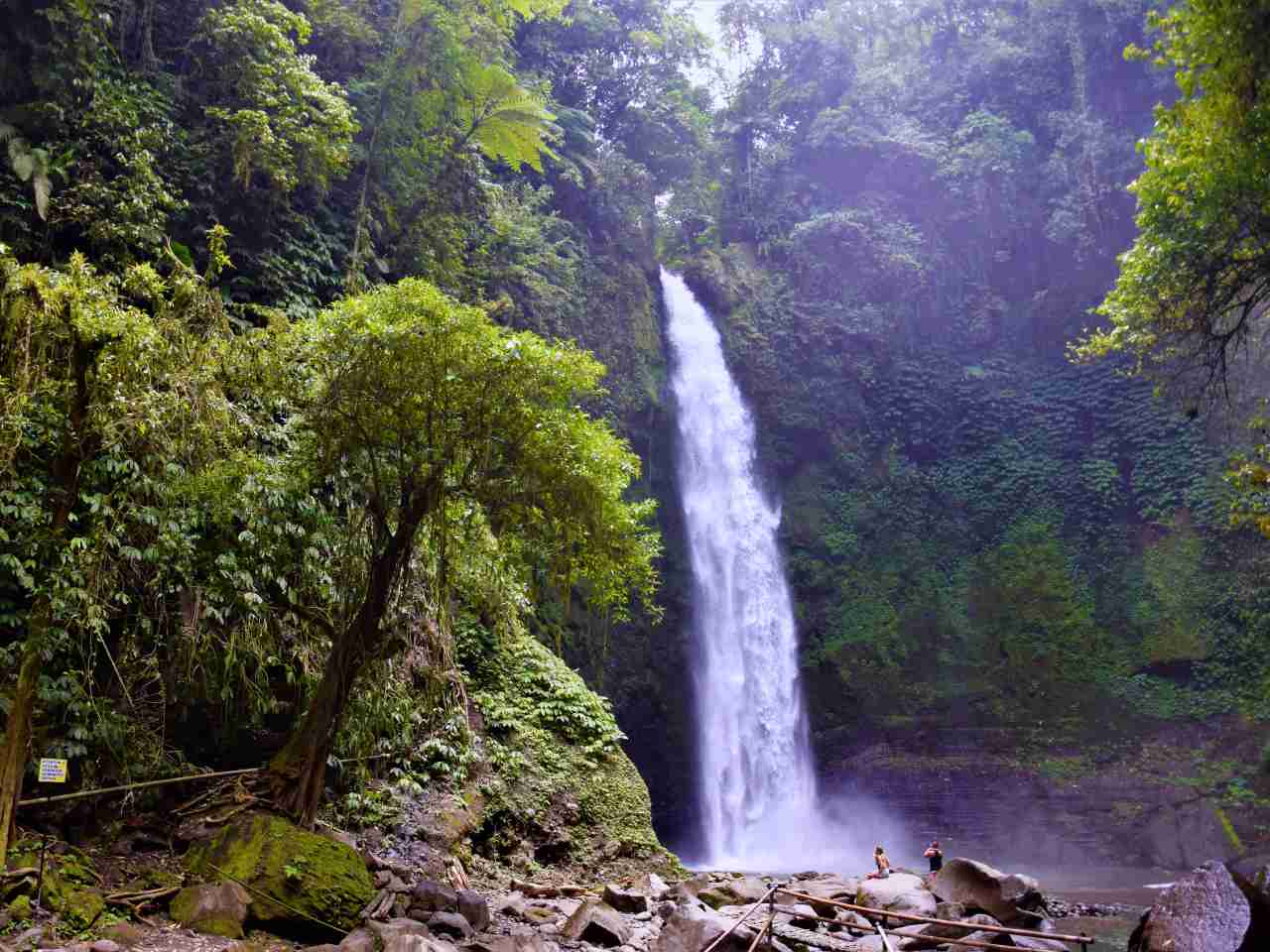 Swimming or Dipping
Even though the waterfall stream is quite tense. There is no restriction for visitors to swim. Besides the natural pool below the water cascade is not deep. On the other hand, for the best experience, check the weather forecast before heading here. To point out, to get clear crystal water, come here if the weather is sunny on the previous day.
Finally, even if Nungnung Waterfall is the best one on the island. It's not for everyone's feet. The stairs are slippery with moss covering some concrete stone. Besides the elevation is quite steep, both going up and going down. It's not kids friendly and quite challenging even for fit people.
See: Guide To Visit Ulun Danu Bratan Temple & Entrance Ticket.
Swing Attraction
Feeling like swinging in nature or relaxing while sipping on a cup of coffee. A nearby place calls Bali Jhon Swing is a great place to hang out. This place offers a wide range of tea flavors and authentic Luwak coffee. From coconut coffee to lemongrass tea, the little hut has many things for tourists to enjoy a tasting experience.
The so-called little amusement park also has another activity offered. For some, swinging might sound a little childish, but here it doesn't count. This swing is overlooking a greenish valley landscape with coconut trees on the side. Safety is the provider's number one priority. Harness and helmets are prepared for tourists to ensure their safety. For Rp250.000, feel the adrenaline rush and get as many picturesque photos while swinging.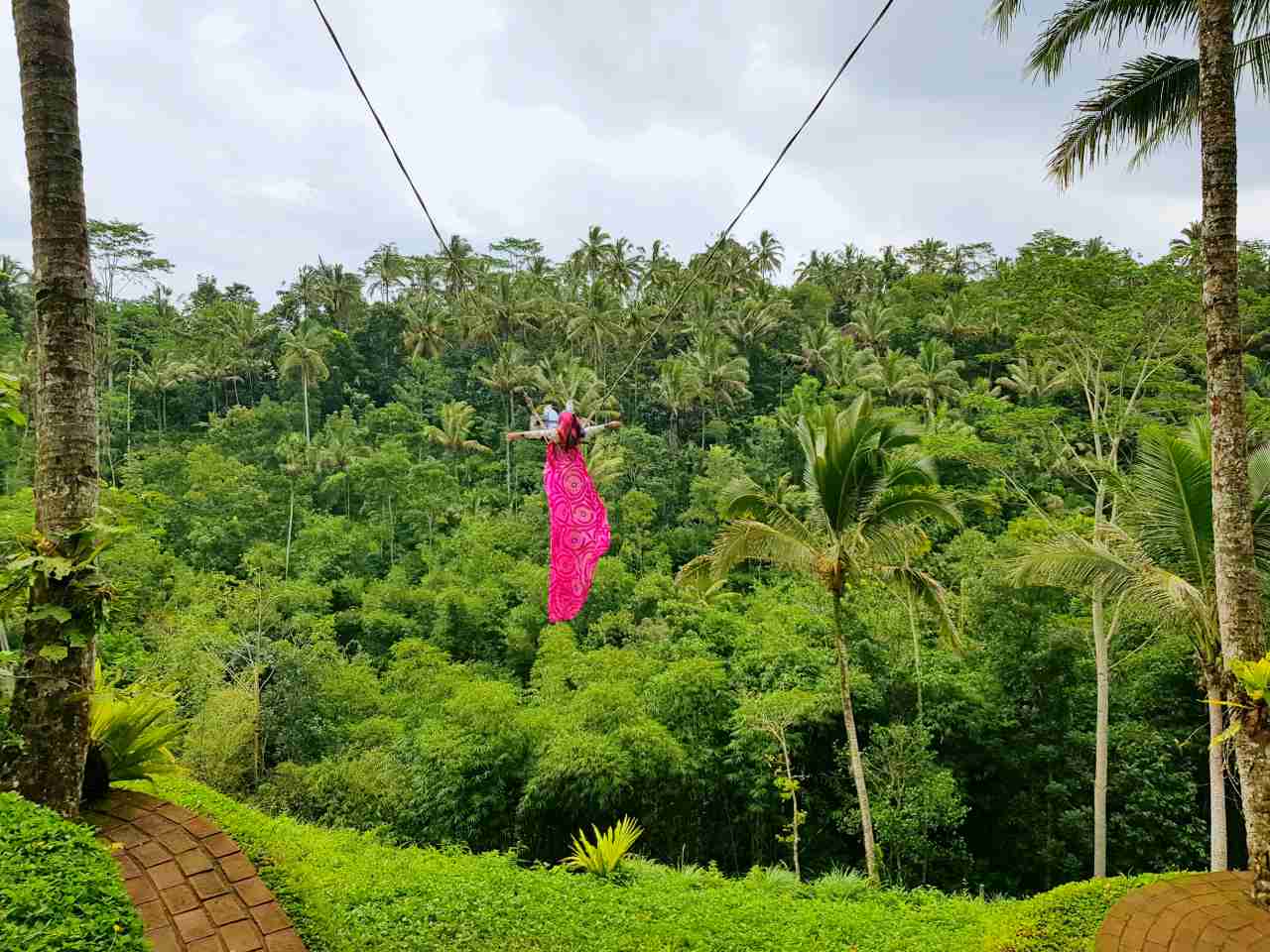 Facilities
Nungnung waterfall's surrounding area is still very natural. Therefore, changing rooms near the waterfall is not available. However, there is a small gazebo and paid toilets available in the parking area. Prepare small notes of Rp2.000 for the parking fee and for using the toilet. A huge space for parking is available at the entrance and so does a small shop.
Bring enough water or buy one before descending hundreds of stairs. There is no other shop selling water below. The path getting to the waterfall is rocky concrete with handrails on their sides. To point out, it's slippery, so better wear the right shoes.
See: All About Bali Airport, Public Transportation & Airport Transfer.
How To Get To Nungnung Waterfall
There is a limited option when it comes to relying on public transportation in Bali. Tourist only has several options like renting a car or driving a motorcycle to get here. From central Ubud, travel 35 KM north, the trip will take at least an hour drive. Generally, the traffic to the waterfall is quite normal without traffic jams.
In the meantime price range for a car rental with a driver is Rp600.000 to Rp800.000 with a driver for 10 hours. The rate depends on the capacity of the car. While for scooters, the price range from Rp60.000 to Rp120.000 for 1-day rent.
See: Indonesian SIM Card Internet Package, Price & Coverage.
Address & Location
The waterfall is located right at Nungnung village, Petang, Badung Regency, Bali 80353.