Parangtritis Beach
Entrance Fee: Rp10.000
Opening Hours: 24 Hours Open
Telp. Number:
Address: Jl. Parangtritis , Parangtritis, Kretek , Bantul, Daerah Istimewa Yogyakarta, Indonesia , 55772.
Parangtritis Beach is like what Kuta Beach is to Bali. It is Yogyakarta's number-one beach, a top destination, especially for first-time tourists. The beach is prominent for its long shoreline, sand dunes, and gray volcanic sand. And situated in Bantul City, Yogyakarta, around 30 km from the famous Malioboro street.
Pantai Parangtritis, as called by the locals reckoned a sacred place. In particular to Javanese people and culture. Even a little child in the region knows about the legend of Queen Nyi Roro Kidul. Among Javanese people, the mythical queen believed as the one who rules the southern sea.
And by the tale passed on through generations, the door gate to the kingdom of the Queen lies on Parangtritis beach. It's not a coincidence that Yogyakarta's Palace held a special ceremony once a year on the beach. Offerings from food and livestock to fruit were thrown into the sea in the name of the King.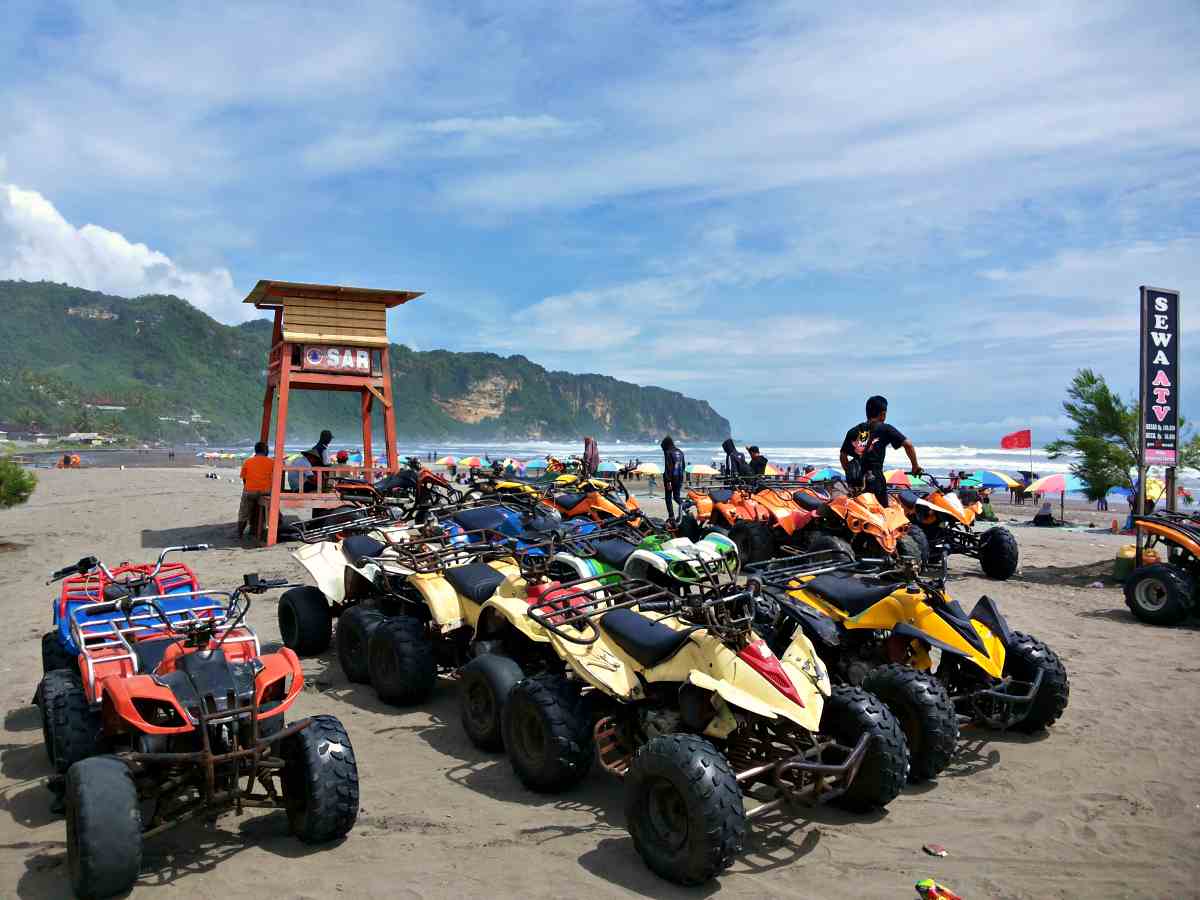 Parangtritis Beach Entrance Fee
There's a retribution fee of Rp10.000 per visitor to get to the beach area. Parking costs Rp3.000 for motorcycles and Rp10.000 for cars. ATV ride is Rp100.000 for a half and an hour ride while horse carriage price starts from Rp50.000 for a round trip.
Parangtritis Beach Entrance Fee
Entrance Fee
Rp10.000
Parking fee
Rp3.000/motorcycle Rp10.000/car
ATV Ride
Rp100.000
Horse Carriage
Rp50.000
Umbrella & Beach Chair
Rp25.000
See: Timang Beach Guide, Gondola & Extreme Bridge.
Parangtritis Beach Opening Hours
The beach is open every day for 24 hours. Along the beach entrance, modest stalls to food carts even operate for the same long hour. While some just cater until dinner time.
Parangtritis Beach Opening Hours
Every day
24 Hours Open
See: Guide To Indrayanti Beach, Seafood Feast Spot & Restaurant.
Parangtritis Beach Myth
For tourists, aside from the watersport, sunset is what people after. While for some other locals, Parangtritis beach is the pilgrimage site. A spot where pilgrims come to meditate and ask for blessings from the sea queen.
There's a warning to advise visitors. Do not wear any green color fabrics when coming to this beach. As the myth starts and goes by. Until now the locals still believe that the Queen loves the green color. And she will drag, drowning whoever people coming to Parangtritis beach wearing her favorite color.
Ride Along Parangtritis Shoreline
There are ways to explore Parangtritis beach from end to end aside from walking. Using an ATV (all-terrain vehicle), ride along the 7-km long shoreline while enjoying the sea breeze.
For a shorter track, visitors could try andong instead. It's a traditional Javanese carriage pulled by a horse. Make sure to pick a horse that looks like it's treated well by its owner.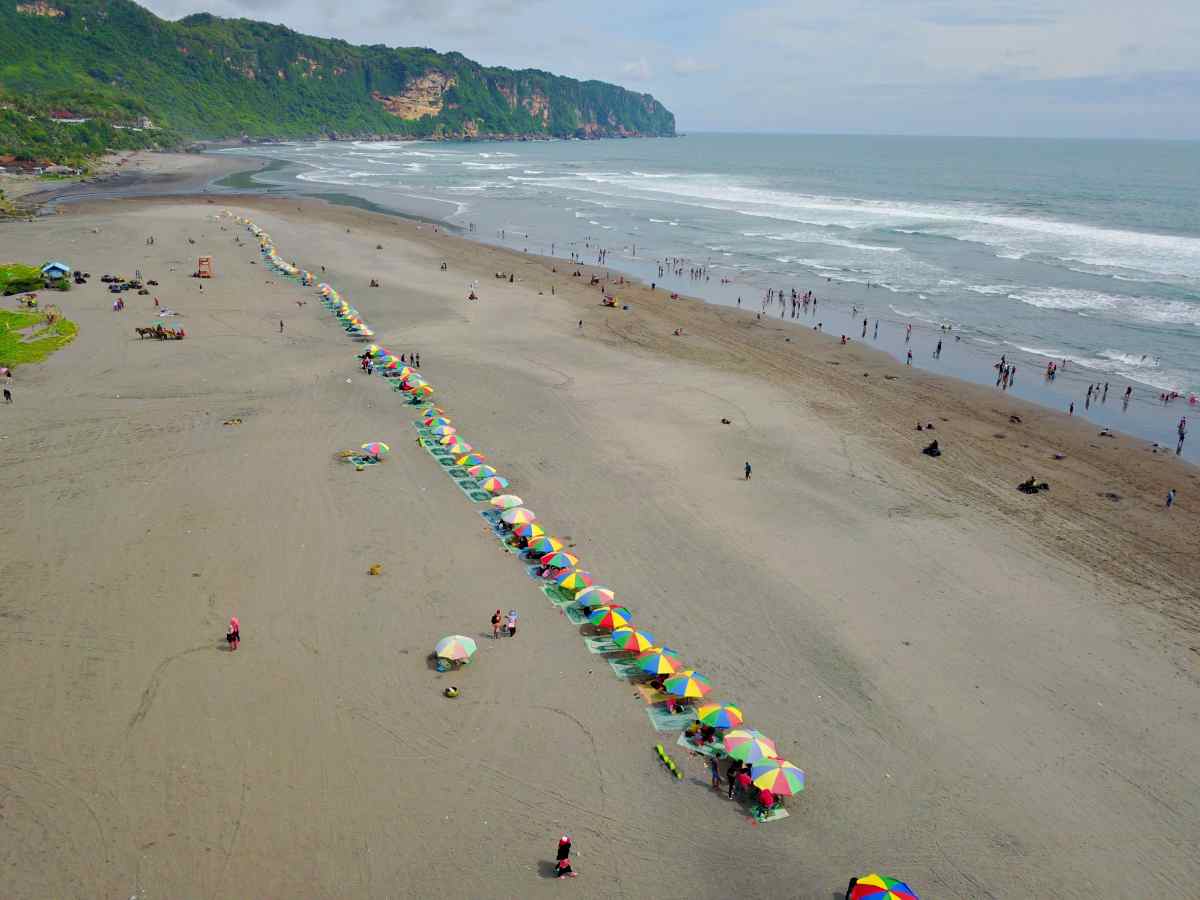 Volcanic Sand & Indian Ocean's Waves
The gray sand at Parangtritis beach is unique as opposed to the white sand at a typical beach. Parangtritis sand comes from the eruption of Mount Merapi and Mount Merbabu. They are brought along by the river into the sea. The sand is fun to play with, and they sparkle under the glistening sunlight.
While the strong waves of the Indian Ocean are clearly not for beginner swimmers. But visitors are still allowed to play with the waves. Be careful and do not go too far into the sea and remember the warning. No green at the beach. Lying on the sand and sunbath can also be a good idea. Pick a serene spot, and get immersed in nothing but the sound of the sea.
Surfing
Quite the opposite for swimming cautions. Surfing at Parangtritis Beach is possible. It's actually promoted by Parangtritis Rescue Team. Like any beach facing the Indian Ocean, the wave is considered medium to high.
Surfboard rental is scattered along the beach line. And there are lifeguards on duty to ensure surfers' safety.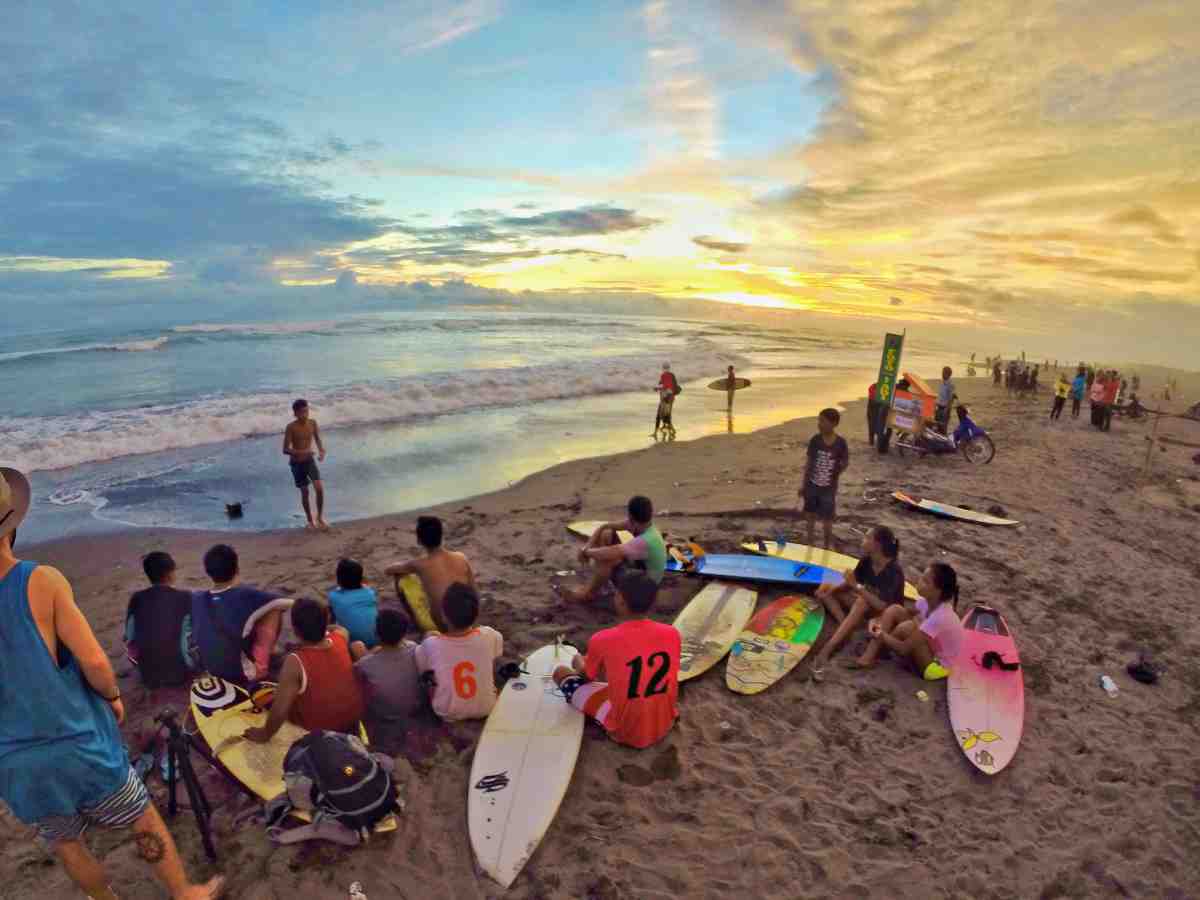 Sunset Crowds
Do not rush to leave without staying for the sunset. Parangtritis beach gets the crowd around the evening. And it's all for the right reason. Join a flock of people to witness this show of nature.
For the best view, climb into the hill where the Queen of South Resort is set. The hill is located on the eastern side of the beach. The same spot with paragliding flying point.
Parachuting & Paragliding
Paragliding or parachuting has recently become a popular extreme activity to try at Parangtritis beach. To try Parachuting prepare Rp350.000 for 1 session. Everyone can try parachuting, even a beginner. There will be an instructor who will fly in tandem with beginner fliers.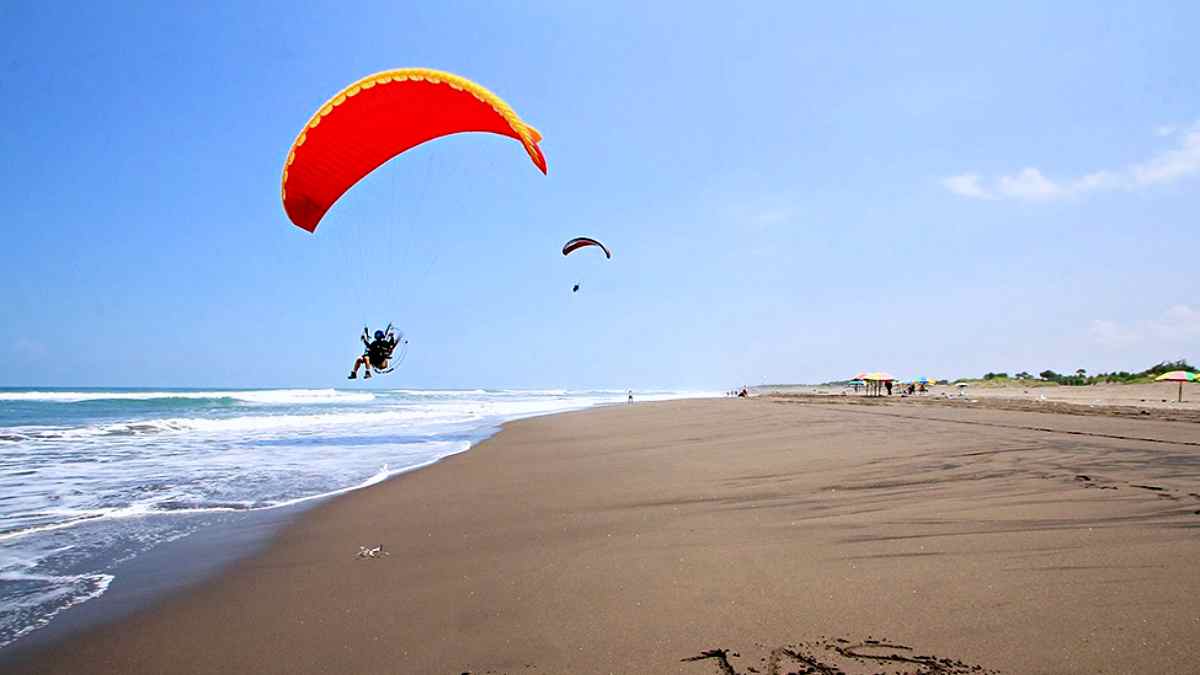 Glide up in the air for a good 15 minutes with various adrenaline-driven flight styles. Enjoy views of the Indian Ocean and coastline along Bantul from a height. The Blue ocean stretches far into the horizon and the strong waves chase each other. They surely will make an unforgettable sight.
Parangtritis Waterfall
Parangtritis Waterfall is situated at the eastern end of the coast. It's far enough to walk, visitors might consider using an Andong service to get there. Water flows through cascading rocks from a height of 20 m into the sea. It adds to the beauty of the beach, while also adding a new kind of experience for tourists.
See: Tips To Explore & Shopping In Yogyakarta Biggest Market, Beringharjo Market.
Facilities
The cleanliness of the toilet and changing room at the beach is poor. Many people have complained about it. Another tip, use a paid bathroom run by locals, it's located a bit far from the beach.
There are plenty of shops nearby, selling food to souvenirs. It's also easy to find accommodation around the beach, from cheap lodging to luxury hotels.
See: Guide To Choose SIM Card, Internet Package & Price.
How To Get To Parangtritis Beach
Because it's a famous tourist spot, it's easy to reach Parangtritis Beach. From Yogyakarta, hop into any Trans Jogja Bus heading to Giwangan Bus Station. From there, take a bus to Parangtritis Beach. The fare is affordable at Rp10.000. The journey usually takes 1,5 hours from Jogjakarta.
Tourists can also rent private vehicles, motorbikes, or cars. Private vehicles are faster, more flexible, and more convenient. Renting is also affordable, around Rp400.000 for a seven-seater car and Rp65.000 for a motorbike. Using private vehicles, the journey to Parangtritis Beach takes less than an hour.
See: YIA Airport Guide, Airport Transfer & Bus To Yogyakarta.
Address & Location
Parangtritis beach situated in Jl. Pantai Parangtritis, Kretek district, Bantul, Daerah Istimewa Yogyakarta 55772.