Pengempu waterfall
Entrance Fee: Donation
Opening Hours: 06:00 - 18:00
Telp. Number: -
Address: Jl. Seribupati, Cau Belayu, Marga, Tabanan, Bali , Indonesia , 82181.
Waterfall, with its pure natural allure, is a favorite destination for many people. The cool breeze and surroundings created by the discharging water make people willing to stay around longer. The grueling track is another attraction that makes being near the waterfall rewarding. In Bali, one lies in a tourism hub yet hidden in the middle of a jungle, Pengempu Waterfall.
Tourists started to know about Pengempu Waterfall from posts made by social media users. So far, it is still a quiet place. If lucky enough, visitors can have the waterfall all on their own. Pengempu Waterfall situates in Cau Belayu village, Marga Sub-District, Tabanan, Bali. Pengempu is only a small waterfall, but the view and the nuance visitors will get is still worthwhile.
Hidden Gem in the Middle of a Jungle
The trek to access Pengempu waterfall is a narrow concrete path. After parking, the first few meters are quite easy. Then, visitors must climb down approximately 150 steps that are quite steep and damp. However, iron rail is available on one side to hold on to. Watch and climb down carefully to avoid slipping. And, flip flops are not recommended during this trip.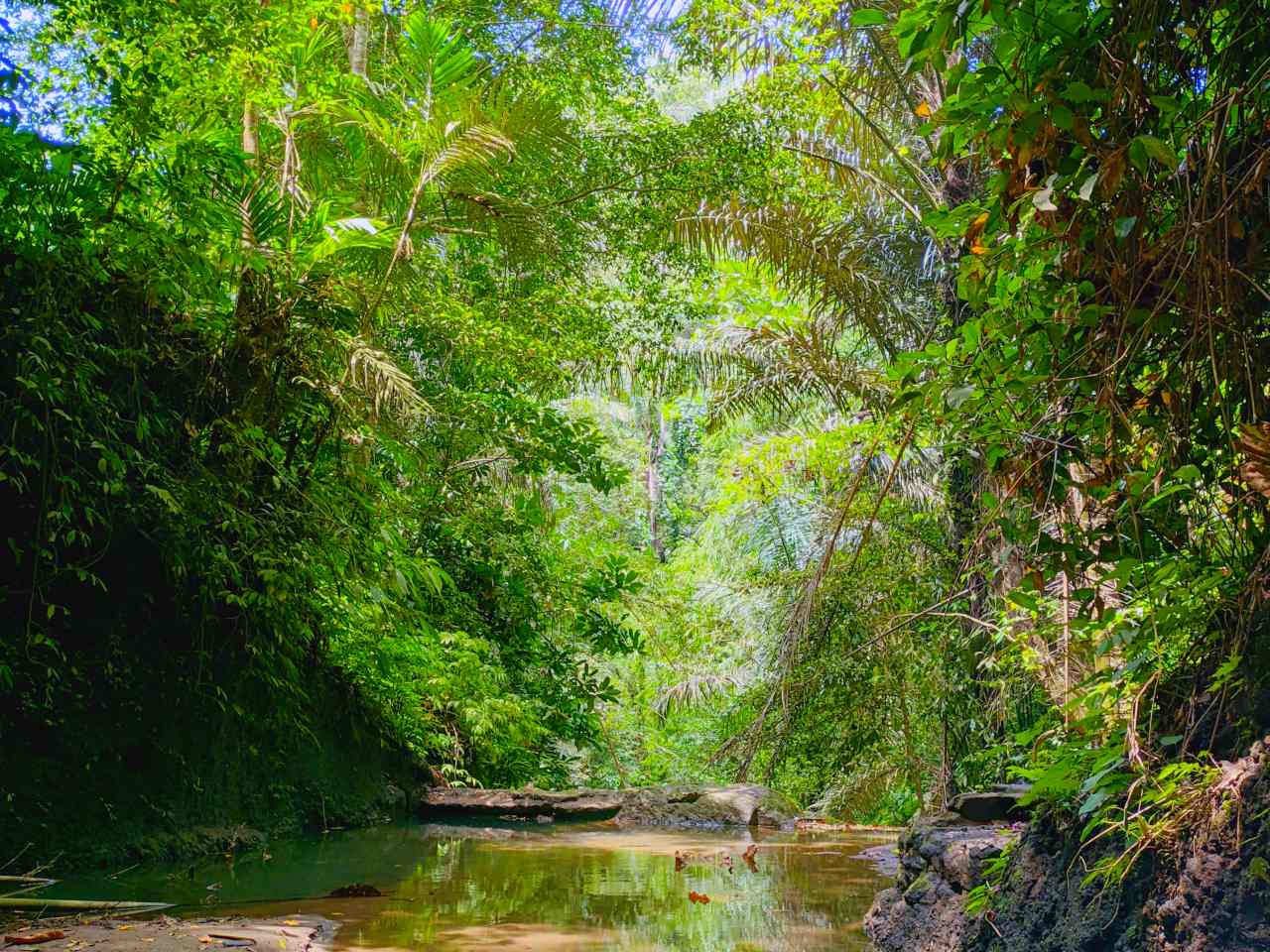 The path is incising a jungle. The air, the sound of chirping animals, and the atmosphere are so tranquil. In addition, the forest canopy prevents most of the sun and makes the surroundings shady all day. Trekkers will not find it so exhausting to climb down the steps. Before arriving, hop on a small wooden bridge to cross a narrow stream.
The Waterfall
The waterfall is at the left, in a big rock niche. To point out, Pengempu Waterfall is not big. But the sound of the water that falls from a 20-meter is rumbling. Behind the discharging water, the rock is carved into ledges and niches. Tree roots are spreading on the wall. There is a pool, near the green pond.
Some banners and tedungs (umbrellas) at the south signal that locals consider the area holy and use the water for religious ceremonies. The pool is completed with some pipes to tap the water in Melukat ceremony. There are boulders at the edge surrounding the pond. Dipping into the pond is not recommended. Nevertheless, the waterfall and surroundings are great for a photo backdrop.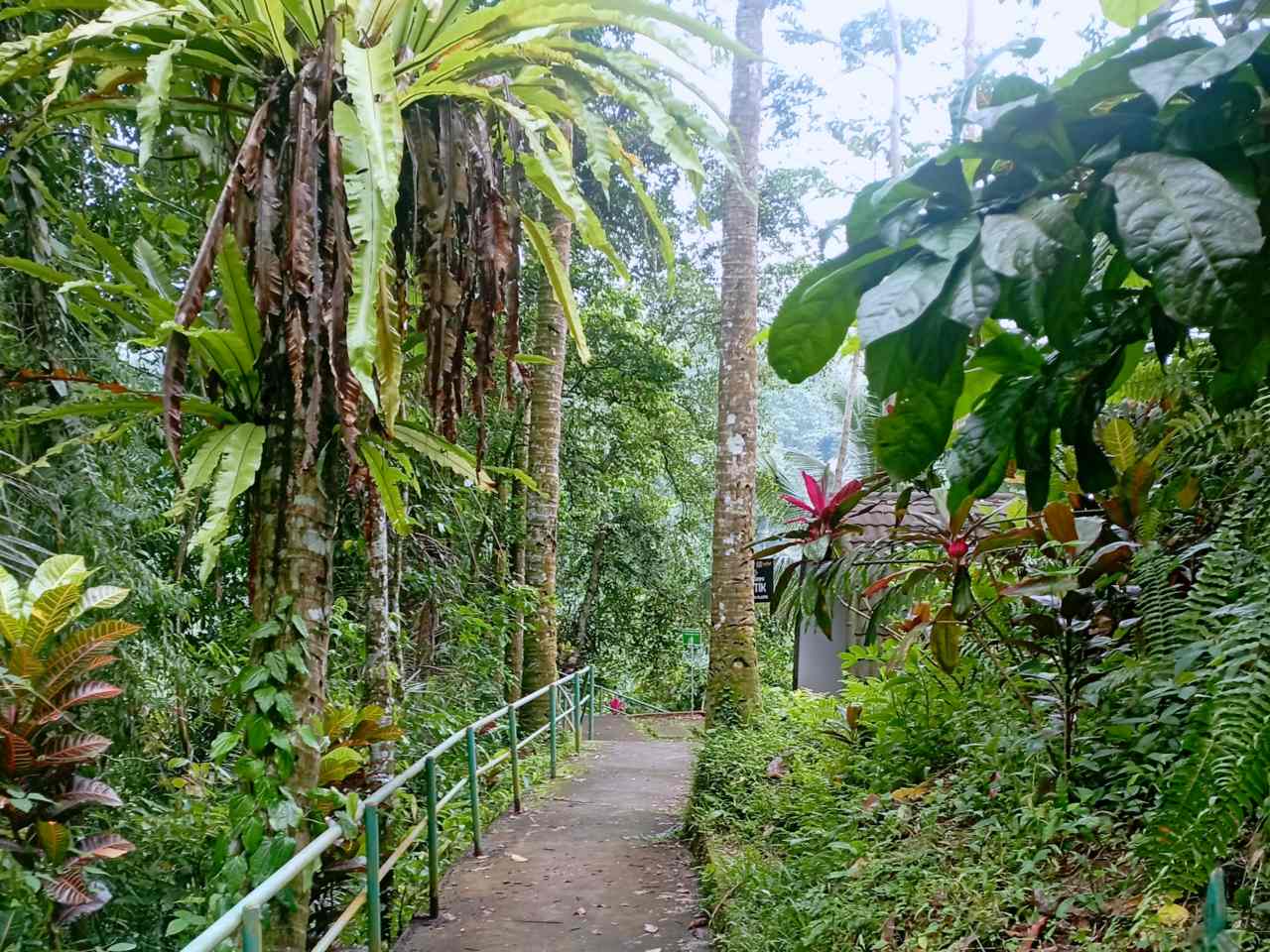 Exploring the Top of the Waterfall
Those who want a more thrilling experience may explore the waterfall top. To do this, tourists need to climb back up the cliff and go down the valley on a rocky soil pathway. Another waterfall is discharged from a spring at the top.
Some cascades are formed on low cliff ledges. The clear water flows on the rock bed toward the Pengempu waterfall that plunges into the pond below. The water flows between the rocks to the Yeh Penet river.
Tukad Yeh Penet
Tukad Yeh Penet is a shallow river. The water is clear and cold, with rocks and fine sand on the floor. At some points, the sand is mixed with mud, making the water a bit murky when visitors step on it. Enjoy the cold water by bathing and dipping in.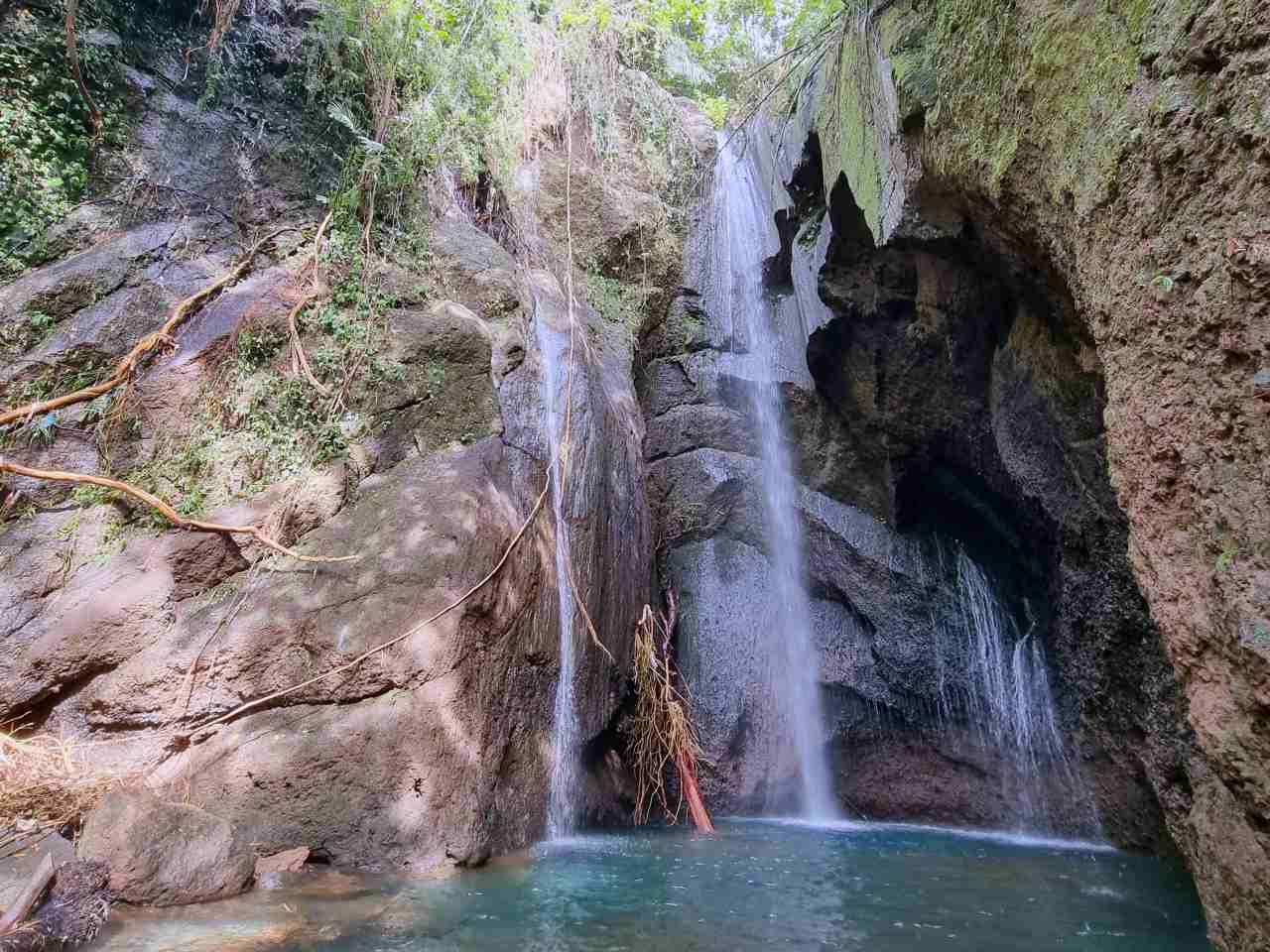 Surrounding Attractions
Pengempu Waterfall is near other tourist destinations. For instance, Tanah Wuk is only 4 minutes to the south. It's a panoramic green valley with only Rp10.000 entrance fee. A wooden platform provides tourists with a vantage point to view the luscious green valley. A bridge with a yellow railing is on the left. There is also a love-shaped woven rattan seat. The spot is great for a photo background. Trekking is also possible to a river and a cave around here.
Second, there is also Sangeh Monkey Forest it's 5 minutes to the south. Approximately 700 tamed monkeys live in the forest. The entrance fee is Rp30,000 and guards will tag along while visitors stroll in the forest to counter monkey attacks. Visitors may feed the monkeys with peanuts sold by the stall in the parking lot. Tourists should watch their belongings as monkeys will try to take them.
See: Tegalalang Rice Terrace Guide, Entrance Ticket & Top Things To Do.
Pengempu Waterfall Opening Hours
The waterfall opens from 6 AM to 6 PM. But do leave before sunset. Don't be here when it's raining. The water will be murky and the trek might be slippery. Bring mosquito repellent and extra clothes. Protect camera gears from water.
Pengempu Waterfall Opening Hours
Every day except on Nyepi day
06:00 – 18:00
Nearby: Guide To Explore Sangeh Monkey Forest & Entrance Ticket.
Pengempu Waterfall Entrance Fee
Unlike popular waterfalls in Bali, tourists will not be charged an entrance fee. However, there is a donation box at the entrance gate for visitors to donate.
Pengempu Waterfall Entrance Fee
Ticket
Donation
See: Guide To Explore Campuhan Ridge Walk.
Facilities
There are only minimum facilities at this stunning destination such as a parking lot and toilet. Visitors may donate voluntarily to a box available in a hut at the entrance path to enter the spot. There are 2 huts at the side along the way down to take a rest.
Restaurants and stalls are only available along the street to this destination. The foods are mostly satay, local delicacies such as lawar kebo (buffalo meat lawar) and pork satay, and Javanese menu. The average price range to eat in those restaurants and stalls is Rp15,000 to Rp. 50,000 per person for a complete menu. Coconut, mineral water, juices, tea, and soft drinks are among others on the drink menu that cost under $1.
See: Guide To Buy Tourists SIM Card, Internet Package Price & Providers.
How To Get To Pengempu Waterfall
Pengempu Waterfall is located in Sangeh – Bedugul tourism hub. It takes 36 minutes from Ubud.  Head northwest on Jl. Raya Ubud toward Jl. Suweta, continue on Jl. Penestanan. Take Jl. Katik Lantang and Jl. Campuhan III to Jl. Raya Singakerta. Turn right after Balai Banjar. Then, take Jl. Raya Semana to Jl. Raya Pengembungan in Abiansemal. Take Jl. Baris and Jl. Legong and take the right turn to Jl. Ciung Wanara. Continue on Jl. Abimanyu and drive to Jl. Seribupati in Cau Belayu.
The best transportation is renting a vehicle. There are many rentals that will cost tourists Rp60,000 to Rp100,000 a day for a scooter. A car would cost Rp500,000 to Rp800,000 for a 10 tour with a driver.
See: Bali Airport Guide, Airport Transfer & Public Transportation To Tourist Area.
Address & Location
Pengempu waterfall is located in Jl. Seribupati, Cau Belayu, Marga, Tabanan, Bali 82181.