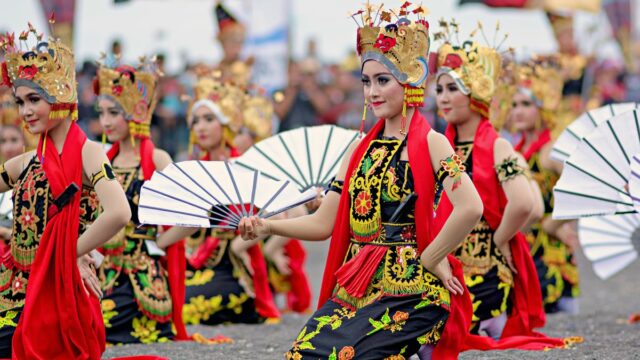 If Jember has its Jember Fashion Carnaval (JFC). Its neighbor, Banyuwangi, doesn't want to miss out on any single fun. It was back then in 2011. When the local government decided to organize a rival event to the internationally famous JFC. The government named it Banyuwangi Ethno Carnival (BEC). This year, it will be held on July 25th.
Banyuwangi is mostly known as a stopover before tourists crossing for Bali. With Banyuwangi Ethno Carnival, the city not only attracts tourists. But also makes them stay a bit longer in the city. Hopefully, they will spare time to look around Banyuwangi. And be interested in its nature and culture. Which by any means no less interesting than Bali's.
To differentiate itself from other carnivals in the country. Banyuwangi Ethno Carnival emphasizes local identity more. Instead of assimilating foreign culture on its parade as many other carnivals do. Luckily, the small town has a distinct culture compared to the rest of Java.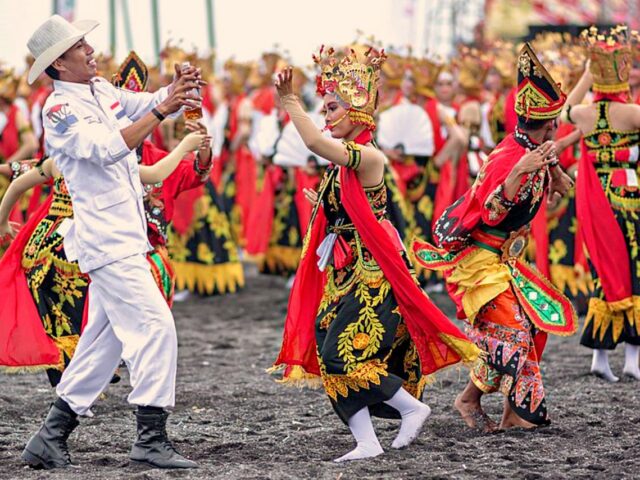 They have more than enough material to present. It needed 10 stages alone in 2018. To introduce Gandrung dance, Puter Kayun ritual, oncor-oncoran, osing music. And various other Banyuwangi unique cultural elements.
Banyuwangi Ethno Carnival Highlight
The Muncar district is the largest fishing district in Indonesia. Hundreds of fishing boats harbor its shoreline. And Muncar fish market is also the largest fish market in all Java. Muncar holds such significant importance for Banyuwangi, economically, and culturally.
Hence this year, Muncar will be the main theme for Banyuwangi Ethno Carnival 2019. Expect Muncar's cultural identity to appear in dances, fashion designs, and music. Along with other forms of arts performance during Banyuwangi Ethno Carnival.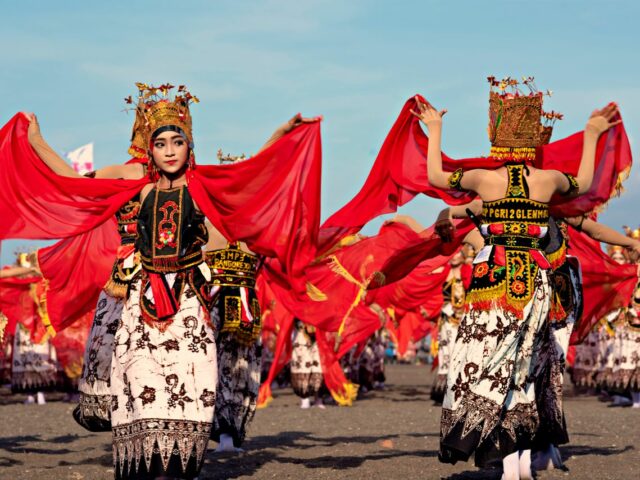 Muncar is rich with traditional arts such as janger and jaranan. They also have a traditional ceremony called Petik Laut. It is a procession where every year fishermen send out offerings into the sea on colorful miniature boats.
Fashion Show Culture Element
The luxurious costumes at Banyuwangi Ethno Carnival aren't just costumes. Notice that every costume carry cultural meaning. Last years "Puter Kayun" theme is about the ritual. Where villagers ride dokar, the Javanese carriages. Heading toward Watu Dodol beach for every tenth month of the lunar year.
Inspired by the ritual, the costume parade during Banyuwangi Ethno Carnival last year. Incorporates sea, carriages, and horses on their designs. Considering Muncar is the 2019 theme. Petik Laut ceremony could take the role Puter Kayun had last year.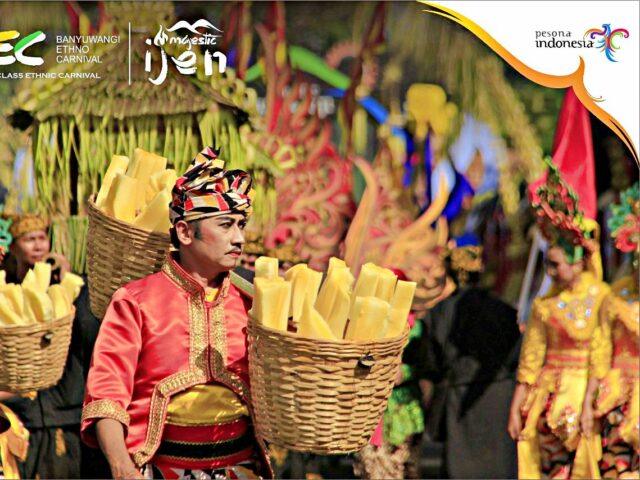 There are also several sub-categories inspired by Banyuwangi folklore. As for traditional wedding dresses, and ceremonies like the torch parade oncor-oncoran. Some costumes even take inspiration from Banyuwangi specialty dishes and agricultural products.
Gandrung Dance
Whenever there's a big event in Banyuwangi. It sure is Gandrung dance will always make an appearance. In Banyuwangi Ethno Carnival this year. One can safely expect hundreds of Gandrung dancers will show off. As they were in the previous year.
The traditional dance Gandrung is the pride of Banyuwangi. Translates as "love" in English. Gandrung is originally a ritual dance performed to Goddes Sri as gratitude after the rice harvest. These days Gandrung is more ceremonial than ritual.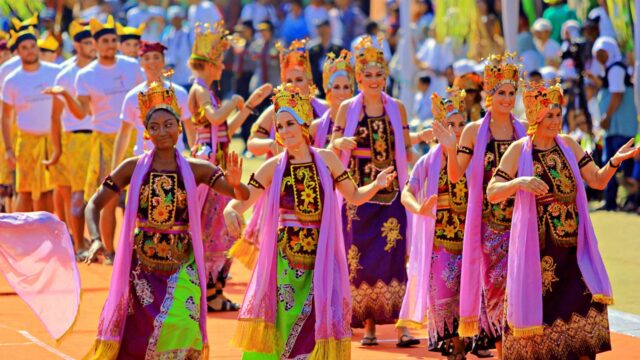 Dancers draped themselves in a beautiful costume. With a long shawl and a fan in the right hand. Watch as these dancers move around their hands gracefully. Playing the shawl and the fan in harmony as they dance. The performance is accompanied by Gamelan osing. A branch of traditional Javanese instrument developed by Banyuwangi's ethnic tribe osing.
The Osing Song
Osing songs are performed in Osing language. A language only people of Banyuwangi speak. At Banyuwangi Ethno Carnival, Osing songs are also the highlight of the festival.
Not everyone understands when an osing song is being sung. However, there's a reason why music is a universal language. There's no need for language comprehension to get swept away by the melody.
Handicraft & Food Bazaar
Around the Banyuwangi Ethno Carnival venue, locals are allowed to open stalls along the pedestrian. It results in a little bazaar. There are kiosks selling local products from batik to accessories to handicrafts. Food vendors offer drinks and meals to hungry spectators.
After the carnival ends, this bazaar is where to go next. Lurk around among the food stalls, especially the ones selling Banyuwangi food. Banyuwangi dishes are certainly a must-try for their uniqueness. Some menus combine two dishes in a way that even Indonesians consider them rather strange.
Rujak Soto, for example. Serves vegetable salad and green curry-like soup "soto" in one bowl. Another famous vegetable dish called "pecel" is poured with dark meat soup "rawon". Resulting in a mix of fresh, nutty, meaty, and salty. Truly a rainbow of flavor.
Carnival Collaboration
Although Jember Fashion Carnival is supposed to be a rival. That doesn't stop for the two events to collaborate. Expect to welcome Jember Carnival representatives. Who will also take part as the participants of the Banyuwangi Ethno Carnival.
Other than that. The founder of Jember Fashion Carnival Dynand Fariz is responsible for the fashion show of BEC. Be among the astonished by his remarkable costume designs and choreography. Dynand Fariz himself is a talented designer. He designed and won the Best National Costume on Miss Universe 2014.
Banyuwangi Ethno Carnival Venue & Ticket
It takes not even a dime to stand among hundreds of spectators of the carnival. As the event itself is free. Mark the calendar on 27 July to not missing any of the fun. The carnival starts in Taman Blambangan. Banyuwangi's largest public park and city square. The route is 2,2 km long and it ends at Banyuwangi Mayor Office, Ahmad Yani Street.
Banyuwangi Ethno Carnival Venue & Ticket
Venue
Blambangan Park
Ticket
Free
See: The Phenomenal Blue Fame, Ijen Crater, What To Expect & Guide.
Facilities
Hotels are plentiful around the Banyuwangi Ethno Carnival venue. For a cheap homestay. Tourists can find a decent room with only Rp100.000-Rp150.000 per night. Restaurants mostly serve Javanese food at an affordable price. During the event, many locals would open snack and beverage stands alongside the route of the carnival.
See: Red Island Beach Banyuwangi, Guide & Tips.
How To Get To Banyuwangi Ethno Carnival Venue
Banyuwangi is accessible by land and air. Airline companies such as Garuda Indonesia and Citilink has direct flights to Banyuwangi's Blimbingsari airport. By train, travelers can take Mutiara Timur Malam or Sri Tanjung train from Surabaya. Buses can also be an option, especially for tourists coming from Bali.
To get around the city, Banyuwangi conveniently has 9 public van lines. From Banyuwangi Railway Station to Taman Blambangan, first, use Line 6 to Blambangan terminal. Continue with either Line 4, 7, or 9 and stop at the park.
From Banyuwangi Bus Terminal, visitors can use public van Line 1 or 2. As for the airport, there's a DAMRI bus line that runs regularly from the airport to Ketapang. And it passes the city center.