Bukit Bintang Yogyakarta
Entrance Fee: Free Entry
Opening Hours: Open 24 Hours
Telp. Number: -
Address: Area Kebun, Srimulyo, Patuk, Gunung Kidul , Daerah Istimewa Yogyakarta, Indonesia , 55792.
Bukit Bintang is a bustling destination for a night trip in Yogyakarta. While the original name is Hargo Dumilah, people still love to call it Bukit Bintang. Then again it fits so well with the spectacular night landscape. The spark of city lights beneath the hill.
Bukit Bintang is located on a roadside of a highway. So there are not enough spaces to roam around. However, despite this little inconvenience, this spot is constantly crowded with locals, especially on weekends.
To begin with, besides the sparkling night view, there's a line of café and restaurants here. It all offers the same night scene and tasty local dishes.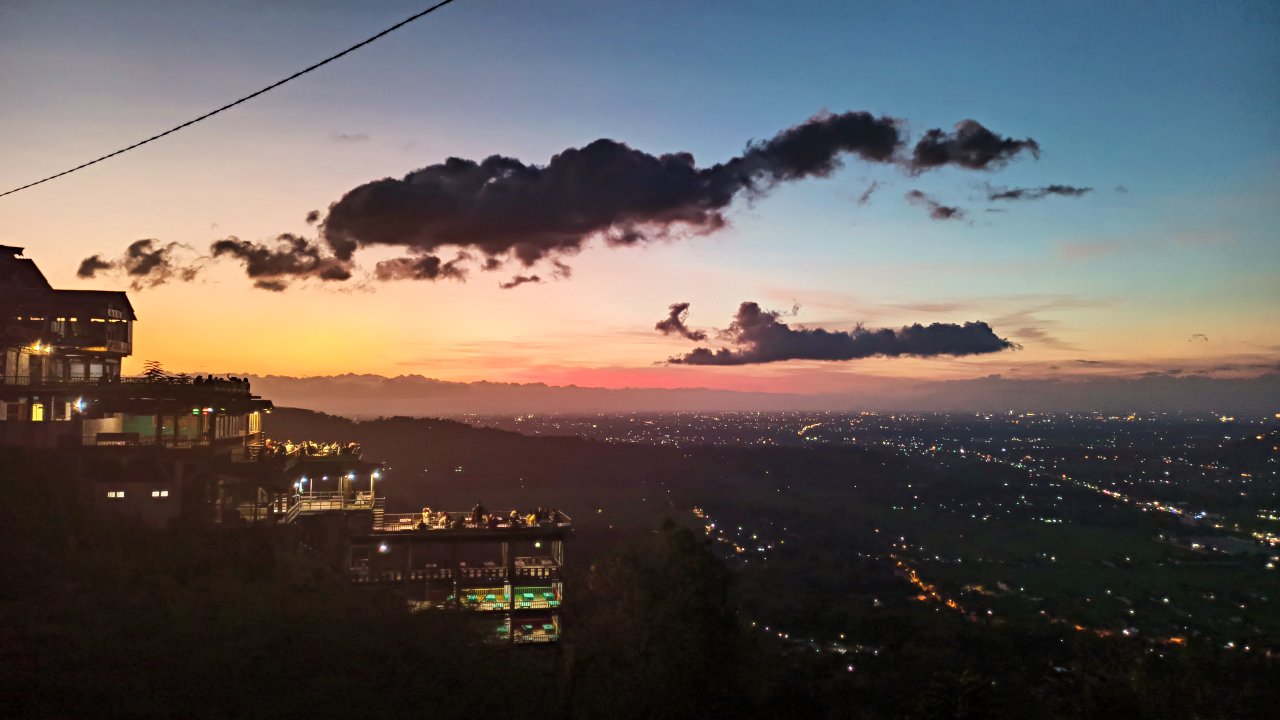 Bukit Bintang Yogyakarta Entrance Fee
The site is pretty much a nice spot to enjoy city light with few dine-in options. There is no entrance fee to Bukit Bintang Yogyakarta. Visitors will only need to pay the parking fee. And it cost Rp5.000 for a scooter.
Bukit Bintang Yogyakarta Entrance Fee
Entrance Fee
Free Entry
Parking Fee
Rp5.000 (scooter)
See: Timang Beach Yogyakarta, Gondola & Extreme Bridge.
Bukit Bintang Opening Hours
Make sure to arrive at Bukit Bintang at least before 5 PM for catching up on the sunset. At this time, it will be more spacious to park and pick a sighting view. The site is open 24 hours. While for cafes and restaurants nearby, some open from 9 AM. And it closes at midnight around 1 AM to 3 PM.
Bukit Bintang Yogyakarta Opening Hours
Every day
Open 24 Hours
See: Beringharjo Market Guide To Explore & Street Food.
City Landscape and Sunset 
The gleaming city lights without obstacle is why this spot becoming popular among amateur photographers. The area is also chilly at night, the temperature could drop below 20ºC. But it is the perfect escape from the hot and humidity in the city.
The hill is also facing three city landscapes, Yogyakarta, Sleman, and Bantul city. The hill is about 150 meters above sea level. Making the spot perfect not only for aerial night view but also for sunset sightings.
If lucky with the weather, people can see a silhouette of Mount Merapi and Merbabu. Sometimes, airplanes from Adisucipto Airport can be seen crossing above the city as well.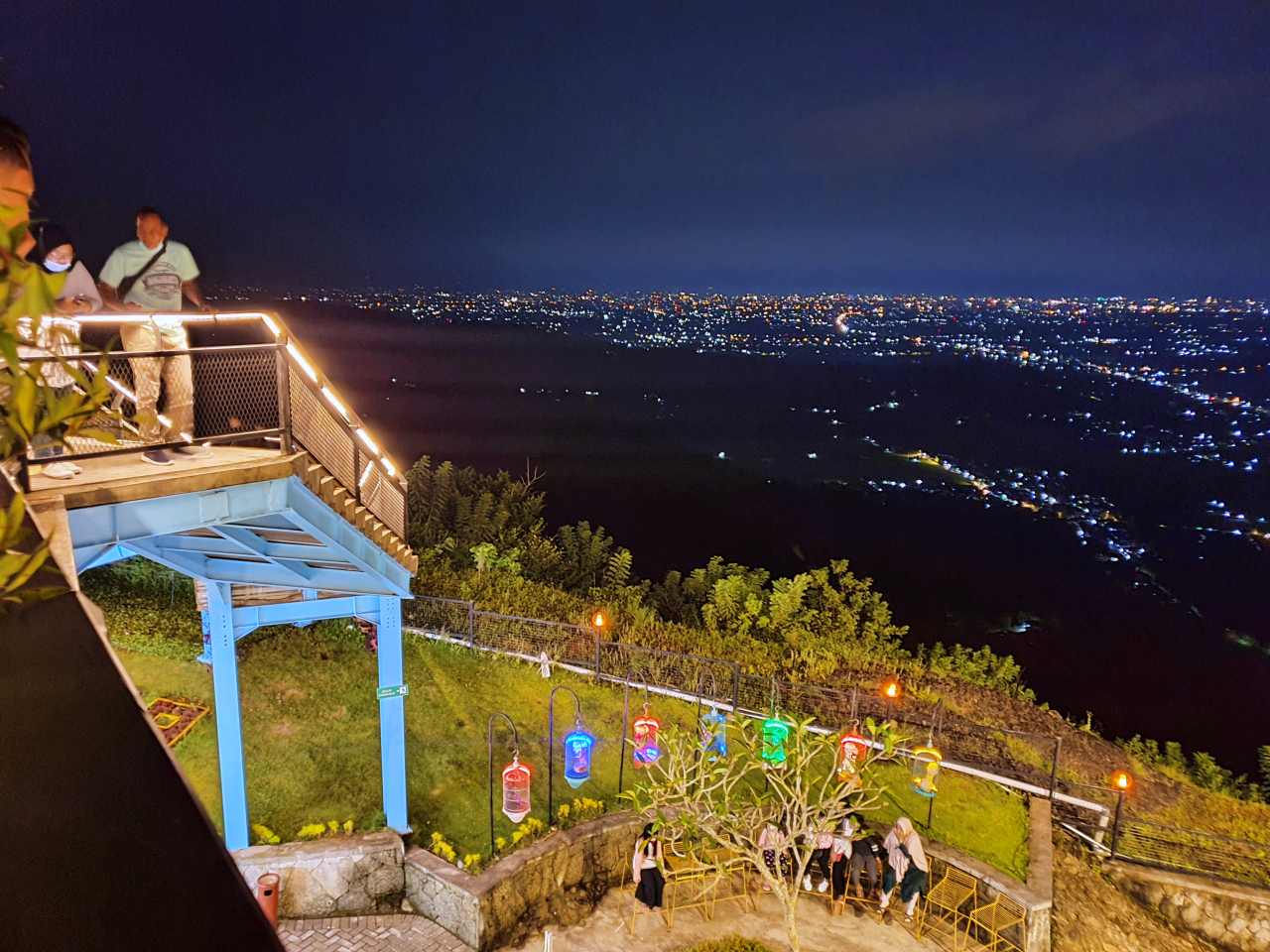 'Star' Gazing
The main show will begin after the sun goes down. At nightfall, the dots from houses and street lights will start to appear one by one. From Bukit Bintang's point of view, the cities below will look like a valley of stars.
Due to its scenic panorama, it is common to find photographers around here. Night cityscape is a common object for photo hunters, and Bukit Bintang is surely a perfect candidate for it.
However, while gazing at the view, stay alert from speedy cars on the highway. Pick a safe distance and take the valley pictures comfortably.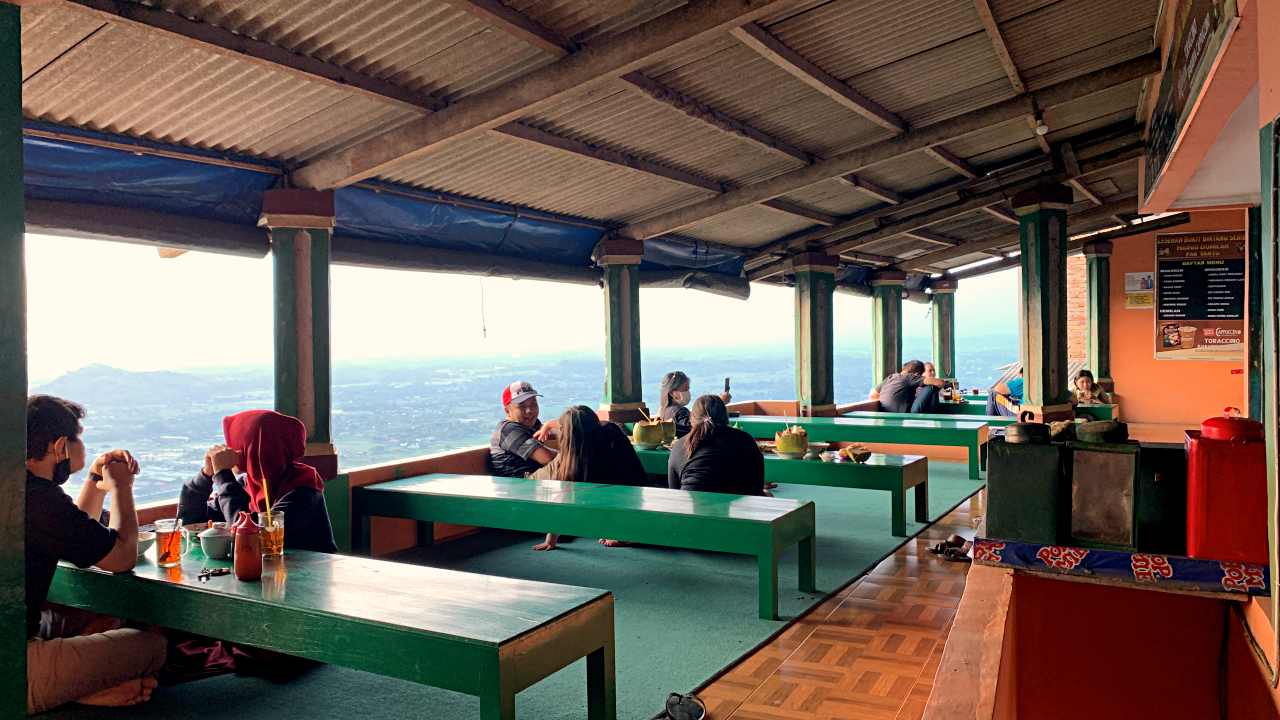 'Sky Dining'
On the edge of the hill, tourists can find an open-floor restaurant overlooking the valley. On weekends, there is no doubt, the place will be full of people, especially students. Then again, the price range is affordable, yet has a breathtaking and romantic view.
Diners can enjoy local menus with a price range starting from Rp5.000 to Rp50.000. The food choices are quite varied from western to local's dishes. From a plate of Rp20.000 salad to Rp35.000 crispy duck complete with steamed rice and sambal.
For snacks and beverages make sure to taste the toast and ginger tea. As an alternative, try local snacks like Tempe Kemul and corn fritters. Enjoy the savory snack plus it's vegan too.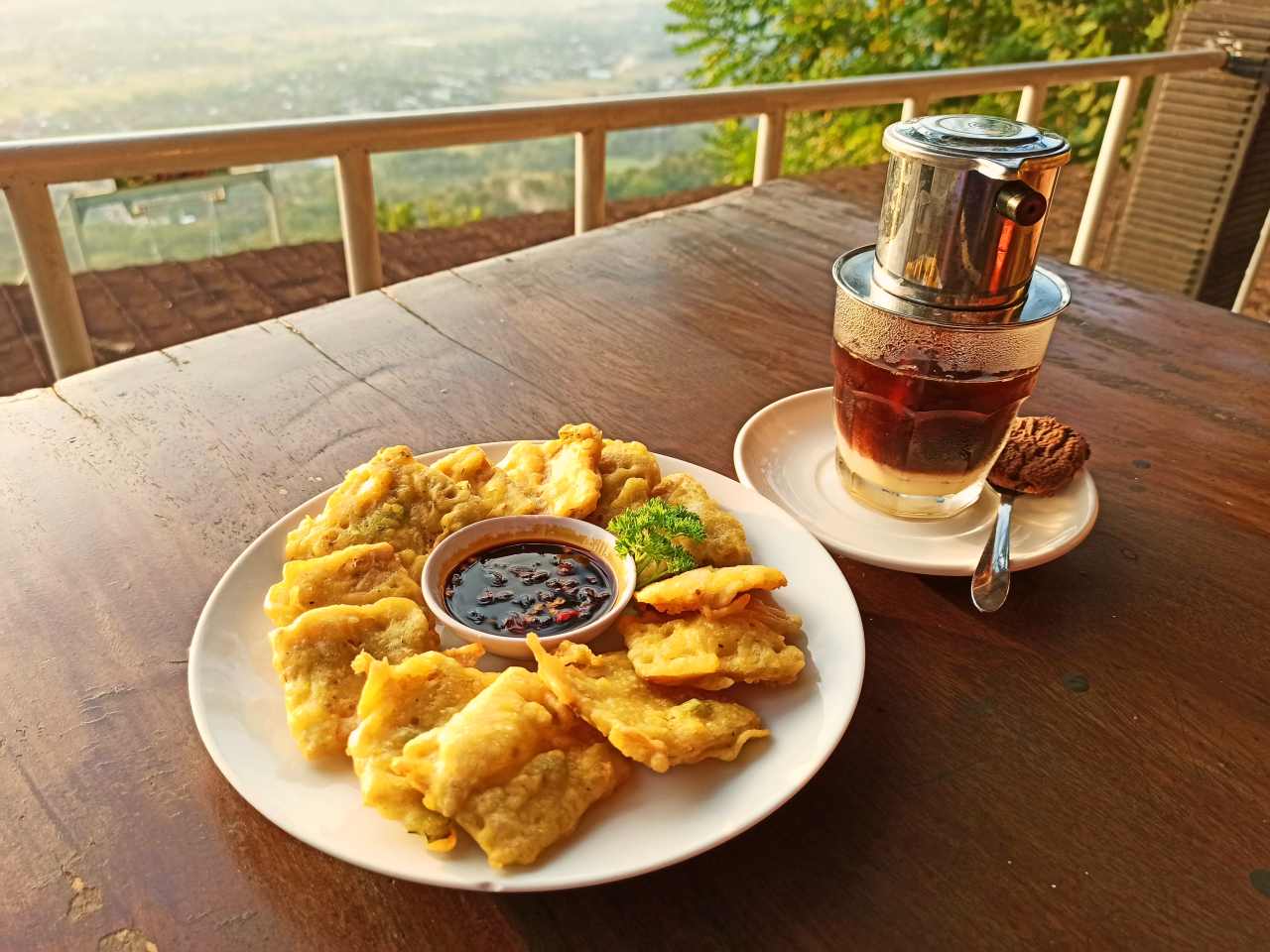 Street Food
Apart from the restaurant, there is a row of street vendors near the hill. Most of them are selling grilled corn and instant noodles. The price is also cheap as in a local price. A plate of instant noodles or grilled corn will cost Rp8.000 to Rp10.000, not more than $1.
For warming up the body, try the traditional drink, named Bandrek. It is milk with ginger, cinnamon, and spices. The street food here is relatively cheap. However, make sure to see that the stall has a menu with prices in it.  Do not try to order without asking the price first to avoid any scams.
Nearby Attractions
As it is located on the border of the Bantul and Gunungkidul areas, there are lots of popular attractions nearby. Such as Pinus Pengger, a spot famed for its pine forest theme and city light venue. Here, there are iconically hollowed-looking trees for tourists to take striking pictures.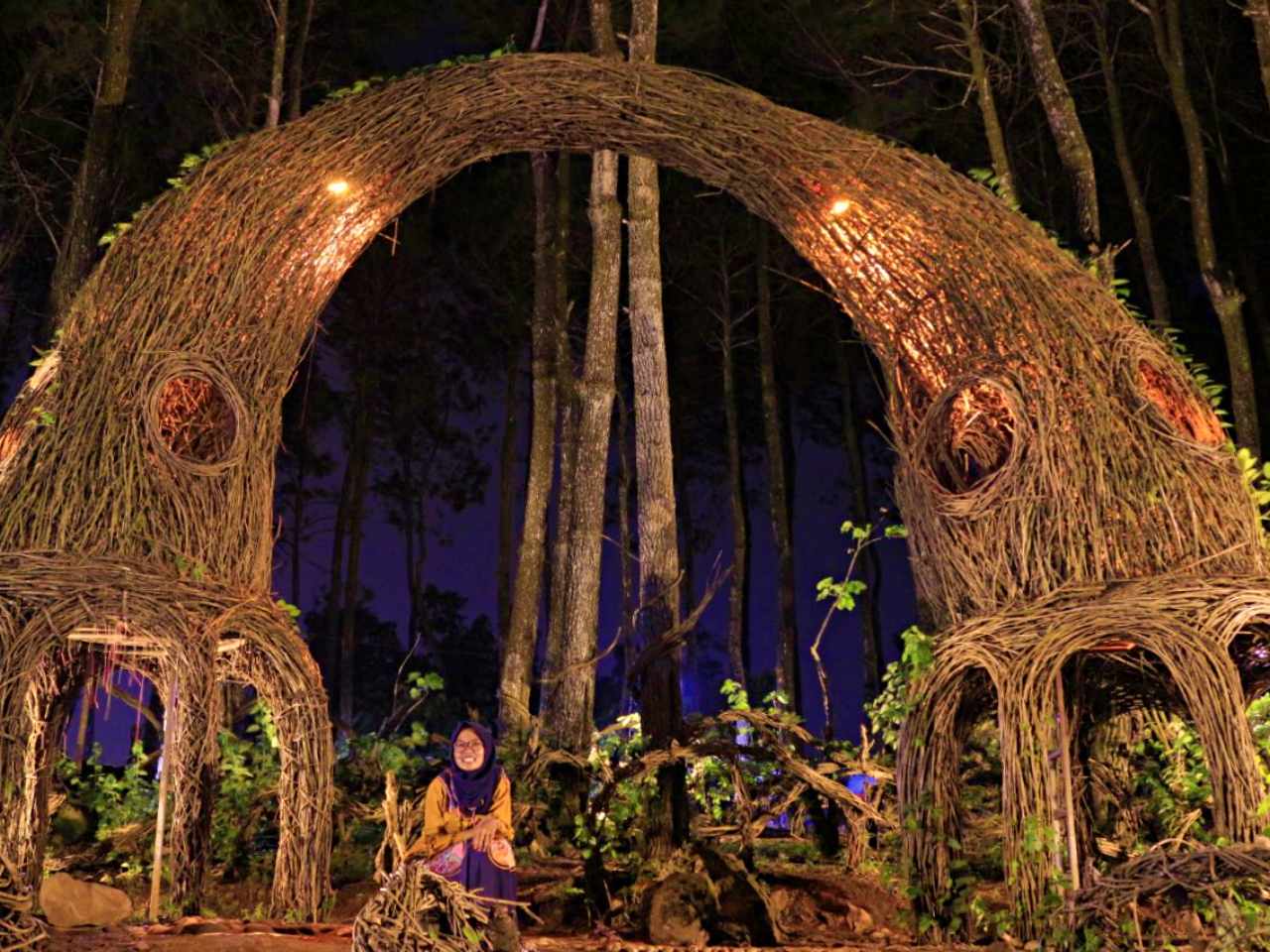 Pinus Pengger will take less than 15 minutes (5 km) trip from Bukit Bintang. Besides the pine forest, there's also a fruit garden to explore in Kebun Buah Mangunan. This place is also great for sightseeing as it is surrounded by green hills and local's cultivations. From Bukit Bintang, it takes about half an hour to drive to reach here.
See: Yogyakarta Palace Guide & Performances Schedule.
Facilities
Bukit Bintang is pretty humble for a tourist site, compared to other popular and big places. It is the edge of the hill, side by side with a highway. There is a stretch of concrete block to sit and take pictures. The restaurants, vendors, and other facilities are also mostly organized by locals.
After getting more recognition from tourists, Bukit Bintang has more basic facilities, including toilets, restaurants, and affordable homestays.
See: Tourist SIM Card, Internet Package & Provider Option.
How To Get To Bukit Bintang
Bukit Bintang is a bit way out of the city. It takes 30 minutes to an hour's drive from Malioboro. There is a bus departing from Giwangan bus station to Wonosari city and passes Bukit Bintang. However, the schedule is unpredictable.
Using a ride-hail app such as Gojek or Grab will cost around Rp60.000 to Rp80.000 one way. And it might be difficult especially at night to order a trip back downtown. The most suitable option is to go with a private vehicle. The fare for renting a scooter starts from Rp60.000/day.
While for a 12-hour rental car, the fare starts from Rp300.000 without a driver.  And Rp425.000 for a small city car with a driver for 12 hours.
See: Yogyakarta International Airport Public Transportation Guide.
Address & Location
Bukit Bintang Yogyakarta is just 17 km away from downtown. It's located in Area Kebun, Srimulyo, Patuk, Gunung Kidul Regency, Special Region of Yogyakarta 55792.