Goa Lawah Temple
Entrance Fee: Rp25.000
Opening Hours: 08:00 - 18:00
Telp. Number: -
Address: Jl. Raya Goa Lawah, Pesinggahan, Dawan, Klungkung, Bali , Indonesia, 80761.
There are 6 Sad Kahyangan temples in Bali, which refer as the center of spiritual practice. One from 6 of them is Goa Lawah Temple from the 11th century in Pesinggahan village. The name Goa Lawah comes from a Balinese phrase that represents this place as a sacred cave full of bats.
Apart from there's a sacred Hindu temple, the Goa Lawah area is a famous rest area. Many people local of course, who had a long trip to Karangasem would take a break in nearby local stalls for a refreshment. There is a bunch of options to stop, from a humble bamboo warung to casual dining restaurants.
Across the Goa Lawah main street, there is a black sand beach overlooking the east side of the Bali Ocean. A line of food vendors right at the edge of the street is available as well. There is a variety of local's favorite dishes such as chicken meatball soup, fish, and chicken satay as well.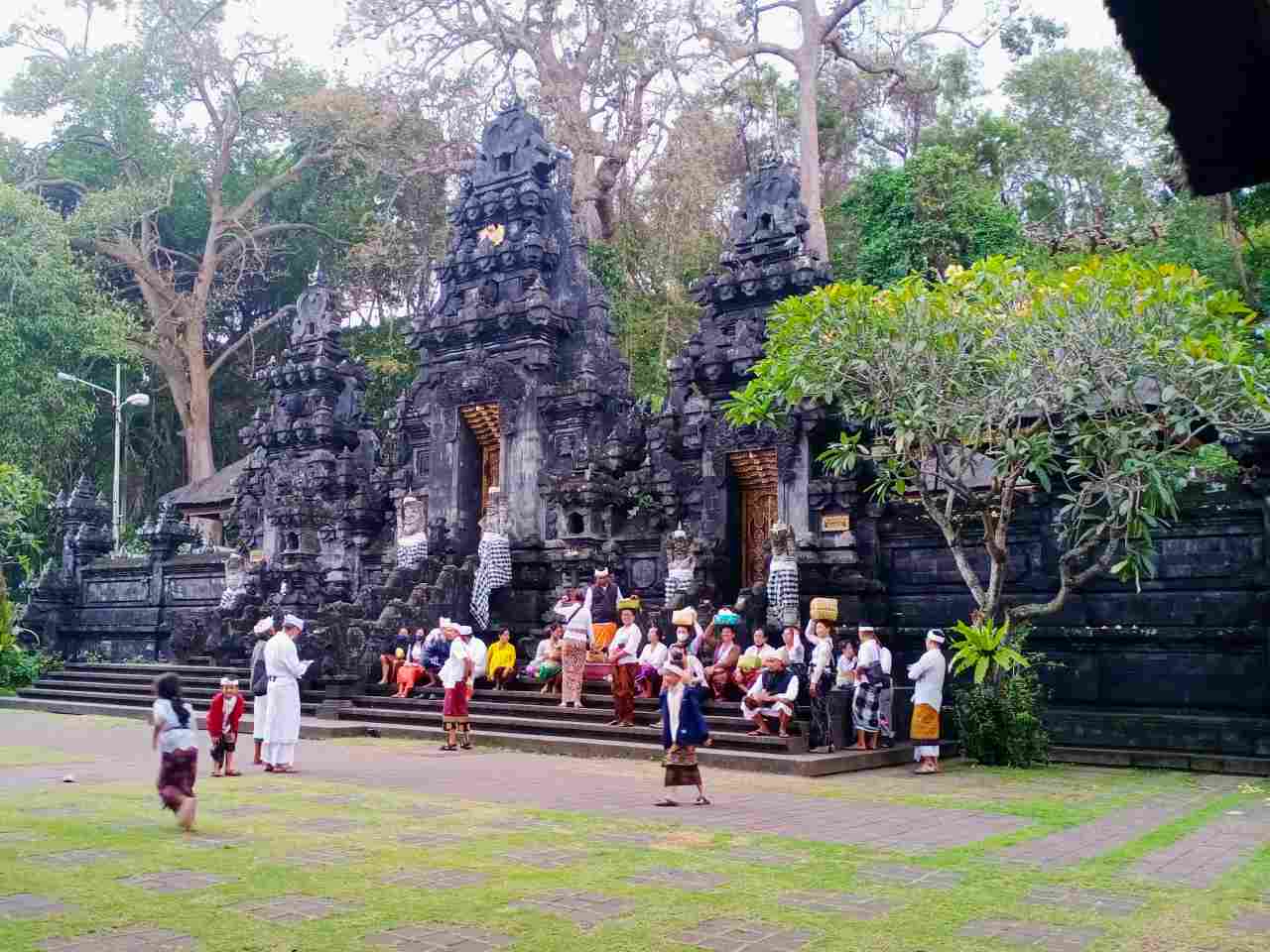 Goa Lawah Temple Entrance Fee
Entering the sacred Goa Lawah temple area is Rp25.000 for tourists. While children's entrance will cost Rp15.000. Before exploring the temple, visitors will have to wear a sarong. And sarong rental is available at the entrance for Rp5.000. There is also a charge for parking Rp5.000.
Goa Lawah Temple Entrance Fee
Ticket
Rp25.000
See: Guide To Explore Taman Ujung Water Palace, Karangasem.
Goa Lawah Temple Opening Hours
The temple is open 24 hours for worshippers. However, tourists could only explore the temple from 8 AM to 6 PM. The areas outside the temple are open 24 hours every day. Please note that the majority of street vendors are open from 8 AM to 6 PM. After days get dark, this place is likely getting quiet. 
Goa Lawah Temple Opening Hours
Every day except Nyepi
Open 24 Hours
 See: Guide To Explore Tirta Gangga Water Palace, Karangasem. 
Sacred Bats Cave
The main attraction of this temple is a cave, the habitat of thousands of bats. These nocturnal mammals lie inside a hollow, just behind the worship stones in the main temple area. Living in a holy sanctuary, bats here are reserved animals. In fact, there's a rule that explicitly forbids people from hunting them.
Despite producing high-pitched sounds, bats in Goa Lawah temple are not dangerous or disturbing worshipers at all. There are also certain rules tourists and worshipper has to follow when visiting the temple. First, visitors are not allowed to feed the bats. Second, women on periods are prohibited to enter the temple.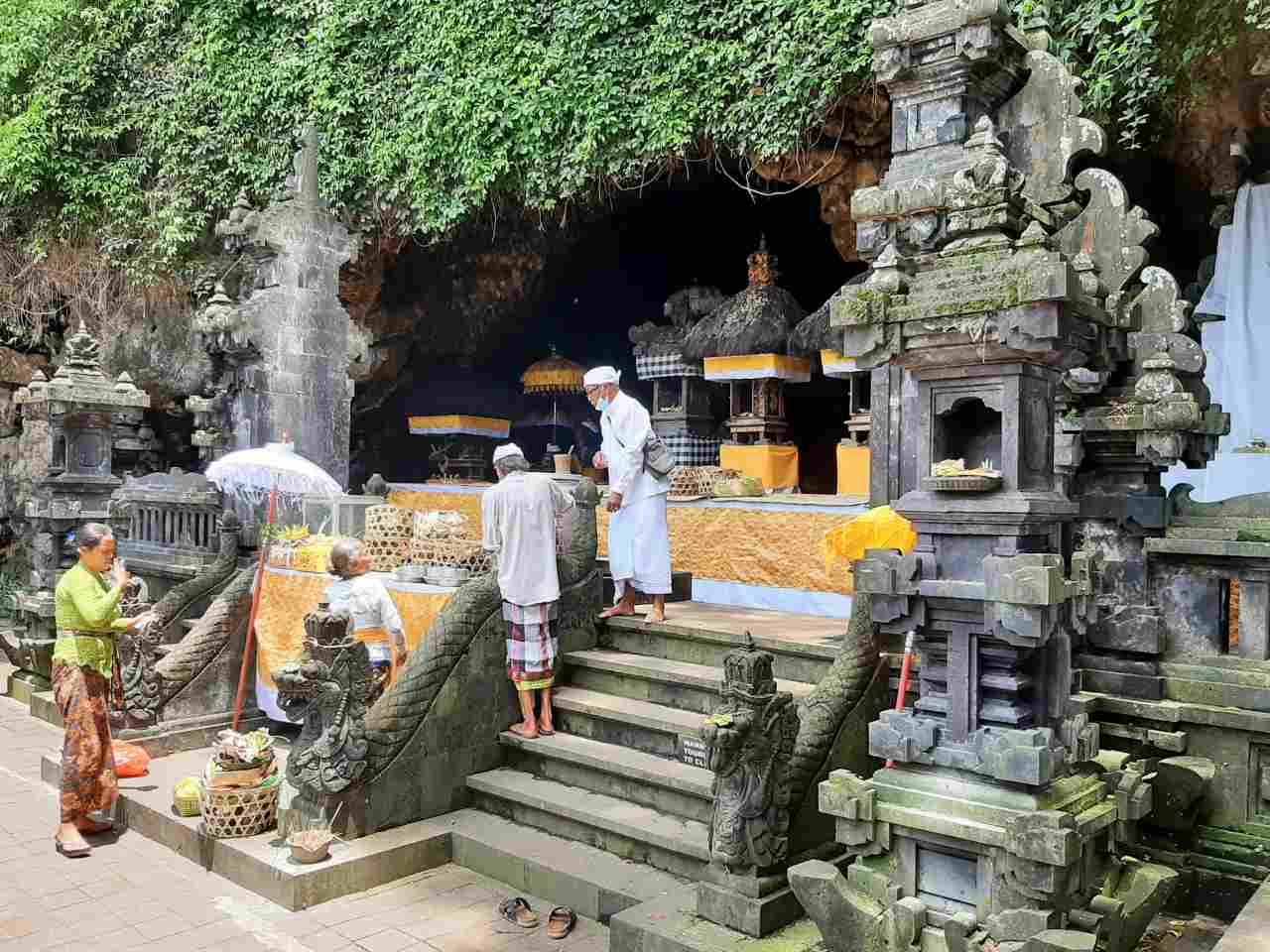 Nyegara Gunung Ritual
After the Hindu funeral ritual called Ngaben, there is another ritual the Hindus have to do. That is in order to cleanse the dead person's spirit known as Atma Wedana, families have to do the Nyegara Gunung ritual. It is one of the important ceremonies before the last one to deliver the spirit to reach the final of their journey.
Families have to pray in a temple facing the ocean and mountain as well. In this context, the Goa Lawah temple is the symbol of the ocean. And Besakih temple is at the foot of the highest sacred Mount Agung. At certain periods of the Balinese calendar, locals will be flocking the temple to complete Nyegara rituals.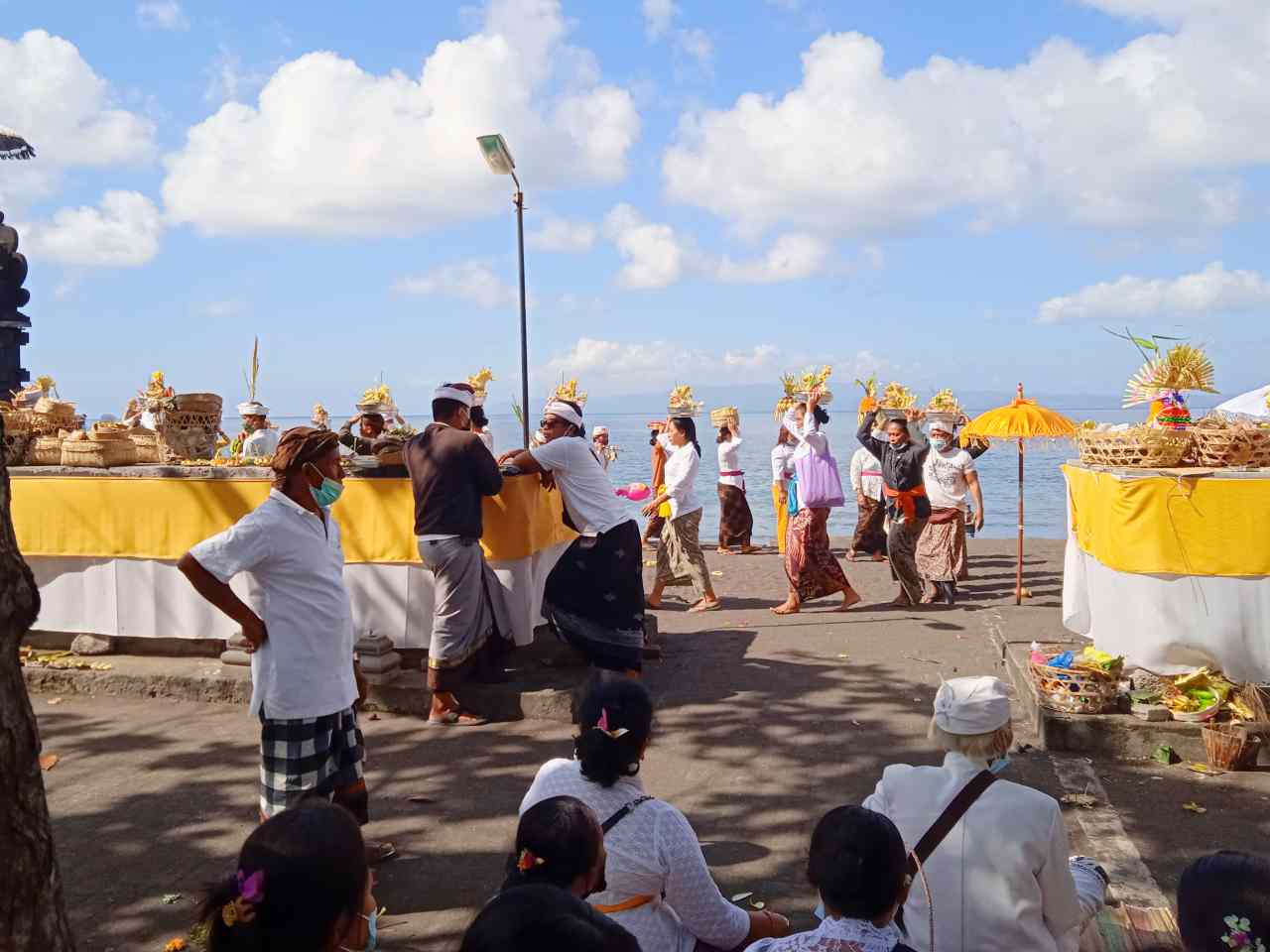 Goa Lawah Black Sand Beach
On the other side of the temple, there is a letter mark of Goa Lawah rest area with a large parking area. And it attaches to a paved park. It is often used for religious ceremonies as well. Palm trees and other high plants adorn this spot. Combined together with the soft sea breeze and ocean views made this place a perfect set to rest.
Walk couples step further, visitors will spot a stretch of black sand beach with distant views of Nusa Penida island. There are busy traffic boats heading to the nearby port occasionally, but it's still a good place to explore.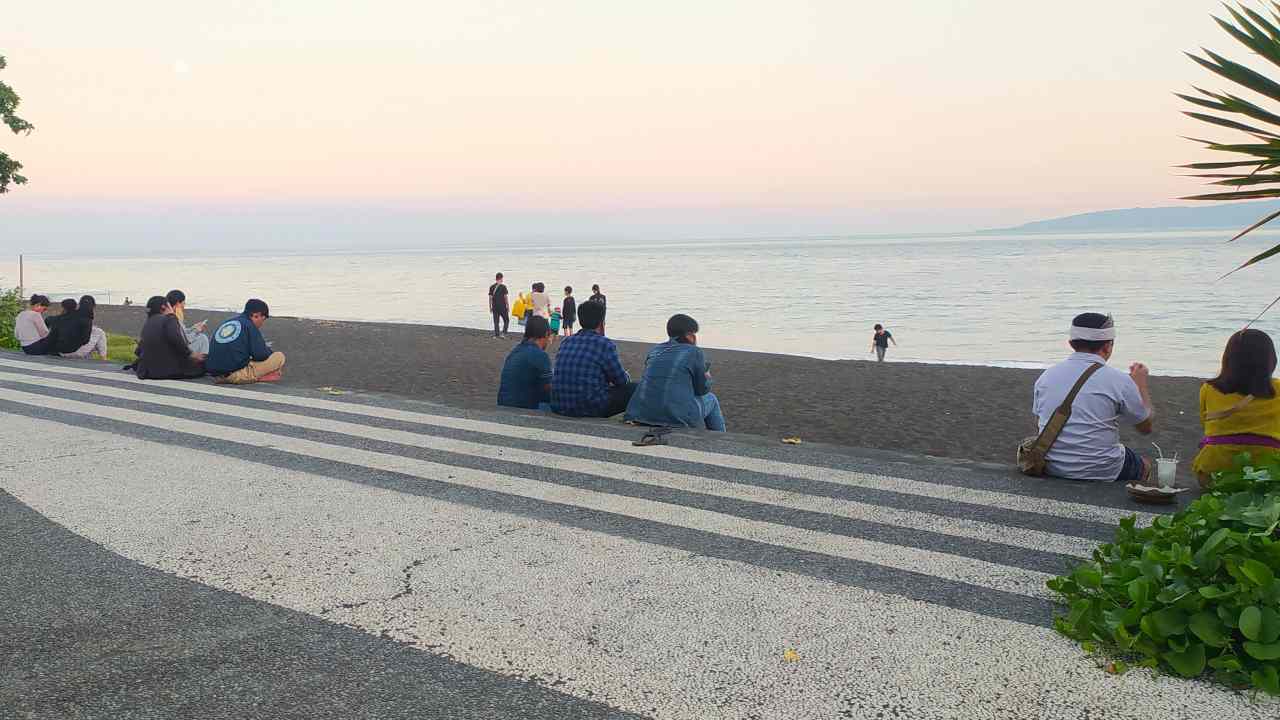 Goa Lawah Rest Area Culinary Experience
Along the main street across the temple, there are plenty of restaurants lining both sides of the roads with seafood specialties. Fish satay or sate lilit is the signature dish that has a subtle taste of Balinese herbs. The fish batter is then wrapped in lemongrass sticks. It tastes tasty and fragrant as well. 
The fish ball soup is also recommended dish to try. It has a refreshing taste with a kick of spice afterward. Others must try menu is grilled fish, pepes or steamed fish and urap or mix vegetable salad. Speaking of price, it is a relatively cheap start from Rp29.000, less than $2.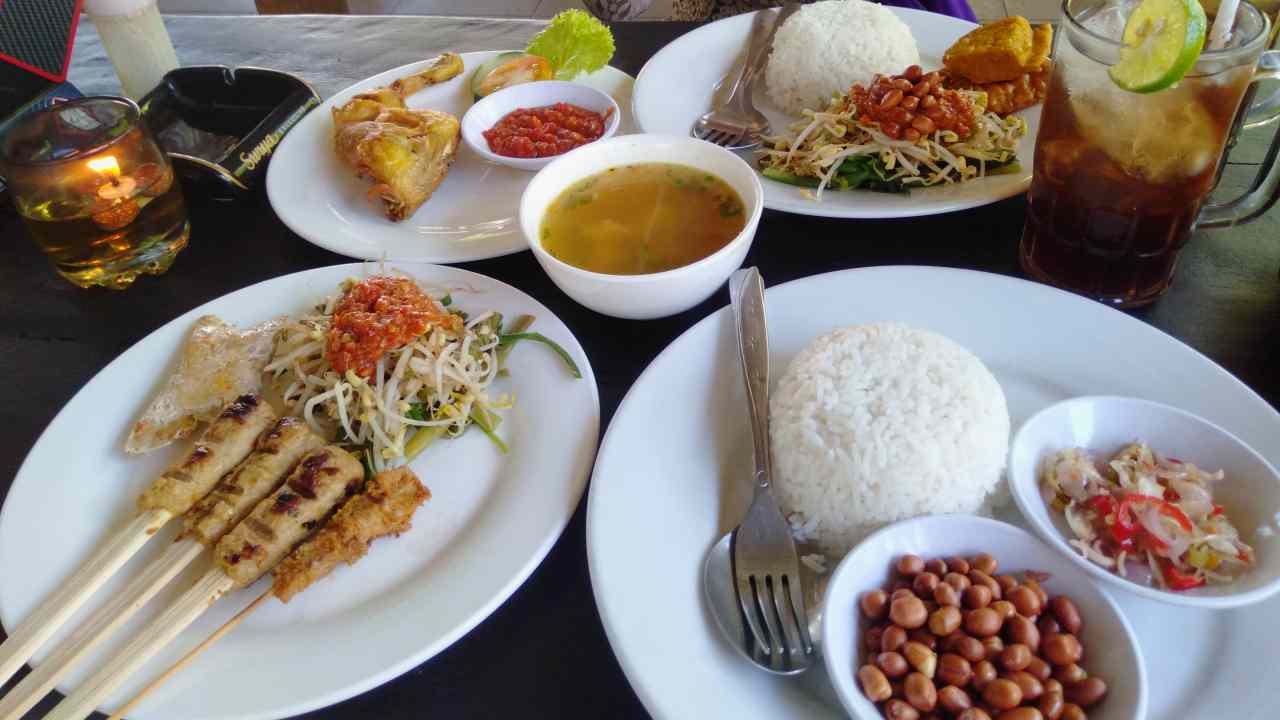 Facilities
Besides being a religious site for Hindu worshipers, Goa Lawah Temple is a favorite stop for travelers who head to the east. That is why there are many facilities on the premises. Toilets, warung, restaurants, gazebo, photo spots, and convenient mini markets are all available.
There is a gazebo or as the locals called Wantilan in Goa Lawah Temple. This is where the art and dance performances are usually held. There are souvenirs shop selling sarong for Rp100.000. Including a bunch of souvenirs and accessories as well as snacks and drinks.
Nearby: Guide To Explore Bias Tugel beach & Things To Do.
How To Get To Goa Lawah Temple
The temple is located in the southeast of Bali and it takes 1,5 hours from the tourist area Seminyak. The direction to this place from Bypass Prof. Dr. Ida Bagus Mantra is just straightforward to the east. It's not far from Kusamba harbor and prior to Candidasa seaside.
There is a public bus DAMRI passing Goa Lawah temple. The departure time is 8 AM from the airport with the last destination to Amed Beach. The bus fare is Rp35.000, quite cheap. However, due to the Covid situation last year, the bus is temporarily not operating. 
Otherwise, the other option is to rent a scooter or car. The average price for renting a scooter is Rp60.000 to Rp120.000 for day rent. And it depends on the vehicle type. While a car rental will cost vary between Rp500.000 to Rp800.000 with a driver.
See: Tourists SIM Card, Price & Best Provider.
Address & Location
Goa Lawah temple is located in Jl. Raya Goa Lawah, Pesinggahan, Dawan, Klungkung, Bali 80761.