Taman Sari Waterfall and Natural Pool
Entrance Fee: Rp20,000
Opening Hours: 08:00 - 17:30
Telp. Number: -
Address: Jl. Ngenjung Sari, Bakbakan, Gianyar , Gianyar , Bali , Indonesia , 80515.
When it comes to fascinating waterfalls, Gianyar boasts plenty that is secluded in jungles. Being near one gives a peaceful atmosphere as if in another world. The city itself is bustling most of the time. But the waterfalls give a moment to escape from the urban hustle. So when it's time to get away, just go to one of the tranquil waterfalls, Taman Sari Waterfall.
The waterfall situates in Banjar Ngenjungsari, Bakbakan, Gianyar. The spot opened in 2019. It didn't get international tourists' attention that much yet. Currently, there are not many people swarming this spot. But given the charm it offers with easy access, this will definitely change in no time.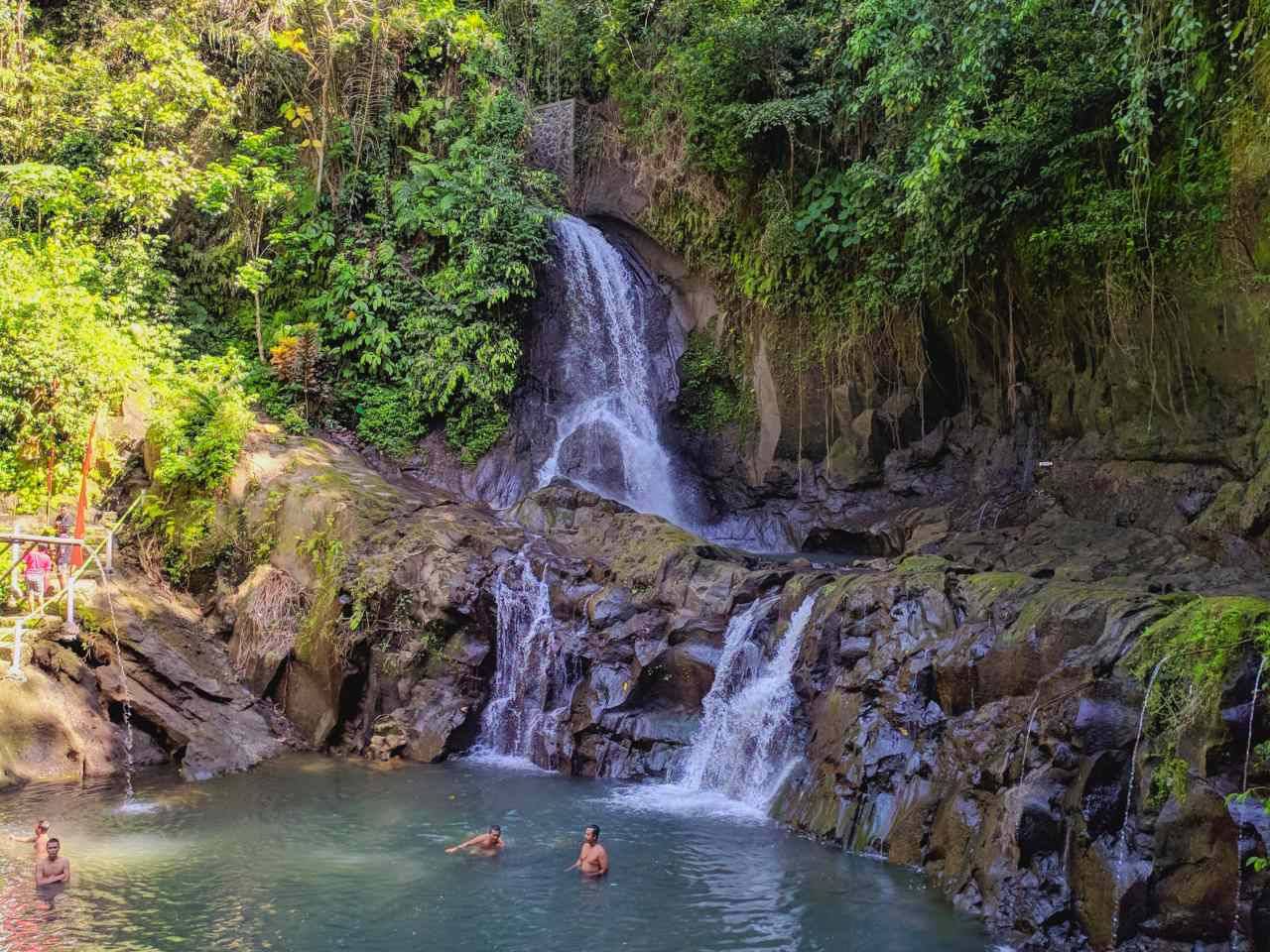 Taman Sari Waterfall Entrance Fee
The entrance fee to this mesmerizing spot is Rp20,000. There is an additional charge of Rp10,000 to use the locker for storing things.
Taman Sari Waterfall Entrance Fee
International Tourist
Rp20,000
Nearby: Goa Rang Reng Waterfall & Top Things To Do.
Taman Sari Waterfall Opening Hours
The waterfall opens daily from 8 AM to 05:30 PM. It is recommended to visit early to avoid the crowd. While the water looks clear and green on a bright day, it will be murky when it rains. So, mind the weather forecast and bring a swimsuit and extra clothes.
Taman Sari Waterfall Opening Hours
Every day (closed on Nyepi)
08:00 – 17:30
Nearby: Guide To Explore Kanto Lampo Waterfall.
The Paths to Access the Waterfall
Taman Sari Waterfall is one of the great tourist destinations with the easiest access. Even though the stairs are quite steep, it is made of concrete and in good condition. Visitors need to cross the road from the parking lot. The path continues down the concrete steps for about 100 meters. The stairs are also completed with an iron railing.
Tourists will pass by a temple, Pura Empelan Gianyar. After walking for a while, everyone will see a warung that stands on the right side. The rumbling sound of the waterfall can be heard halfway down the stairs. And a few steps near the base; everyone can see the top waterfall. Get the swimsuit on, and get ready to jump in the cool water.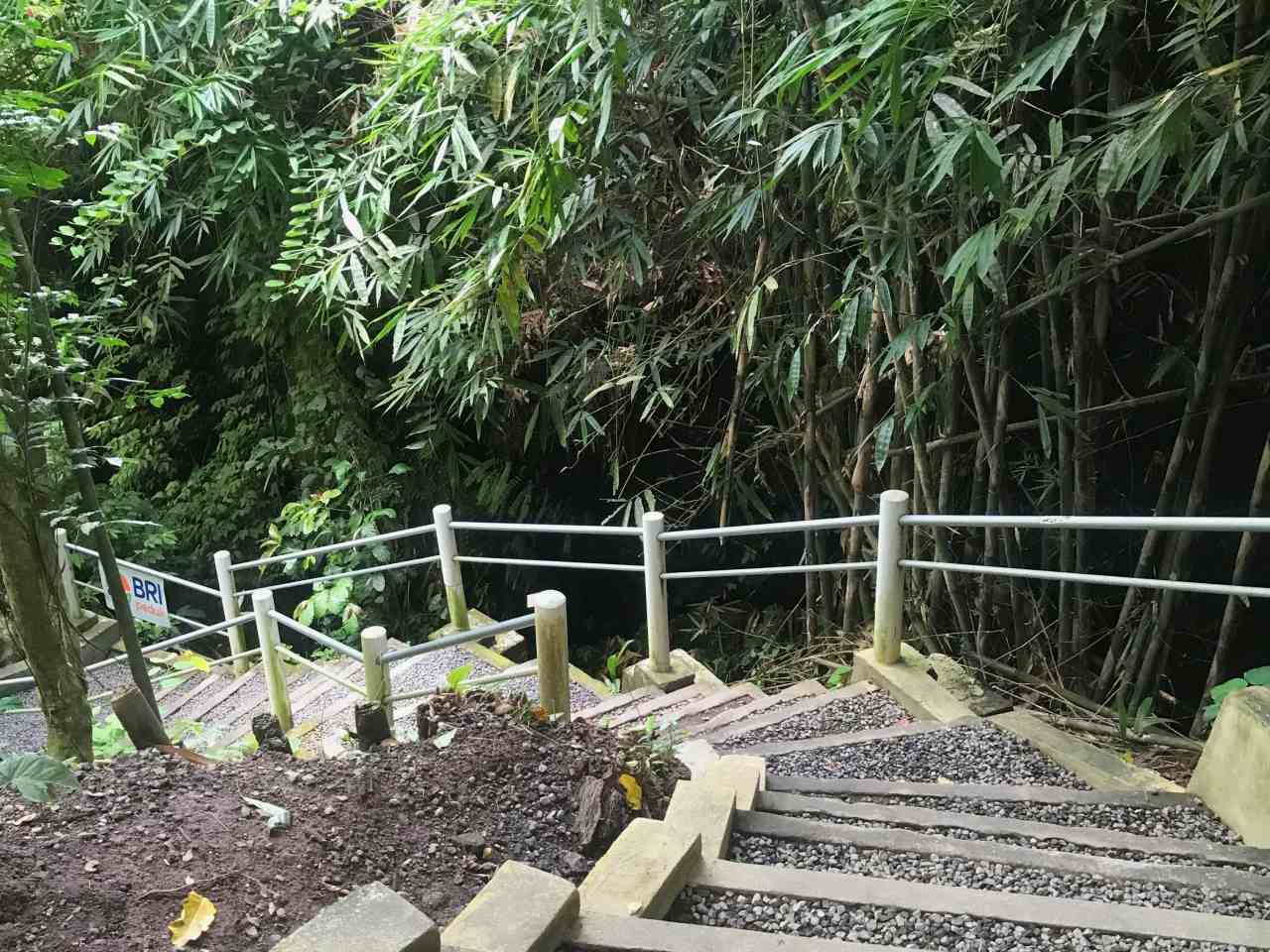 Taman Sari Terrace Waterfall and Natural Pools
What makes this destination different is that Taman Sari Waterfall is not only a single torrent. There are two waterfalls that are terraced beautifully. The top waterfall plunges on a luscious cliff onto a natural pool below. It is a pretty small, green pool with some 160 cm depth. The waterfall is not too big either. But the water discharges with a rumbling sound that indicates how strong it is.
The management built concrete steps at the left to get to the top waterfall. There are not many, but it is very steep making it feels like wall climbing to do. The stairs also look slippery. So, mind the steps to avoid slipping and falling.
From the top pool, the water flows into some cascades onto a bigger one at the bottom. Here, the pool has varied depths with the deepest one being 130 cm. In the dry season, the water is clear and green. And the pool's edge is bordered by man-made ledges. The water continues flowing on this ledge to the river below.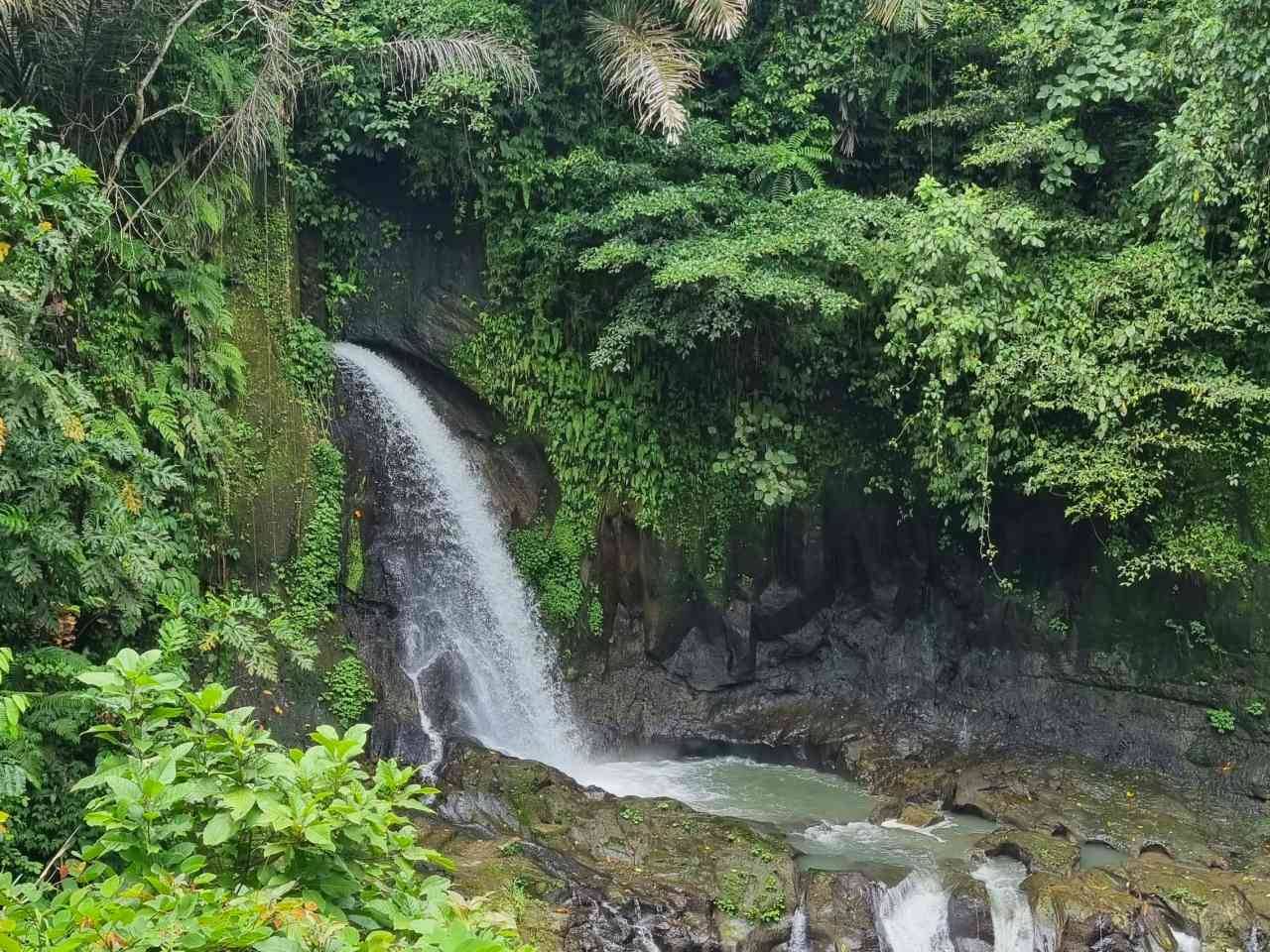 Swimming and Having Back Massage
Both pools are safe for everyone to go swimming in. There are no sharp rocks or anything that swimmers might bump onto on the pool floor. The bottom of the pool has sand with no other material. But other than the depth, everyone should pay attention to the waterfall discharge.
The water discharges with a pretty strong flow. Novice swimmers, especially those who are not tall enough, shouldn't go too close to the waterfall. It will suck everything down under the falling water. On the other hand, the water discharge is strong enough that will give a good back massage.
Tap Water for Melukat Ceremony
The last paradise of the world might be a perfect name that suits Bali. The land boasts not only beautiful beaches, and calming, secluded waterfalls, but also refreshing springs. This spot has one that lies up at the hill. Locals construct pipes to tap the water and flow it onto a concrete fish pond below.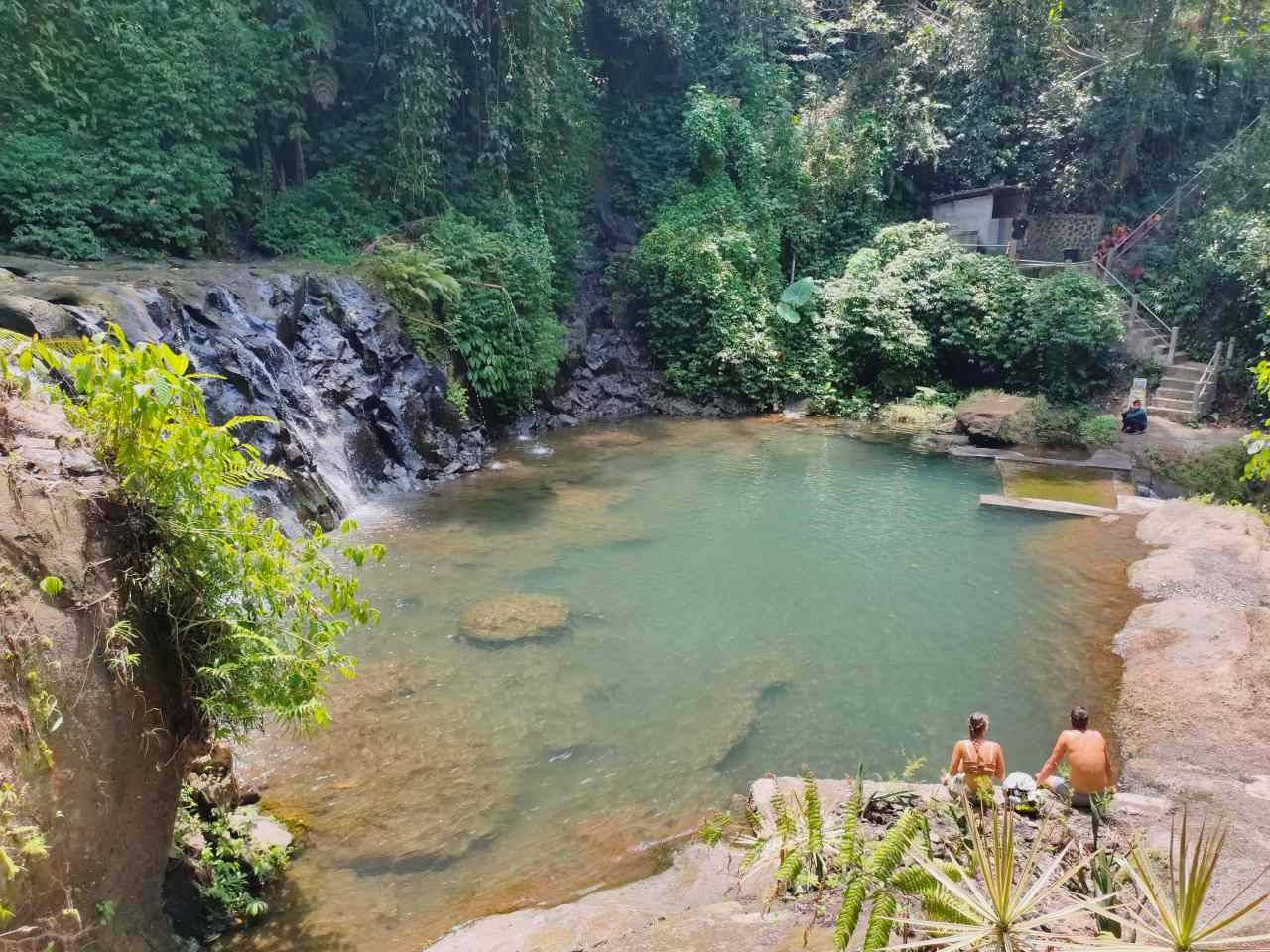 And, as in other places in Bali, water from the spring is considered sacred. Locals use this water to hold melukat ceremony. In celebrating Banyu Pinaruh, the waterfall opens much earlier from 02:00 am for yadnya ceremony after Saraswati day.
See: Guide To Explore Tegalalang Rice Terrace & Ticket.
Photo Spot
Taman Sari Waterfall is a great place to have aesthetic photos. The terrace waterfalls are perfect for a photo backdrop from any angle. In addition, the management constructed a nest-like structure made of real tree roots. The nest will be the frame that blends stunningly with the waterfall as a background in pictures.
See: Guide To Lempuyang Temple (Heaven Gate) & Ticket.
Nearby Waterfall Attractions
With so many waterfalls within a small radius in Gianyar, waterfall hopping is a possible tour that can be done in a day. For travelers who like to do this, Tibumana waterfall is a 5-minute drive to the southeast.
More to the south, there is Goa Rang Reng waterfall which is only a 5-minute drive. From here, Kanto Lampo waterfall is only a 7-minute drive. Plus, Adilla's spot has an aesthetic view if tourists want to take photos before doing the waterfall hopping. This free spot is only a 3-minute drive from Taman Sari waterfall.
See: Tegenungan waterfall Guide from 2 different access.
Facilities
Taman Sari Waterfall is a family-owned and operated business. It has complete basic facilities such as a spacey parking lot, toilets with sitting closets and changing rooms. For visitors' goods, there are paid lockers that can hold goods of up to 4 people for Rp10k. Or, there are also open racks to keep the guests' goods off the ground and dry for free. A small warung available to have snacks or drinks.
There are also supervisors on guard, just in case anyone needs help. Gazebo is also available to take a rest. It overlooks the waterfall and makes a great place to take cover from the sun while enjoying the view. The management provides floaters rental for kids for Rp15,000 each.
Being in the tourism area of Gianyar, it is not difficult to find restaurants, ATMs, and lodgings outside the spot. However, bring sufficient cash to visit this waterfall to buy snacks and drinks at the warung.
See: Bali Airport, Airport Transfer & Public Transportation Guide.
How To Get To Taman Sari Waterfall
Taman Sari Waterfall is only 33 minutes from Ubud, via Jl. Raya Semebaung. Follow Jl. Raya Ubud and Jl. Cok Gede Rai, to Peliatan. Take Gg. Nuri to Jl. Raya Teges. Then take Jl. Raya Goa Gajah, Jl. Raya Semebaung and Jl. Sawo to Jl. Gn. Agung in Ginyar. Follow Jl. Gn. Agung and Jl. Ngenjung Sari to this destination.
The most recommended transportation is by renting a vehicle since there is no public transportation. A car rental costs Rp600.000 for an 8-hour tour, while a scooter starts from Rp60.000/day. The rent usually includes gasoline and a driver for a car or 2 helmets and raincoats for the scooter. Or else, book a ride-hailing app that costs tourists Rp10,200 to Rp11,200 for the first 4km and Rp6,500 per next km.
See: SIM Card for Tourists, Price & Provider List.
Address & Location
Taman Sari Waterfall is located in Jl. Ngenjung Sari, Bakbakan, Gianyar, Bali 80515.