Telaga Waja waterfall
Entrance Fee: Free Entry
Opening Hours: Open 24 Hours
Telp. Number: -
Address: Telaga waja waterfall , Rendang village , Rendang , Karangasem, Bali , Indonesia , 80863.
Bali is identical to beaches. But it actually has a lot more that is waiting to explore. It is also the place to look at for those who are fond of water falling. Telaga Waja waterfall is one of the waterfalls worth visiting for those who love a little bit of adventure. While being in the tourism hub in East Bali, its secluded location guarantees tranquility visitors will find when visiting here.
Nonetheless, access is challenging especially for those with a sedentary lifestyle. But a stunning view all the way there will keep everyone going. There are two different paths tourists need to choose to get here. And, the two paths are similarly onerous to go through.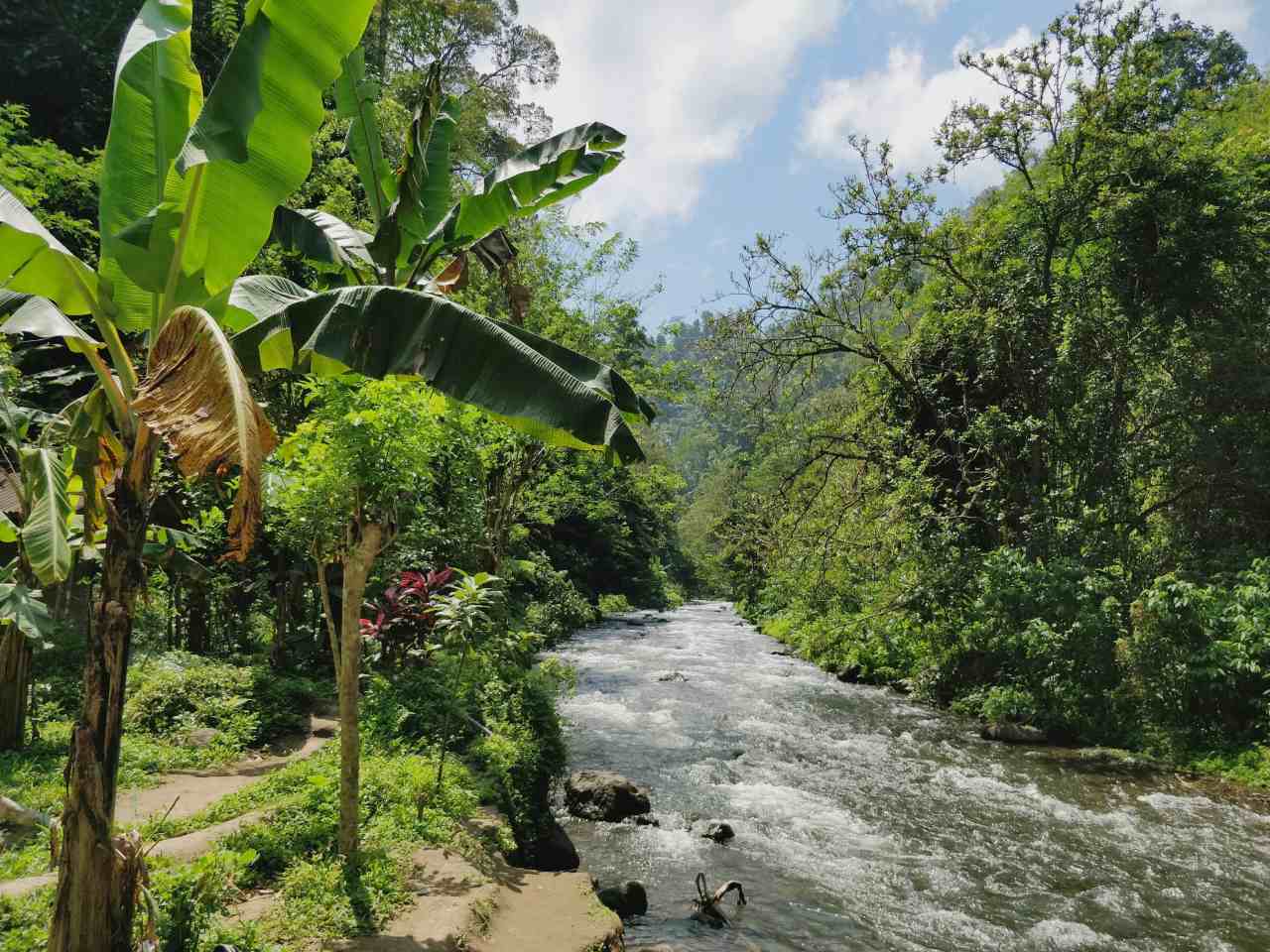 Access To Telaga Waja Waterfall
The first access is through paddy fields called Bodog. The first few kilometers will be a pleasant rural road with dashing Mount Agung in the background. Then, it takes everyone to trek a narrow paving road. Nearing the waterfall, visitors should climb down steep concrete steps and cross a creek on a small bamboo bridge before getting to the fall.
The bamboo bridge is only 40 to 50cm wide and complete with a handrail. But both the bridge and the steps will most probably be slippery during the rainy season. Pay attention to footwear. It is recommended to wear hiking shoes.
But the surrounding view is just gorgeous. Various plants grow adorning the valley at the left side along the way. And nature is so calming with a constant temperature of around 26°C. On the other hand, the more dynamic access is by navigating through the Telaga Waja River on a raft.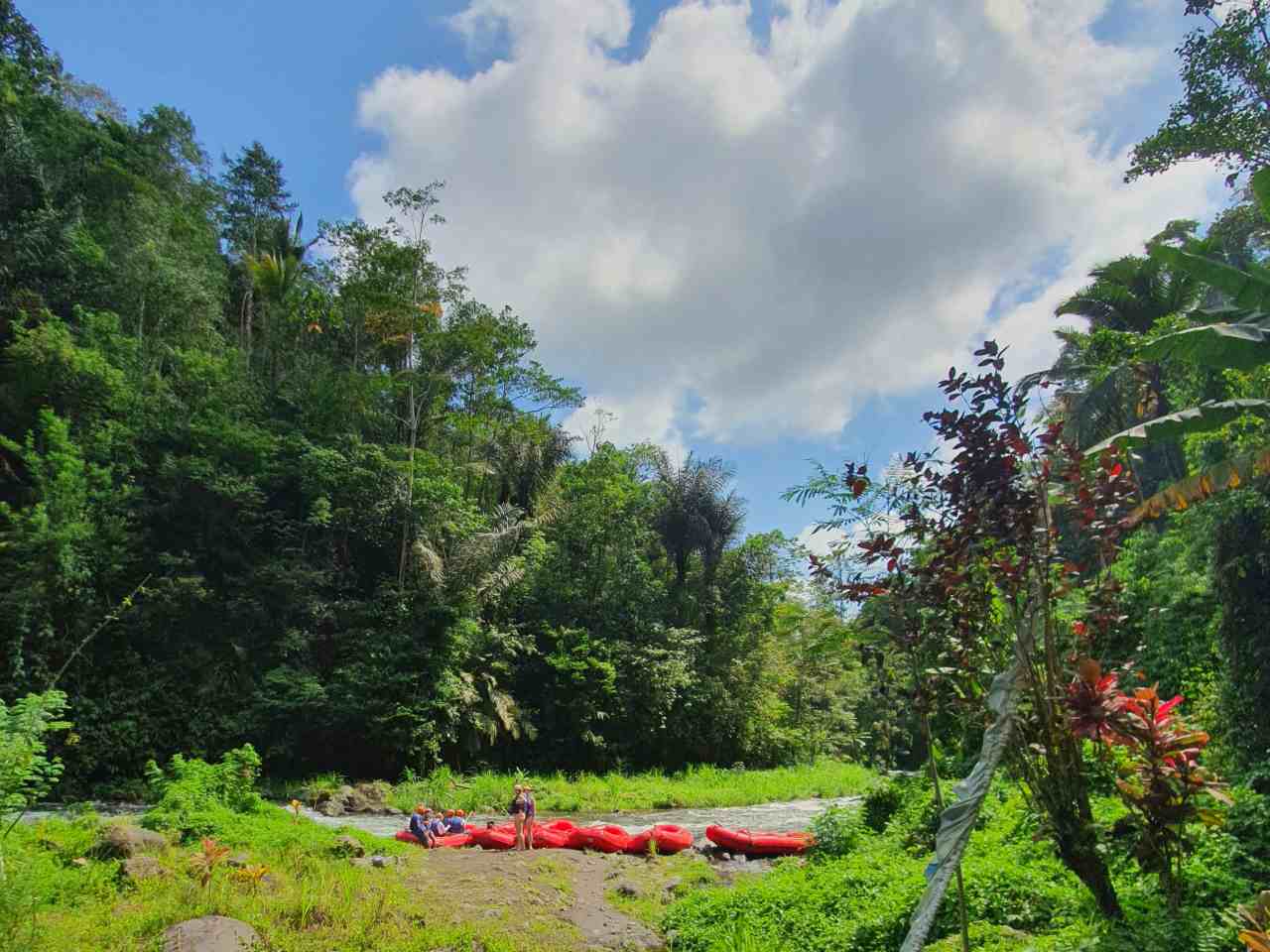 Rafting on Telaga Waja River
Telaga Waja waterfall is a stopping point when wading through that second biggest river in Bali on a raft. The water flowing on the river is shed from some springs such as Lipang, Arca, and Telaga Waja. Yeh Sah river also flows into this river making constant discharge throughout the year with swift currents.
The river is 5 meters wide incising a jungle. It is characterized by high cliffs and a valley full of verdant tropical trees on both sides. Monkeys can sometimes be seen swinging on the trees. The river is winding and there are cascades at some points adding more challenge to the rafting.
However, it is still safe for children over 10 years old with 3-4 levels of difficulty. It takes 2,5 hours to finish a 12-km long trek from the start to the end. The start line is at the meeting point of the Yeh Sah and Telaga Waja rivers. It costs tourists Rp350,000/person to go rafting. The price includes rafting gear, a welcome drink, a meal, and an instructor or guard.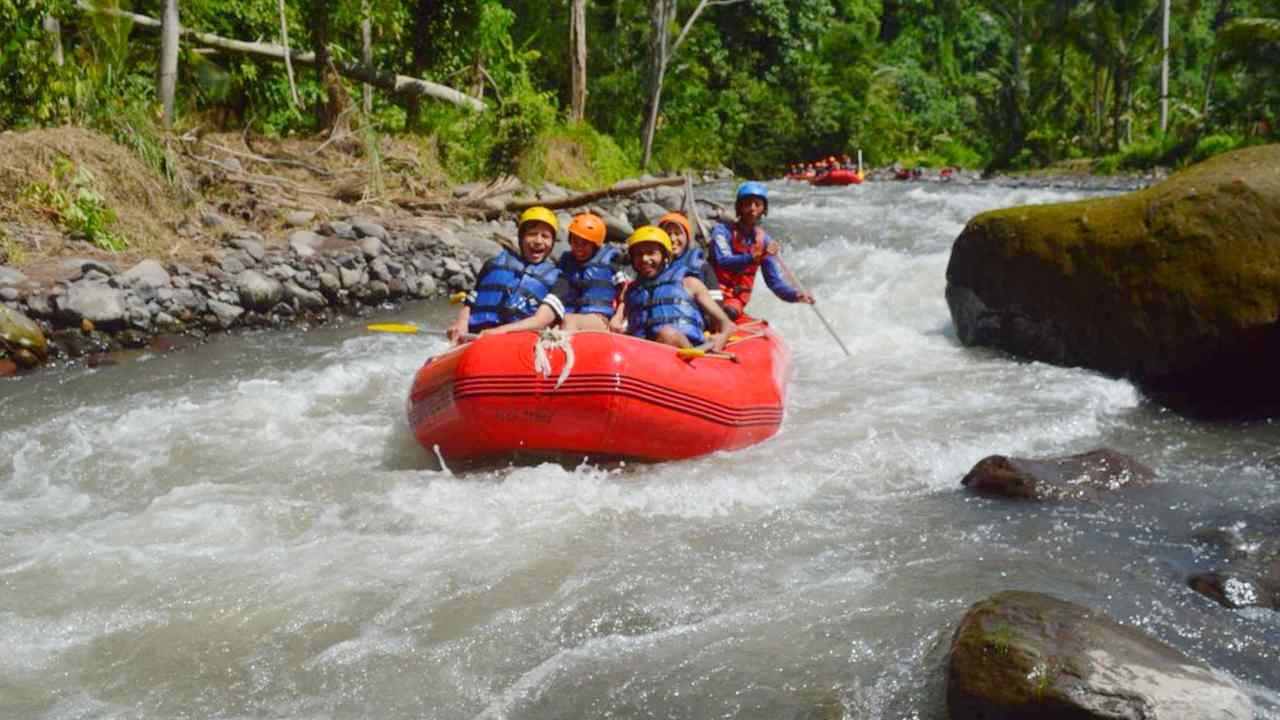 Telaga Waja Waterfall
After 20 minutes of rafting, tourists will arrive at the waterfall. Telaga Waja is a small waterfall it is only 8 meters high. Still, no one can turn down its charms. The surrounding cliff is embellished by ferns and other plants.
The water discharges gradually on the cliff ledges carved by nature. Falling water creates a refreshing breeze in the surroundings. The beauty may calm people who come and enjoy the serenity. And, everybody should pick their favorite spots and take many pictures.
It's also possible to climb the waterfall's rock ledge. Of course, not all people have the nerve to do this. The wet ledges could be slippery and the river is too shallow that falling people may directly hit the river's rocky floor.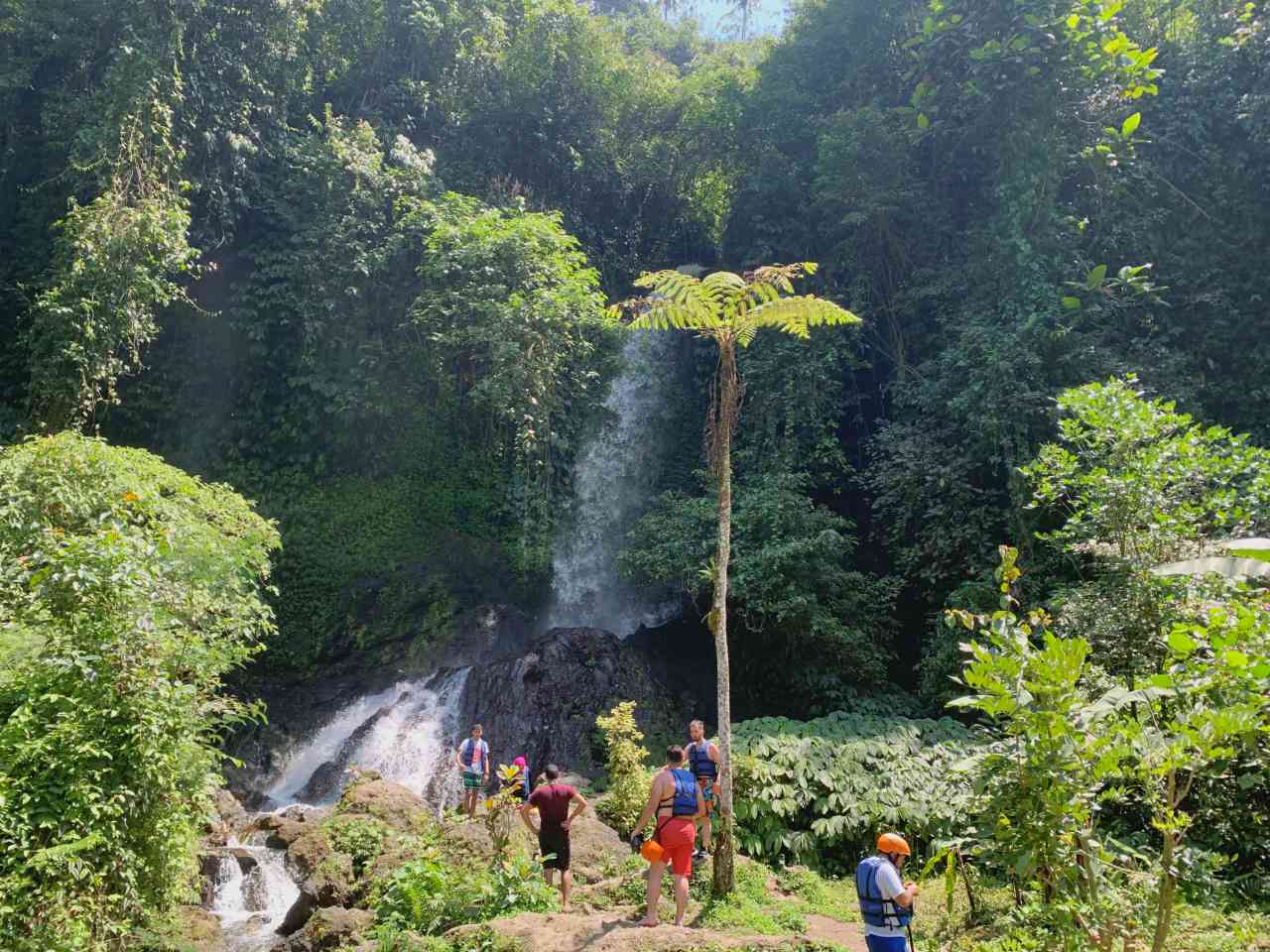 Surrounding Attractions
There are many other waterfalls near here. Within a 30-minute drive to the south, there are Jagasatru, Aan Secret, and Goa Giri Campuhan waterfalls. Tukad Cepung and Kuning waterfalls are 40-60 minutes to the southwest.
See: Guide To Explore Besakih Temple & Entrance Ticket.
Best Time To Visit Telaga Waja Waterfall
Considering both treks and the waterfall location, don't come here in the rainy season. The steps on the first access are mostly covered by moss. And the swift current will turn into a muddy, gurgling torrent as the rainwater will make the discharge bigger which is dangerous to be in.
The best time to be here is in the dry season which is from April or May to August. Morning and afternoon are the perfect time to avoid the sweltering sun. But don't be here when it's dark. And apply sunblock on the exposed parts of the body. Don't forget to bring extra clothes and camera gear.
Best Time To Visit Telaga Waja Waterfall
Dry season
April to August
See: Tukad Cepung Waterfall Guide & Ticket.
Telaga Waja Waterfall Entrance Ticket
There is no entrance fee and the waterfall is always open. But sometimes some people are there to keep the spot clean and those people wouldn't mind accepting some donations from visitors.
Telaga Waja Waterfall Entrance Ticket
Ticket
Free Entry
See: Guide To Explore Lempuyang Temple, Gate of Heaven.
Facilities
The waterfall itself situates in a jungle. The parking lot is available at the rafting start point. There are also toilets and changing rooms. Parking is also provided by some locals to the south of the waterfall. ATM is available about 15 to the south. Restaurant and souvenir stalls are available at the raft endpoint, and a buffet meal at the restaurant is included in the rafting package price.
There are many homestays available in Sidemen. The cost starts at Rp250,000 for 2 adults with free parking and wi-fi with beautiful scenery around. Many restaurants and warungs are also open around the homestays and provide various menus at affordable prices.
Common menus sold here are nasi campur, fried rice, noodle, soto, curry, and many more. The food prices range from Rp30.000 – Rp40.000. The drink ranges from mineral water to canned soft drinks sold at Rp5.000 – Rp10.000. Juices are Rp15.000 and beers are Rp25.000 – Rp35.000. What's more, tourists may enjoy both the meal and the beautiful mountain view when dining in.
See: Tourists Prepaid SIM Card, Price & How To Top Up Credit.
How To Get To Telaga Waja Waterfall
Telaga Waja Waterfall is reachable within 1.5 hours from Ngurah Rai Airport. Take the IB Mantra bypass, then turn left to Klungkung and keep in that direction to Besakih temple. The spot is not far from here. The best way to get here is by renting a car or motorcycle. A motorcycle costs Rp60,000/day with 2 helmets, while a small car without a driver costs Rp200,000 for 24 hours.
See: Bali Airport Guide, Airport Transfer & Public Transportation.
Address & Location
Telaga Waja waterfall is located in Rendang village and district, Karangasem, Bali 80863.